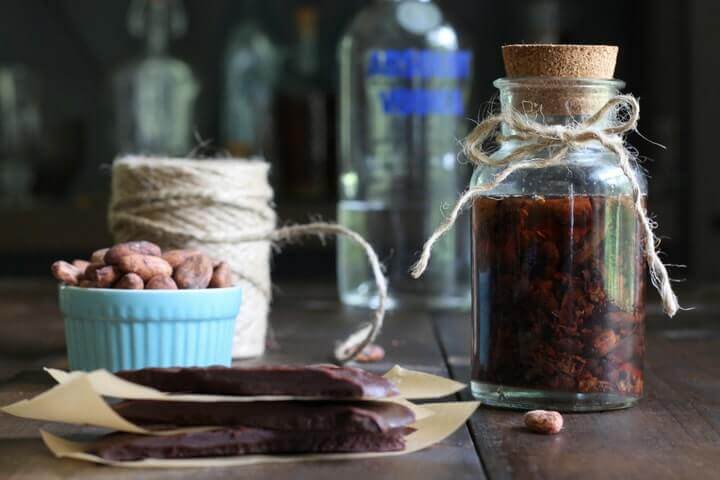 I hope you're sitting down . . .
Because whoa, this is huge. You know the way it feels when you bite into a warm fudgy brownie, or sip from a mug filled with marshmallows and hot cocoa? Well, it can be better. Yes, BETTER.
Awhile ago I read on David Lebovitz's blog that cacao beans lose the "top notes" of their flavor when they are processed into chocolate. To get those precious top notes back, explains Lebovits, you just add pure chocolate extract made from raw cacao nibs into your sweet treats.
I don't make desserts all that often, but obviously I had to give this a try. I searched around and found that I can buy it, but because I am a total DIYer I had to find out how to make chocolate extract myself. Folks, this stuff is so easy to make and so delicious it almost feels wrong. Almost. We're talking the very essence of chocolate – its soul even – all bottled up like a genie ready to grant wishes for chocolate coated bliss. So, you're probably thinking . . .
Sounds good, but what can I actually do with chocolate extract?
Great question. You can use it to replace vanilla in baked goods – or better yet use them both! I love adding it to flourless brownies, silky chocolate creme pie, homemade "magic shell," pudding, mousse, cookies, chocolate ganache, and homemade hot chocolate.
Have I mentioned pancakes, banana bread, and homemade "Nutella"? There are so many possibilities, and we haven't even talked about blending it with coffee or mint extract yet. Have fun and experiment – it's pretty hard to go wrong with chocolate anything.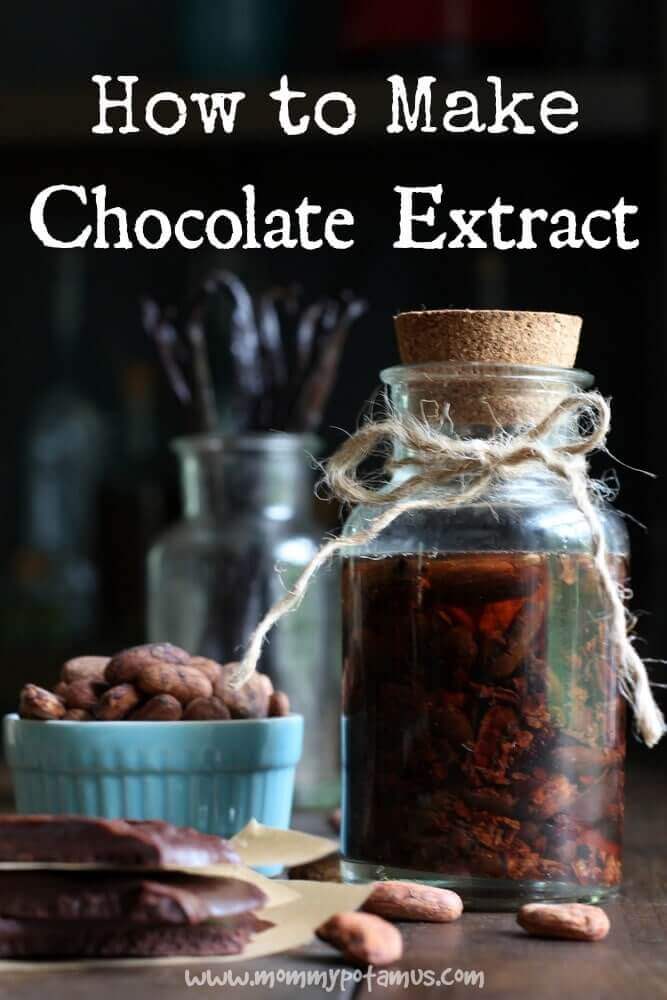 How To Make Chocolate Extract
Instructions
Gently crush cacao nibs to help them release their flavor. This step is optional, but I find it speeds up the ripening process of the extract. I just press mine a smidge with a mallet.

Pour vodka/bourbon/rum over the nibs. Seal jar tightly and give the jar a good shake.

Store in a dark cabinet for at least three months, shaking occasionally.

When the extract has reached the depth of flavor you prefer – a process that can take up to six months depending on your preference – strain out the cacao beans.

In a freezer-safe container, place extract in the freezer overnight. Remove extract the next morning and scrape off any fat that has risen to the top.

Store in either a dark container/dark cabinet.
Nutrition
Calories:
0
kcal
|
Carbohydrates:
0
g
|
Protein:
0
g
|
Fat:
0
g
|
Saturated Fat:
0
g
|
Polyunsaturated Fat:
0
g
|
Monounsaturated Fat:
0
g
|
Trans Fat:
0
g
|
Cholesterol:
0
mg
|
Sodium:
0
mg
|
Potassium:
0
mg
|
Fiber:
0
g
|
Sugar:
0
g
|
Vitamin A:
0
IU
|
Vitamin C:
0
mg
|
Calcium:
0
mg
|
Iron:
0
mg