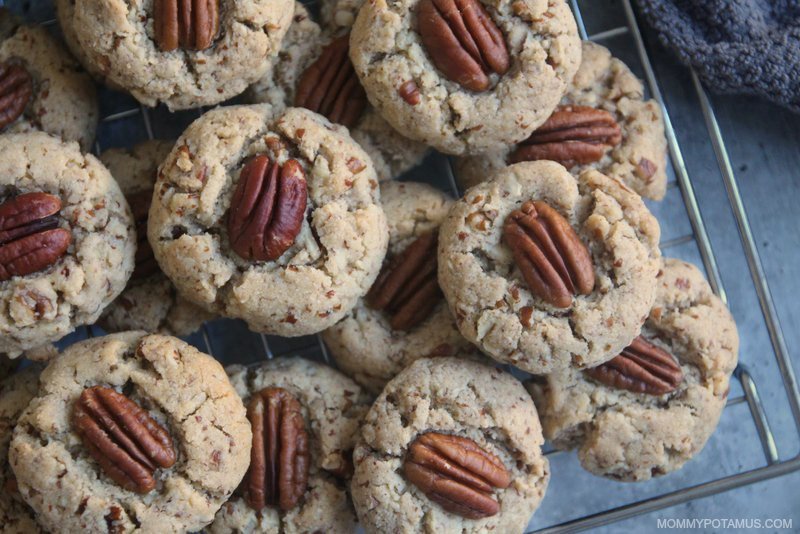 If you've ever made my chocolate chip cookie dough fudge you know the warm, toffee-like flavor that browned butter infuses. I love adding it to desserts, especially these rich, nutty, melt-in-your-mouth delicious gluten-free butter pecan cookies. They taste a little like pecan shortbread – only chewy instead of a little crumbly – and you only need seven ingredients to make them.
As a bonus, if you let yourself slow down and take the whole baking process in with your senses – the aroma of vanilla as it mixes into the dough, the texture of the flour, and the crackling of the parchment paper as you place each cookie to bake – it basically counts as a mindfulness practice.
A mindfulness practice that results in delicious cookies, that is. (And seriously, it counts.)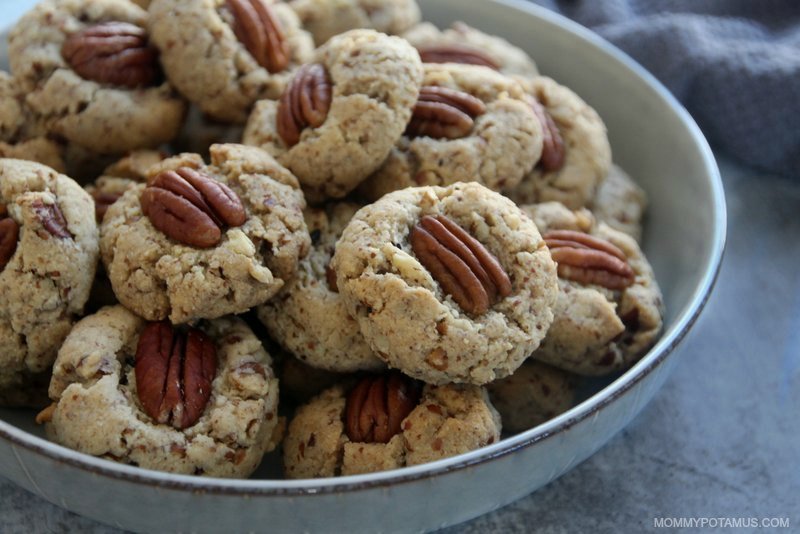 If you're avoiding butter right now and wondering if there's a good substitute, the answer is yes and . . . kind of. I'm mostly dairy-free right now with the exception of ghee, and I've found that browned butter ghee works beautifully.
If that's not an option, you can use a neutral-flavored coconut oil instead. Although you won't get the browned butter flavor they'll still be delicious . . . in fact, I've been making these for 8+ years now and have been using browned butter for less than half of that time.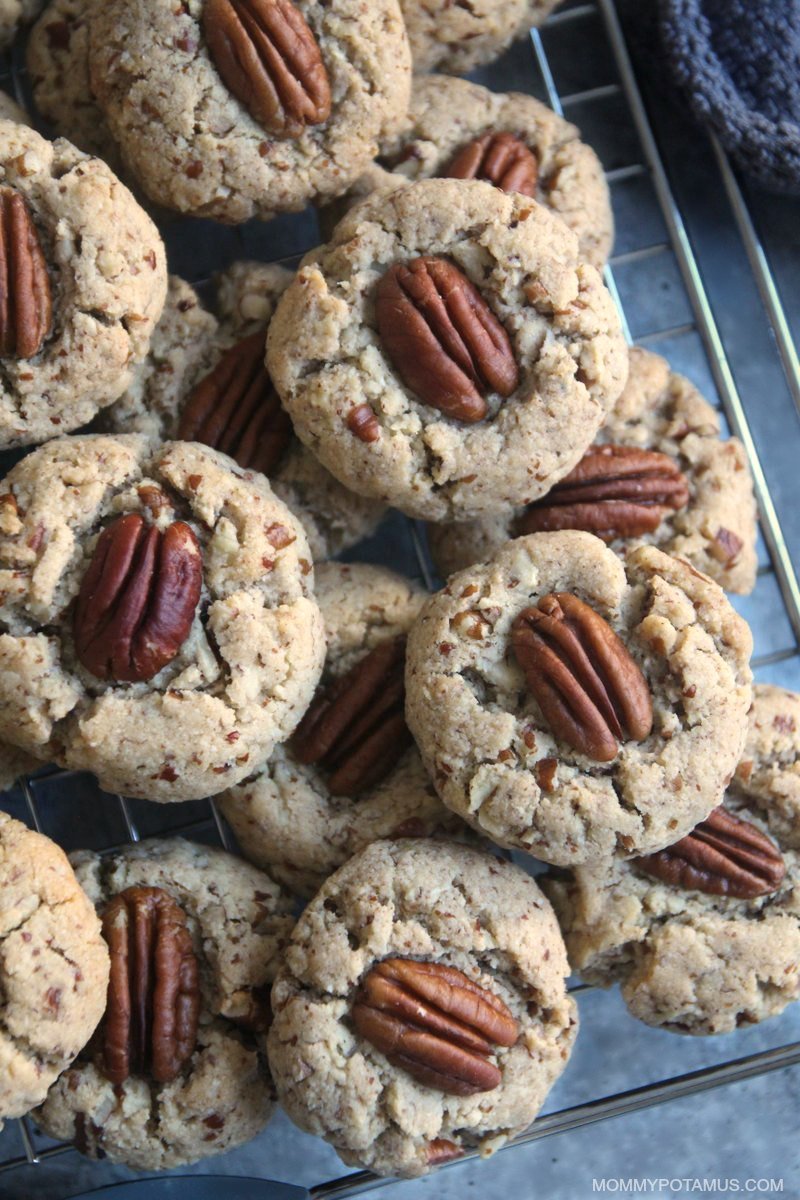 Gluten-Free Browned Butter Pecan Cookies
These scrumptious gluten-free butter pecan cookies taste a little like pecan shortbread – only chewy instead of a little crumbly – and you only need seven ingredients to make them.
Equipment
stainless steel skillet

cookie sheet

measuring spoons
Instructions
To Brown The Butter:
Cut the butter into four equal chunks and place in a stainless steel shallow pan. Don't use a dark cast iron skillet because you won't be able to see when the butter has turned golden brown.

Heat the pan over medium high heat and stir the butter until it is light brown and smells a little like hazelnuts. It's important to watch it closely or it will burn, but browning the butter is what makes the dough so delicious. See this tutorial if you're not quite sure what to look for. Allow the butter to cool a little before moving on to the next step. It can be warm but not hot, and you can put it in the fridge if you're in a hurry.
To Make Browned Butter Pecan Cookies:
Preheat your oven to 350F and line a cookie sheet with parchment paper.

Place all dry  ingredients (except 12 whole pecans) in food processor and pulse a few times to mix.

Add the wet ingredients to the food processor and pulse until it forms a soft dough. I like some pecan chunks in my cookies so I don't mix it too much, but it should be easy to form into a ball when it's ready.

Scoop out the cookie dough in 1 tablespoon increments, roll each one into a ball, and place it on the cookie sheet.

Press the whole pecans into top of the cookies.

Place the baking sheet in the oven and bake at 350F for 12 minutes.

Allow the cookies to rest for 5 minutes, then transfer them to a wire cooling rack or other surface to continue cooling. Store in an airtight container.
Nutrition
Calories:
167
kcal
|
Carbohydrates:
7
g
|
Protein:
3
g
|
Fat:
15
g
|
Saturated Fat:
3
g
|
Cholesterol:
10
mg
|
Sodium:
24
mg
|
Potassium:
51
mg
|
Fiber:
2
g
|
Sugar:
4
g
|
Vitamin A:
123
IU
|
Vitamin C:
1
mg
|
Calcium:
33
mg
|
Iron:
1
mg
Frequently Asked Questions
Below are some answers to the most common questions I receive about gluten-free baking.
Can I make this cookie recipe with gluten-free all purpose flour?
All purpose flour absorbs liquid differently than almond flour and unfortunately cannot be used as a substitute in this recipe. The cookies, would be really, really dry.
I'm allergic to almonds. Is there any other flour I can use?
Sunflower seed flour (aka Sunflour) can usually be substituted for almond flour in recipes, but I have not tested it in this specific recipe. Something to keep in mind is that it can sometimes turn baked goods green due to a chemical reaction between a component of sunflower seeds and baking soda or baking powder.
More Similar Recipes
Paleo Butter Pecan Ice Cream – This dairy-free take on one of my childhood favorites looks delicious.
Chocolate Maple Pecan Pie Bars – Love this chocolatey, mapley twist on traditional pecan pie from cafe owner Megan of Eat Beautiful!
Want more delicious, easy recipes?
No problem, I've created a free ebook for you – 35+ Gluten-Free Desserts – as a gift for signing up for my newsletter. Every Sunday you'll get recipes, actionable health tips, and highly-vetted product recommendations delivered fresh to your inbox.
Sign up using the form below.