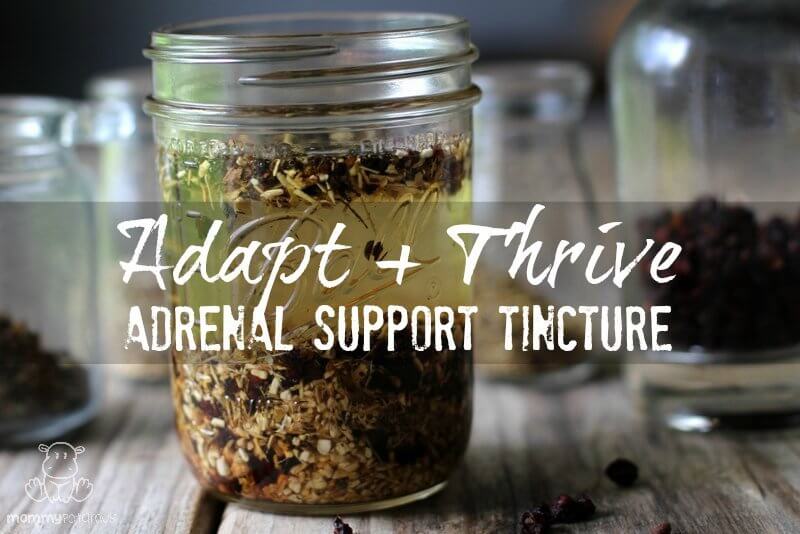 Winning at cauliflower crust pizza one day and burning stew the next? One dropperful. Googling "foreign object nasal obstruction" while checking appointment availability with your local pedi? Two dropperfuls.
Though the details are different for each of us, there's no question that being an adult comes with challenges. And while certain aspects are funny, being chronically stressed and tired is NOT.
A couple of years ago, I wrote about Dr. James Wilson's at-home test for assessing adrenal fatigue and shared that my desire to "do it all" had led to burnout.
I'd taken on too much – homeschooling, homesteading, writing, cooking, creating, etc. – and although I loved it all I found I wasn't bouncing back from stressful experiences like I used to. I was easily frustrated and overwhelmed by little things . . . and little things seemed to be popping up everywhere.
After implementing these fifteen tips for helping the adrenals thrive, I started feeling SO. MUCH. BETTER. It wasn't a one-time fix, though. In order to experience joy and resilience in the middle of modern life's daily stresses, ongoing support is essential.
Adaptogens For Stamina And Stress Relief
If life sometimes feels like trying to hold onto a firehose that is going full-blast, think of adaptogens as weights that help support and ground the body through it all. These herbs can be taken as capsules, but they're better absorbed in tea or tincture form.
I've already shared with you my happy adrenal tea recipe that incorporates stress-busting adaptogens, so you might be thinking, "Hey now, remember how things can feel overwhelming when you're already stressed? Why not just one easy recipe???"
I hear you. I'm all about skipping steps wherever possible, too.
The answer is that there are lots of ways to support the adrenals, so I've shared the ways that felt doable to me during different parts of my healing process.
First was the vitamin C and Himalayan salt adrenal tonic. It requires no planning and can be mixed together in seconds. Next was the happy adrenal tea, because the nourishing herbs complement the adrenal tonic and it only requires a little planning.
Last is the adrenal tincture because it takes the longest to make. As you'll see, though, it's totally worth it.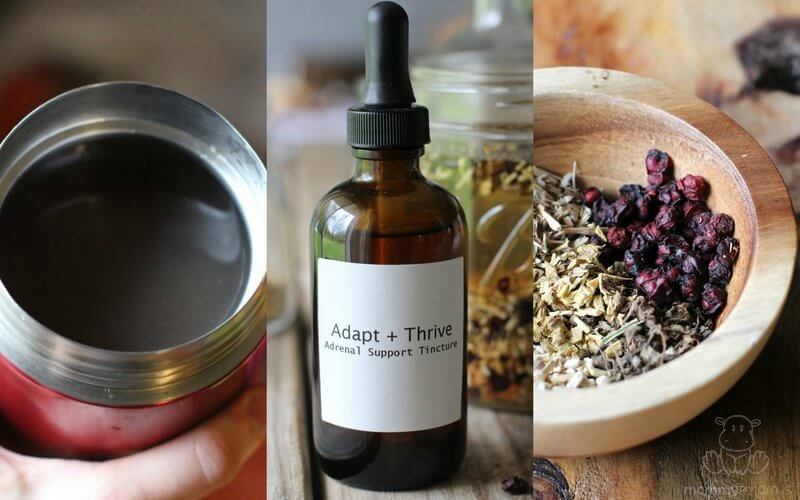 Teas, Tinctures, and Elixirs – What's the difference?
As mentioned in my happy adrenal tea recipe, teas extract the nutrients found in herbs using water, while tinctures extract them using alcohol or glycerin. While this may seem at first to just be based on preference, there's more to it than that.
Teas draw out many of the nutrients found in herbs – flavonoids, vitamins, and minerals, for example – but there are some that are left behind.
Alcohol and glycerin extract the "hard to get" compounds such as alkaloids, which are often considered to have highly therapeutic value. In fact, they've been the subject of pharmaceutical research in the development of medicines. (1) Roots, barks and some seeds – many of which are in this tincture – contain valuable compounds that can only be extracted with alcohol/glycerin.
Benefits of adaptogenic herbal tea:
It's ready almost immediately, while tinctures take about six weeks to brew.
When you're stressed, taking a few moments to hold a hot cup of tea and take some deep breaths can soothe the soul while supporting the body.
It's yummy.
Benefits of adaptogenic herbal tinctures:
Tinctures contains valuable compounds that are not present in tea.
When held under the tongue for 30 seconds to a minute, tinctures are very quickly absorbed and available to the body.
Convenience. Once your batch is ready, all you have to do is grab a dropperful as needed. It's also much easier to carry in your purse than a cup of tea.
Elixirs sound a bit mysterious and enchanting, but they're actually just tinctures mixed with honey to make them more enjoyable.
How long can I take this for?
Some adaptogens, like eleuthero, can be taken for long periods of time. However, many herbalists recommend rotating the adaptogens used every couple of months.
I personally prefer to take this blend for a month, then rotate it with other adaptogenic herbal tinctures such as reishi, cordyceps, maca, rhodiola, and/or a ginseng such as Panax ginseng or sustainably harvested American ginseng.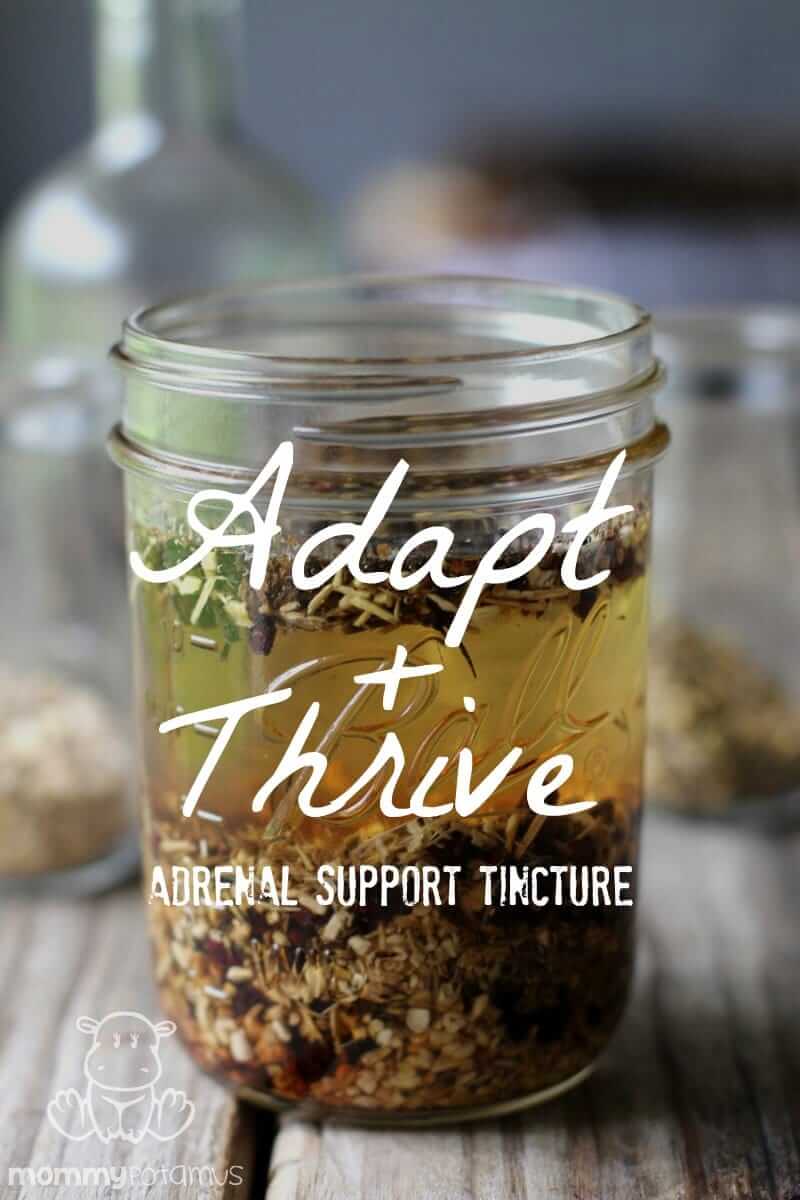 Adapt + Thrive Adrenal Support Tincture Recipe
This easy-to-make adrenal support tincture contains valuable compounds that are not found in adaptogen teas, and is easily absorbed by the body.
Instructions
To Make The Tincture With Alcohol
Place herbs in a clean, dry pint mason jar and pour the alcohol/glycerin over them.

Cover with a lid, shake the jar and place it in a cool, dark cabinet.

Shake several times a week for 6-8 weeks, then strain the liquid with a cheesecloth. Make sure to squeeze as much liquid out of the cheesecloth as possible.

Pour the tincture in a dropper bottle, label it, and use as needed.
To Make The Tincture With Glycerin
Place herbs in a clean, dry pint mason jar. Boil some water and – while it is very hot – pour in just enough to completely cover the herbs. Add in enough glycerin to fill the jar and give the mixture a good stir.

Shake several times a week for 6-8 weeks, then strain the liquid with a cheesecloth. Make sure to squeeze as much liquid out of the cheesecloth as possible. Pour the tincture in a dropper bottle, label it, and use as needed.

For a faster method using glycerin see the instructions in this post. However, because this tincture contains roots and berries which are more difficult to extract from, increase the total extraction time to 6-8 weeks.
How To Use Your Tincture
I use 1-2 droppers full one to three times daily, depending on my stress load for the day.
Notes
This tincture uses the same adaptogenic herbs used in my Happy Adrenal Tea – eleuthero, schisandra berry, holy basil, ashwagandha, and licorice – just with different ratios for this extraction method. Because it a lot of roots and berries, which roughly double in size when placed in liquid, we'll only be filling our jar 1/3 of the way full.
Shelf Life: Store in a cool, dark cabinet. Shelf life is 5+ years for alcohol-based tinctures, and 14-24 months for glycerin-based tinctures.
Is this blend safe for pregnant and nursing mamas?
A few herbs in this blend – holy basil, ashwagandha, and licorice root – are not recommended for pregnant mamas. However, according to The Botanical Safety Handbook, there are no known contraindications for nursing mamas. (Pregnant mamas, if you're interested in a pregnancy-friendly adrenal support blend let me know!)
What about the alcohol content? A dropperful (30-40 drops) of tincture has about the same alcohol content as a very ripe banana. (source 1, source 1, source 2) In general, tinctures are not considered a concern for pregnant/nursing women and even children by many experts and herbalists, provided the specific herbs in the tincture are considered appropriate for the individual. Though this tincture is not intended for pregnant mamas, I think this quote from Joel Evans, M.D., author of "The Whole Pregnancy Handbook: An Obstetrician's Guide to Integrating Conventional and Alternative Medicine Before, During, and After Pregnancy," speaks to the issue:
Tinctures contain alcohol, but because they're taken in very small doses over a limited period of time, their alcohol content should not cause concern in pregnancy. (source)
Children do tend to prefer glycerin-based extract because they're sweeter, though, which is why I used that as the base for my kid-friendly sleep tincture. For those that wish to reduce or eliminate the alcohol content for any reason, there are a few options.
First, some recommend adding the tincture to hot tea so that some of the alcohol burns off. In many cases the valuable constituents will be left behind, but some are not heat stable and may evaporate. The other option is to use a glycerin-based tincture.
Want more research-backed natural remedies?
No problem, I've created a free ebook for you – Kitchen Apothecary: 25+ Natural Remedies Using Ingredients From Your Pantry – as a gift for signing up for my newsletter. You'll also get updates when I post about safe essential oils for pregnant/breastfeeding mamas, exclusive gifts and coupons (I was able to give away a jar of free coconut oil to anyone who wanted it recently!), plus other goodies.
Sign up using the form below.
Vafa Amirkia and Michael Heinrich (2014) Alkaloids as drug leads – A predictive structural and biodiversity-based analysis