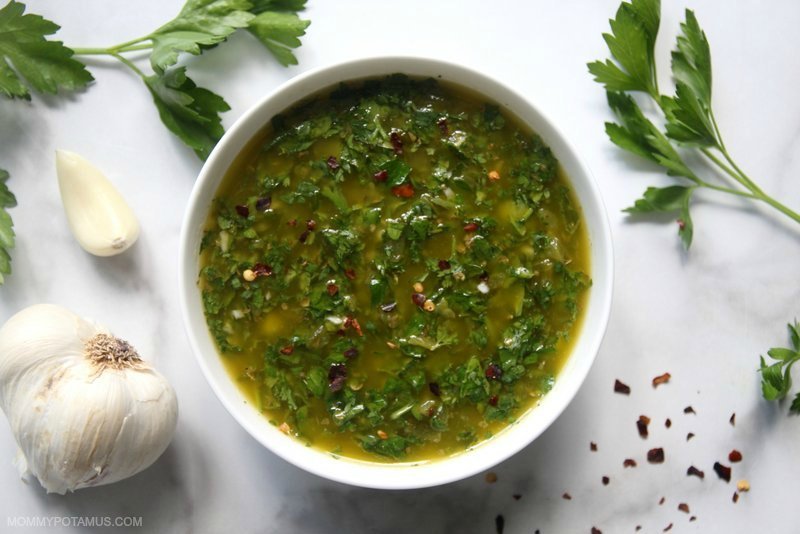 Some words are just fun to say. Indubitably for example. Or kerfuffle. In fact I highly suggest saying one of them right now. (I'll wait.)
Felt good, right? With that in mind, today I want to introduce you to another word that's fun to say and even more fun to eat – chimichurri.
Chimichurrrrrrrrri.
Sometimes called Argentina's favorite sauce, chimichurri is a garlicky, spicy, tangy sauce that's used as a marinade or served over grilled meats. It's traditionally made with fresh herbs, garlic, red pepper flakes, olive oil and red wine vinegar. There are variations, of course, but those are the basics.
How did chimichurri get its name?
There's quite a bit of debate about where the word comes from, actually. Some say its origins are derived from Basque settlers who lived in Argentina in the 1800s – their term tximitxurri loosely means "a mixture of several things in no particular order."
Others say that a meat importer named Jimmy Curry became obsessed with traditional criollo Argentine barbecues during his travels, even to the point of creating a special sauce that took off like wildfire in popularity. Long after he'd returned home locals were still eating Jimmy's curry, or as it came to be known, chimichurri.
What both sides agree on is this: chimichurri sauce is DELICIOUS. I've shared my magic green sauce recipe and many other sauces over the years, but my husband told me to tell you this one is his favorite.
How This Recipe Is Different
Some traditional versions incorporate jalapeno peppers, including the one I first tasted many years ago. Raw jalapeños are usually used, but the sauce I first tried incorporated peppers that had been charred under a broiler until the skins peeled right of. The result is a smoother, slightly smoky flavor that wins hands down in my house.
You know I'm all about skipping steps in the kitchen when possible, but I've tested this recipe both ways and I highly recommend charring the jalapeños. It takes just a tiny bit of effort and is well worth it.
How To Use Chimichurri Sauce
In Argentina, chimichurri sauce is typically used as a marinade or sauce for grilled meat, but my family uses it for so much more. Here are some ideas:
Drizzled over flank steak (or any steak)
​Over scrambled eggs
As a marinade
As a dipping sauce for grilled meats, especially seafood and beef
Over grilled veggies
On top of baked sweet potatoes (the mix of sweet and spicy flavors is amazing)
In place of salsa on tacos
Chimichurri Sauce Recipe (Argentinian Herb Sauce)
Instructions
Set your oven to broil and place the jalapeño on the top rack. Allow it to char on one side and then flip it over to the other side. Place the jalapeno in a small bowl and set a plate on top as a "lid" to continue to steam the jalapeno while it cools.

Once it's cool enough to touch, the jalapeño outer skin will peel off easily. Go ahead and remove as much as you can.

Dice the jalapeño and deseed it.

Place oil, jalapeno, garlic, oregano, thyme, rosemary, bay leaves, red wine vinegar and salt in a small saucepan.

Bring the oil to a slight simmer and reduce heat to the lowest setting possible. Let the oil infuse for 15 minutes, then remove from heat. Allow oil to cool completely, then remove the bay leaves.

Place the sauce in your food processor along with the fresh parsley and pulse until the parsley is finely chopped. Add red pepper flakes and pepper to taste before serving.
Nutrition
Calories:
42
kcal
|
Carbohydrates:
1
g
|
Protein:
1
g
|
Fat:
5
g
|
Saturated Fat:
1
g
|
Sodium:
76
mg
|
Potassium:
4
mg
|
Fiber:
1
g
|
Sugar:
1
g
|
Vitamin A:
86
IU
|
Vitamin C:
1
mg
|
Calcium:
1
mg
|
Iron:
1
mg
More Recipes To Try
Basil Pesto – This recipe is like summer in a bowl, bringing sun-infused deliciousness to just about everything that touches my table when our garden is in full-swing. Goes great with pasta or as a topping for gluten-free pizza.
BBQ Sauce – This quick and easy barbecue sauce is perfect over brisket, ribs, grilled chicken and even burgers.
Teriyaki Sauce – Ready in just ten minutes, this teriyaki sauce recipe is full of flavor and perfect for a quick meal. You'll only need a few ingredients!