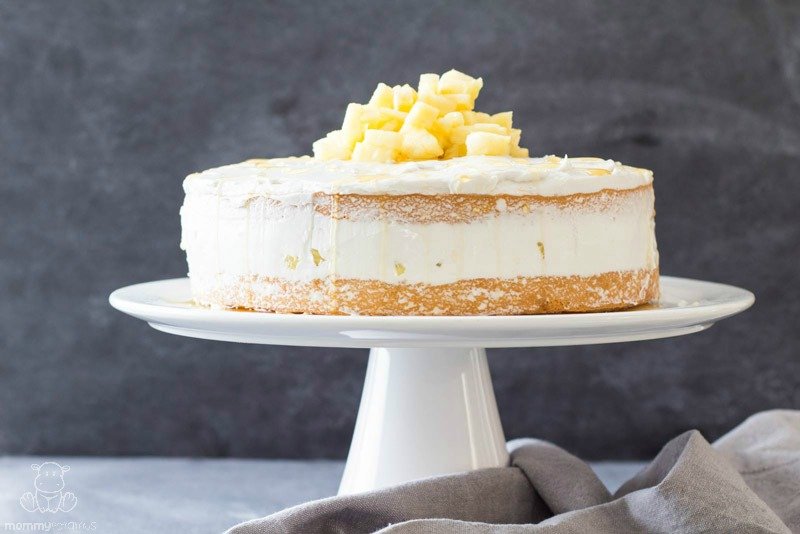 Note from Heather: If you love my piña colada inspired (rum-free) pineapple popsicles, you're going to absolutely love this dreamy coconut cream cake recipe from Lorena of Green Healthy Cooking. Thank you for sharing with us today, Lorena! 
I feel truly honored to be invited over to guest post on Heather's blog. I've been following the Mommypotamus for more than 4 years now and absolutely love the extraordinary work she does for all of us. Being able to create a coconut cream cake recipe for her readers, all of you guys, is about the most exciting challenge I've taken so far in my blogging career over at Green Healthy Cooking.
After discussing with Heather what kind of recipe you would probably like to see the most and after some baking tests to create that perrrrfect dessert, this gluten-free and dairy-free coconut cream cake was born. I almost called it coconut DREAM cake by the way!
Gluten-free and dairy-free but still delicious? Challenge accepted.
I find the biggest challenge in gluten-free baking to be creating "spongy" cakes and the biggest challenge with dairy-free icings is achieving the "creamy" texture of butter combined with super unhealthy icing sugar. My test bakes resulted in an incredibly spongy cake iced with the creamiest icing you've tasted in your life! Make this cake for any kind of celebration: birthday, wedding, anniversary, Mother's day, Father's day, TGIF…you name it.
It's the first time I've worked with quinoa flour, which will now become a staple in my kitchen. Most almond flour cakes tend to be quite dense, but the quinoa flour in this recipe makes it spongy and airy. It does have a special taste to it, so an all quinoa flour cake will probably taste a bit weird, but the mix made the cake's taste and texture an absolute dream. I'm sure you'll love it as much as all of the lucky taste testers did.
I've got to warn you about this recipe though. The reason I wanted to call this Coconut Cream Cake coconut DREAM cake is because eating it will result in minds wandering off to white sandy beaches in Mexico, it tastes pretty much like a cold piña colada but in form of a piece of cake. Are you drooling yet?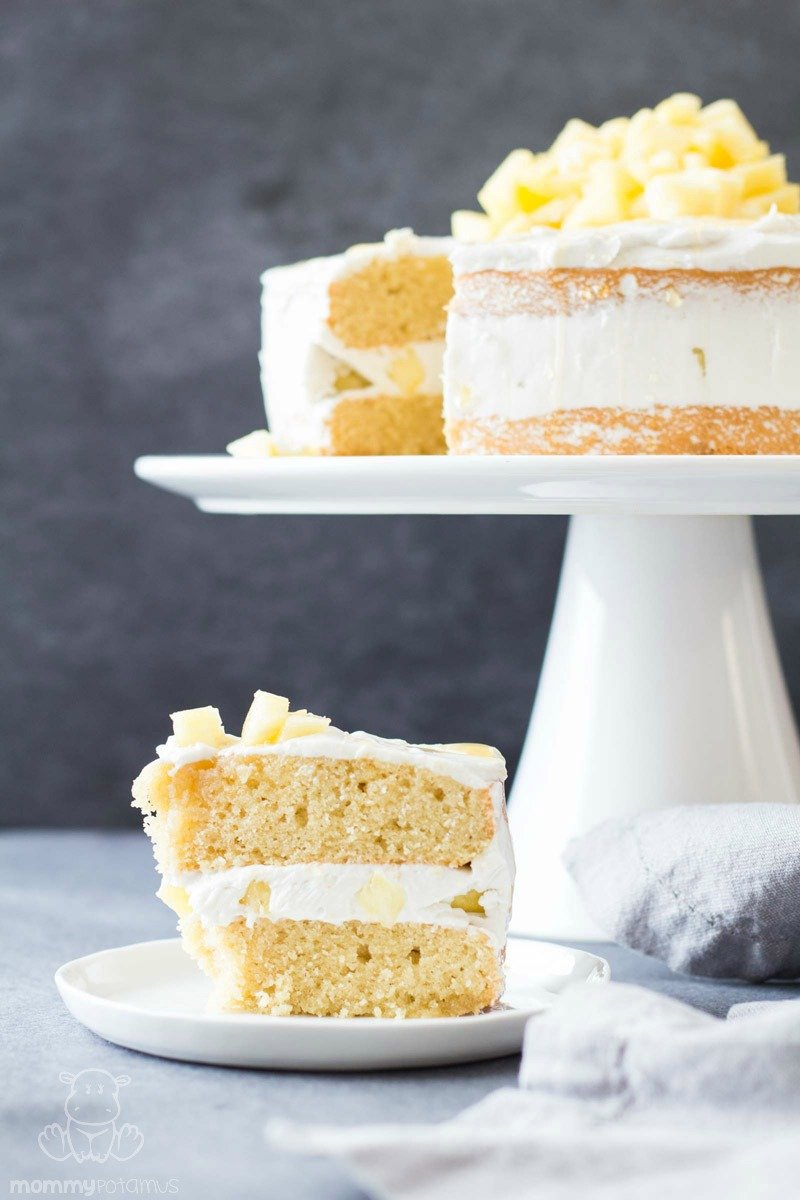 Coconut Cream Cake Recipe - Gluten Free
Instructions
Preheat oven to 325° F (160° C).

Grease bottom and sides of two 8" cake rounds with a little coconut oil, line bottom with parchment paper and then grease bottom again. (To get perfect circles place cake round on parchment paper and draw around it with a pen, then cut out just inside the line. Voilá.)

Add almond flour, quinoa flour, baking powder and salt to a bowl and whisk until well combined.

In a separate bowl whisk together eggs, maple syrup and coconut oil. Make sure all ingredients are at room temperature. If the eggs or maple syrup is too cold, the coconut oil will harden and form clumps and make the cake very oily. If the coconut oil has been melted over to high heat and is hot, the egg will start cooking.

Carefully fold dry ingredients into wet ingredients. Do not overmix or the cake will become dense. Just when the last dry ingredients start dissolving into the wet ingredients, stop folding.

Add half of the batter to one cake round and the other half to the other round. If you want to do this exactly I recommend using a scale and weighing both the cake rounds to ensure they weigh the same.

Place in the oven and bake for 30-35 minutes. To ensure it is cooked, insert a toothpick into the center of the cake and if it comes out clean it's done, if not return to oven for another 5 minutes.

While the cake batter is in the oven, add coconut cream only (no water at all) and maple syrup to a bowl and whisk until well combined and smooth. No need to whip the cream, just smooth out a little.

Peel pineapple and cut into small pieces leaving out the hard center and only chopping the yellow flesh.

Once cake batter is cooked, remove from oven, use an icing spatula or anything very thin and flat like and unsharp knife for example to go around the cake to remove from round's sides and turn onto a cooling rack. Since the cake round was lined with parchment paper it should come out easily so make sure you do it fast to avoid from braking.

Put one layer of cake onto your cake stand, spoon a big dollop of maple sweetened coconut cream on it and spread with an icing spatula or large knife.

Now add a layer of cut up pineapple and then another thin layer of coconut cream to fill in the holes.

Place the second layer of cake on top and then ice with the rest of the coconut cream until achieving a naked cake design, spreading evenly on the top and filling in holes on the sides but leaving the cooked cake batter exposed.

Top with extra cut up pineapple for decoration and pour maple syrup on the top until it starts dripping down the sides. Enjoy!
Notes
* Where I live they sell already separated coconut cream. If you cannot find cans of coconut cream buy regular full fat coconut milk, place in the fridge over night, open can carefully without shaking and spoon out the cream that has formed on the top saving the coconut water at the bottom for something else.
More Summer Fruit Recipes
Gluten-Free Peach Cobbler – This easy, Southern-style peach cobbler is one my favorite summer desserts. Cinnamon, vanilla, & heaps of fresh peaches meld beautifully with the buttery, sweet topping.
It's easy to make, too. I can easily throw it together in a pinch for guests when I'm short on time.
Fruit Pizza Recipe – The  cookie crust of this fruit pizza is soft and buttery, yet sturdy enough to pile a lot of fruit on. I've also included a recipe for light and fluffy homemade whipped topping.
Cherry almond ice cream -This recipe was a happy accident, and it's so delicious!
Want more delicious, easy recipes?
No problem, I've created a free ebook for you – 35+ Gluten-Free Desserts – as a gift for signing up for my newsletter. Every Sunday you'll get recipes, actionable health tips, and highly-vetted product recommendations delivered fresh to your inbox.
Sign up using the form below.
About Lorena
My name is Lorena and I am…well….many things. I am German Peruvian, I am a researcher, I am a university graduated translator, I am a globetrotter, I am a natural living enthusiast but most of all…I am a mother, a wife, a real food lover and a self-proclaimed cook caring for my family's health.
Come join me over at Green Healthy Cooking, where I offer real food recipes made out of 95% unprocessed food. Only 95% because let's be realistic, not all of us have a mill to grind grains and make flour in the kitchen corner or a cow to milk in the entry hall way. So, I'm keeping it real in a real world scenario where all of us have about 39372920 other things on our daily to-do-list after "preparing a healthy meal". I do keep it as unprocessed as possible though. The more you make from scratch the healthier you will be and the better you will feel.