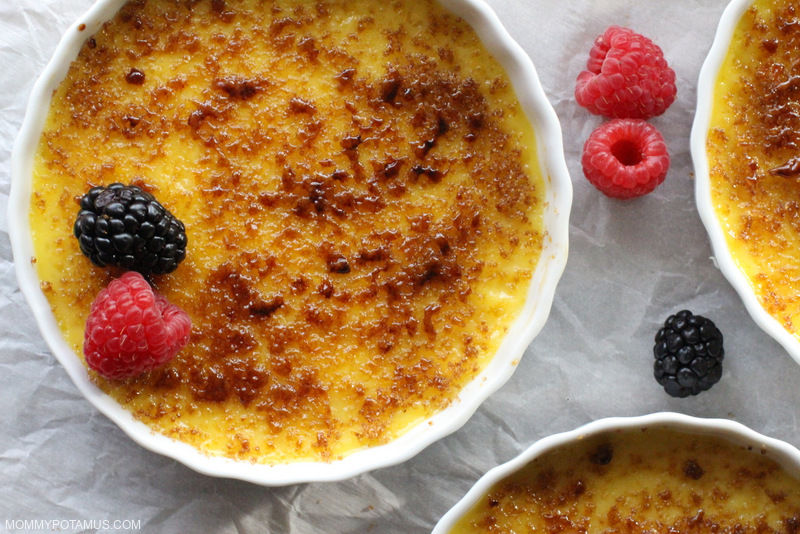 One this day **indistinct cough** years ago, I was running through an airport with a wedding dress over my head. By sundown I'd left my old world behind, and within twenty-four hours I had a new last name and a marriage certificate more colorful than an Olympic logo.
The ceremony is a blur – I think I was in shock that it was actually happening. But as we swung open those mahogany reception doors and laid our eyes on the feast set before us things started coming back into focus . . . cornish hen with a local squash and fried plantains over creme brulée . . . wine . . . laughter intermingled with blessings as the candles melted into stumps. I remember that meal like it was yesterday.
Creme Brulee Recipe
Since we can't skip over to the Martineau Bay Resort to relive that night I've been working on a creme brulee of my own. This creamy vanilla version has just a touch of maple. Enjoy!
Creme Brulee Recipe
Equipment
2 large baking pans

teaspoon
Ingredients
⅔

cup

maple syrup

3

tbsp

brown sugar or rapadura sugar

( for topping - other than this sugar cookie body scrub, this is the only Mommypotamus recipe that contains brown sugar. Although it's wonderful for exfoliation I use unrefined sugars exclusively in my kitchen. This is the only exception because unrefined sugars tend to burn instead of caramelize.)

10

large pastured egg yolks

1 ⅓

cup

heavy cream

⅔

cup

coconut milk

(or whole milk)

¼

tsp

sea salt

1

tbsp

vanilla extract
Instructions
Preheat oven to 350°F. Place ramekins on two large baking pans.

Whisk together cream, milk, vanilla, egg yolks, maple syrup and salt until smooth.

Transfer the liquid into the ramekins, dividing equally.

Pour enough hot water into roasting pan to come halfway up sides of cups. Bake until custards are set in center, about 35-40 minutes. Remove from water and allow to cool until custards are at room temperature. Chill overnight.

To create the caramelized topping using a kitchen torch: Sprinkle 1-2 teaspoon sugar over the creme brulee and use the torch to melt the sugar.

To create the caramelized sugar topping using an oven: Preheat broiler. Place custards in a roasting pan. Pour enough ice water into pans to come up halfway the sides of the ramekins. Sprinkle 1-2 teaspoons sugar evenly over each. Broil until sugar browns, rotating the pan for even browning and watching closely so the sugar doesn't burn.
Notes
* The amount used will depend on the surface area of your ramekin. You can use sucanat but it burns much more easily.
Nutrition
Calories:
0
kcal
|
Carbohydrates:
0
g
|
Protein:
0
g
|
Fat:
0
g
|
Saturated Fat:
0
g
|
Polyunsaturated Fat:
0
g
|
Monounsaturated Fat:
0
g
|
Trans Fat:
0
g
|
Cholesterol:
0
mg
|
Sodium:
0
mg
|
Potassium:
0
mg
|
Fiber:
0
g
|
Sugar:
0
g
|
Vitamin A:
0
IU
|
Vitamin C:
0
mg
|
Calcium:
0
mg
|
Iron:
0
mg