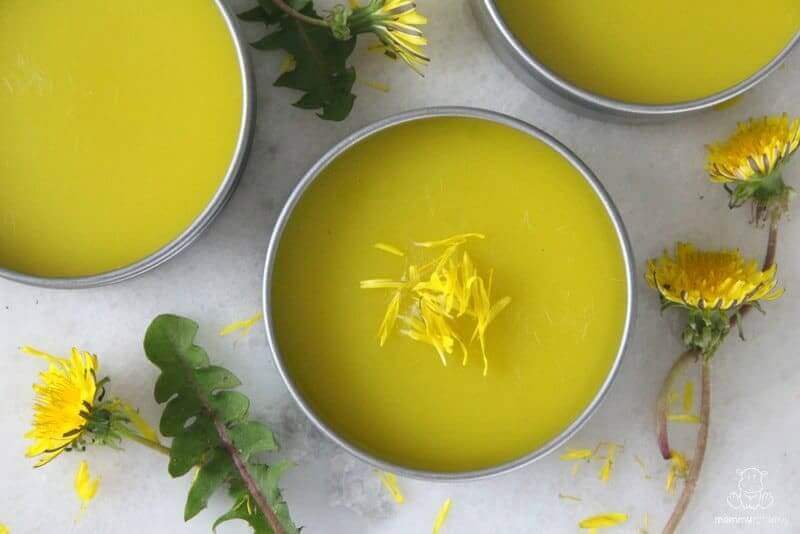 Rich in anti-inflammatory antioxidants, polyphenols and flavonoids, this cousin to the famous skincare ingredient  – calendula – is gaining a reputation of its own. According to this study, both dandelion flower and leaf extracts protect against UVB-related photoaging and senescence (aging at the cellular level). Made using dandelion-infused oil, dandelion salve soothes skin irritations and nourishes dry skin, making this all-purpose healing balm perfect for use as a:
face moisturizer
chapped-lip balm
owie salve
bug bite balm
burn salve
diaper rash balm
gardening salve
balm for rough elbows and cracked heels
Essential Oils That Complement Dandelion
For an all-purpose healing balm, I like to use kid-safe essential oils like lavender, frankincense, chamomile and tea tree. For a relaxing muscle rub, black pepper, copiaba, and lavender are good choices, too.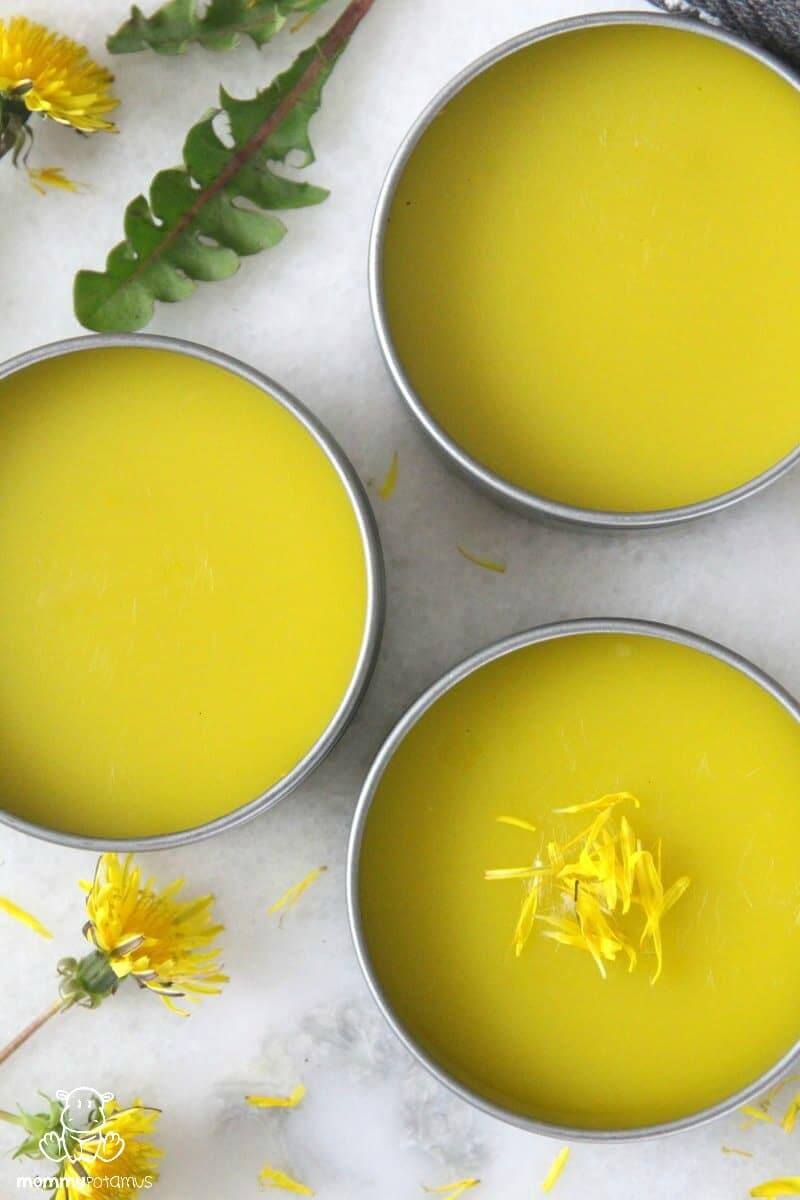 Dandelion Salve Recipe
Ingredients
Instructions
Gently heat the beeswax in a double boiler. (If you don't have a double boiler you can use a stainless steel bowl set inside a pot of boiling water.) When the beeswax is melted, add in the dandelion oil. Allow it to warm up for 30-60 seconds, then stir until the beeswax and oil are thoroughly mixed, then remove from heat and stir in essential oils if using.
Pour your salve into a clean, dry container and allow to cool – I used three of these 2 ounce tins. Now you're ready for the next bug attack, bee sting, scrape, etc.
Safety Considerations
According to the Botanical Safety Handbook, dandelion is a Safety Class 1A herb – the safest rating possible. There are no known contraindications for pregnancy, nursing, or use with children.
As always, please check with your healthcare provider before using any herbal remedy.
Want more research-backed natural remedies?
No problem, I've created a free ebook for you – Kitchen Apothecary: 25+ Natural Remedies Using Ingredients From Your Pantry – as a gift for signing up for my newsletter. You'll also get updates when I post about safe essential oils for pregnant/breastfeeding mamas, exclusive gifts and coupons (I was able to give away a jar of free coconut oil to anyone who wanted it recently!), plus other goodies.
Sign up using the form below.