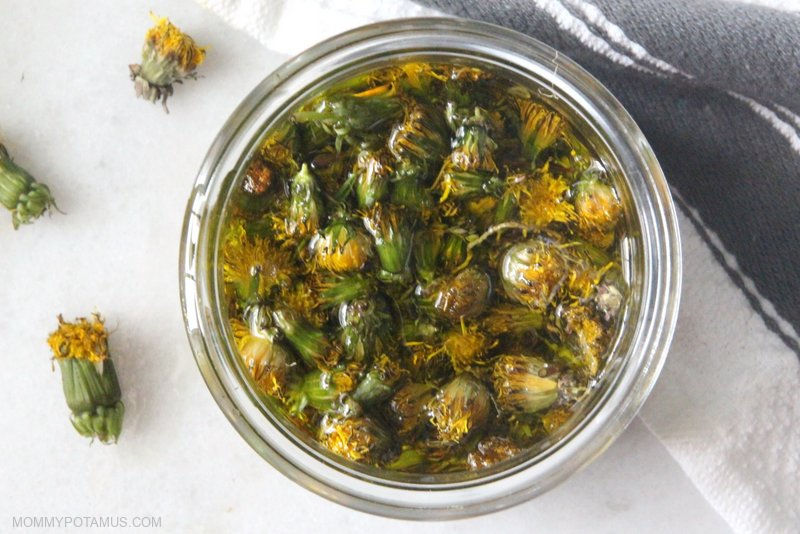 It's not uncommon for notable pairs to run in families. Sometimes the resemblance is obvious – for example, Clint Eastwood and John Wayne are related – but sometimes it's not . . . at least not at first. Buffalo Bill and Ralph Waldo Emerson are from the same family, as are Abraham Lincoln and Tom Hanks. (1) (2) (3) And of course there's calendula and dandelion – not usually considered similar, but both members of the Asteraceae family.
Calendula is more well-known for its skincare benefits, while dandelion is better known for its detoxification, digestive, and hormone balancing benefits.
I call this homemade calendula salve recipe my #allthethings balm because it can be used as a face moisturizer, chapped-lip balm, baby bottom balm, owie salve, burn salve, bug bite balm, and more.
Actually, though, dandelion blossoms have a lot of the same properties that calendula is prized for. They contain compounds that nourish and hydrate skin, making them perfect for a healing balm. Unlike calendula, though, these sunny yellow flowers can be found during the spring and summer just about everywhere . . . for FREE.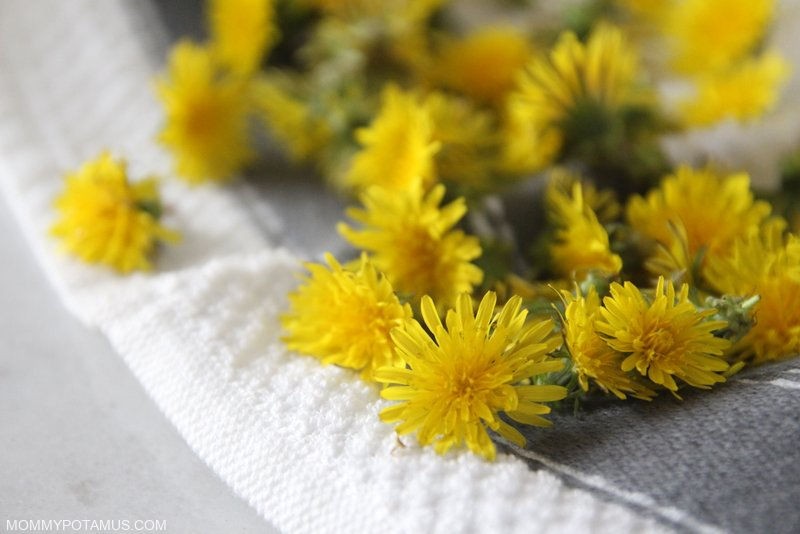 Benefits of Dandelion for Skin
Gathering dandelions is a perfect way to introduce kids to the joy of wildcrafting, or to experience it firsthand for the first time. In addition to their culinary uses (topping salads, making infused vinegars, etc), they also have properties that make them ideal for skincare.
Yep, dandelion blossoms are full of anti-inflammatory antioxidants, polyphenols, flavonoids and minerals that support and protect your cells, soothe skin irritations and nourish dry skin. (4)
For example, this study found that both dandelion flower and leaf extracts protect against UVB-related photoaging and senescence (aging at the cellular level).
5 Ways To Use Dandelion Infused Oil
The infused oil can be used as:
First aid – For cuts, scrapes, burns, sunburns, bug bites and other minor skin irritations.
Face and lip care – Dandelion oil is becoming more popular in skincare products, and can be used in place of regular olive oil in this lip balm recipe. It can also be used on its own as a facial oil.
Diaper rash – I like to apply the oil – or a salve made from it – and then sprinkle some bentonite clay over the area.
Dry or chapped skin – Due to its soothing and conditioning properties, dandelion oil is often used in moisturizing hand salves.
Sore muscle rub or massage oil – If you want to include essential oils in a dandelion salve, adding black pepper, copiaba, and lavender will help to relax muscles.
Wondering if dandelion oil or dandelion salve is best for you?
The main difference between the two is that dandelion oil is a liquid, while the salve is semi-solid and therefore easier to carry in a purse or diaper bag. If you want to make a salve, follow the instructions below to make the infused oil and then follow these steps to thicken it into a salve.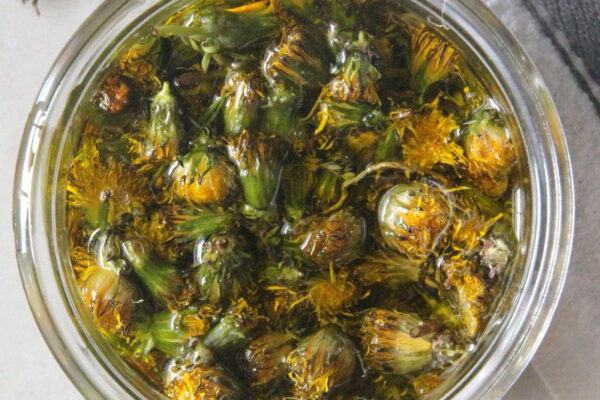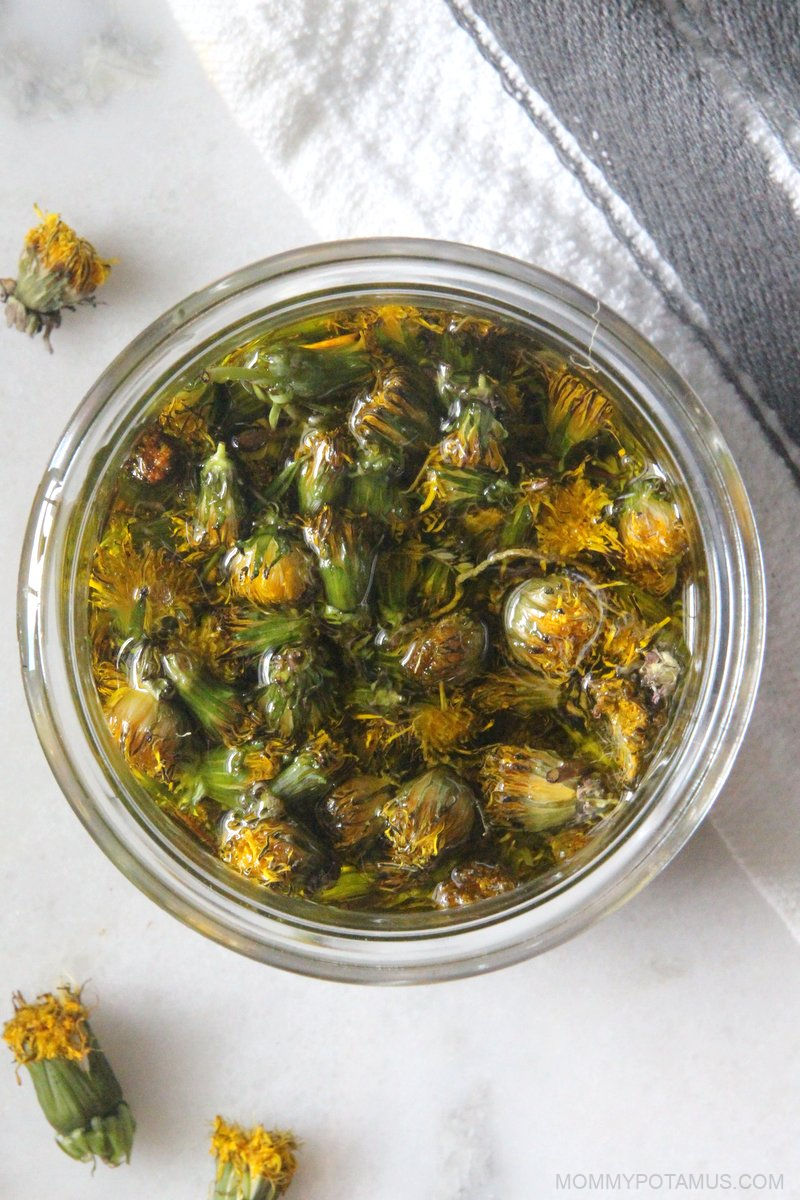 How To Make Dandelion Oil
This dandelion oil nourishes, hydrates, and supports skin healing. It can be used as a face moisturizer, chapped-lip balm, baby bottom balm, owie salve, burn salve, bug bite balm, and more
Equipment
Slow cooker with "warm" setting

Turkey baster (optional)
Ingredients
2

cups

freshly picked dandelion blossoms

1

cup

carrier oil

(I use a 50/50 blend of jojoba oil and olive oil, but you could also use another oil such as avocado, apricot kernel, tamanu or fractionated coconut oil)
Instructions
On a dry, sunny day, pick 2 cups of dandelion blossoms from an area that has not been sprayed with pesticides. Just gather the flower head – leave the stem and roots behind unless you're planning to use them in salads or dandelion root tea.

Lay dandelion blossoms on a clean towel for 12-24 hours to dry out. They may still have a little moisture after the drying period, which is why we'll be using low heat to evaporate out any remaining water.

Once the dandelion blossoms have dried, place them in a 12 ounce clean jar and cover with a carrier oil. I used a 50/50 blend of jojoba oil and olive oil to make this year's batch, but you could also use another oil such as avocado, apricot kernel, tamanu, or fractionated coconut oil. Make sure the blossoms are fully covered.

Cover the jar with a piece of cloth (like cheesecloth or a cut-up t-shirt) or a coffee filter and secure with a rubber band.

Place a kitchen towel in the bottom of your slow cooker and place your jars inside. Add enough water to cover about half the jar and set to the lowest setting (warm) for 12-24 hours, leaving the top uncovered. If you leave it on for 24 hours, you may want to check the water level about halfway through and replenish if needed.

After the 12-24 hour period, you can allow the blossoms to continue to infuse at room temperature for up to a week, or you can strain the oil and use it right away. When you're ready, strain the oil through cheesecloth or a fine mesh sieve and let the oil sit for several hours. If there is any water in the oil (from the dandelion blossoms) it will collect in the bottom of the jar.

If you have a turkey baster, use it to siphon the infused oil off the top, leaving the water behind. If you don't have a turkey baster, carefully pour the oil off the top. Your dandelion oil is now ready to be used or made into a healing salve.

Store in a cool area for up to 12 months. (I store mine in the fridge.)
Safety Considerations
According to the Botanical Safety Handbook, dandelion is a Safety Class 1A herb – the safest rating possible. There are no known contraindications for pregnancy, nursing, or use with children.
As always, please check with your healthcare provider before using any herbal remedy.
More DIY Herbal Oil Recipes
Plantain Oil – Like dandelions, plantain grows in the wild just about everywhere and is easy to identify and harvest. This nourishing oil is helpful for bee stings, sunburn, poison ivy, eczema flares, diaper rash and more.
Arnica OIl & Cream – Arnica has been traditionally used by Swiss mountaineers to prevent muscle soreness, and according to The New York Times, "scientists have found good evidence that it works." When I injured my shoulder awhile ago, I made up a batch of arnica cream to use along with physical therapy. It was so helpful and it's very simple to make, too!
Comfrey Oil & Salve – Sometimes called knitbone or All Heal, comfrey is often recommended for soothing sprains, bruises, minor cuts and burns. It can also be used to ease tight muscles, boost hair softness and shine, and moisturize skin.
Want more research-backed natural remedies?
No problem, I've created a free ebook for you – Kitchen Apothecary: 25+ Natural Remedies Using Ingredients From Your Pantry – as a gift for signing up for my newsletter. You'll also get updates when I post about safe essential oils for pregnant/breastfeeding mamas, exclusive gifts and coupons (I was able to give away a jar of free coconut oil to anyone who wanted it recently!), plus other goodies.
Sign up using the form below.
This article was medically reviewed by Madiha Saeed, MD, a board certified family physician. As always, this is not personal medical advice and we recommend that you talk with your doctor.
Sources:
1. Ancestry.com. Tom Hanks Reveals Lincoln Connection.
2. RootsWeb. The Ancestry of Overmire Tifft Richardson Bradford Reed.
3. Geni. Jonathan C. Parsons Ancestry.
4. Ganora, Lisa. (2009) Herbal Constituents: Foundations of Phytochemistry
5. Michalun. M Varinia. (2014) Skin Care and Cosmetic Ingredients Dictionary 4th Edition