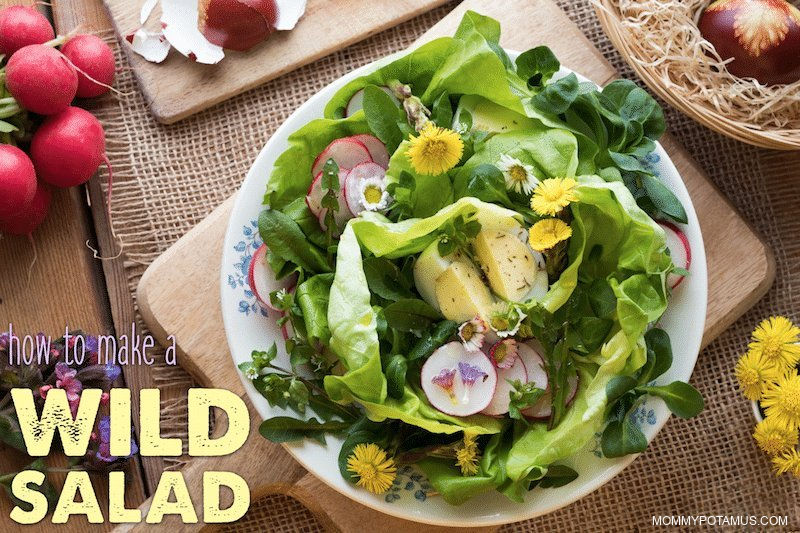 Greens are an important part of a healthy diet as they provide nutrients and fiber but are low in carbohydrates. Greens are probably the hardest vegetable for kids and reluctant adults to begin enjoying though. The texture and the way they are prepared can put many people off. Creating a wild salad from your backyard is a great way to make greens fun and enticing.
Rules of Foraging
Foraging for dinner is a fun way to get family members to try new vegetables, but there are some rules to foraging.
Be absolutely sure – Don't pick or eat anything that you're not 100 percent sure is edible. Some poisonous plants look very similar to edible ones (like water hemlock and wild carrot!).
Be safe – Only forage in areas that are safe. That means avoid places that are sprayed with chemicals or where there may be dirty runoff. Avoid roadways and farmland unless you know the farmer and know that they don't spray.
Be respectful – If you're foraging on someone else's land get permission first. Never take the biggest strongest plant. It's likely the one that grew the whole patch and probably has the strongest ability to reseed or reproduce.
Be sustainable – Remember that we are sharing nature with many other creatures. Always leave enough for other animals and so the plant can reproduce.
If you follow these rules you'll be safely foraging for your food while keeping the planet safe and healthy too.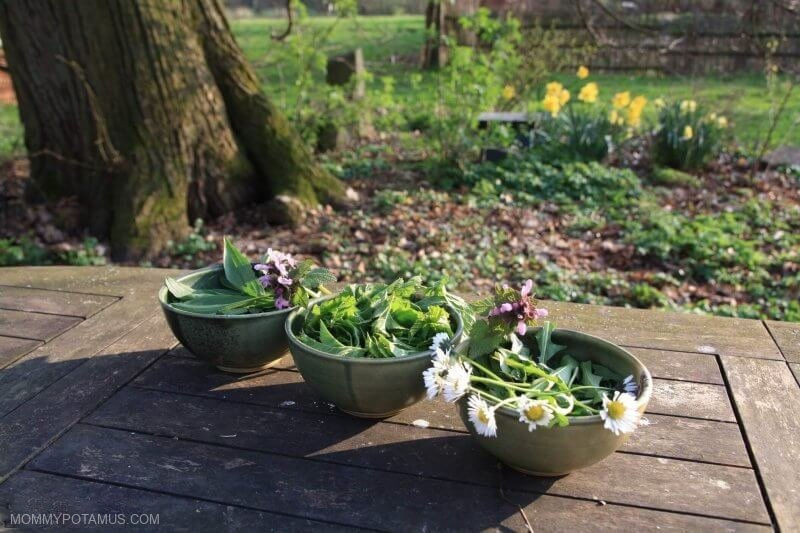 Choosing Your Wild Salad Ingredients
If you know how to identify these weeds or know someone who can help you, they make a great wild salad that even kids will want to try. Choose your ingredients based on their flavor (try to mix mild ingredients with strong ones) as well as their seasonality (some are best harvested in early spring while others can be eaten through the summer).
Dandelion – This weed is best in early spring when the plant is young. The greens are earthy and slightly bitter. The flowers are mildly sweet.
Plantain – This weed has a nutty and earthy taste and is also best in early spring.
Ground Ivy – This foraged green has an earthy, herbaceous taste similar to basil, sage, and mint. Harvest in summer.
Lamb's Quarter – Mild tasting, lamb's quarter is a bit salty and is used as a replacement for salt in dishes. Harvest in summer.
Clover flowers – the whole clover plant is edible but most people find the taste too strong. A few clover flowers though can be a nice addition to a salad.
Wild berries – If you're going to search for wild berries, stick with blackberries and raspberries as they are easy to identify and don't have any look-alikes.
Grow Your Wild Salad
If you aren't comfortable finding these backyard weeds, consider planting some weed-like salad ingredients of your own.
Mache – This mild flavored green is expensive to buy so growing it yourself is the way to go. It's a bit unusual looking so kids will love it!
Arugula – This green is actually quite common in salads but the shape of the leaf makes it look like a wild green. it has a peppery flavor so it's best mixed with more mild greens.
Calendula – The petals of this flower are edible. They are a bit spicy or peppery so don't add too many.
Nasturtium – This pretty flower is also edible and has a radish-like taste.
If you don't want to forage for fruits, fresh berries from your garden or farmer's market make a nice addition to this salad.
Wild Salad Recipe
Have fun foraging for salad greens among the plants in your back yard!
Ingredients
4

cups

greens

1

cup

edible flowers

½

cup

fresh berries

¼

cup

salad dressing

(your choice)
Instructions
Tear the greens into desired sized pieces.

Sprinkle flowers and berries on top.

Top with your choice of dressing.
Notes
If you don't feel confident enough to forage among the wild greens in your yard, try planting arugula, mache, calendula, and nasturtium!
Nutrition
Serving:
1
salad
|
Calories:
139
kcal
|
Carbohydrates:
14.2
g
|
Protein:
3
g
|
Fat:
8.5
g
|
Saturated Fat:
1.3
g
|
Polyunsaturated Fat:
0
g
|
Monounsaturated Fat:
0
g
|
Trans Fat:
0
g
|
Cholesterol:
20
mg
|
Sodium:
172
mg
|
Potassium:
0
mg
|
Fiber:
4.5
g
|
Sugar:
3.8
g
|
Vitamin A:
0
IU
|
Vitamin C:
0
mg
|
Calcium:
0
mg
|
Iron:
0
mg
Have you ever foraged for a salad? What was your experience?