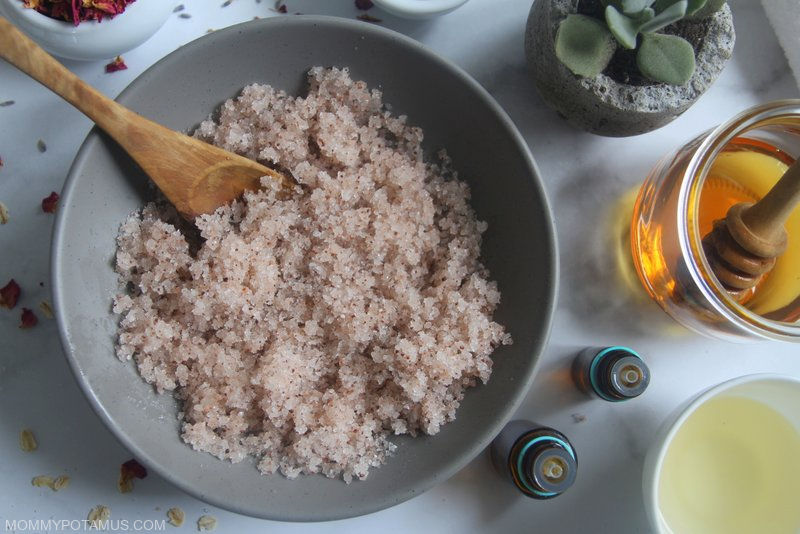 Is your skin feeling dry, dull or flaky? With just a handful of ingredients (that you probably have in your pantry right now) and five minutes of hands-on time, you can make an exfoliating body scrub that will leave your skin soft, glowing and deeply nourished.
The recipes below are much more affordable than store-bought options, and you can customize them to fit your needs – relaxing or energizing, lightly polishing or more intensively exfoliating, etc. They make thoughtful handmade gifts, too.
In this article I'll show you how, but first let's talk about why this DIY body scrub is well worth incorporating into your weekly routine.
Benefits of Skin Exfoliation
You've probably heard that your skin regenerates itself roughly every 28 days, and it's true. Dead skin cells are constantly being sloughed away as new cells grow underneath. However, as we get older the skin regeneration process slows down and we tend to develop a buildup of old cells – aka dry, patchy or flaky skin.
Exfoliating helps optimize the shedding of dead skin cells, which stimulates the stratum corneum (outermost layer of our skin) to regenerate with more young, healthy cells. According to Dr. Murad, a cellulite expert, maintaining a strong stratum corneum helps to protect the supportive layers underneath (collagen and elastin) from accelerated breakdown.
Exfoliation also supports skin health by:
Increasing circulation
Helping to unclog pores
Making it easier for other nourishing skincare products (like body butter) to penetrate more deeply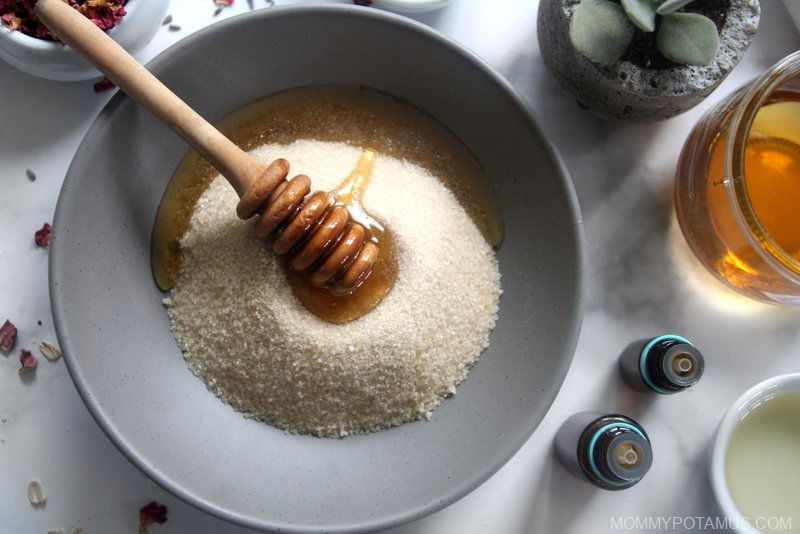 What You'll Need To Make DIY Body Scrub
When the right ingredients are selected, body scrub can be beneficial for most skin types – sensitive, normal, oily and mature skin. Here's an overview of what you'll need:
Exfoliant
Sugar and salt are the most common exfoliants used in body scrub, although some contain epsom salts, baking soda or even coffee grounds. Personally, I'm not a fan of using coffee in scrubs, because unlike sugar and salt it doesn't dissolve and can clog drains over time (even if it's finely ground).
Speaking of finely ground, the size of the granules affects the exfoliating properties of your chosen ingredient. Small granules have a lighter, polishing effect while medium-size granules exfoliate more thoroughly. (Very large granules tend to be ineffective.)
Benefits of Sugar Exfoliants
Sugar contains naturally occurring glycolic acid, which helps to dissolve dead skin cells as it's massaged into skin. It's also a humectant, which means that it draws moisture to skin.
White Cane Sugar & Brown Sugar – These two sugars are highly versatile and can be used interchangeably. When colorful additions like ground rose petals are used in the scrub white sugar tends to yield the prettiest result, while brown sugar has a deep, rich aroma that is reminiscent of sugar cookies. Both are suitable for all skin types and can be used on delicate facial skin.
Demerara Sugar or Turbinado Sugar – These types of sugar are coarser than regular sugar and therefore more deeply exfoliating. It's wonderful for body exfoliation, including rough areas like the feet and knees/elbows.
Benefits of Salt Exfoliants
Though they don't contain glycolic acid, salts such as unrefined sea salt or Dead sea salt are rich in skin-nourishing minerals. Salt also has some antimicrobial properties, making it a good choice for individuals with acne-prone skin.
Salt tends to be coarser in grind than sugar, making it best for whole body use. Although it is available in very coarse grinds such as rock salt, I've found that fine to medium grinds tend to work best.
Sea Salt – Harvested from evaporated seawater, sea salt is antimicrobial and affordable.
Unrefined Sea Salt – Harvested from salt deposits in places like the Himalayas and Hawaiian volcanoes, this type of salt is antimicrobial and rich in trace minerals that nourish skin.
Nourishing Oil
After the salt or sugar has scrubbed away old cells, your skin is ready to drink in moisture. That's where a nourishing oil – often called a carrier oil – comes in. When showering or bathing, it's best to cleanse first, then apply the scrub and rinse with water (not soap) so that the oil can soak in.
Here are some good options to choose from:
Almond Oil – Lightweight and easily absorbed, almond oil is rich in vitamin E and has a mild nutty aroma. It's good for all skin types.
Avocado Oil – Rich in essential fatty acids (EFAs), vitamin E, and antioxidants like oleic acid, avocado oil is nourishing without being overly heavy. It absorbs well and is compatible with normal, dry, mature and acne-prone skin.
Coconut Oil (Regular & Fractionated) – This easy-to-find, deeply moisturizing carrier oil is usually solid at room temperature but will melt at temps over 76F. However, there is a type called fractionated coconut oil that remains in liquid form at any temperature. Regular coconut oil is richer in lauric acid and long-chain fatty acids, while fractionated coconut oil is more quickly absorbed. Both may clog pores in some people with acne-prone skin, but the fractionated form is less likely to do so.
Jojoba Oil – Has a structure that is similar to our natural sebum, which makes it uniquely compatible with our skin. It's rich in vitamin E, absorbs quickly, and is considered helpful for supporting skin repair without clogging pores. Also, it's actually technically a wax, but most refer to it as an oil because it's liquid in its natural form.
Olive Oil – Rich in rich in Vitamins A, D, E, and K, pure, cold-pressed olive oil is deeply moisturizing. However, it may clog pores for some people, so individuals with acne-prone skin may want to test how a small area of skin reacts before applying it all over.
Optional Add-Ins
Essential Oils – Oils like peppermint and steam-distilled lemon are great for making an alertness-supporting wake-up scrub, while lavender is perfect for a "scrub the day away and unwind" formula.
Honey – As I wrote about in this guide to washing your face with honey, it's both a humectant (moisture gatherer) and cleanser that rinses away clean.
3 Homemade Body Scrub Recipes for Glowing Skin
Ready to get started? Here are three simple recipes that you can make in five minutes or less.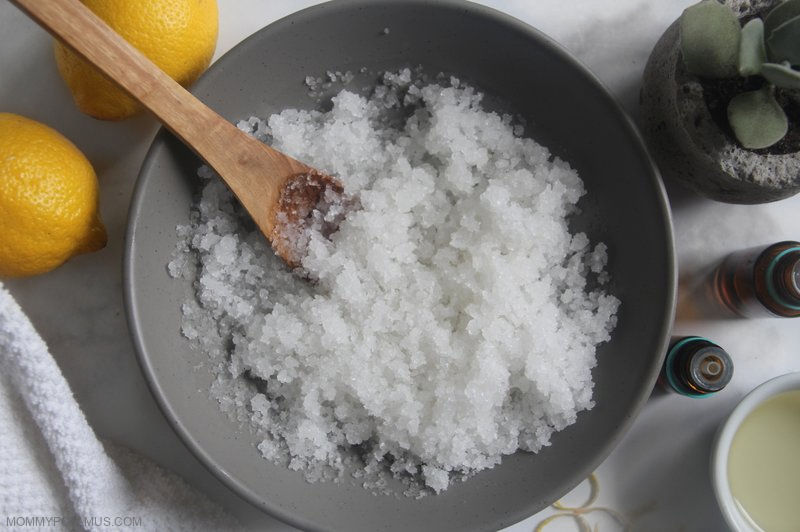 Lemon Body Scrub Recipe
With its clean, refreshing scent, this scrub is one of my favorite DIY recipes. Known for its mood-lifting effect, lemon essential oil has some astringent properties that make it wonderful for normal or oily skin. It's also thought to brighten skin and help even out pigmentation.
Important Safety Note: It is essential to use steam-distilled lemon essential oil in this recipe because it is free of furanocoumarins, which can cause sun sensitivity. Furanocoumarins help increase the absorption of UV light, which is great for lemons but not for skin. They are present in cold-pressed lemon essential oil, which if applied 12-48 hours before going out in the sun can cause skin to absorb excess UV light and burn.
1 cup sugar or salt (see ingredients section for recommendations)
1/3 to 1/2 cup carrier oil (see ingredients section for recommendations)
30 drops steam-distilled lemon essential oil
To Make & Use: See the recipe box at the bottom of this article for full instructions.
Variations To Try: Substitute half of the lemon essential oil with tea tree essential oil (which promotes clear skin) or lavender essential oil (which blends beautifully with lemon and has skin soothing properties.)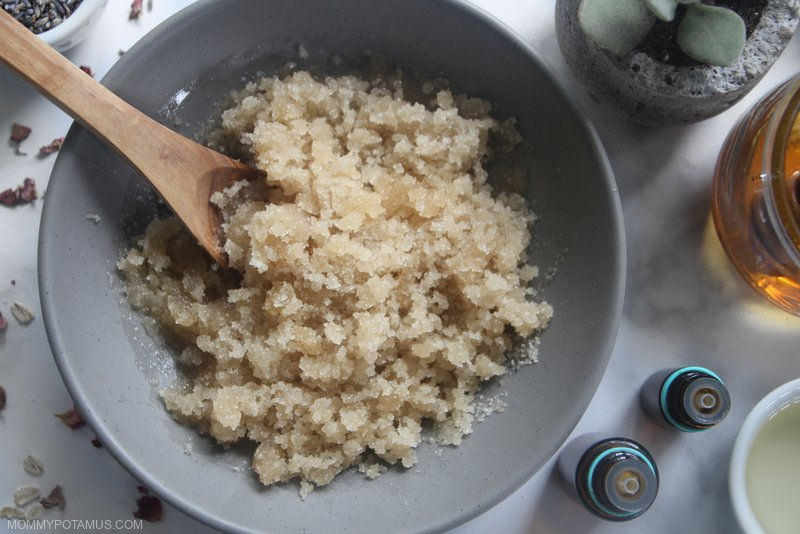 Lavender Body Scrub Recipe
Herbaceous and sweet, lavender essential oil is renowned for its emotional grounding and skin soothing properties. In this recipe I've paired it with honey, a natural humectant and gentle cleanser that works synergistically
1 cup sugar or salt (see ingredients section for recommendations)
1/3 cup carrier oil (see ingredients section for recommendations)
1 tablespoon honey (optional)
30 drops lavender essential oil
To Make & Use: See the recipe box at the bottom of this article for full instructions.
Variations To Try: Leave out the honey if you don't have it on hand.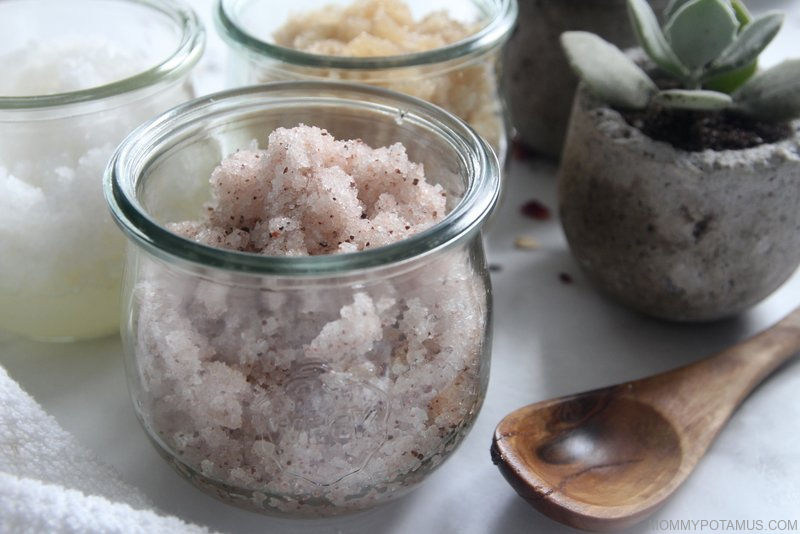 Peppermint Body Scrub Recipe
Refreshing and revitalizing, this recipe makes a wonderful "wake up scrub."
1 cup sugar or salt (see ingredients section for recommendations)
1/3 to 1/2 cup carrier oil (see ingredients section for recommendations)
10-15 drops peppermint essential oil
To Make & Use: See the recipe box at the bottom of this article for full instructions.
Variations To Try: Add 1-2 tablespoons honey to infuse the scrub with additional moisturizing/cleansing power. To make this scrub into a kid-friendly foot scrub for at-home spa days, substitute spearmint essential oil instead of peppermint.
Homemade Body Scrub Recipe for Glowing Skin
With just a handful ingredients (that you probably have in your pantry right now) and five minutes of hands-on time, you can make an exfoliating body scrub that will leave your skin soft, glowing and deeply nourished.
Instructions
To Make
Add essential oils (if using) to 1/3 cup carrier oil and stir. If you're using coconut oil, melt it over low heat first.

If you're adding honey to your scrub, add it to the carrier oil and stir to combine. If not, skip this step.

Place the sea salt or sugar in a bowl and then pour the oil mixture over it. Mix with a fork until well-combined, then check the texture. If it's too crumbly add a little more carrier oil, and if it's too runny add a little more sugar or salt.

Transfer your DIY body scrub to a clean, airtight container.
To Use
Use a spoon to scoop 2-4 tablespoons out of your jar. The ingredients, when stored properly, will last many months or longer, which is why you don't want to introduce water or microbes into the jar.

Place the scrub in your palms. Apply in a circular motion over your body until most of the crystals dissolve, focusing on rough areas such as elbows, knees, and heels. This scrub can make the shower slippery, so use extra caution – especially if applying to feet. Personally, I would limit foot application to baths only. Also, only use body scrub on intact skin – avoid any areas that are irritated or inflamed.

Rinse with warm water and pat skin dry. Follow with moisturizer. Recommended usage is once per week, although some skin types may do well with more frequent sessions (2-3 times per week).
Notes
Shelf Life
If no essential oil is used, the shelf life is over a year, provided a clean spoon is use to scoop it out so that water and bacteria are not introduced into the container. If essential oils are added, I recommend using it within 3-6 months so that the oils don't oxidize over time.
More Body Scrub Recipes To Try
Dead Sea Salt Scrub Recipe – Unlike most scrubs that stay on the surface of your skin, this Dead sea salt scrub melts slightly as it gently exfoliates, infusing skin with minerals that support skin firmness and elasticity.
Brown Sugar Body Scrub – The warm vanilla scent of this sugar cookie version makes it one of my favorites.
Vanilla Sugar Cube Body Scrub – These 3-in-1 vanilla sugar scrub cubes are a lovely way to create a spa getaway experience in the middle of a crazy daily schedule.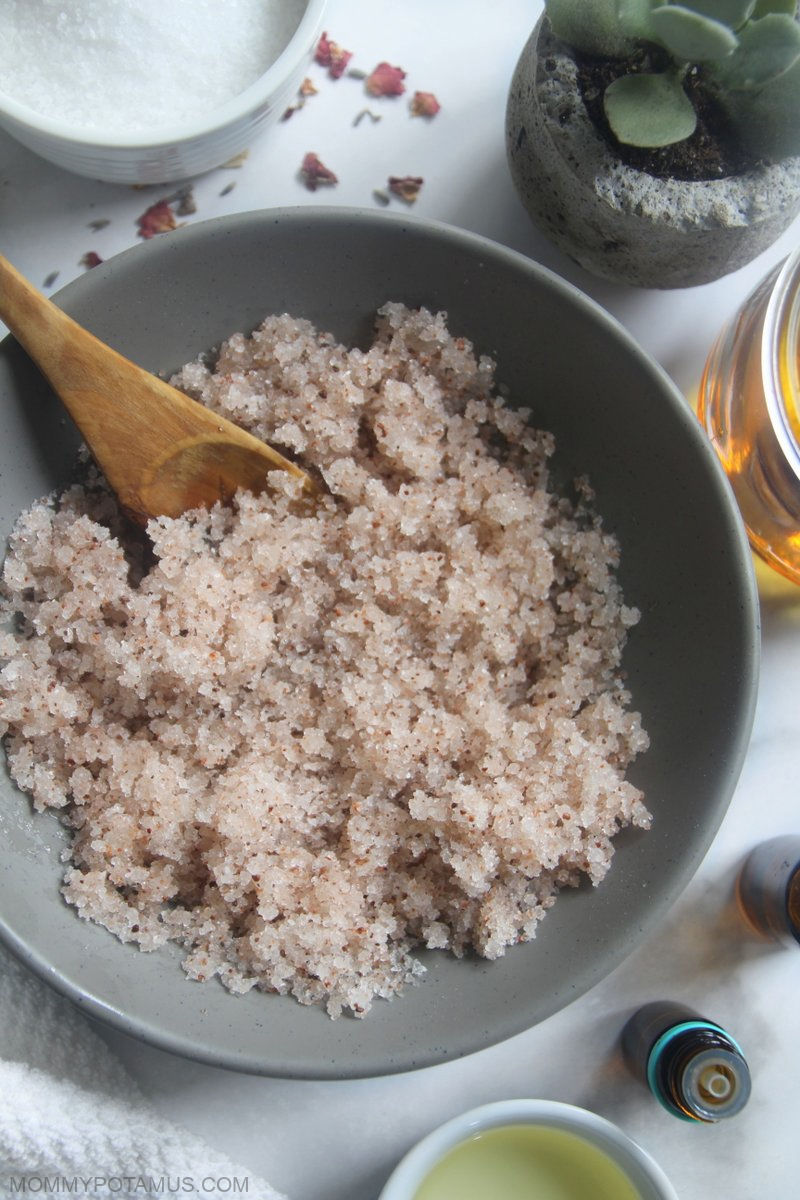 FREE Ebook: DIY Body Care Gifts Made Simple
Do you want to give gorgeous, handcrafted gifts for family and friends, without spending a bunch of time on them?
Then I'd love to give you a free copy of DIY Body Care Gifts Made Simple – my step-by-step guide to making gorgeous handcrafted gifts without stressing yourself out – as a gift for signing up for my newsletter. I'll show you how to make vintage labels, luxurious lotion bars, lip balms, sugar scrubs, body sprays and more like a pro. Sign up for my newsletter and you'll be redirected to the download page immediately!