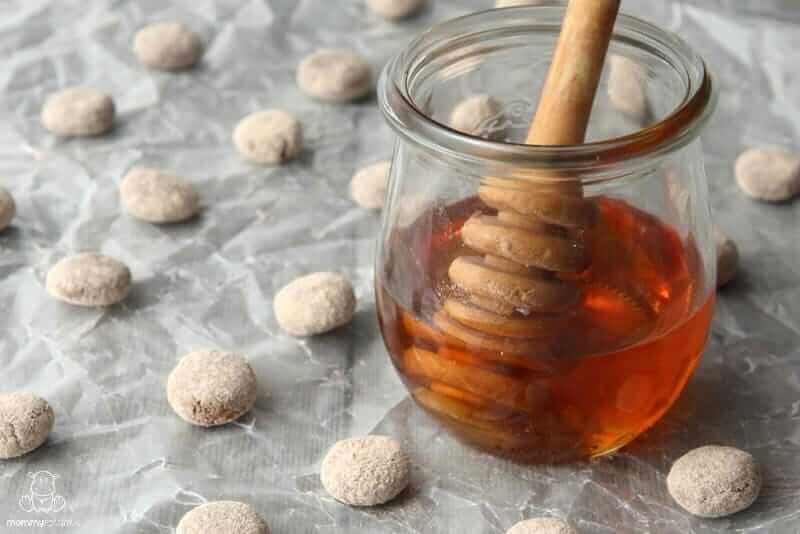 If you've ever tried making homemade cough drops with just honey, you know it's nearly impossible not to end up with a scorched mess. I've tried every winter for the past three years, but have never actually succeeded. These soothing sore throat meltaways are as far as I've gotten to a true cough drop . . . until this year, that is.
You see, one upside of packing up a home in 12F degree weather is that while you're defrosting the freezer, your bone broth and soups stay perfectly frosty outside, and your kids can help by transporting boxes in their sleigh. The other upside is that creativity often comes when you've run out of your normal options.
After a couple of long days working in the cold, dry air, my throat was feeling irritated and scratchy. Taking stock of what was left in my kitchen led to this throat-soothing, herbal homemade cough drop that I'm so excited to share with you. No dehydrator or food processor needed – just a bowl, a cookie sheet, and your oven!
The therapeutic herb in this cough drop recipe is slippery elm powder, which – when taken as a lozenge – transforms into a mucilaginous (gel-like) consistency that coats and soothes irritated throat mucosa.
It can also be used to make sore throat tea or homemade throat spray if you have the other ingredients on hand.
One quick note before we get to the recipe: Slippery elm bark is considered an at-risk species, so it's important to support shops that are using sustainable harvesting practices to ensure it will be available for generations to come – here's one option. Only a small amount is needed per batch, so a bag that size lasts a long time.
What To Buy If You Don't Want To DIY
This cough syrup from Genexa is made with organic honey that has been infused with echinacea, elderberry and acerola cherry extract. It's delicious, soothing, and great to have on hand.
It's available in many grocery stores, health food stores, and pharmacies, so if you're reading this list and you need it right away, you can check availability here. (I'm a partner with them, just FYI.)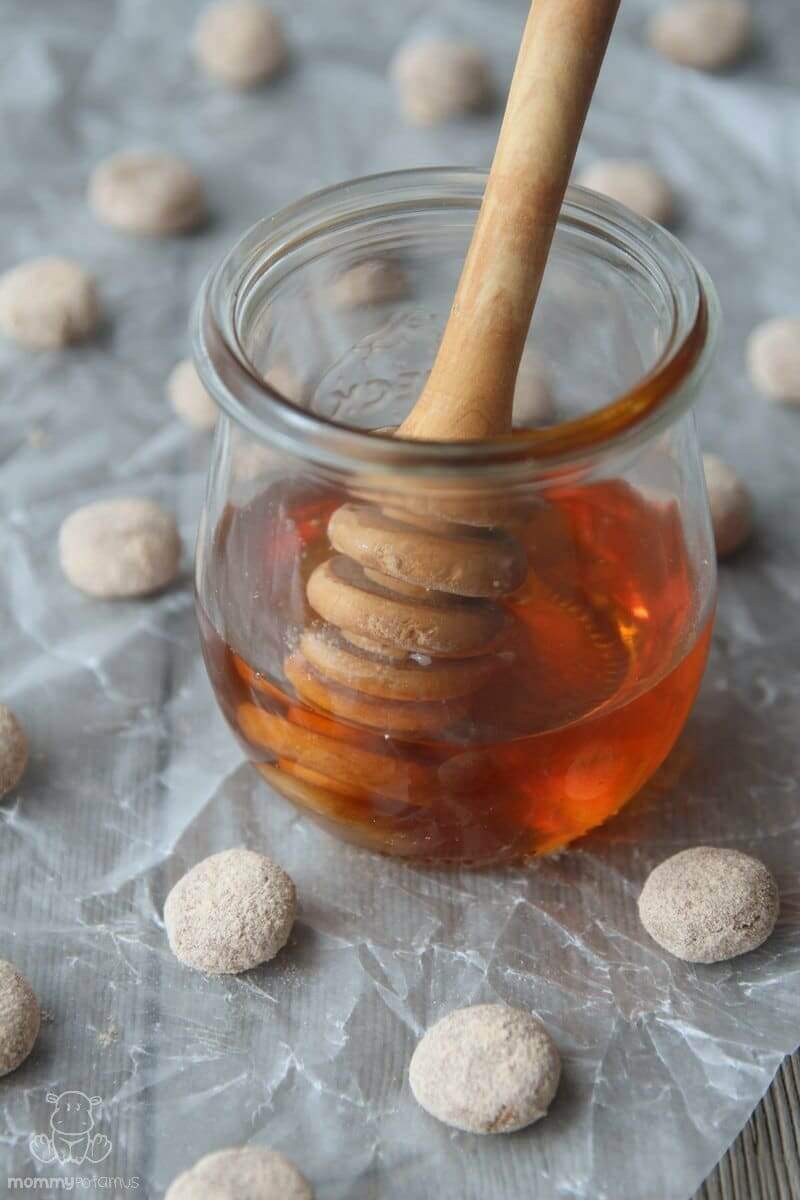 Homemade Cough Drops With Honey And Lemon
Equipment
small bowl

teaspoons

baking sheet
Ingredients
2

large medjool dates

(pitted – If you press the dates into a measuring spoon, they should equal 1 rounded tbsp. If they are small you may need to use more)

1 ½

tsp

raw honey

½

tsp

lemon extract

¼

tsp

water
Instructions
Place all ingredients in a small bowl. Using clean hands, work them together until you have a dough. At first you may think it feels too dry and crumbly to work with, but just keep kneading with your fingers. It should form into a ball as everything combines, but if the dates were very dry it may stay crumbly. Add in water in ¼ teaspoon increments until it forms a ball.

Divide the ball into 16 pieces, forming each one into a ball as you go. Roll them in a small bowl of slippery elm powder to coat the outside, then place on a parchment paper lined baking sheet. Press each one down to flatten them a little as you go. Place in the oven at the lowest setting possible (my oven was 170°F) for six to eight hours, or until hard and dry.
Nutrition
Calories:
0
kcal
|
Carbohydrates:
0
g
|
Protein:
0
g
|
Fat:
0
g
|
Saturated Fat:
0
g
|
Polyunsaturated Fat:
0
g
|
Monounsaturated Fat:
0
g
|
Trans Fat:
0
g
|
Cholesterol:
0
mg
|
Sodium:
0
mg
|
Potassium:
0
mg
|
Fiber:
0
g
|
Sugar:
0
g
|
Vitamin A:
0
IU
|
Vitamin C:
0
mg
|
Calcium:
0
mg
|
Iron:
0
mg
Want more research-backed natural remedies?
No problem, I've created a free ebook for you – Kitchen Apothecary: 25+ Natural Remedies Using Ingredients From Your Pantry – as a gift for signing up for my newsletter. You'll also get updates when I post about safe essential oils for pregnant/breastfeeding mamas, exclusive gifts and coupons (I was able to give away a jar of free coconut oil to anyone who wanted it recently!), plus other goodies.
Sign up using the form below.
What sore throat remedies have you tried? Which ones worked for you?