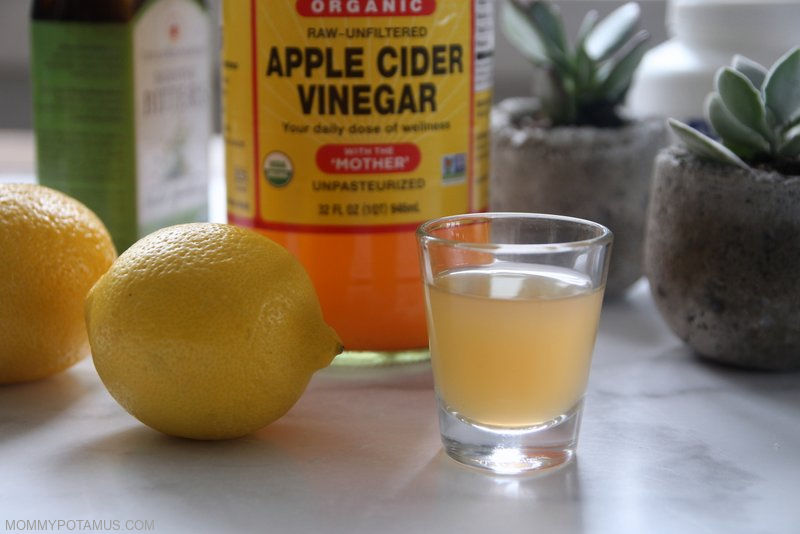 The sky is blue, racecar spelled backwards is still racecar, and in most cases heartburn is caused by low stomach acid, not high. Yes, seriously. After testing thousands of heartburn patients at his Tahoma Clinic, Jonathan Wright, M.D., concluded that excess stomach acid is not the problem in over 90% of cases. (1)
In this article I covered what he (and many others) say is the most common cause of heartburn, plus how acid blocking medications such as proton pump inhibitors can:
Decrease our ability to resist infections
Cause nutritional deficiencies
And even increase our risk of certain diseases.
Fortunately, according to Dr. Wright:
In cases of mild to moderate heartburn, 'acid indigestion,' bloating, and gas, actual testing for stomach acid production at Tahoma Clinic shows that hypochlorhydria (too little acid production) occurs in over 90 percent of thousands tested since 1976. In these cases, a "natural strategy" is almost always successful." (1)
As always, I want to mention that none of these statements have been evaluated by the FDA, this article is not medical advice, and it is not meant to diagnose or treat any condition. I'm just a former heartburn sufferer passing along information I've found helpful from respected physicians, clinical studies conducted by places like Johns Hopkins University, and articles from Scientific American and the Mayo Clinic.
Please talk with your healthcare provider about what approach is best for you, especially if you have frequent heartburn. Now that we've got that out of the way, let's jump in!
Baking Soda Vs. Apple Cider Vinegar for Heartburn
If you've ever googled home remedies for heartburn, you've probably noticed that baking soda and apple cider vinegar are the top two recommendations. Like over-the-counter and prescription acid blockers, baking soda eases heartburn symptoms (such as a burning sensation or sour taste in the mouth) by lowering stomach acid levels.
As a short-term strategy it can be helpful for relief, but as discussed my previous article most people actually need MORE acid, not less.
How do we know if we have low stomach acid?
A doctor's office can measure acid levels using the Heidelberg, which involves swallowing a capsule that contains a pH sensor and a radio transmitter that reports findings to a receiver located outside the body. After the results are recorded, the capsule can either be removed via the mouth or expelled via stool.
In addition, some doctors look for anti-parietal cell antibodies, which are autoimmune cells that attach stomach acid producing cells.
However, my functional medicine doctor asked that I do a simple at-home procedure before deciding whether to do additional testing. Here are the steps:
1. First thing in the morning, right after waking, stir 1/4 teaspoon of baking soda into 1/2 cup water and drink it.
2. Set a timer and make a note of how long it takes to burp. If five minutes pass, stop timing.
The idea is that if you mix an acid (hydrochloric acid, aka stomach acid) with an alkaline base (baking soda), the two will react with each other to make carbon dioxide gas, which will then cause burping. Ideally a burp occurs within three minutes. If it takes a long time to burp or no burp occurs, it may mean that stomach acid levels are low.
My doctor asked that I repeat the process for 3-5 mornings in order to make sure the result was consistent.
It's important note that this is not a diagnostic test and should not be considered a replacement for one. However, some practitioners (including mine) find it to be a helpful tool for gaining insight about digestive function.
Lifestyle Changes & Home Remedies for Heartburn Relief
Two of my favorite resources on this subject – Why Stomach Acid Is Good For You: Natural Relief from Heartburn, Indigestion, Reflux and GERD and The 30 Day Heartburn Solution – offer lifestyle change and natural remedy suggestions that have worked for their clients. I've summarized the main ones below.
1 – Remove dietary triggers
You probably already know a few foods that trigger heartburn for you – coffee, citrus fruits, alcohol, onions, spicy foods, etc. Peppermint and spearmint, although helpful for digestion in some cases, are both thought to weaken the lower esophageal sphincter (LES) and contribute to heartburn.
Some foods, like carbonated drinks, may increase intra-abdominal pressure and push on the LES, which as we discussed in my previous post is the valve that protects the esophagus from stomach acid.
However, some triggers may not be quite as obvious. In this article, Chris Kresser LAc. explains why carbohydrates and fiber may contribute to some cases of heartburn, then discusses the potential benefits of temporarily reducing carbohydrate and fiber intake.
Other foods don't weaken the LES, but are thought to directly irritate the esophagus. In general, it is recommended that known irritants be avoided for at least a little while. Some people say forever, but I personally reintroduced many of my "triggers" with no problem after I started feeling better.
Also, according to Dr. Wright, certain drugs – aspirin and ibuprofen, for example – are considered esophageal irritants. Others, such as calcium channel blockers, can reduce lower esophageal sphincter tone (aka weaken the LES). (2)
2 – Increase stomach acid levels
If "this sounds like throwing gasoline on smoldering embers, that's right, it does sound like it, but in fact it's not," says Dr. Wright. (1)
He adds that, "Not only does this strategy work to eliminate heartburn and GERD [gastroesophageal reflux disease], it often goes a long way toward restoring and nutrient deficiencies and repairing the gastric bacterial barrier, not to mention the intestinal barrier."
Three ways to support healthy stomach acid levels are:
Apple cider vinegar or lemon juice
Digestive bitters
Hydrochloric acid (HCL) supplements
Apple Cider Vinegar or Lemon Juice
One of the easiest ways to increase stomach acid levels is to drink a little apple cider vinegar or lemon juice right before a meal. Both are traditional folk remedies for indigestion, most likely due to their acid content and the presence of enzymes that support digestion. (Pasteurized apple cider vinegar does not contain live enzymes, but raw apple cider vinegar does.)
One thing to be aware of, however, is that according to Dr. Wright, "gradually increasing quantities of lemon juice (citric acid) or vinegar (acetic acid) will often relieve some or even all symptoms. This is supported by the common practice in some cultures of treating gastric discomfort with lemon juice or vinegar. Unfortunately, even though symptoms may be improved, actual nutrient digestion and assimilation are not improved nearly as much as with HCL."
To Use: Most often, individuals add 1-2 teaspoons apple cider vinegar or lemon juice to a little water and drink just before meals. If needed, the amount is gradually increased until the individual determines the optimal amount for their body.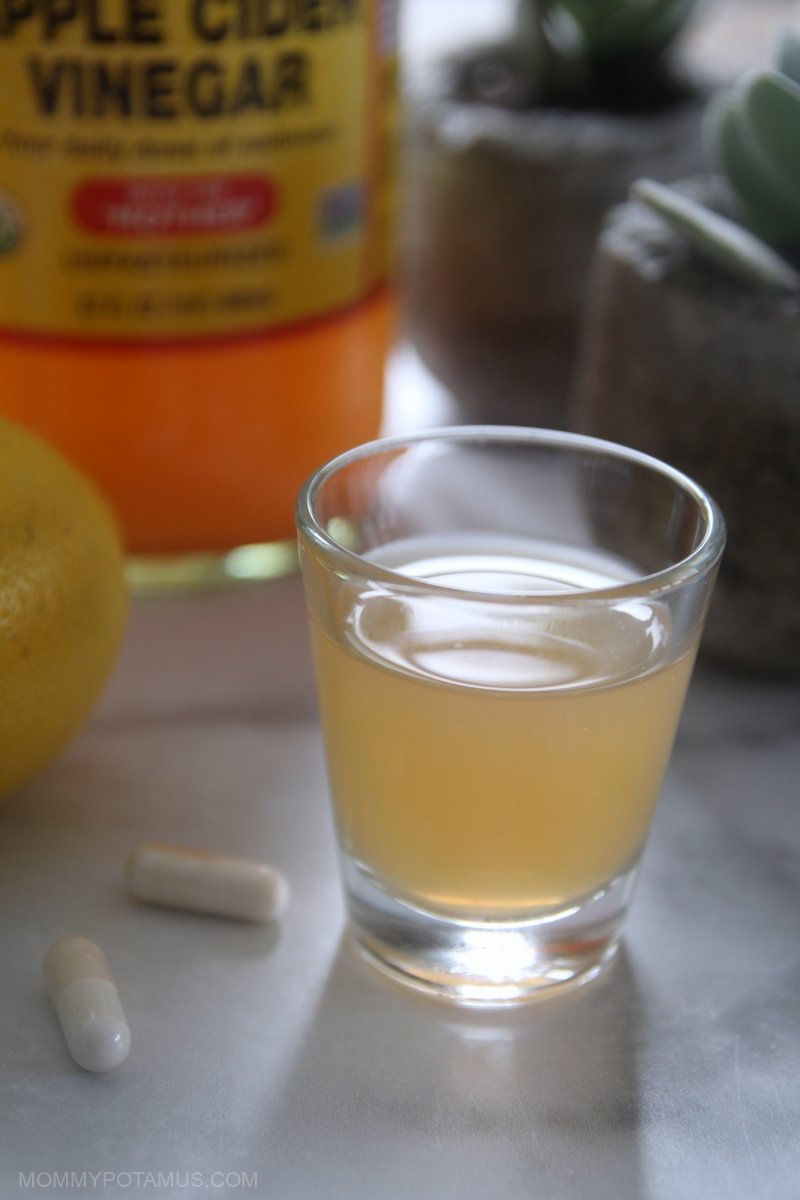 Digestive Bitters
According to Katy Haldiman, MS, RN:
Another great option for increasing stomach acidity are digestive bitters, which can be found in most health food stores. Digestive bitters tap into the body's neuro-lingual response that occurs when you taste something bitter. The bitter taste stimulates increased stomach acid production, as well as other digestive juices." (3)
To Use: Follow the instructions on the label.
A Note On Using Digestive Bitters Safely During Pregnancy
Most digestive bitters contain angelica & gentian, which should be avoided during pregnancy. However, Urban Moonshine has created a version of digestive bitters that is free of those herbs and is considered helpful for occasional heartburn and morning sickness.
For individuals who are not pregnant, they have several other available flavors. You can see them all here.
HCL With Pepsin
Unlike digestive bitters, which stimulate the body's own production of hydrochloric acid, HCL is supplemental hydrochloric acid. It's most often paired with Pepsin, because a deficiency in one usually signals a deficiency in the other.
According to Dr. Wright, HCL should only be taken by individuals who have confirmed low stomach acid with gastric testing, and a knowledgeable care provider should oversee the process.
3 – Support Healthy Digestion
In the 30 Day Heartburn Solution, Craig Fear LAc. recommends focusing on gut healing before even considering supplementation with apple cider vinegar, bitters, or HCL. My own journey with heartburn occurred years before the book was written so I opted to incorporate all three strategies at once: removing triggers, slowly raising stomach acid levels, and supporting optimal digestion using gut healing foods. It worked well for me, but a step-by-step approach might work better in some cases.
For gut care, I'm a huge fan of homemade bone broth, grass-fed gelatin, fermented foods like water kefir, kombucha, and beet kvass, and probiotics. Many people have also reported deglycyrrhizinated licorice (licorice root that has been process to remove much of its glycyrrhizin) and pure aloe vera juice to be helpful.
In addition, digestive enzymes may also be beneficial. According to Dr. Wright:
In order to more closely simulate the natural process, it is best to take pancreatic enzymes at the end of a meal. (I know that the bottle labels usually state the opposite. I don't agree!) Taking digestive enzymes after meals gives the food adequate time to undergo the 'acid phase' of digestion, as happens with normal digestive function." (1)
​4 – Address Structural Issues
When the LES is weakened, many practitioners suggest staying upright for several hours after eating a meal so that the risk of acid washing back up into the esophagus is minimized. It can also be helpful to elevate the head of your bed or use a wedge pillow that lifts the head/upper body.
Also, as mentioned in my previous post, in some cases a structural issue called a hiatal hernia – which is when the upper part of the stomach bulges through the large muscle separating the abdomen and chest – can cause LES dysfunction. For some people chiropractic care may be able to ease the stomach back into its proper place, and in other cases surgery may be required.
Hiatal hernias can be diagnosed with an endoscopy, which allows the doctor to look at the area directly or an X-ray that requires the patient to take barium (which is a heavy metal). Personally, I'd opt for the endoscopy.
Frequently Asked Questions
I really recommend picking up a copy of Why Stomach Acid Is Good For You: Natural Relief from Heartburn, Indigestion, Reflux and GERD by Jonathan V. Wright, M.D. and Lane Lenard, Ph.D. and/or The 30 Day Heartburn Solution by Craig Fear LAc.
Both books go into more detail than I can cover in a few articles. However, there are a few questions addressed in the books that I also want to mention here.
What about H. Pylori?
As mentioned in my previous post, an overgrowth of organisms such as candida and H. pylori can lower stomach acid levels. Somewhere between 1/3 and 2/3 of the human population carries H. pylori – many times without any symptoms at all. (4)
When acquired early in life, research suggests that h. pylori may actually be protective against allergies and asthma. (5) On the other hand, it also has a causative relationship with ulcers and gastric cancer.
So is H. pylori good or bad? In this talk, Chris Kresser LAc describes it as a somewhat neutral bacteria which may have benefits for some people (usually when acquired early in life) and downsides for others (especially when acquired later).
Normally, adequate levels of stomach acid will keep H. pylori levels in check. However, if acid levels dip for any reason (stress, medications, etc.), H. pylori may use that opportunity to grow out of control. To protect itself from being killed, H. pylori secretes an enzyme called urease which neutralizes hydrochloric acid. If H. pylori is present in significant quantities, it can release a substantial amount of urease and further lower stomach acid, creating a nice, cozy Hotel H. Pylori in the process.
When overgrowth is an issue, most practitioners recommend dealing directly with H. pylori in addition to other lifestyle changes. The conventional treatment is a mixture of antibiotics with acid blockers. The idea is the the antibiotics will kill the H. pylori while the acid blockers lower acid levels so that the irritated stomach lining can heal. Unfortunately, antibiotic use can actually lead to more gut infections, and the success rate of this method is falling.
According to my friend Sylvie, who opted for a natural approach after being diagnosed with H. pylori, the usual treatment protocol now "fails for about 35% of patients – and the effectiveness is still falling. The reason is because bacteria has become resistant to antibiotics."
In this article she outlines the natural strategy she used and shares her actual before/after lab results.
What is the process for transitioning to a more natural approach?
Obviously you'll want to talk to your healthcare provider about any changes you want to make (see my disclaimer above). However, according to Dr. Wright:
Since there is no 'withdrawal' from acid blockers or antacids, it is safe to just stop them and switch to natural alternatives, as long as symptoms are controlled. In cases of mild-to-moderate indigestion or heartburn, there's usually no problem with switching. In more serious cases, particularly if there's severe acid reflux with ongoing esophageal damage, it's wisest to withdraw from acid blockers or antacids only in consultation with a knowledgeable physician." (1)
Is pregnancy heartburn caused by low acid?
Possibly. However, there may be other factors that contribute to heartburn during pregnancy. According to Dr. Wright, sometimes it's due to increased intra-abdominal pressure as everything shifts to accommodate baby. (source) In those cases, chiropractic care may be helpful.
Another possibility is that increased progesterone levels play a role. According to Raquel Dardik, M.D., clinical associate professor of gynecology at NYU Langone Medical Center, "Progesterone slows down contractions of the bowel, so it slows down how quickly food and gas move through. Everything slows down and backs up, so you feel bloated and constipated." (6)
If everything slows down, that means food may be staying in the stomach longer, potentially undergoing a little gas buildup. Another function of progesterone is to relax muscles, which may mean that it sometimes relaxes the LES (the muscle that keeps stomach acid out of the esophagus) a little too much.
Remember, as mentioned earlier, Urban Moonshine has created a version of digestive bitters that is free of those herbs and is considered helpful for occasional heartburn and morning sickness.
Have you ever tried a home remedy for heartburn? Did it work for you?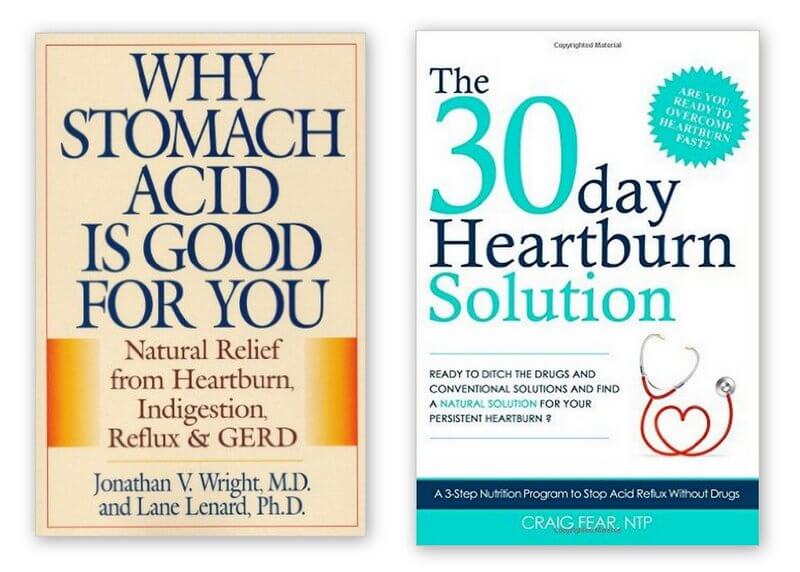 Suggested Further Reading
Why Stomach Acid Is Good For You: Natural Relief from Heartburn, Indigestion, Reflux and GERD by Jonathan V. Wright, M.D. and Lane Lenard, Ph.D.
The 30 Day Heartburn Solution by Craig Fear LAc.
Want more research-backed natural remedies?
No problem, I've created a free ebook for you – Kitchen Apothecary: 25+ Natural Remedies Using Ingredients From Your Pantry – as a gift for signing up for my newsletter. You'll also get updates when I post about safe essential oils for pregnant/breastfeeding mamas, exclusive gifts and coupons (I was able to give away a jar of free coconut oil to anyone who wanted it recently!), plus other goodies.
Sign up using the form below.
Sources
1. Wright, Jonathan (2001) Why Stomach Acid Is Good for You: Natural Relief from Heartburn, Indigestion, Reflux and GERD
2. Seretis, Charalampos (2012) Calcium Channel Blockers and Esophageal Sclerosis: Should We Expect Exacerbation of Interstitial Lung Disease?
3. Haldiman, Katy (2016) Natural Solutions to Increase Stomach Acid and Improve Digestion
4. Centers for Disease Control and Prevention. Helicobacter pylori
5. Talebi Bezmin Abadi, Amin (2014) Helicobacter pylori: A Beneficial Gastric Pathogen?
6. Greatist. Why Your Stomach Goes Crazy During Your Period