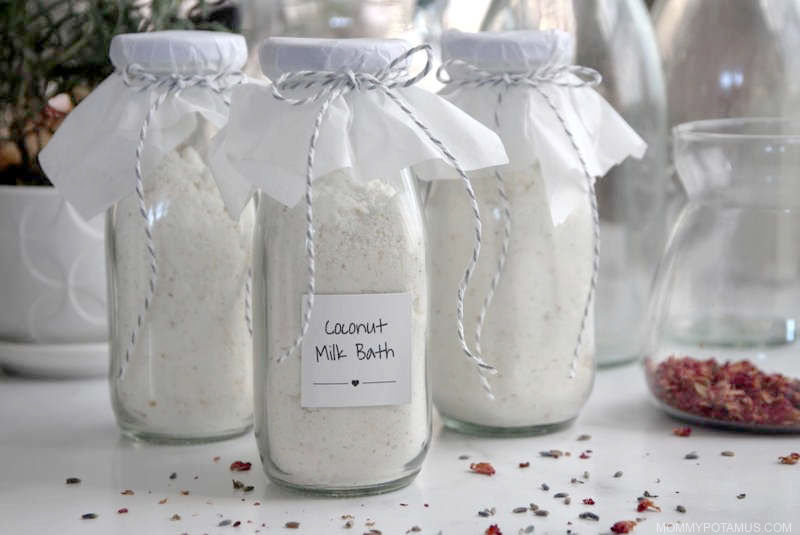 There's nothing like a warm bath to relax muscles and calm frayed nerves, and with a few simple ingredients you can upgrade the experience into a skin softening, deeply moisturizing bath soak.
First made famous by Cleopatra, who prized them as part of her routine for radiant skin, milk baths have long been used to nourish and hydrate skin while soothing irritation. Queen Elizabeth the 1st was also a fan, so I guess you could say that bathing in milk is a skincare treatment fit for a queen.
As far as titles go, Duchess of Dishes or Queen of Laundry is about as official as things get for me, but lately I've been indulging in a warm milk bath that leaves my skin feeling moisturized without feeling oily. Though the ingredients are simple, the experience is luxurious and perfect for winding down after a long day.
What are milk baths?
Traditionally, milk baths involve adding whole milk or milk powder to the tub before dipping in for a soak. However, many people are sensitive to the proteins in milk, so powdered coconut milk is often used as a substitute. It has its own unique benefits, which we'll dive into later.
I first came across the idea of coconut milk baths via this Herbivore Bath Soak, which I included in my gift guide this year.
After receiving a bottle as a gift, milk baths quickly became a weekly ritual for me. But since I'm a DIYer by nature and the ingredient list was super simple, I decided to see if I could save some money and make the next batch myself.
As it turns out, making milk baths is RIDICULOUSLY EASY, and unlike store-bought options, you can customize your bath with essential oils and dried lavender or rose petals.
They make a lovely handmade gift idea, too. I just made up a batch in cute little glass milk bottles to give to friends and family and I love how they turned out.
Here are the simple yet luxurious ingredients we'll be using:
Powdered Coconut Milk
Coconut milk is rich in lipids, particularly medium-chain triglycerides, that cling to skin and help restore moisture levels without feeling heavy or oily.
It's also rich in copper – which supports collagen and elastin production when applied topically – along with other minerals including magnesium, manganese, phosphorous, potassium, zinc and iron.
Ground Oatmeal
Oatmeal baths have been traditionally used to soothe skin irritation of all kinds – sunburns, eczema flares, and more. When used in skincare, oatmeal is considered gentle enough for babies, kids, and adults with sensitive skin.
Research suggests that its benefits for skin may be due to the presence of:
Phenolic compounds called avenanthramides that help soothe inflammation (1)
Beta glucans that form a thin protective layer over skin (2)
Polysaccharides that help hold moisture against the skin
Baking Soda
Baking soda helps soften skin and can soothe itchy skin (if that's an issue).
Rose Petals, Lavender Blossoms or Whole Rosebuds (Optional)
It's said that Cleopatra added rose petals and lavender to her milk baths, and I totally get why. In addition to being beautiful, they're incredibly fragrant if you crush them in your hands and breathe in their essential oils.
However, something to keep in mind is that you don't want rose petals or lavender buds to go down the drain and potentially clog pipes, so if you include them you'll want to place a bathtub drain protector over your drain before you empty the water.
Essential Oils (Optional)
There's no denying that a few drops of lavender, cedarwood, or another calming oil create an aromatic environment that promotes deep relaxation, but there are a couple things to know before incorporating them into this recipe:
It used to be believed that powdered milk alone could disperse essential oils throughout bathwater, but in the last few years experts like Robert Tisserand have warned that they can clump together, come into contact with skin in their undiluted form, and cause irritation.
That's why I've recommended adding a dispersant to this recipe in order to ensure that the essential oils are well diluted throughout the water. Natrasorb, which is a type of tapioca starch that has been modified to absorb and carry large amounts of oils, works best. (Regular tapioca starch won't work.) (3)
If you don't want to buy Natrasorb, you can add the essential oils to 1.5 tablespoons of liquid castile soap and pour it directly into the bath while the water is running.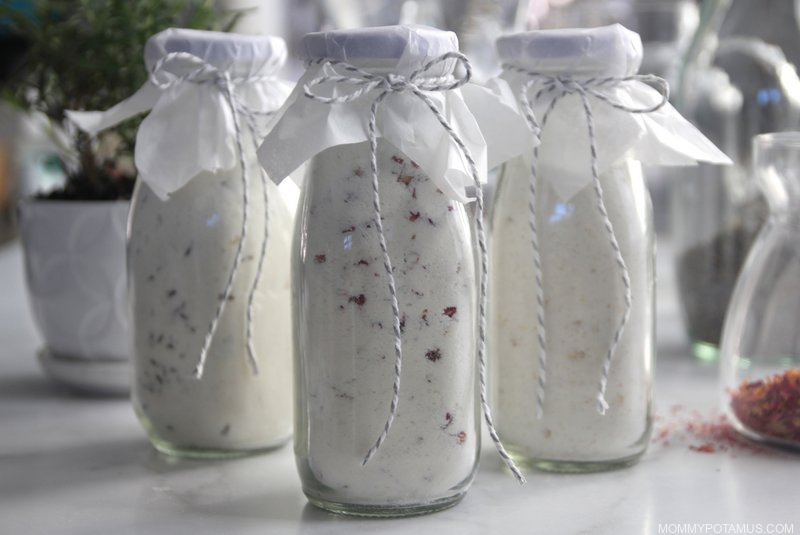 3 Benefits of Milk Baths
Still not sure this is the DIY for you? Here are the top three reasons you might want to give them a try:
Soothes & Hydrates Dry, Irritated, or Sunburned Skin
The lipids found in coconut milk cling to our skin without causing an oily/greasy sensation, oatmeal creates a thin protective layer, and baking soda softens and calms itchiness.
For sunburns specifically, tepid baking soda baths are recommended by Seattle Children's Hospital for easing discomfort. Tulane dermatology professor Patricia K. Farris, M.D. suggests soaking in a cool oatmeal bath to soothe skin and help with itching. (4) (5) I've got both suggestions covered in this recipe.
Also, while moisturizers like coconut oil can trap heat and delay healing for sunburned skin, coconut milk powder is water soluble and – in my opinion – a much better option. It helps restore moisture while still allowing skin to breathe. You can find more home remedies for sunburn relief here.
Helps Balance The Nervous System
Warm baths in general activate our parasympathetic nervous system, which helps us unwind from stress.
According to Bruce Becker – a physician and research professor at Washington State University – who has conducted research on warm water soaks:
The autonomic nervous system responds to warm water immersion the same way it responds to meditation or a number of other relaxed states." (6)
Deeper Sleep
While our bodies are designed to sleep best in a relatively cool environment (usually 65-72°F), a warm bath or shower before bed can a facilitate good night's sleep.
When your core temperature drops at night, it triggers the release of melatonin and signals to the brain, 'Time to get sleepy.' 'A hot-water immersion will cause blood flow to the extremities (notice how your skin gets flushed after a Jacuzzi or a sauna?) and away from your vital organs, lowering your core body temperature and encouraging sleepiness." Michael J. Breus, Ph.D., author of The Power of When.
According to this study, a hot bath taken 1.5 hours before bed decreased sleep fragmentation in older adults with sleep challenges. Click here for more science-backed sleep tips.
Tips for Packaging This DIY Milk Bath As A Gift
The recipe below will fill approximately 5 of these cute little glass milk bottles depending on how many optional additions you include. I covered the tops with tissue paper and a little bakers twine to give to friends and family.
Download My Free Printable Labels
Also, as a gift for signing up for my newsletter, I've created a free printable label template that works perfectly with these labels. The labels are not super sticky so you really have to press them on, but once they're on they stay put (at least in my experience).
DIY Nourishing Coconut Milk Bath Recipe
Equipment
 5 of these cute little glass milk bottles

coffee grinder

small bowl

medium bowl
Ingredients
4

cups

coconut milk powder

(you'll need a 1 pound bag)

1

cup

baking soda

½

cup

gluten-free rolled oats

3-5

tbsp

rose petals, lavender buds, or dried whole rosebuds 

Optional, you can use more if you'd like and/or a combination of the three)

30-60

drops

cedarwood or lavender essential oil

(Optional – you can use a different essential oil if you'd like)

1

tbsp

Natrasorb

(If using essential oils)
Instructions
To Make
If you're using essential oils, add 30-60 drops to 1 tablespoon Natrasorb powder and stir to combine. Set aside.

Add a small amount of oatmeal (2-3 tablespoons) to a clean coffee grinder and grind into a fine powder. Transfer the ground oatmeal to a small bowl and complete the process until all the oatmeal is in powder form.

In a medium bowl, add the coconut milk powder, baking soda, ground oatmeal and flower petals if you're using them.

Add the Natrasorb powder (if using) to the bowl with the rest of the ingredients.

Stir everything together until well-combined, then spoon the homemade milk bath mixture into your containers.

Decorate with gift label, bakers twine, etc. if desired.
To Use
Fill the tub with warm water. If you're adding essential oils that have been mixed with castile soap, do that while the water is running.

Next, add the homemade coconut milk bath. How much you use is really up to you – I typically use between 1/2 cup and a cup.

Use your hands to mix the milk bath into the water, then soak for 15-30 minutes.
Notes
Shelf Life: If you use essential oils the shelf life will be shorter (about six months). If you don't include essential oils the shelf life is pretty stable (at least a year).
More Recipes To Try
3 Ingredient Body Wash – The rich, bubbly lather of this homemade body wash recipe cleanses while moisturizing. You probably have everything you need to make it in your pantry right now.
Homemade Bath Salt – This recipe is made with magnesium, the "Magic Mineral" that combats stress, supports detoxification and helps maintain healthy energy levels.
Sources
1. Sur, Runa et. al. (2008) Avenanthramides, polyphenols from oats, exhibit anti-inflammatory and anti-itch activity
2. Juraj Majtan and Milos Jesenak (2018) β-Glucans: Multi-Functional Modulator of Wound Healing
3. Tisserand Institute. Bath Safety
4. Seattle Children's Hospital. Sunburn
5. Barton Health. Soothing That Sunburn
6. Athletic Business (2010) Research Lends Support to Long-Held Notion that Warm-Water Immersion Does a Body Good