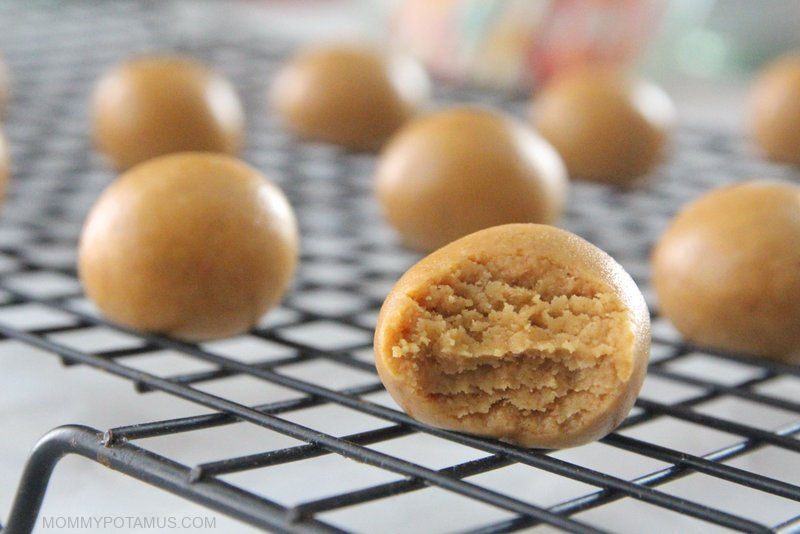 These no-bake peanut butter balls are so easy they're basically an un-recipe, but my kids love them so I figured they were worth sharing. They're adapted from these no-bake chocolate chip cookie dough bites, which y'all have had quite a bit to say about . . .
These are amazing! My picky son couldn't get enough of them (and honestly, neither could I!)." – Monica
Ah!! Finally! A cookie dough recipe that doesn't suck! I've tried so many cookie dough ball recipes that didn't even close taste like the real thing. But this recipe is amazing!! -Leah
I made these. And they are AWESOME! They're like grain free cookie dough. Soooo happy. Yum." – Tracy
All you need to make these peanut butter balls are a handful of ingredients – peanut butter, maple syrup, salt and vanilla – and either coconut or tigernut flour.
Choosing Which Flour To Use
When I first created the cookie dough bite recipe, my goal was to incorporate more resistant starch into my family's diet. Unlike most starches, resistant starch is indigestible to us, but a favorite food of the good bacteria that live in our digestive tracts.
Tigernut flour is a good source of resistant starch but it's not something everyone keeps in their pantry, so I made it my mission to recreate the recipe with coconut flour.
Although coconut flour is not a type of resistant starch, it's amazing for gut health because it contains both soluble and insoluble forms of fiber – both which nourish beneficial bacteria.
Either flour will work beautifully in the recipe. Keep in mind, though, that you typically want to start slow with resistant starch and work up the amount you consume, so if you want to eat these all in one sitting it's probably best to go with the coconut flour.
Either way, I hope you love them as much as we do!
No Bake Peanut Butter Balls Recipe
These creamy, satisfying peanut butter balls are made with wholesome ingredients and take just a few minutes of hands-on time to make.
Instructions
Place all ingredients in a bowl and mix together with a fork until well-combined.

Refrigerate dough for about 20 minutes, then roll it into one large ball and divide in half. Repeat this process until you have 16 balls.

Best served right away, but can be stored in an airtight container in the fridge for a few hours. If left longer they tend to lose their soft, chewy texture and become more firm.
Notes
Notes: Nutritional calculations are estimates based on the coconut flour version, not the version made with tigernut flour.
Nutrition
Serving:
1
ball
|
Calories:
118
kcal
|
Carbohydrates:
8
g
|
Protein:
4
g
|
Fat:
8
g
|
Saturated Fat:
2
g
|
Sodium:
116
mg
|
Potassium:
115
mg
|
Fiber:
2
g
|
Sugar:
4
g
|
Calcium:
12
mg
|
Iron:
1
mg
Frequently Asked Questions
Will this recipe work with almond butter, and would the recipe need adjusting in any way?
Almond butter, cashew butter and even sunflower seed butter will work in this recipe, but the cookie balls will be softer and the flavor will be different.
Can I use regular wheat flour?
Unfortunately, both coconut and tigernut flour absorb liquid different than wheat flour, so it's not a good substitute in this recipe.
More Yummy Recipes With Simple Ingredients
Chocolate Peanut Butter Swirl Fudge – This creamy, dreamy, chocolatey, peanut-buttery fudge is simple to make and full of nourishing fats.
Almond Butter Cups – Love Reese's peanut butter cups but not the corn syrup solids, non-fat milk and tertiary butylhydroquinone? Here's an easy recipe for a healthy homemade version.
Fruit and Seed Energy Balls – This nut-free, gluten-free recipe is easy to make and kid-approved.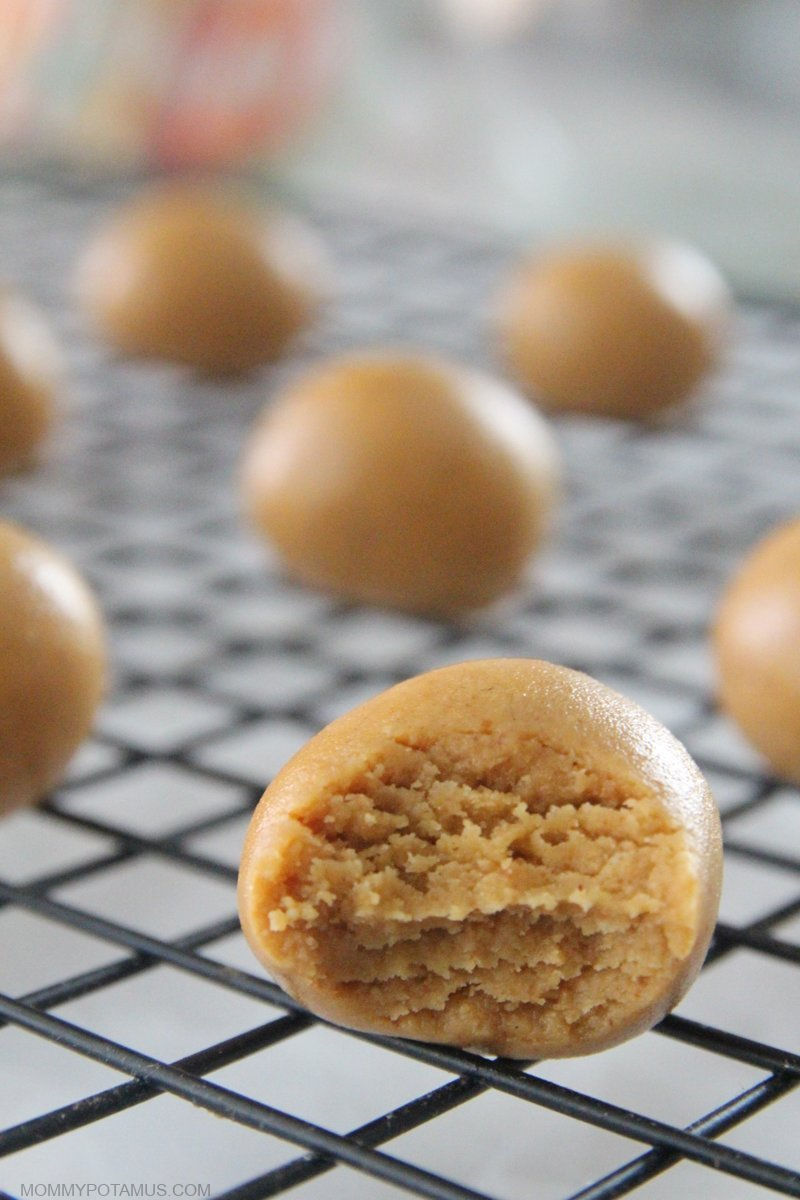 Want more delicious, easy recipes?
No problem, I've created a free ebook for you – 35+ Gluten-Free Desserts – as a gift for signing up for my newsletter. Every Sunday you'll get recipes, actionable health tips, and highly-vetted product recommendations delivered fresh to your inbox.
Sign up using the form below.