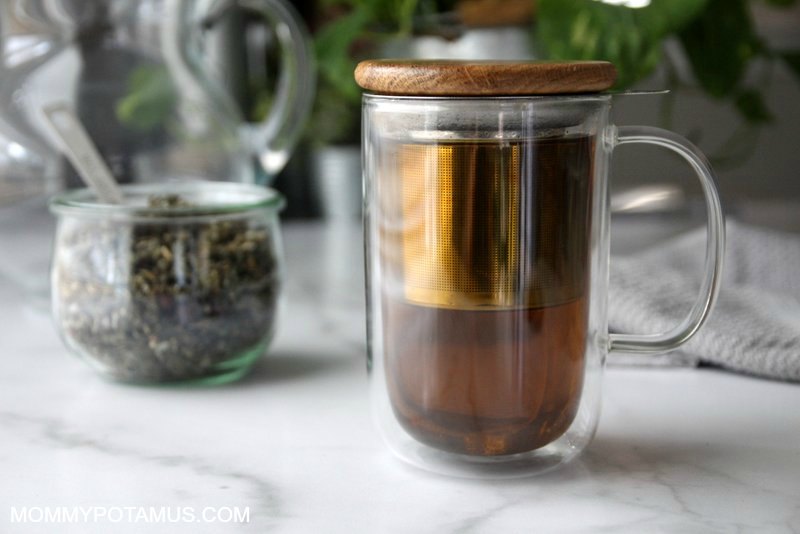 If you've ever found yourself googling the safety of everything from toothpaste to tuna while pregnant, you've probably wondered about the safety of different herbal teas and essential oils as well. You'll find a list of pregnancy-safe essential oils here, and in this post we'll discuss one of the most commonly recommended herbal infusions during pregnancy – red raspberry leaf tea.
Many midwives believe it helps shorten labor time, reduces the discomfort of labor and postpartum recovery, minimizes the risk of postpartum hemorrhaging, decreases postpartum discomfort, and increases milk supply. (1) Aviva Romm, M.D., who is also a midwife and author of Botanical Medicine for Women's Health, lists it as one of five safe herbs for a more comfortable pregnancy and better birth.
However, there are varying opinions on safety and when to begin drinking the tea, as we'll discuss below. (2)
Before we dive in, please note that although this article has been reviewed by Dr. Scott Soerries, MD, Family Physician and Medical Director of SteadyMD, it is not personal medical advice. As always, please talk with your healthcare provider about any herbal remedy, supplement, or dietary changes.
What are the benefits of red raspberry leaf tea for pregnancy?
Rich in bioavailable minerals and other constituents, red raspberry leaf has been used as a uterine tonic and general pregnancy tea for at least two centuries. (3) Some modern studies suggest benefits, too. For example, red raspberry leaf may:
Help shorten labor
Facilitate an easier labor, resulting in fewer birth interventions
Some herbalists also suggest that red raspberry leaf may:
Ease morning sickness
Contribute to postpartum recovery
Help with milk production
Let's take a look at the evidence for each of those benefits:
Faster Labor
Red raspberry leaves contain fragrine, which may strengthen and tone the uterus so that contractions are very effective.
According to D. Jill Mallory, M.D.,
Red raspberry leaf (Rubus idaeus, Rubus occidentalis) has been used as a uterine tonic and general pregnancy tea for at least two centuries. Although this botanical is often mistakenly recommended to induce labor, its actual role is to increase blood flow to the uterus and aid the uterine muscle fibers in more organized contraction. Studies indicate that some of the plant components, such as fragrine, an alkaloid, do act directly on smooth muscle." (3)
In this study of 108 women, mamas who consumed red raspberry leaf during pregnancy had a shorter first stage of labor. This follow-up study did not find a reduced first stage of labor, but did conclude that red raspberry leaf shortened the second stage of labor.
Easier Labor
In one study, pregnant women who consumed red raspberry leaf had fewer birth interventions such as artificial rupture of membranes, forceps delivery and caesarean sections. They were also less likely to experience both pre and post gestation (4)
Help With Morning Sickness
According to the American Pregnancy Association, red raspberry leaf decreases nausea. (5) However, they note that herbalists, midwives, and doctors have conflicting opinions on whether raspberry should be used in the first trimester, which is when morning sickness is common.
Some recommend avoiding red raspberry during the first trimester because it might stimulate contractions that lead to miscarriage. However, others say tradition and current research indicate that it's safe for use in all trimesters.
Red raspberry leaf has an ancient tradition of use in pregnancy to sustain and tone the tissue of the womb, support contractions and check hemorrhage during labor. The herb in itself does not promote labor; it does help tone and work with the needs of the uterus during your pregnancy. Raspberry leaf extract apparently contains a component that stimulates contractions of the smooth muscle in the uterine wall; these are toning contractions. Toning contractions will not make the contractions stronger but can help the uterus work more effectively." ~ Midwifery Today
We'll discuss another possible reason to wait until the second or third trimester to consume red raspberry in the safety section below, but for how here are some other natural remedies for morning sickness.
Postpartum Recovery
Because of its toning effect, red raspberry is believed to support the uterus as it contracts back to its pre-pregnancy state. (The contraction of the uterus is what puts pressure on blood vessels in the area where the placenta detached. When the uterus does not contract properly it can lead to excess blood loss.)
Some pre-blended postpartum teas incorporate it alongside other herbs for this reason.
Breastfeeding Benefits
Red raspberry is also considered a galactagogue – or herb that increases breastmilk production – by some. Others say that overconsumption may decrease supply due to red raspberry's astringent properties. Based on the available research I don't see substantial evidence that it increases supply. However, in reasonable amounts its high mineral content may increase the nutrient profile of breastmilk while also supporting postpartum recovery as described above.
Is red raspberry leaf tea safe?
In Botanical Medicine for Women's Health, physician, herbalist and midwife Aviva Romm writes that "Of all the herbs that might be considered for labor preparation, raspberry leaf products appear to be the safest."
According to the Botanical Safety Handbook: 2nd Edition, its a Safety Class 1A herb, which is the safest rating possible. Herbs in this category are described as:
"Herbs that can be safely consumed when used appropriately.
History of safe traditional use
No case reports of significant adverse events with high probability of causality
No significant adverse events in clinical trials
No identified concerns for use during pregnancy or lactation
No innately toxic constituents
Toxicity associated with excessive use is not a basis for exclusion from this class
Minor or self-limiting side effects are not bases for exclusion from this class"
Always check with your doctor before adding herbs to your diet, and listen to your intuition to help you make the best choice for yourself.
Are there any side effects or cautions?
Midwives often recommend that you reduce the amount of tea you drink (or discontinue it altogether) if you experience intense Braxton hicks contractions after consumption.
The only other potential consideration with red raspberry I could find was this 2009 study done on rats. It found that moms who were fed red raspberry gave birth to babies who started puberty sooner than the control group. However, there are several things that should be noted:
1. When discussing the study, Lauren Southern of London Gynaecology stated that "no human studies support this" effect. (6) In addition, women have been drinking red raspberry for hundreds of years without any noticeable effect in this area.
2. The rats consumed red raspberry from the very beginning of pregnancy through the end of weaning. The first trimester is considered the most vulnerable developmental period, which is one reason some experts recommend waiting until the second or third trimester. With that said, women have long consumed red raspberry to ease morning sickness in the first trimester without any reported negative effects.
3. I've never been able to find details on the exact form of red raspberry extract used. We don't know if it was extracted with water or something like hexane, which may act as an endocrine disruptor if any residue was left behind. (Both are possible solvents for herbal extracts.) It's the opinion of some that on rare occasions the effects observed in a study could be attributed to a problem with the sample, not the herb itself. I don't know if that's the case here, but a couple of years ago UK researcher did warn fellow scientists that impure reagents (lab chemicals used to create a reaction) could skew study results. They discovered that some reagents in their lab were misleadingly labeled. (7)
All that considered, the American Pregnancy Association still classifies red raspberry as likely to be safe, and so do all the herbal resources that I've consulted.
In the 10+ years since the study was published, many books have been published (or revised) which review the available evidence for various herbs. All that I have consulted still consider red raspberry leaf to be safe for pregnancy. Also, well-respected herbal formulators such as Traditional Medicinals continue to include in recipes for expecting mamas – their pregnancy tea blend, for example.
About The Other Herbs In This Pregnancy Tea Recipe
Several other herbs have long been used during pregnancy to nourish moms and their growing babies. I've included a couple in the recipe below, plus a few optional additions use can use as desired to mix things up. First up, nettle!
Nettle Leaf Benefits
Rich in bioavailable minerals and other essential nutrients, nettle (Urtica dioica) has long been used to nourish the adrenal glands, which are often put to the test during the pregnancy and postpartum period.
Nettle tea is also thought to help with leg cramps, reduce the discomfort of labor and birth, nourish the kidneys which are responsible for cleaning the extra blood required to sustain pregnancy, and increase the richness of breast milk. (6)
Benefits of Rosehips
Rose hips (Rosa canina) are rich in antioxidants. They're also thought to be a mild diuretic that helps with water retention.
Oatstraw Benefits
Also called oatgrass, oatstraw (Avena sativa) is considered a nervine, which is an herb that relaxes, soothes and supports the nervous system. According to herbalist JJ Pursell, author of The Herbal Apothecary, it's high in silica (silicon dioxide), which is excellent for "strengthening the connective tissue, skin, mucous membranes, and nerve fibers" . . . . all important things when growing a baby! It's also "packed with trace minerals and vitamins to help build up the entire physical body," writes Pursell.
How To Make Your Red Raspberry Leaf Tea Blend
Instead of blending a small amount of herbs each time you want to make a cup of tea, I recommend blending the loose herbs together in advance. Here's what you'll need:
Main Ingredients
Optional Add-Ins
1/4 cup dried peppermint or spearmint leaves (Both are beneficial for digestion, omit peppermint you're using it postpartum because it may reduce milk supply)
1/4 cup dried chamomile (To soothe frazzled nerves and encourage restful sleep)
A few slices of fresh ginger root (To help with digestion. Don't add this in advance, I'm just mentioning it as an option.)
To Make
Combine all ingredients in a medium bowl, then transfer to an airight jar. Store in a cool, dry area away from direct sunlight.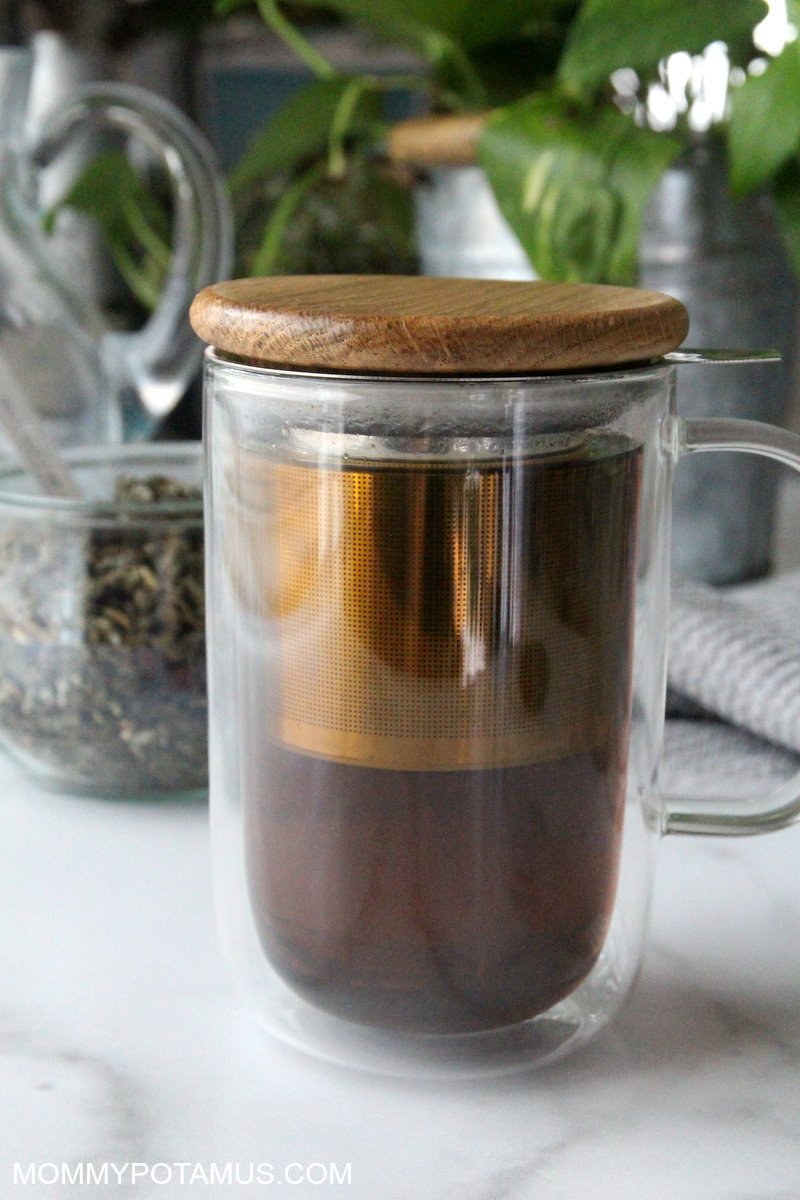 Red Raspberry Leaf Tea Recipe (A Nourishing Tonic for Two)
Studies suggest that red raspberry leaf may help shorten labor time, speed healing and reduce discomfort after labor, and increase the nutrient profile of breastmilk. It's one of the most popular herbs recommended by midwives to nourish mama and baby, and it's delightful both hot and served over ice. 
Here's how to blend it with other beneficial herbs to make a nourishing tea for two. Many mama's drink 1-2 cups of this tea every day during the second and third trimester.
Equipment
Stainless steel diffuser basket or mesh strainer
Ingredients
1

tbsp

red raspberry leaf tea mix (see recipe above)

1

cup

water

a few slices of ginger root

(optional)
Instructions
Boil the water and pour over the herbs. Cover and allow to infuse for at least 10 minutes.

Remove tea leaves and sweeten with honey, maple syrup, etc. if desired.
Frequently Asked Questions
What does red raspberry leaf tea taste like?
The flavor is pretty close to black tea.
What is the dosage for red raspberry tea?
Because red raspberry leaf is an herb rather than a drug, there are no "dosages" per se. However, the U.S. Pharmacopeial Convention (USP) suggests a guideline of between 4-8 grams of dried herb daily. Some herbalists and midwives recommend more.

Although the percentages will change a little if you incorporate the optional add-ins, about 1-2 tablespoons of the tea recipe above roughly equals 4-8 grams.
When do pregnant women usually start drinking red raspberry leaf tea? 
"may recommend starting with a cup a day around 32 weeks, then gradually increasing to three cups as you approach your due date."
How many cups per day do pregnant women drink?
Often between 2-5 cups.
I don't want to blend my own. Is there a pre-made option you recommend?
I like the one made by Traditional Medicinals. It's very similar in formulation to the recipe above, and the natural tea bags are gluten-free and plastic-free.
Where can I buy the mug in the photo?
I love the mug pictured in the photo above because it comes with and infuser basket and a lid. It holds 16 ounces, so if you happen to pick one up you'll want to double the recipe. The company also makes some gorgeous single serving mugs. If you want one for your cup of tea, use coupon code MP10 at checkout for 10% off.
This article was medically reviewed by Dr. Scott Soerries, MD, Family Physician and Medical Director of SteadyMD. As always, this is not personal medical advice and we recommend that you talk with your doctor.