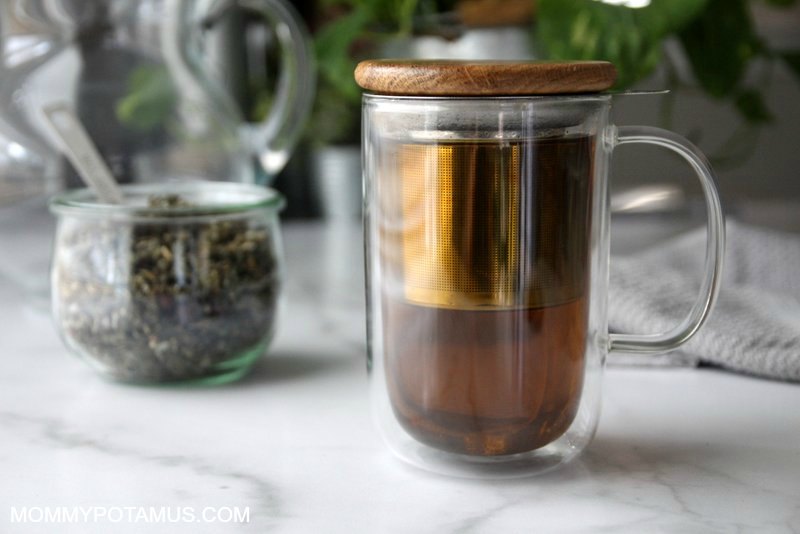 If you've ever found yourself googling the safety of everything from toothpaste to tuna while pregnant, you've probably wondered about the safety of different herbs and essential oils as well. You can find a list of pregnancy-safe essential oils here, and in this post I'm sharing my favorite recipe for red raspberry leaf tea. It's one of the most popular herbs recommended my midwives to nourish mama and baby, and it's delightful both hot and served over ice. Okay, let's jump in!
With baby number three on the way, I am doing all I can to support a healthy pregnancy – eating a nourishing diet, getting as much sleep as I can, and of course sipping on this tea, which has been used for centuries to help with labor. Before we get to the recipe, though, let me tell you a little about the star ingredient:
Benefits of Red Raspberry Leaf Tea for Pregnancy
Fragrine – a component of the red raspberry leaf – is thought to strengthen and tone the uterus so that contractions are very effective. Many midwives believe that it helps to shorten labor time, reduce the pain of labor and postpartum recovery, minimize the risk of postpartum hemorrhaging, decrease postpartum discomfort, and increase milk supply. (source)
In one study, mama's who consumed red raspberry leaf had fewer birth interventions such as artificial rupture of membranes, forceps delivery and cesarian sections. They were also less likely to experience both pre and post gestation (source)
Other Reasons to ♥ Red Raspberry Leaf
Red raspberry is rich in bioavailable minerals – particularly iron, which is in high demand during pregnancy. It also contains:
Bioavailable calcium, magnesium, potassium, selenium, manganese and zinc – plus a significant amount of iron as mentioned earlier

Flavonoids that act as antioxidants

Betacarotene (a precursor to Vitamin A)
Vitamin B-3 (niacin)
Vitamin C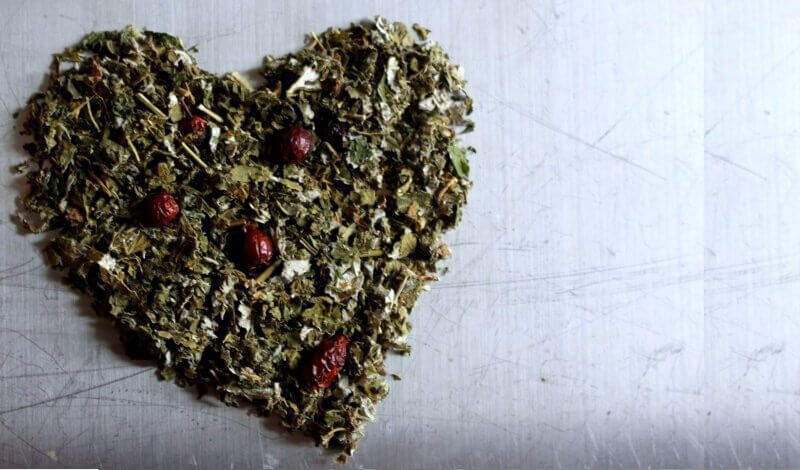 Is red raspberry safe to consume during the first trimester?
Some have suggested that red raspberry should be avoided during the first trimester, believing that it can cause contractions that might induce miscarriage. However, many midwives say tradition and current research indicate that it is safe to be used in all trimesters.
"Red raspberry leaf has an ancient tradition of use in pregnancy to sustain and tone the tissue of the womb, support contractions and check hemorrhage during labor. The herb in itself does not promote labor; it does help tone and work with the needs of the uterus during your pregnancy. Raspberry leaf extract apparently contains a component that stimulates contractions of the smooth muscle in the uterine wall; these are toning contractions. Toning contractions will not make the contractions stronger but can help the uterus work more effectively. One double blind randomized trial found the use of raspberry leaf tablets by women in their last month of pregnancy was associated with a significant shortening of stage two labor, but not of stage one. Red raspberry leaf is rich in calcium, magnesium and iron, so using it can promote toning contractions and give you a rich source of vitamins and nutrients. It is a great herb to use, but more important, our bodies know how to give birth and they know how to make babies; the herbs are just a bonus." ~ Midwifery Today
Of course, there are several other herbs that have long been used during pregnancy to support moms and their growing babies. I've included a few in this recipe, plus suggested some you might like to add once in awhile to mix things up. First up, nettle!
Reasons to Love Nettle
Rich in bioavailable iron and other essential nutrients, nettle has long been used to nourish the adrenal glands, which are often put to the test during the pregnancy and postpartum period. It is also thought to help with leg cramps, reduce the pain of labor and birth, nourish the kidneys which are responsible for cleaning the extra blood required to sustain pregnancy, and increase the richness of breast milk. (source) Vital nutrients contained within this herb are:
Vitamin K-1
Chlorophyll
Betacarotene
Vitamin C
Vitamin D2
Minerals such as calcium, potassium, phosphorous, iron and sulphur
Reason to Love Rosehips
Rose hips are rich in Vitamin C, which supports immunity and assists with the absorption of blood-building nutrients such as iron. It is also thought to be a mild diuretic that helps with water retention.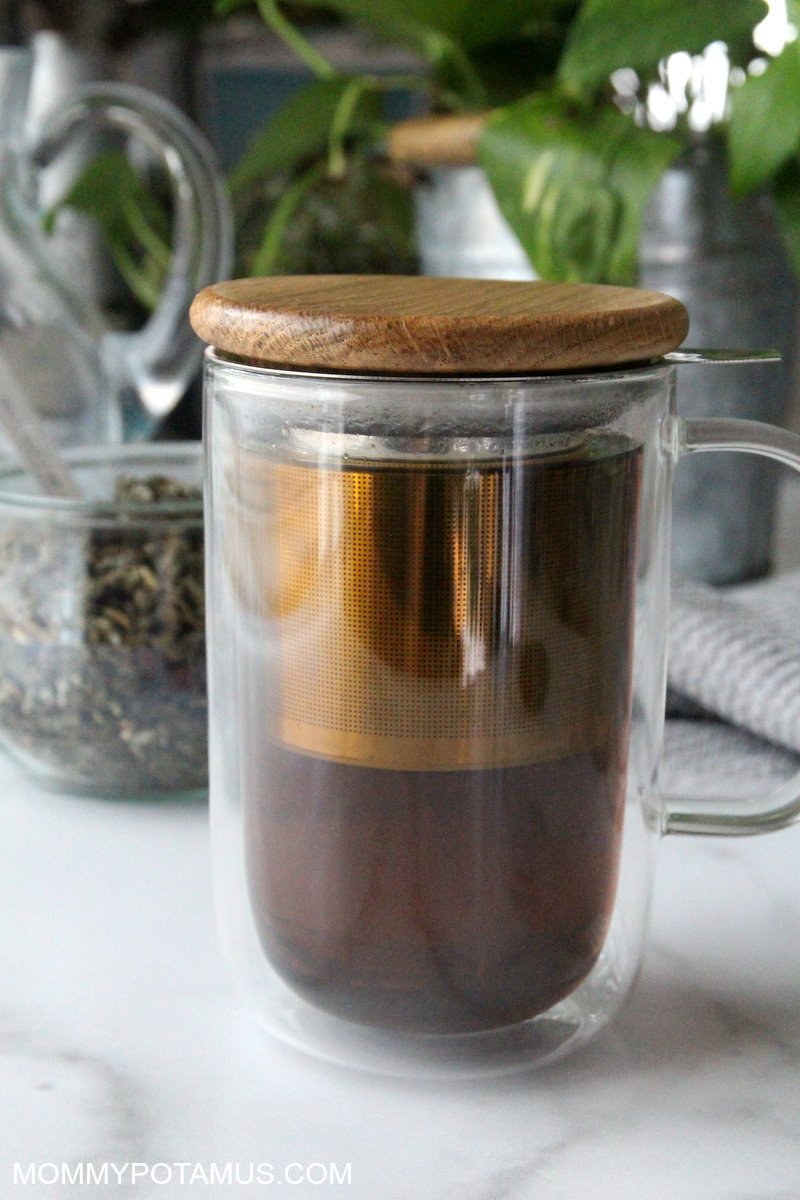 Homemade Pregnancy Tea ~ A Nourishing Tonic For Two
Many mama's drink 1 cup of this tea every day during early pregnancy, and up to 4-5 cups (some say more!) in the last trimester.
Main Ingredients
Optional Add-Ins
Fresh ginger (to help with digestion)
1/4 cup mint leaf (also beneficial for digestion, not to mention delicious!)
1/4 cup chamomile (to soothe frazzled nerves and encourage restful sleep)
To Make:
Though a tea ball is optional, it does simplify the process quite a bit!
To make a single cup, boil water and pour into a mug. Add 1-2 tablespoons of tea to a tea ball, cover if possible, and allow to infuse for at least 10 minutes. Remove tea leaves and sweeten with honey, maple syrup, etc. if desired.
If you don't have a tea ball, simply add the tea leaves to boiling water, cover, and then strain with a mesh strainer .
To make a large batch, boil 8 cups of water and add 1/2 cup tea leaves. Steep for at least 10 minutes to overnight, then strain and place in the fridge to sip on over the next few days.