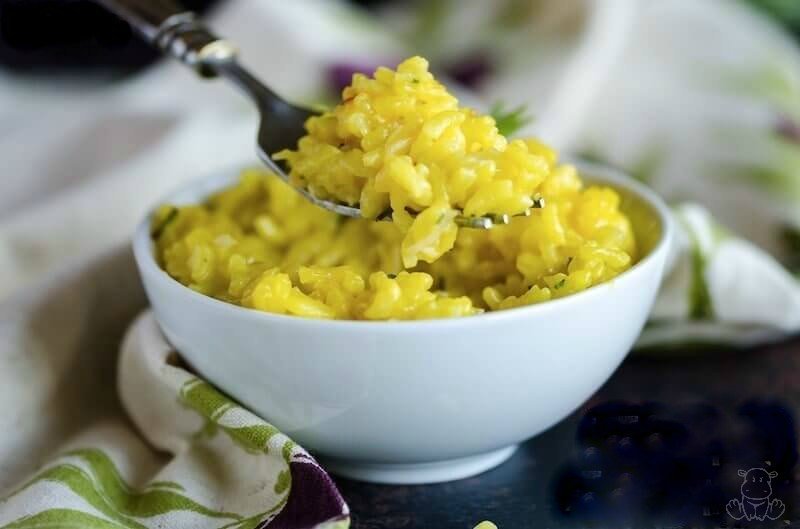 Creamy, bright and infused with delicious aromatic herbs, this Risotto alla Milanese recipe is a total crowd pleaser. Translated as saffron risotto, Milanese risotto is said to originate from a practical joke in 16th century Italy.
In the year 1574, a team of Belgian glass makers were working on the Milan cathedral. One of these men was known for his talent for mixing colors. His secret was to add saffron to his work for its yellow color.
Because of this, Valerio from Flanders, the leader of the group, teased, "You'll be putting saffron in your risotto next!". He also gave the glassworker the nickname Saffron because of his love for the herb.
In an attempt to tease Valerio back, it's thought that this glassworker snuck into Valerio's daughter's wedding (in another account, the glassworker was the groom) and put saffron in the risotto. The guests were shocked by the yellow rice dish but eventually tried, and loved it!
However, there is no mention of risotto Milanese until the late 1700's or early 1800's in cookbooks. Rice dishes were also typically boiled until around this time as well. Whether risotto Milanese was created in the 16th century or the 19th century, it's one of the most famous Italian risotto dishes today.
What Is Risotto Milanese?
It's a creamy rice dish seasoned with saffron for both flavor and color. It is eaten as a first course and also as a side dish. This dish pairs nicely with fresh fish, pork chops, and lamb.
How Do You Make Milanese Risotto?
There are three main things that distinguish risotto from another rice dish. Those things are:
Roasting or sauteing the rice with butter and onions
Cooking the rice by adding broth a little at a time
A final mixing that makes the rice dish soft and creamy (Parmesan cheese is often added here)
Milanese risotto is different from other risotto recipes because it includes saffron, an herb that gives it it's famous yellow color and flavor.
Want More? Savory Side Dish Ideas
If you're looking for more side dish ideas, here are some of my favorites:
Creamy Garlic Mashed Cauliflower "Potatoes" – I started making these creamy,  rich mashed "potatoes" when my family was on a gut-healing protocol. We've reintroduced potatoes now, but we still LOVE this recipe!
Gluten-Free Homestyle Stuffing – Savory sage and sweet apples make this gluten-free stuffing recipe a delicious alternative to traditional bread-based side dishes.
Easy Spinach Dip – When it comes to helping kids (and adults) fall in love with veggies, butter and cheese go a long way. Families love this spinach dip, and I hope yours does, too!
Risotto alla Milanese Recipe
A real food take on this 18th century Italian dish. This side dish is perfect with roasts and other beef dishes.
Instructions
In a medium saucepan, combine the chicken stock and water.

Bring to a boil then reduce to low heat to keep warm.

While the stock is heating, grate the Parmesan cheese and set aside.

Finely chop the herbs and set aside and finely dice the onion and set aside.

Once the stock is hot, add the saffron and stir.

In a new saucepan, heat 2 tablespoons of the butter and the olive oil over medium heat.

Add the diced onion, salt, and pepper, and saute until the onion is soft and translucent, but not browned.

Reduce the heat to medium-low and add the rice, stirring constantly for 3-4 minutes.

Add the wine to the rice, stirring and scraping the bottom of the pan.

Once the wine is almost all absorbed, add just enough warm stock to cover the rice.

Cook, stirring frequently until the stock is almost all absorbed.

Repeat the process of adding stock and cooking twice more.

Taste the rice. It should be chewy and soft, but not crunchy. If it is crunchy and stock once more to finish cooking.

Remove from heat, add the remaining butter, and cover.

After 2 minutes stir in the Parmesan cheese and chopped herbs.

Serve immediately with additional shredded Parmesan if desired.
Notes
The finished risotto should be creamy and smooth; not too runny and not too thick. If it is too runny try cooking it for a few minutes longer. If it is too thick and a little more broth.
Nutrition
Calories:
167
kcal
|
Carbohydrates:
9.7
g
|
Protein:
6.5
g
|
Fat:
11.2
g
|
Saturated Fat:
5.3
g
|
Polyunsaturated Fat:
0
g
|
Monounsaturated Fat:
0
g
|
Trans Fat:
0
g
|
Cholesterol:
22
mg
|
Sodium:
599
mg
|
Potassium:
0
mg
|
Fiber:
0.9
g
|
Sugar:
1
g
|
Vitamin A:
0
IU
|
Vitamin C:
0
mg
|
Calcium:
0
mg
|
Iron:
0
mg
Have you ever made risotto? Ever cooked with saffron?