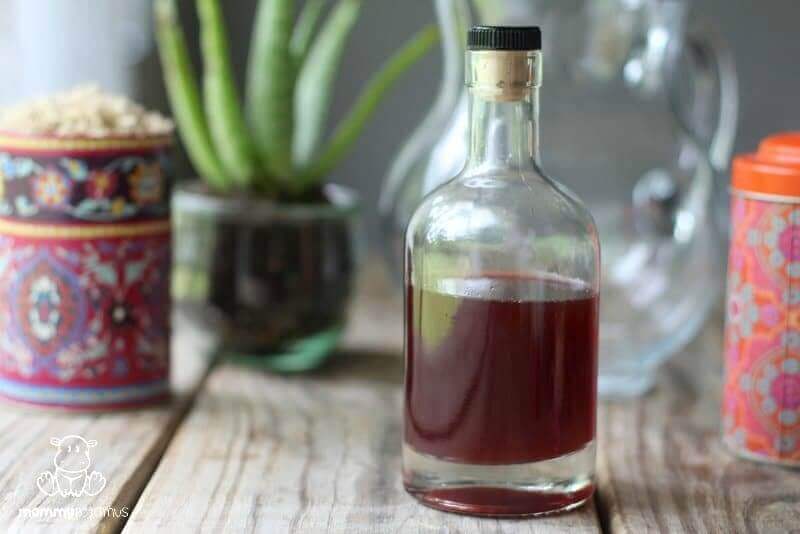 So, you already love elderberry syrup and fire cider for immune support during the winter months, but you know it's a good idea to rotate herbs and you're looking for new options. Perfect! Meet the five flavors fruit – schisandra berry (also spelled "schizandra").
For most of us, foraging probably looks more like braving the checkout line with cranky kids than hiking for a day without food in Siberia, but we can learn a thing or two from generations of hunters that have done exactly that.
According to Donald Yance, CN, MH, RH(AGH), schisandra "berries and seeds were used by Nanai (Goldes or Samagir) hunters as an energy tonic to prevent exhaustion, to improve night vision, and to reduce hunger and thirst," writes Donald Yance, CN, MH, RH(AGH), (Adaptogens in Medical Herbalism, p. 580). Newer research suggests it's also helpful in supporting and balancing the immune system. (source)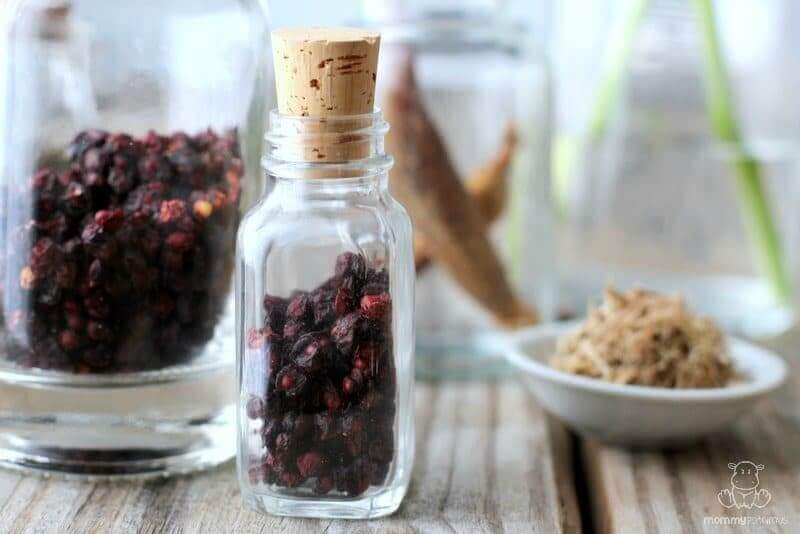 Schisandra is still used to this day in that region, and modern research has confirmed that it is a highly valuable adaptogen, or herb that helps the body to adapt to emotional and physical stress.
The Chinese name for shizandra is wu wei zi, which is translated as "five flavors fruit." This is because "schizandra berries have all five flavors (sweet, sour, bitter, pungent and salty) recognized in that tradition. The peel and flesh are sweet and sour, the seed is pungent and bitter, and the whole fruit is salty" (Adaptogens: Herbs For Strength, Stamina & Stress Relief, pp. 195-196).
It's definitely not the kind of fruit you nosh on as a snack, but it does make a sweet and tangy tea or flavoring syrup. In today's post I'm going to show you how to make it into a syrup similar to elderberry syrup.
In traditional Chinese medicine, schisandra berry is valued for its ability to:
Support energy levels and overall physical endurance
Encourage a positive mood
Support immune function
Promote restful sleep

Is schisandra safe during pregnancy and breastfeeding?
According to the Botanical Safety Handbook: 2nd Edition, schisandra is a Safety Class 1C herb (Gardner & McGuffin, 2013, p.794). This category is described as:
Herbs that can be safely consumed when used appropriately.
History of safe traditional use
No case reports of significant adverse events with high probability of causality
No significant adverse events in clinical trials
No identified concerns for use during pregnancy or lactation
No innately toxic constituents
Toxicity associated with excessive use is not a basis for exclusion from this class
Minor or self-limiting side effects are not bases for exclusion from this class
The "C" designation indicates that schisandra is an herb for which clinically relevant drug interactions are known to occur. See the "What else do I need to know?" section below for more information.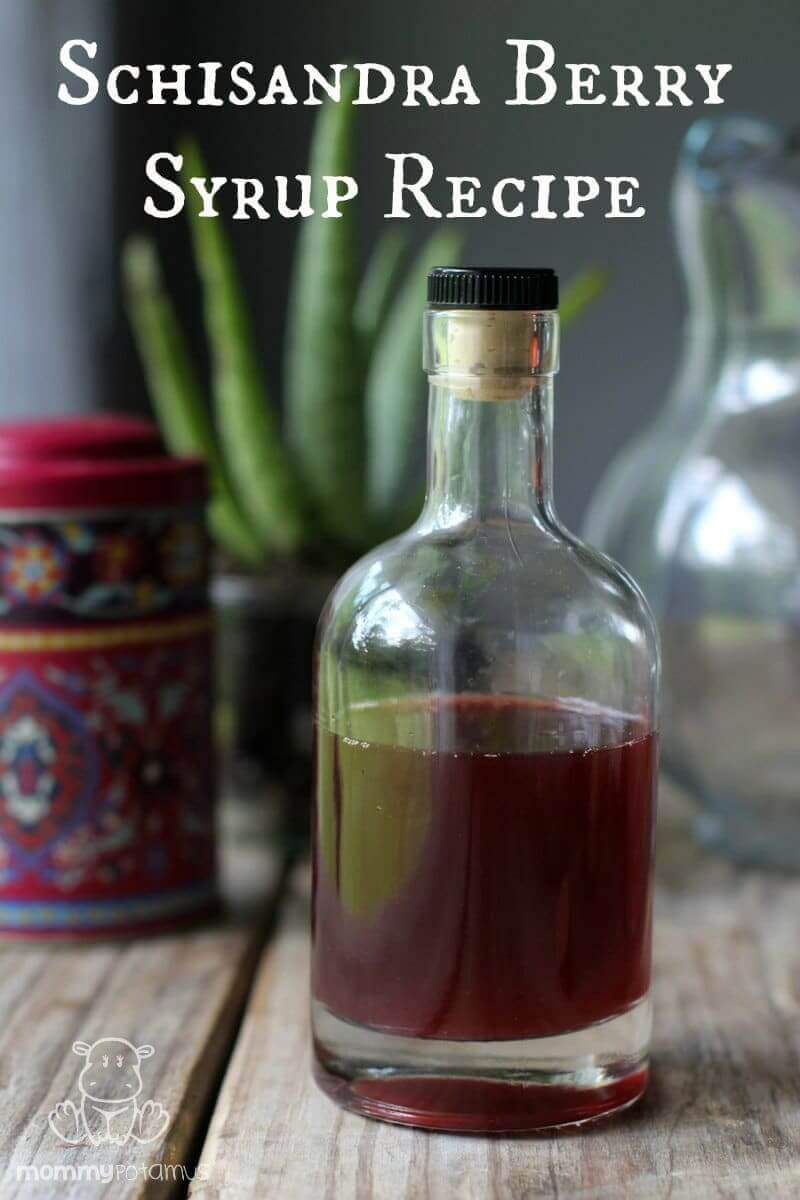 Schisandra Berry Syrup Recipe
This tangy and sweet syrup is incredibly versatile – if you'd like to give it a try but are not quite sure what to do with it, here are some ideas:
Mix it with homemade water kefir or sparkling water to make soda pop
Stir it into your favorite tea
Take it straight off the spoon
Stir it into oatmeal or yogurt
How To Make Shisandra Berry Syrup
Serving Size: 2 1⁄2 teaspoons – 1 tablespoon plus 1 1⁄2 teaspoons
Instructions
Add water and schisandra berries to a pot and bring to a boil.

Reduce heat and simmer until liquid is reduced by half. This should take around 45 minutes.

Strain to remove berries. Allow liquid to cool to room temperature, then stir in honey.

Transfer schisandra berry syrup to a jar and store in the fridge.
Nutrition
Calories:
0
kcal
|
Carbohydrates:
0
g
|
Protein:
0
g
|
Fat:
0
g
|
Saturated Fat:
0
g
|
Polyunsaturated Fat:
0
g
|
Monounsaturated Fat:
0
g
|
Trans Fat:
0
g
|
Cholesterol:
0
mg
|
Sodium:
0
mg
|
Potassium:
0
mg
|
Fiber:
0
g
|
Sugar:
0
g
|
Vitamin A:
0
IU
|
Vitamin C:
0
mg
|
Calcium:
0
mg
|
Iron:
0
mg
Notes
Because this recipe contains honey, it should not be given to children under one year of age. Regarding shelf life, according to Rosemary Gladstar's Herbal Recipes For Vibrant Health, syrups made with the ratios above should stay good from several weeks to several months (Gladstar, 2001). If you are concerned that you may not use it all in that time, you may want to freeze some in an ice cube tray for later.
What else do I need to know?
"In Chinese medicine, tonic remedies like schizandra should not be taken by people with acute viral or bacterial infections such as colds, influenza, bronchitis and pneumonia" (Winston & Maimes, 2007, p. 197).
Also, according to WebMD, "Some medications are changed and broken down by the liver.
Schizandra might increase how quickly the liver breaks down some medications. Taking schizandra along with medications that are broken down by the liver might decrease the effects of these medications. Before taking schizandra, talk to your healthcare provider, especially if you are taking any medications that are changed by the liver" (WebMD).
Want more research-backed natural remedies?
No problem, I've created a free ebook for you – Kitchen Apothecary: 25+ Natural Remedies Using Ingredients From Your Pantry – as a gift for signing up for my newsletter. You'll also get updates when I post about safe essential oils for pregnant/breastfeeding mamas, exclusive gifts and coupons (I was able to give away a jar of free coconut oil to anyone who wanted it recently!), plus other goodies.
Sign up using the form below.