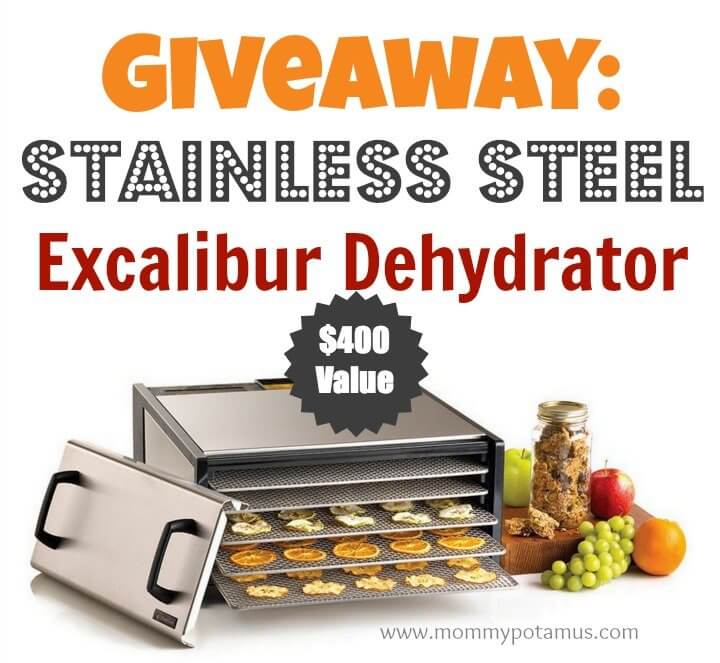 Ten Bucks
It was a bet I was willing to take for the prospect of fruit roll-ups, freshly dried garden herbs, and salty sweet almonds. My garage sale purchase was nothing fancy, but it saved me a lot of money, and what's not to love about THAT??
I wore out the motor on that little dehydrator in less than a year, so I started shopping for a better one. This month I'm giving away the one I chose for myself, only better!
The Excalibur Stainless Steel 5-Tray is incredibly durable – it comes with a 10 year warranty – and it has a few features that I absolutely love:
The 26 hour timer allows you to leave the house while your dehydrator finishes up a batch of goodies – no need to rush home to turn it off. (Also, even if you're home it's just one less thing to have to keep track of during the day)
Unlike my older version which has plastic trays that I line with parchment paper, this one comes with stainless steel trays
More inexpensive models often only have one temperature setting, but this one has an adjustable thermostat that ranges from 95F to 155F
Wondering how I save money with my Excalibur? Here are a few ideas:
How To Save Money With A Dehydrator
One of the best ways to maximize great deals on produce is to stock up and preserve them for later. Summer tomatoes are dried for a zesty addition to Italian dishes later and fruits such as apples can be dried with cinnamon for a kid-friendly treat. You can also dry herbs you grow for use in the winter, make beef jerky, yogurt, dry coconut flour, and make your own soaked and dehydrated nuts/beans/grains.
Dehydrated Recipe Suggestions
If you're looking for some recipe ideas to use with dehydrator, here's some of my favorites:
Ever use a dehydrator? What is your favorite food to dehydrate? Please share below in the comments!