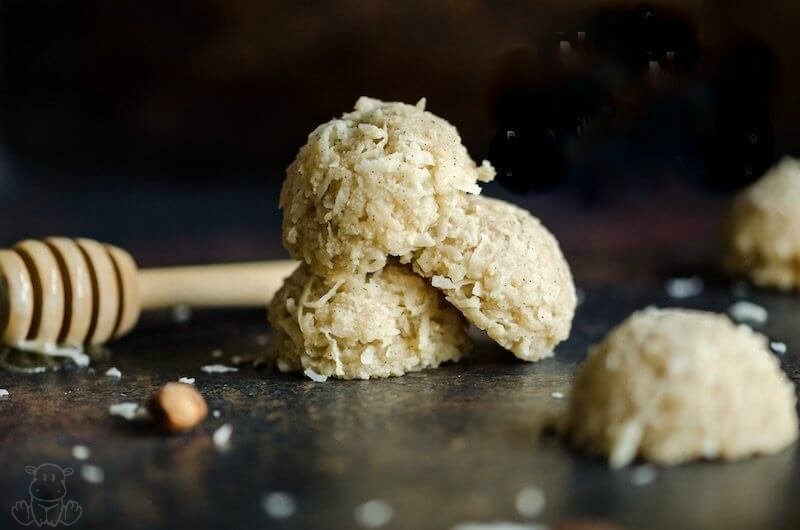 There are so many ways to use coconut. I use coconut products on a daily basis in my home, whether it's in a beauty product or in the kitchen. These vanilla coconut macaroons are just another (delicious!) way my family enjoys the health benefits of my beloved coconut.
Is Coconut Healthy?
You bet it is! Coconut is high in calories and an excellent source of healthy fats. These fats include medium-chain fatty acids and lauric acid which boost brain and immune function. Coconut also contains:
fiber
manganese
magnesium
potassium
phosphorus
Coconut is also very versatile. It comes in the form of coconut milk, coconut oil, coconut flakes, coconut flour, coconut water, and coconut butter. Coconut makes an amazing replacement for dairy when necessary.
Coconut oil can replace butter in many recipes.
Coconut flour can be used as a grain-free flour. Just be careful because it can't replace other flours 1:1. As a general rule, ¼ to ⅓ cup of coconut flour can replace 1 cup of other flours. Often the recipe will need more eggs as well.
Coconut butter can be used in place of cream cheese or used as frosting
Coconut products can also replace other allergenic foods. In fact, coconut products tend to become a staple in the kitchen of families with food allergies. For example, coconut flakes can replace nuts in some recipes (like pesto) or can be used as breading.
I use coconut in recipes like these:
There are a lot of ways to use coconut in place of other ingredients. Many time you can't even taste the coconut (which is a good thing in certain dishes!).
What makes these Coconut Macaroons Different?
If you're a coconut macaroon connoisseur, you may have noticed that this macaroon recipe is a bit different. Traditionally macaroons are made with whipped egg whites to get the fluffy texture we all know. These skip the egg altogether (I hate separating eggs without a use for both the whites and the yolks!).
Skipping the egg also makes it possible to eat these raw. You can either cook them as described below or put them in a dehydrator for the raw version (anything cooked at below 118°F is considered raw by many raw foodies). For impatient macaroon fans, you can eat them without cooking or dehydrating, but I recommend taking the extra step for texture's sake.
Making this recipe egg-free also means those with egg allergies can enjoy a coconut macaroon like the rest of us.
Vanilla Coconut Macaroons (Egg Free)
A perfect combination of vanilla, coconut, and almond flour make this macaroon a family favorite (and it's healthy too!).
Instructions
Preheat oven to 200°F.

Line a baking sheet with parchment paper and set aside.

In a medium size bowl, mix together the almond flour, coconut, and salt.

In a separate bowl, whisk together the honey, coconut oil, and vanilla extract.

Add the honey mixture to the bowl of almond flour and coconut.

Stir until well combined.

To make the macaroons, use a tablespoon measure to scoop the dough, pressing it gently into the measure.

Turn the dough out, tapping gently, and place it on the prepared baking sheet.

Bake the preheated oven for 45-50 minutes until the outside is slightly dried and the inside soft and chewy.

For raw macaroons, place the formed macaroons gently in a dehydrator and dry until they are slightly dry on the outside, soft and chewy on the inside.

Allow the macaroons to rest after cooking for at least 15 minutes.
Nutrition
Serving:
1
macaroon
|
Calories:
215
kcal
|
Carbohydrates:
9.7
g
|
Protein:
1.6
g
|
Fat:
18.7
g
|
Saturated Fat:
16
g
|
Polyunsaturated Fat:
0
g
|
Monounsaturated Fat:
0
g
|
Trans Fat:
0
g
|
Cholesterol:
0
mg
|
Sodium:
39
mg
|
Potassium:
0
mg
|
Fiber:
2.9
g
|
Sugar:
5.3
g
|
Vitamin A:
0
IU
|
Vitamin C:
0
mg
|
Calcium:
0
mg
|
Iron:
0
mg
Want more delicious, easy recipes?
No problem, I've created a free ebook for you – 35+ Gluten-Free Desserts – as a gift for signing up for my newsletter. Every Sunday you'll get recipes, actionable health tips, and highly-vetted product recommendations delivered fresh to your inbox.
Sign up using the form below.
Have you ever made macaroons? Do you make them chewy or fluffy?