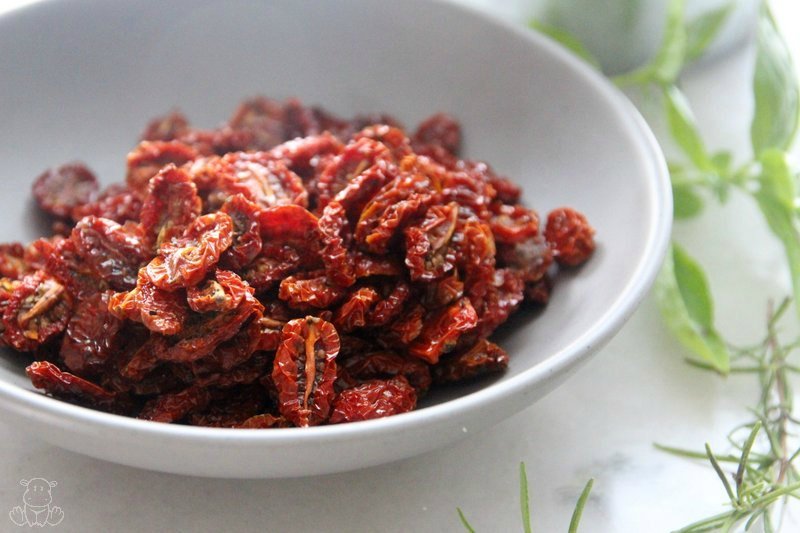 Is there anything quite like tomatoes fresh off the vine for making a batch of fresh salsa or a juicy BLT with homemade mayo? That was a rhetorical question, of course. This time of year you can often find great deals on tomatoes at your local farmer's market . . . I once got 20 pounds for $20! Or maybe you've got garden or a friend who brings extras over by the bucketful – even better.
Whatever the reason, if you've got extras on-hand, here's how to make them into delicious oven-dried tomatoes. Like their more famous cousin, sun-dried tomatoes, these little morsels are delicious in pasta, salads, quiche and other recipes. However unlike sun-dried tomatoes, you can make these in just one day without worrying that your efforts will be spoiled by a surprise summer rain shower.
Oh, and if you ask me the oven-dried versions are much tastier, too.
What kind of tomatoes should I use?
I like to use cherry tomatoes or grape tomatoes because they require the least amount of work. They're also naturally sweet, making them a sweet and savory snack when dried. However, you can use whatever you have on hand: heirloom, roma, or plum tomatoes.
Here's something to keep in mind as you choose your variety: Tomatoes with smaller seeds and/or less water probably don't need to be de-seeded. However, many people choose to remove the seeds from larger, juicier tomatoes.
Some people believe the seeds make the dried tomatoes bitter, while others say they make no difference at all or enhances the flavor. It's really up to you what you want to do. I'm a seeds-in girl, but I recommend trying it both ways to see how you like it.
How to Use Oven-Dried Tomatoes
The best thing about oven-dried tomatoes is how versatile they are. Here are some ways to use them:
Add them to wraps and sandwiches
Sprinkle them on a summer salad
Add them as a topping for gluten-free pizza (with homemade pizza sauce!)
Throw them into a quiche
Puree them and make a vinaigrette
Add them to pesto
Scoop them onto bruschetta with gluten-free bread
Use them in place of fresh tomatoes in most recipes (you may have to add a little extra liquid)
They're also amazing on their own as a snack on the go!
Can I use a dehydrator instead of the oven?
Yes, you can use a dehydrator instead of an oven. A dehydrator may take a little longer, but it also may make for more evenly dried tomatoes. Dehydrators also use less energy and are easier to get very specific temperatures and airflow. I have an Excalibur, which is considered the gold standard for dehydrators. I use it for jerky, fruit leather, apple chips, etc.
However, the oven works just fine if you don't have a dehydrator.
Tips for Making Delicious "Sun-Dried" Tomatoes In Your Oven
Luckily dried tomatoes are fairly easy to make. But here are some tips to help you make them as tasty as possible.
Start with in-season tomatoes –  It probably goes without saying, but the better tasting the tomato is the better tasting the dried tomato will be.
Season the tomatoes – Consider making a few different batches seasoned differently. Make a plain batch with just olive oil, salt and pepper, then try adding herbs like basil or oregano to another batch.
Choose firm tomatoes if possible – Soft tomatoes can take longer to dry.
If you're using larger tomatoes, be sure to slice them evenly and thinly (Thick pieces take longer to dry).
Dried fruits and vegetables can be stored at room temperature, but if they aren't completely dried they can spoil. If you store them in the refrigerator or freezer they will last a long time.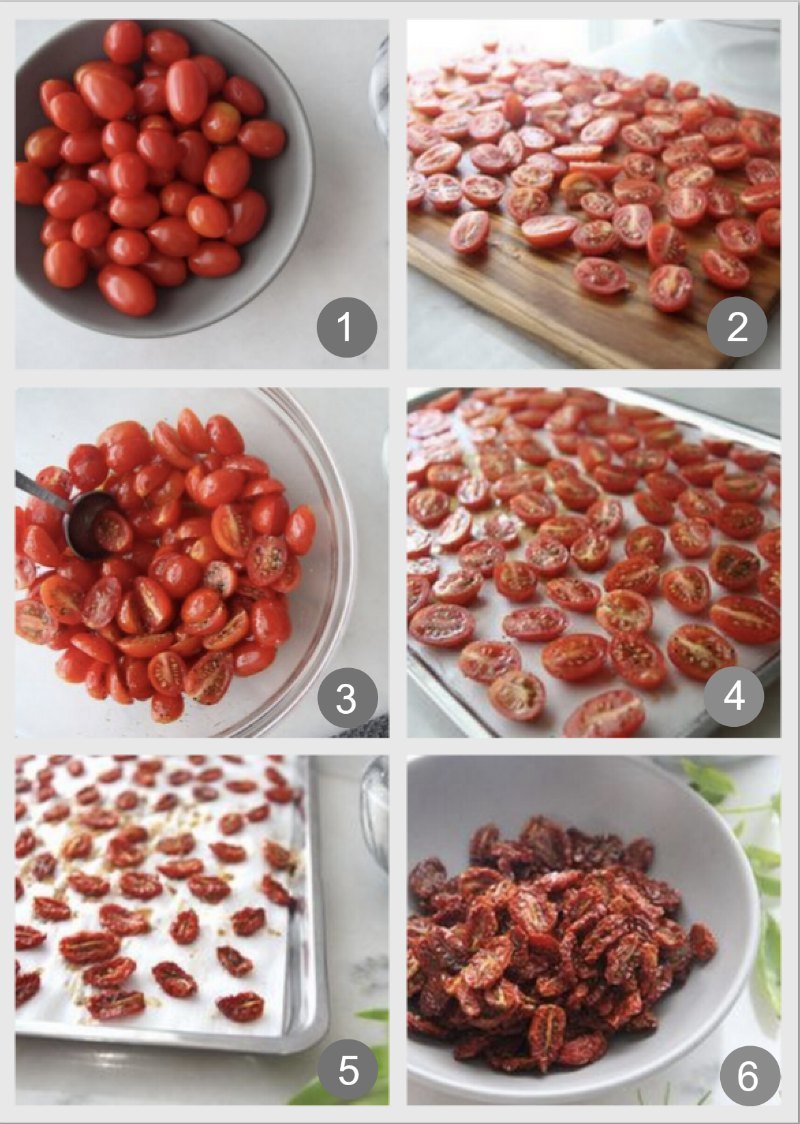 Oven Dried Tomatoes Recipe
Savory and sweet oven dried tomatoes that make a great snack. If you're using small tomatoes like the cherry or grape varieties, this recipe can be easily doubled and spread on two baking sheets to dry at the same time.
Instructions
If using oven, preheat to 170°F.

Line a baking sheet with parchment paper and set aside.

Wash the tomatoes and pat them dry with a clean kitchen towel.

Slice tomatoes in half and place them in a medium size mixing bowl.

Drizzle the olive oil over the tomatoes and sprinkle with salt and pepper.

Toss to coat.

Place the tomatoes cut side-up on the prepared baking sheet.

Dry in the preheated oven for 4-8 hours or dehydrator for 6-10 hours, until tomatoes are leathery. The time will vary based on the size of the tomatoes and how juicy they are. You'll know they're ready when you allow one to cool and it's dried all the way through.

Remove tomatoes from oven store in an airtight container. Place in the refrigerator for up to a week, or in the freezer for extended storage.
Notes
Feel free to use various dried herbs for seasoning if desired.
Nutrition
Serving:
2
TBSP
|
Calories:
38
kcal
|
Carbohydrates:
1.8
g
|
Protein:
0.4
g
|
Fat:
3.6
g
|
Saturated Fat:
0.5
g
|
Polyunsaturated Fat:
0
g
|
Monounsaturated Fat:
0
g
|
Trans Fat:
0
g
|
Cholesterol:
0
mg
|
Sodium:
242
mg
|
Potassium:
0
mg
|
Fiber:
0.6
g
|
Sugar:
1.2
g
|
Vitamin A:
0
IU
|
Vitamin C:
0
mg
|
Calcium:
0
mg
|
Iron:
0
mg
What is your favorite way to use dried tomatoes?