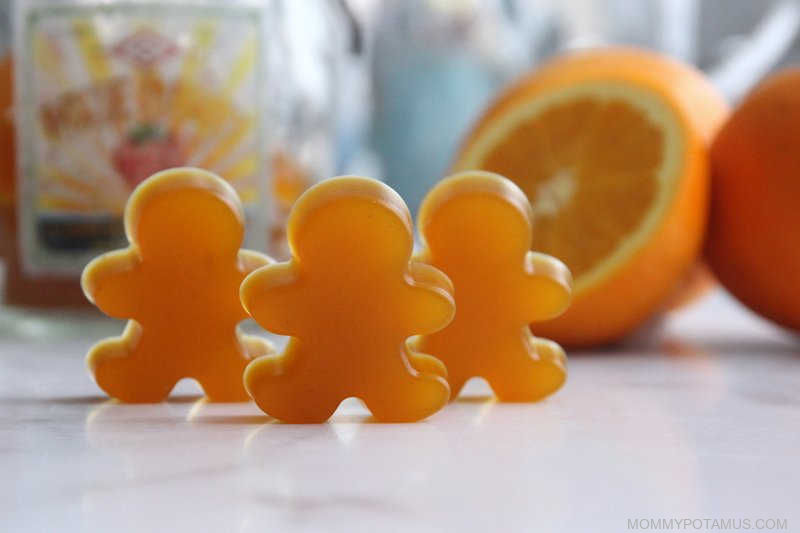 Sweet and tangy, these chewable vitamin C gummies are a delicious way to support the immune system, sleep quality, gut health and more. They're made with two nutritional powerhouses – collagen and whole food vitamin C – that can be challenging to get enough of unless we make a real (in this case, REAL DELICIOUS) effort.
But with vitamin C found in everything from tangerines to parsley, you might be wondering why I supplement with it at all. The answer, of course, is that
fruits and vegetables grown decades ago were much richer in vitamins and minerals than the varieties most of us get today. The main culprit in this disturbing nutritional trend is soil depletion: Modern intensive agricultural methods have stripped increasing amounts of nutrients from the soil in which the food we eat grows." – Dirt Poor: Have Fruits & Vegetables Become Less Nutritious? (Scientific American)
According to the Kushi Institute, nutrient data from 1975 to 1997 shows that average vitamin C levels dropped 30%, and they've likely dropped more since then. (1)
Another analysis found that the vitamin C content of cauliflower dropped by 40%. (2)
So what's the solution . . . eat 40% more cauliflower?
That's not realistic for most families including mine, so I focus on nutrient-dense foods and targeted supplementation instead. When it comes to vitamin C specifically, I focus on whole-food sources that are less impacted by soil depletion.
Fruits that grow on trees – acerola cherries, for example – have extensive roots capable of extracting nutrients from deeper layers of soil.
These vitamin C gummies, which are a cross between creamsicle gelatin cups and sour gummy stars, pack between 45-60 mg of vitamin C per gummy (depending on the vitamin C powder you use). And, um, they're DELICIOUS.
Before we dive into all their benefits, I want to mention that none of these statements have been evaluated by the FDA and this article is not medical advice. Please talk with your healthcare provider about any herbs or dietary supplements you are considering.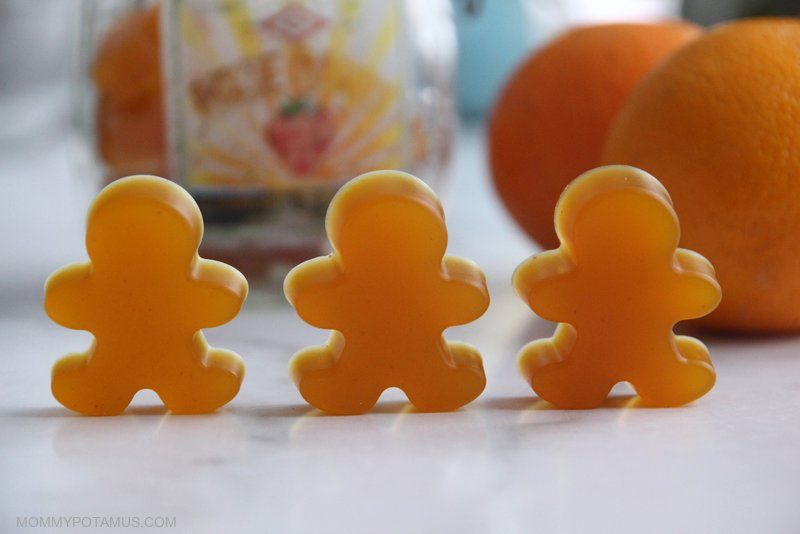 Benefits of Whole Food Vitamin C
Immune Support – According to this study, vitamin C supports "various cellular functions of both the innate and adaptive immune system." Our bodies don't make vitamin C, so the only way to optimize levels is through dietary intake.
Collagen Synthesis – Along with proline and glycine (which are found in the gelatin used to make these gummies), protein and zinc, vitamin C is essential for making collagen, aka the main protein that gives our skin structure and firmness. (3)
Optimizes Absorption & Utilization of Other Nutrients – Vitamin C increases the absorption of iron and may help the body recycle vitamin E. (4) (5)
Antioxidant Support – Help neutralize free radicals, which are metabolic byproducts that can cause oxidative stress that can lead to accelerated aging and other negative effects.
Stress Resilience – Helps us "bounce back from stressful situations" – both physiological and psychological stress. (6) (7)
Supports Wound Healing – Vitamin C is involved in all phases of wound healing and is vital to the process. (8) (9)
Why I Only Use Whole Food Vitamin C
As I dive into in this article on the difference between synthetic and natural supplements, our bodies don't always recognize and use synthetic vitamins the same as naturally occurring ones.
Whole food vitamin C comes "packaged" in fruits and veggies with a full range of complementary bioflavonoids, enzymes and other compounds that work synergistically with ascorbic acid (vitamin C) to nourish us.
Research suggests that while synthetic and whole-food forms of vitamin C are chemically identical, our bodies respond differently to them. For example, the vitamin C component of acerola cherry powder (ascorbic acid) is better absorbed than isolated synthetic ascorbic acid – possibly because it contains co-factors that enhance bioavailability. (10)
That's why when I'm making these gummies, my adrenal support tonic, or anything else with vitamin C, I always opt for the whole-food form.
Two of my favorites are:
Perfect Acerola Powder – Sometimes simplicity is best, and that's the case with this pure acerola cherry powder. It's the most potent whole-food form of vitamin C I've found (approximately 50-125 times higher in vitamin C than oranges) and it contains just one ingredient.
Pure Radiance Vitamin C Powder – This is a blend of several different fruits including camu camu berries, acerola cherries, buckwheat berries and more.
Benefits of Collagen
Collagen is often referred to as the "glue" that holds us together and is the most abundant protein in our bodies. (11)
It's made up of amino acids like glycine and proline that serve as building blocks for our skin, bones, cartilage, ligaments, blood vessels and more. It's considered helpful for:
Skin Elasticity & Hydration – Collagen makes up about 75% of the dry weight of your skin, so it's no surprise that it plays a huge role in its resilience, suppleness, elasticity, and ability to hold in moisture. (12)
Deep Sleep – Collagen is rich in glycine, which is an amino acid that our bodies use to make the calming neurotransmitter serotonin. Melatonin, aka the "sleep hormone," is made from serotonin.
Gut Health – Glycine also helps balance inflammation in the digestive tract and may have a protective effect when the gut is exposed to certain types of toxins. (13) (14)
Joint, Muscle & Bone Health – Collagen is the glue that holds together our cartilage, which helps protect and cushion our joints. It also makes up a significant percentage of our bones and contains the building blocks for creatine (a compound that helps build muscle and fuels performance). Research – which I cover here – suggests that incorporating collagen in our diet can support the repair of our tissues, muscles, cartilage and bones.
That's just a quick overview, though. Click here to dive deeper into collagen's many benefits.
Homemade Vitamin C Gummies
Bursting with orange flavor and whole food vitamin C, these homemade gummies are made without artificial flavors, sweeteners or synthetic food dyes.
Equipment
candy molds (optional)

pot

whisk or spoon

measuring cup

measuring spoons
Instructions
Add orange juice, gelatin and 1 tablespoon honey to a saucepan and whisk until there are no lumps.

Heat over low heat until the gelatin is well dissolved in the liquid, stirring constantly. You want the mixture to be warm, but be careful not to overcook because this can make the gummies difficult to chew. Taste and add an additional 1-2 tablespoons of honey if desired.

Allow the mixture to cool to 105F – 110F before whisking in the vitamin C and probiotics (if using). I don't use a kitchen thermometer to check – a plain old digital thermometer for checking body temperature works just fine.

Whisk in 1/8 tsp orange extract. vitamin C  and probiotics/ natural food dye (if using). I find that using a real whisk instead of a fork is much more effective for evenly distributing the powder(s). Taste and additional 1/8 tsp orange extract if needed.

Pour the mixture into sixteen of these silicone gummy men cavities. (If you don't have a silicone mold, you can also line a small pan with parchment paper and make one big gummy that you cut into squares after it sets.)

Pop the mold in the freezer for 5-10 minutes to firm up. Once they're out of the freezer they will stay firm at room temperature.

Store in the fridge for up to 10 days.
Notes
Makes 16 gummy men. Serving size = 1 gummy
Nutritional estimate is based on the following formula:
4 tbsp gelatin
1 cup orange juice
1 tsp pure acerola powder
2 tbsp honey
1/2 tsp vanilla extract
1/4 tsp orange extract
Probiotic powder and natural food coloring not included in calculation
Nutrition
Serving:
1
g
|
Calories:
21
kcal
|
Carbohydrates:
4
g
|
Protein:
2
g
|
Fat:
1
g
|
Saturated Fat:
1
g
|
Polyunsaturated Fat:
1
g
|
Monounsaturated Fat:
1
g
|
Sodium:
4
mg
|
Potassium:
33
mg
|
Fiber:
1
g
|
Sugar:
3
g
|
Vitamin A:
31
IU
|
Vitamin C:
68
mg
|
Calcium:
3
mg
|
Iron:
1
mg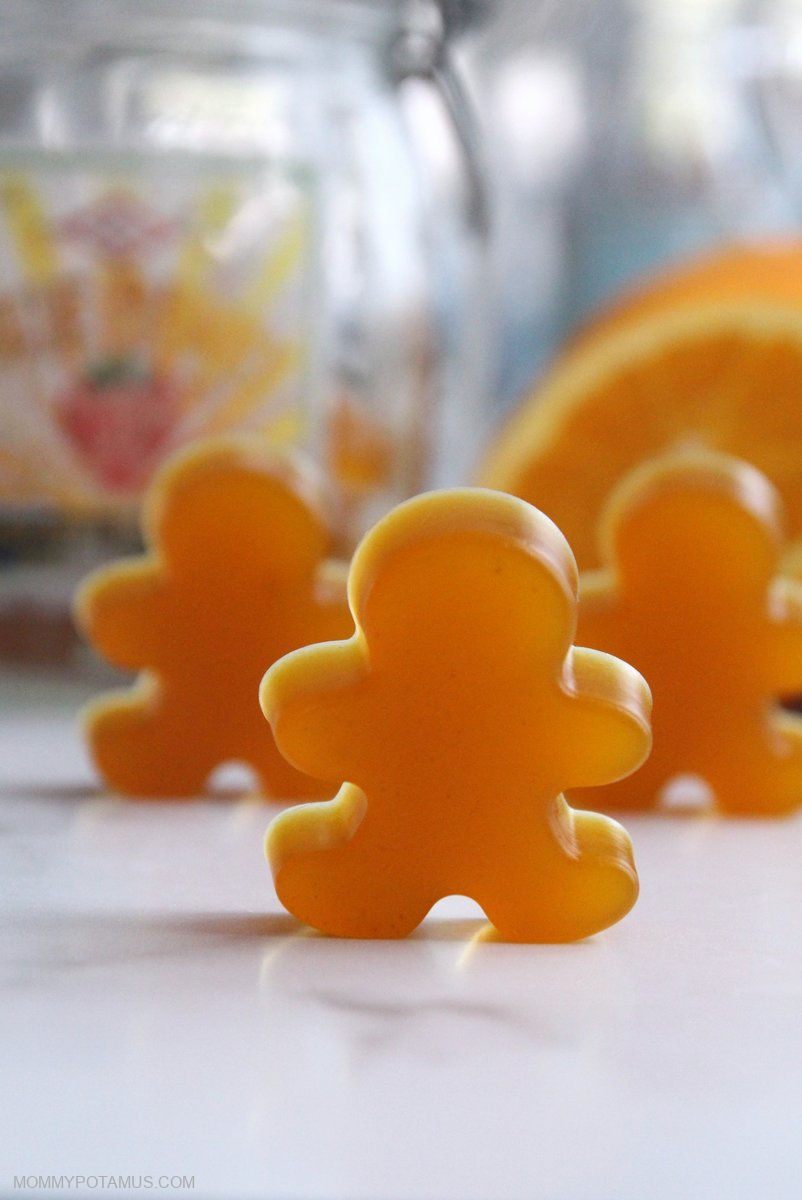 More Delicious Immune Support Recipes
Elderberry Gummies – Yummy, portable, and infused with powerful antioxidants, these gummies are one of my family's favorite ways to support overall wellness.
Lemon Ginger Tea – This warming tea is made with fresh lemon, ginger and honey, plus 1-5 optional additions depending on what you have on hand.
Want more research-backed natural remedies?
No problem, I've created a free ebook for you – Kitchen Apothecary: 25+ Natural Remedies Using Ingredients From Your Pantry – as a gift for signing up for my newsletter. You'll also get updates when I post about safe essential oils for pregnant/breastfeeding mamas, exclusive gifts and coupons (I was able to give away a jar of free coconut oil to anyone who wanted it recently!), plus other goodies.
Sign up using the form below.
Sources
1. Scientific American (2011) Dirt Poor: Have Fruits & Vegetables Become Less Nutritious?
2. Jack, A. 2005. America's vanishing nutrients- Decline in fruit and vegetable quality poses serious health and environmental risks. Amberwaves, Becket, MA.
3. Oregon State University. Vitamin C and Skin Health
4. S R Lynch and J D Cook (1980) Interaction of Vitamin C and Iron
5. Halpner, A D et. al. (1998) Protection by vitamin C of loss of vitamin E in cultured rat hepatocytes
6. Psychology Today (2003) Vitamin C: Stress Buster
7. Brody, Stuart et. al. (2002) A randomized controlled trial of high dose ascorbic acid for reduction of blood pressure, cortisol, and subjective responses to psychological stress
8. WebMD (2008) Supplement Speeds Wound Healing
9. Jane Moores (2013) Vitamin C: a wound healing perspective
10. Anand Prakash and Revathy Baskaran (2018) Acerola, an untapped functional superfruit: a review on latest frontiers
11. Advances In Clinical Chemistry (2015) Collagens
12. Choi, Franchesca et. al. (2019) Oral Collagen Supplementation: A Systematic Review of Dermatological Applications
13. Zhong, Zhi et. al. (2003) L-Glycine: a novel anti-inflammatory, immunomodulatory, and cytoprotective agent
14. Effenberger-Neidnicht, Katharina et. al. (2014) Glycine selectively reduces intestinal injury during endotoxemia