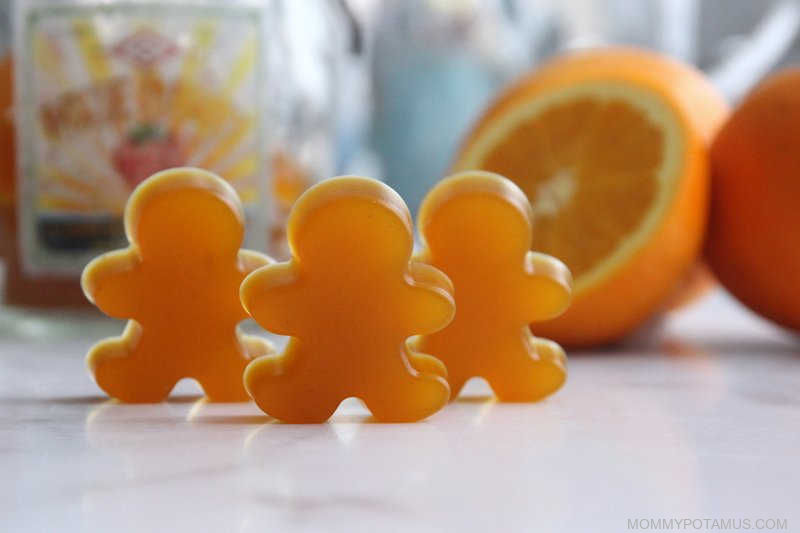 It's often said that good supplements won't fix a bad diet, and that's true. Unfortunately, over the years I've come to believe that even a 100% whole food diet may not provide all the essentials we need. Here's why:
Since 1975, USDA handbooks document a 50% drop in the amount of calcium in broccoli, a 88% decrease in iron content of watercress, and a 40% reduction in vitamin C in cauliflower. Another alarming result of topsoil erosion and poor land management is the relationship between soil health and the nutrient density of the fruits and vegetables that we love. When soil is depleted of its natural matrix of microorganisms, our food is depleted of vitamins and minerals. " (source, find the original handbooks here)
Personally, I think it would be quite a challenge to eat 40% more cauliflower and 88% more watercress to make up the difference, so I focus on nutrient-dense foods and targeted supplementation.
These vitamin C gummies, which are a cross between creamsicle gelatin cups and sour gummy stars, pack at least 120 mg of whole food vitamin C (with bioflavonoids and other co-factors included) per serving. And, um, they're DELICIOUS.
Benefits of Vitamin C
Vitamin C, along with proline and glycine (also included in this recipe) and protein and zinc, are essential for collagen synthesis. (source) In addition, vitamin C also . . .
It may also support heart health and help the body recycle vitamin E. (source)
Why I Use Natural Vitamin C
Several studies indicate that high doses of isolated vitamin C – which has been separated from its natural cofactors – may have some negative effects.
In this study, researchers concluded that supplementing with vitamin C lowered endurance in athletes, impaired mitochondrial function and reduced the body's levels of antioxidant enzymes superoxide dismutase and glutathione peroxidase.
And this study conducted at the University of Leicester found that just 500 mg of synthetic vitamin C per day may cause genetic damage. According to Dr. Herbert, who was interviewed in the article, vitamin C that is naturally present in food has no oxidizing effect. (Here's a link to the original abstract)
It is for that reason, and many others, I prefer to consume whole food-based vitamin C with all of its bioflavonoids and other co-factors intact.
Unfortunately, many "whole food-based" vitamin C supplements you see on store shelves aren't necessarily what they seem. According to Ron Schmid, N.D.,
Almost all of the vitamin C in supplements is made in a laboratory, despite labeling that implies otherwise. For example, the label might say, 'ascorbic acid from sago palm.' Dextrose, a form of sugar that contains no vitamin C at all, is extracted from sago palm and used as the base molecular material for a complex laboratory process that synthesizes vitamin C. Or the label might say 'vitamin C derived from the finest natural sources.' True, but the vitamin C was synthesized. It might also say 'with rose hips and acerola,' which are then used as the base material for the tablet or capsule. But a tablet of rose hips or acerola can contain only about forty milligrams of truly natural vitamin C; the rest is synthesized." (source)
I've linked to a truly whole food-based vitamin C powder below. Now let's get to the recipe!
Orange Creamsicle Vitamin C Gummy Snacks
Equipment
candy molds (optional)

pot

whisk or spoon

measuring cup

measuring spoons
Instructions
Add coconut milk, juice, gelatin and honey to a saucepan and whisk until there are no lumps.

Heat over low heat until the gelatin is well dissolved in the liquid, stirring constantly. You want the mixture to be warm, but be careful not to overcook because this can make the gummies difficult to chew.

Allow the mixture to cool a bit before whisking in the vitamin C. It should be warm enough to pour but not hot. Whisk in vitamin C, plus food coloring and/or extract if desired. (I didn't with the batch pictured)

Grab an ice cube tray or silicone mold. You can use a basic pan, too, and then just cut into squares or use a cookie cutter after it's set.

Pour in the mixture, then pop in the freezer for 5-10 minutes to firm up. Once they're out of the freezer they will stay firm at room temperature.

Store in the fridge for up to 10 days.

Enjoy!
Notes
Makes 16 gummy men. Serving size = 4 gummies
Nutrition
Calories:
108
kcal
|
Carbohydrates:
5
g
|
Protein:
10
g
|
Fat:
6
g
|
Saturated Fat:
5
g
|
Sodium:
25
mg
|
Potassium:
62
mg
|
Sugar:
4
g
|
Vitamin C:
1
mg
|
Calcium:
11
mg
|
Iron:
1
mg