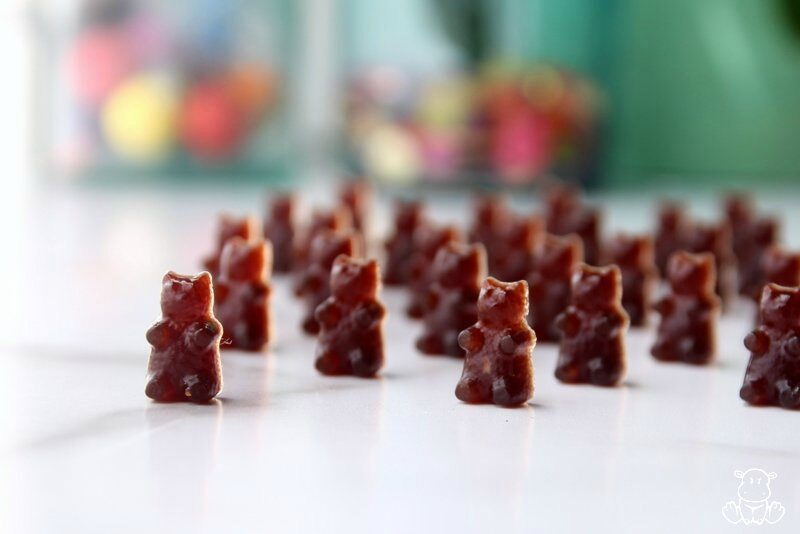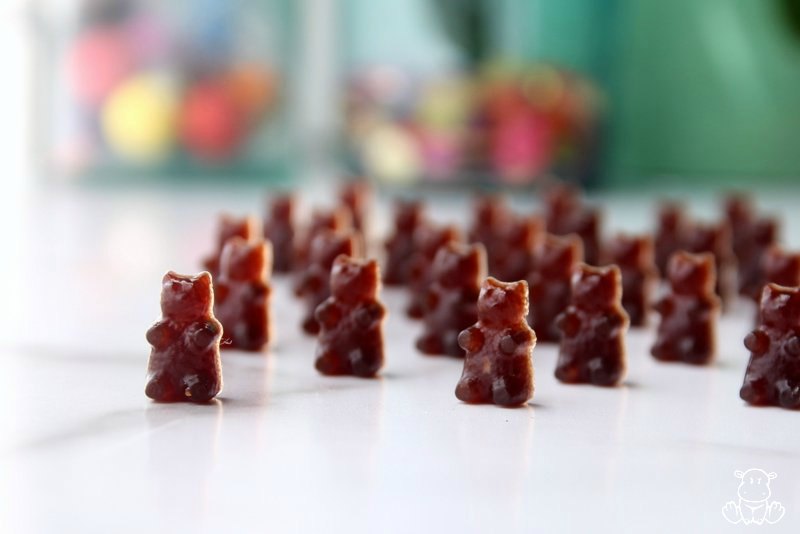 I don't know what I love more about these elderberry gummies – the fact that they're basically mess-proof, or that my kids love them enough to take them without being reminded.
I think it's that last part, but I'm also fine with not having homemade elderberry syrup splattered across the floor when my boys decide to turn breakfast into an impromptu Spartan Challenge. (That's not just my kids, right?)
Delicious, portable, and infused with powerful antioxidants like anthocyanins, this recipe is one of my family's favorite ways to support the immune system during the fall and winter months.
As always, I want to mention that none of these statements have been evaluated by the FDA, this article is not medical advice, and it is not meant to prevent, diagnose or treat any condition, including the stuff that is going around right now. Please talk with your healthcare provider about any herbs you are considering. Now that we've got that out of the way, let's dive in.
So, what's in these elderberry gummies?
Let's take a quick look at the ingredients and their benefits:
Elderberry Syrup
Made with raw honey and elderberries, which are rich in beneficial compounds like flavonoids, homemade elderberry syrup is the foundation of this recipe. It's been found to be helpful for:
Immune support
Respiratory and sinus support
The flavonoids in elderberries also help the body absorb vitamin C, which is essential for immune function and processes like collagen synthesis. (1) As we'll discuss in a bit, I add extra vitamin C to this recipe due to this synergistic effect.
Gelatin
Studies suggest that gelatin may make skin look more youthful, support digestion and improve sleep, among many other things. What's not to love about that?
I always opt for a high-quality, grass-fed gelatin powder like this one.
Vitamin C Powder (optional)
Elderberries need to be cooked in order to deactivate a compound that can cause digestive upset. Fortunately, most of the beneficial compounds found in elderberries are resistant to heat. One that is not, unfortunately, is the vitamin C found in elderberries.
For that reason, I like to stir in natural vitamin C powder – which also supports immune function – to these elderberry gummies after the cooking/heating process is complete. It's super easy and it allows me to get vitamin C into my kids without adding another morning supplement to our routine. Plus, as I mentioned earlier, the flavonoids in elderberries help with the absorption of vitamin C.
If you've read my post on natural vs. synthetic supplements, you know I'm not a fan of isolated forms of vitamin C. That's why I used this whole food-based vitamin C that contains naturally occurring co-factors. It comes in capsules, which I open up and stir into the pot. (About 5-6 capsules equals the 1 teaspoon vitamin C powder called for in the recipe.)
Probiotics (optional)
Although we eat fermented foods several times a week and I try to remember to give my kids probiotic capsules to promote gut health and immunity, sometimes life gets busy and it doesn't happen.
Fortunately for me, they love these elderberry gummies so much they take them automatically, so I add a little probiotic powder in to cover my bases. I like this probiotic, which comes in capsules that I can open up and stir in. (I use 3-6 capsules per batch)
Black Elderberry Gummies Recipe
Delicious, portable, and infused with powerful antioxidants like anthocyanins, these elderberry gummies are one of my family's favorite ways to support the immune system during sniffle season.
This recipe makes 225+ gummy bears using this silicone mold. Each mold holds 50 gummies so I bought two sets. 
Instructions
Mix together the elderberry syrup and water.

Pour 1/2 cup of the liquid into a small bowl. Place the remaining liquid in a small saucepan or pot. Turn the burner to low heat.

While the liquid is warming up you're going to prepare the gelatin. Just keep an eye on the stovetop – when the liquid is hot but not boiling, remove the saucepan/pot from heat. For me, this usually happens just after I finish preparing the gelatin.

To prepare the gelatin to be added to the saucepan/pot: Add 1 tablespoon of the gelatin to the liquid in the bowl and stir it in with a fork. Repeat this process, stirring each time, until all the gelatin has been mixed in.

When the stovetop liquid is hot but not boiling, stir in the gelatin mixture and whisk thoroughly to smooth out any lumps. If you're using vitamin c powder and/or probiotics, allow the mixture to cool to 105F – 110F, then stir in the powder and go to the next step. I don't use a kitchen thermometer to check – a plain old digital thermometer for checking body temperature works just fine.

Pour the gelatin mixture into your silicone mold. If you're using the gummy bear molds pictured in the post, use the dropper provided to make the process easier. If the liquid starts to thicken to the point that it becomes difficult to work with. Place the pot back on the stove over low heat until it warms up and becomes runny again.

When you're done filling all the molds, pop them into the fridge so that the gummies can firm up. The amount of time it will take for the gummies to firm up depends on the size of each gummy, but in general it should be about 1 – 2 hours.

When they're ready, pop them out of the mold and store them in an airtight container in the fridge.
More Elderberry Recipes
If you've got berries left over after making syrup and these elderberry gummies, you can use them to make:
Elderberry & Strawberry Jam – This elderberry jam recipe is as easy as pie – actually, much easier than that and so delicious!
Elderberry Tea – This easy version is delicious and can be adapted to include other herbs that go well with elderberries. Echinacea is a great one to include.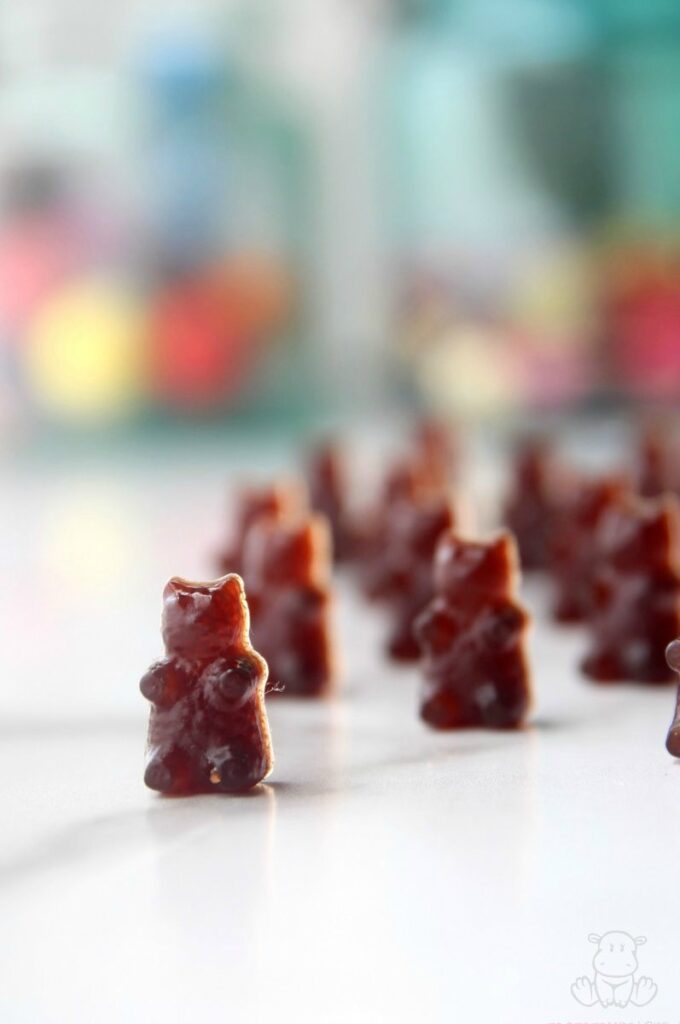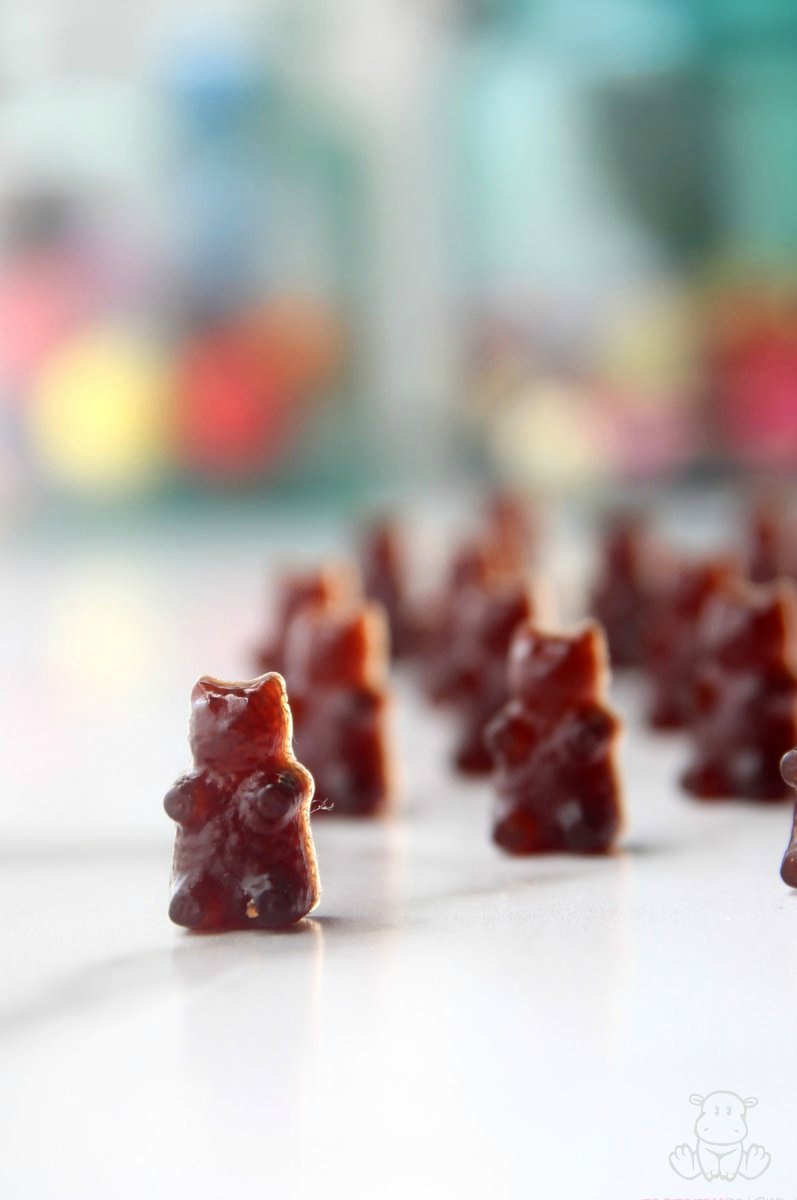 Sources:
1. Jones, E. and Hughes, R.E. The influence of bioflavonoids on the absorption of vitamin C