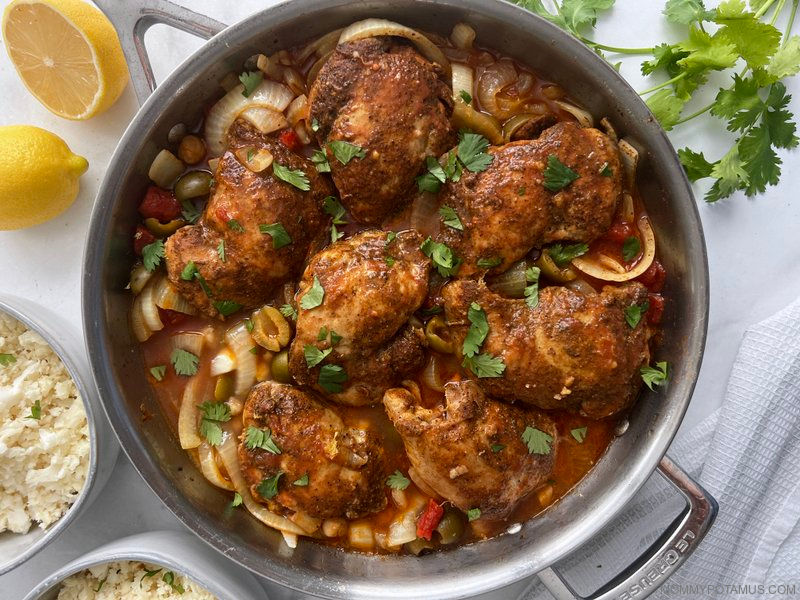 Last summer my son reviewed a watermelon. Not a watermelon salad or popsicles or even a limeade . . . just a watermelon.
With the skill of a judge from a cooking show, he delved into it's sweet, juicy flavor, crisp texture, lack of annoying seeds, vibrant color, and overall refreshment score.
I didn't grow it . . . I didn't even buy it, but I guess that's what happens when recipe creators constantly interrogate their kids about the food they serve. 😂
I know I've bombed a recipe when the dinner table gets quiet, and I know I've succeeded when my kids shout "TAGINE? YES!!!" as I unload a few telltale ingredients from our grocery bags.
That, my friends, is how I know this Moroccan chicken tagine recipe is ready to share with you.
We're talking tender, pull-apart chicken that melds perfectly with bright citrus, sweet and savory spices, caramelized onions, chickpeas, and a pop of flavor from green olives. Sometimes I swap the olives for the sweet chewiness of dried apricots, and if you want to try that way you'll find instructions in the notes below.
First, though, you might be wondering . . .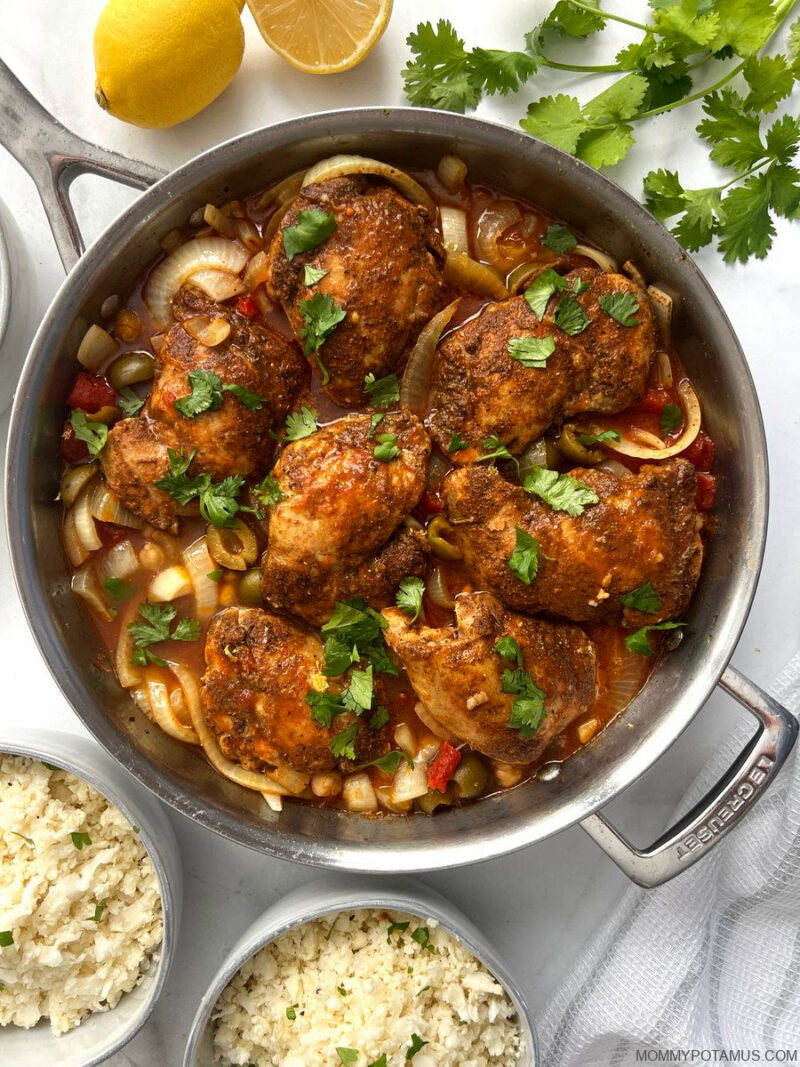 What is tagine, exactly?
Tagine, which is sometimes spelled tajine, is named after the unique cone-shaped clay or ceramic pot in which it's cooked. This dish is prepared by slowly simmering meat – usually chicken, but sometimes beef, lamb or fish – with various ingredients and spices over low heat.
The distinctive design of the pot ensures moisture is retained within, resulting in a delicious aromatic stew.
Now, there are two important things to understand about tagine:
You don't need a tagine pot to make it. A stovetop or slow cooker will do just fine.
It's probably not like the stew you're used to. Most of the liquid in tagine evaporates during the cooking process, and the broth is more soup-like than stew-like in consistently.
The result is a bold, flavorful mix of chicken, spices, and veggies that's traditionally layered over couscous. Since my family is gluten-free I use seasoned cauliflower rice instead, but rice or quinoa will also work.
If you try this recipe, please come back and leave a review. I love creating recipes for you, and it's much more helpful to get feedback on recipes I actually create instead of, you know, watermelons.
Moroccan Chicken Tagine Recipe
This recipe melds tender, pull-apart chicken with lemon, sweet and savory spices, caramelized onions, chickpeas and a pop of flavor from green olives. You can also swap the olives for the sweet chewiness of dried apricots – both versions are a favorite in my house.
Ingredients
Chicken Tagine Base Ingredients
Optional Sides & Garnishes
Cooked rice, couscous, cauliflower rice, quinoa, etc.

Chopped fresh cilantro or flat leaf parsley
Instructions
Wash and pat dry the chicken thighs. Sprinkle the skin side with a little bit of the spice blend, then rub it in.

Warm the oil over medium high heat in a large pan.

Place the chicken thighs into the pan skin-side down, then reduce heat to medium.

Brown the thighs for 5 minutes, then flip them over and cook on the other side for 1 minute. Flip them back to the other side (skin side down) and brown for five more minutes, then remove the chicken thighs from the pan and place them on a plate.

Reduce heat to medium-low and place the onions and garlic in the pan. Cook for 3-5 minutes, or until slightly softened.

Add the remaining spices, diced tomatoes with juice, olives, chickpeas, lemon zest, lemon juice and chicken broth to the pan along with the onion and garlic.

Use tongs to nestle the chicken thighs down into the mixture with the skin side up.

Bring the liquid to a boil, then reduce heat and simmer on low – uncovered – for 5 minutes.

Cover and simmer for 20 more minutes, or until the chicken is cooked through. Taste and add more salt if needed, then serve over rice, cauliflower rice, or couscous. Garnish with chopped fresh cilantro or parsley.
Notes
If you're substituting apricots instead of olives, soak them in hot water for 20-30 minutes before starting the recipe. Add them at the same time that the instructions call for adding the olives.
Nutritional values are estimates. Yellow onion was used in the calculation. 
Nutrition
Serving:
1
thigh and sauce portion
|
Calories:
577
kcal
|
Carbohydrates:
27
g
|
Protein:
34
g
|
Fat:
38
g
|
Saturated Fat:
9
g
|
Polyunsaturated Fat:
7
g
|
Monounsaturated Fat:
18
g
|
Trans Fat:
0.1
g
|
Cholesterol:
158
mg
|
Sodium:
941
mg
|
Potassium:
747
mg
|
Fiber:
7
g
|
Sugar:
6
g
|
Vitamin A:
284
IU
|
Vitamin C:
12
mg
|
Calcium:
95
mg
|
Iron:
5
mg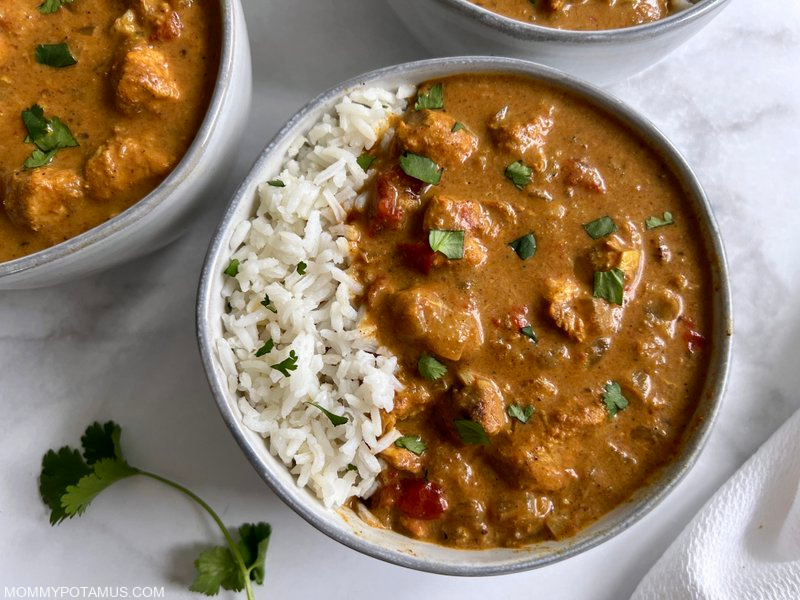 More Recipes To Try
Instant Pot Tikka Masala (pictured) – This easy recipe folds tender marinated chicken into a rich, aromatic, creamy curry sauce made with garam masala, diced tomatoes, fresh ginger and more.
Instant Pot Mississippi Pot Roast – Once upon a time, a little recipe published in a small town church cookbook became a viral sensation. It's no surprise really, once you taste the melt-in-your-mouth combination of tender roast blended with the rich flavors of ranch seasoning and tangy pepperoncini peppers.
This gluten-free version is made without seasoning packets, which often contain ingredients like artificial flavors.
Sheet Pan Chicken Fajitas – These sheet pan fajitas take just a few minutes of hands-on time to make, and while they're in the oven you have plenty of time whip up guacamole, salsa, a fresh salad, or whatever is needed to complete your meal.⁠