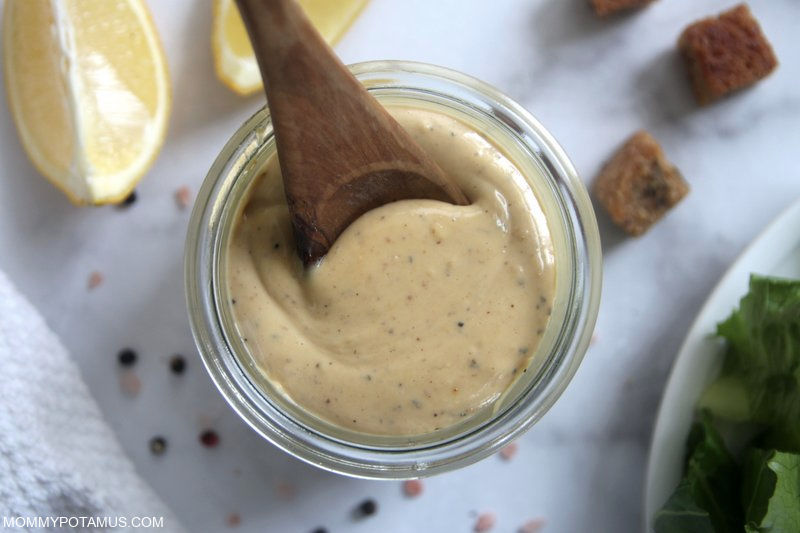 There's nothing quite like crisp romaine lettuce tossed in creamy Caesar dressing and crunchy gluten-free croutons, but right now my traditional Caesar dressing recipe is off the menu as I continue my healing journey.
Fortunately, this dairy-free Caesar dressing it so delish I don't even miss my old recipe. It's creamy, garlicky and tangy, with just the right amount of umami. If you've never heard of umami before, it's a Japanese word that means "essence of deliciousness," and it seriously is. Often called the fifth flavor, it has a meaty savoriness that deepens the other four flavors we're more familiar with – sweet, sour, salt, and bitter.
In this recipe, most of the umami flavor comes from anchovy filets, but nutritional yeast also dials it up while imparting a cheesy flavor that stands in well for parmesan.
The result? Creamy deliciousness.
Ways To Use Dairy-Free Caesar Dressing
As a dip for veggies
Folded into chicken caesar salad wraps
Tossed into Caesar salad with gluten-free croutons
To marinate chicken or steak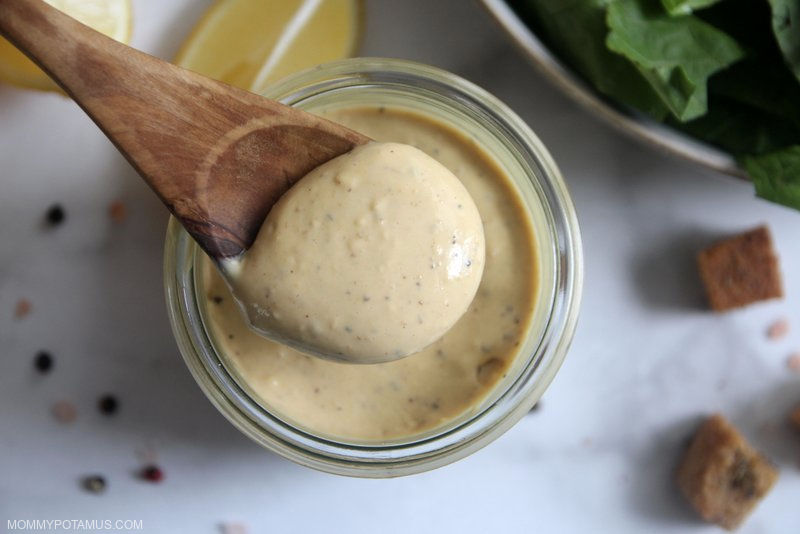 If you're also gluten-free, here are a couple of tips to keep in mind:
This recipe is totally satisfying without croutons, but if you want make some this recipe is delish.
Also, Worcestershire sauce often contains wheat, so make sure to look for one that says it is gluten-free. I really like this organic version.
Dairy-Free Caesar Dressing Recipe
This dairy-free Caesar dressing is creamy, garlicky and tangy, with just the right amount of umami, which is a Japanese word that means "essence of deliciousness."
Equipment
measuring spoons

quart-sized mason jar
Instructions
Add the mayo, minced garlic, lemon juice, dijon mustard, pepper, and anchovies to a quart size large-mouth mason jar. 

Using your immersion blender, blend the dressing together. Taste and add additional olive oil to thin it or salt if needed.

Drizzle over a grilled chicken caesar salad or use as desired.
Nutrition
Calories:
141
kcal
|
Carbohydrates:
1
g
|
Protein:
1
g
|
Fat:
15
g
|
Saturated Fat:
2
g
|
Trans Fat:
1
g
|
Cholesterol:
8
mg
|
Sodium:
231
mg
|
Potassium:
25
mg
|
Fiber:
1
g
|
Sugar:
1
g
|
Vitamin A:
14
IU
|
Vitamin C:
1
mg
|
Calcium:
5
mg
|
Iron:
1
mg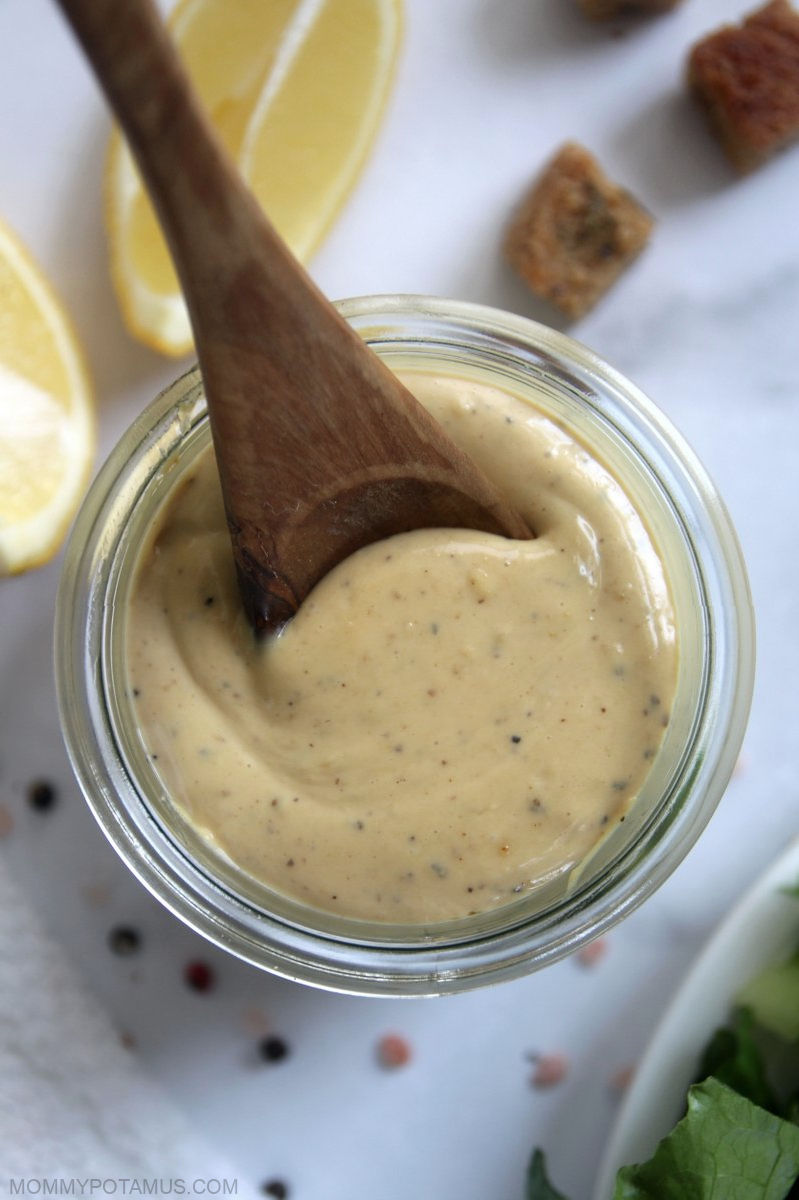 More Dressing Recipes
Thousand Island – This dressing recipe is a family favorite. We drizzle it on salads, slather it on reuben sandwiches, and use it as a dipping sauce for fries and cut veggies.
Greek Salad Dressing – This yummy vinaigrette that will wake up your tastebuds for sure. You'll also find my recipe for Greek salad with crisp cucumbers, plump tomatoes, creamy avocado, crunchy bell pepper and the all important flavors of feta and kalamata olives.
Fire Cider Vinaigrette – Mix 1/2 cup avocado or olive oil with 3 tablespoons homemade fire cider. Whisk in 1 teaspoon raw honey and 1/2 teaspoon pepper. Taste and add more fire cider or honey if desired.