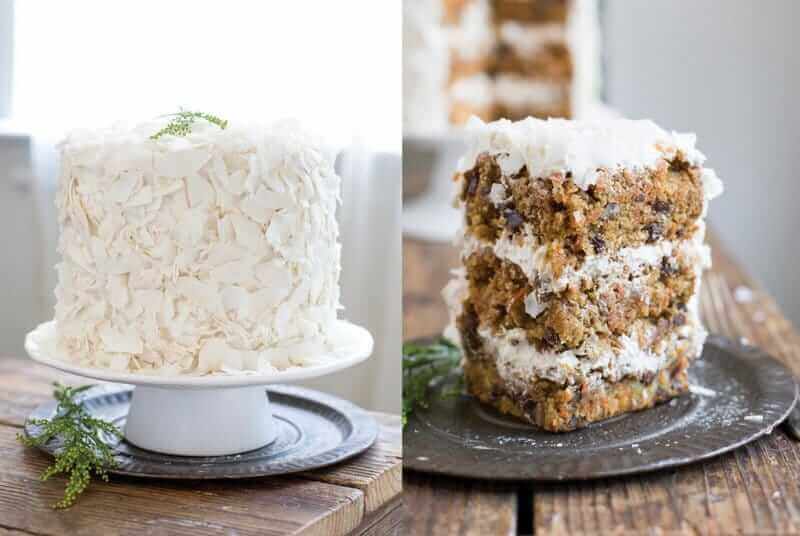 When my littlest turned two and "Happy Birthday" had been sung and candles had been blown out, he turned to us and asked for a fork.

To eat the cake. His cake. Like, the whole thing.

This year, he requested the same recipe from Jenni Hulet's cookbook – My Paleo Patisserie – only with three smaller layers instead of one large one. My daughter made it with me, and I'm so happy with how it turned out.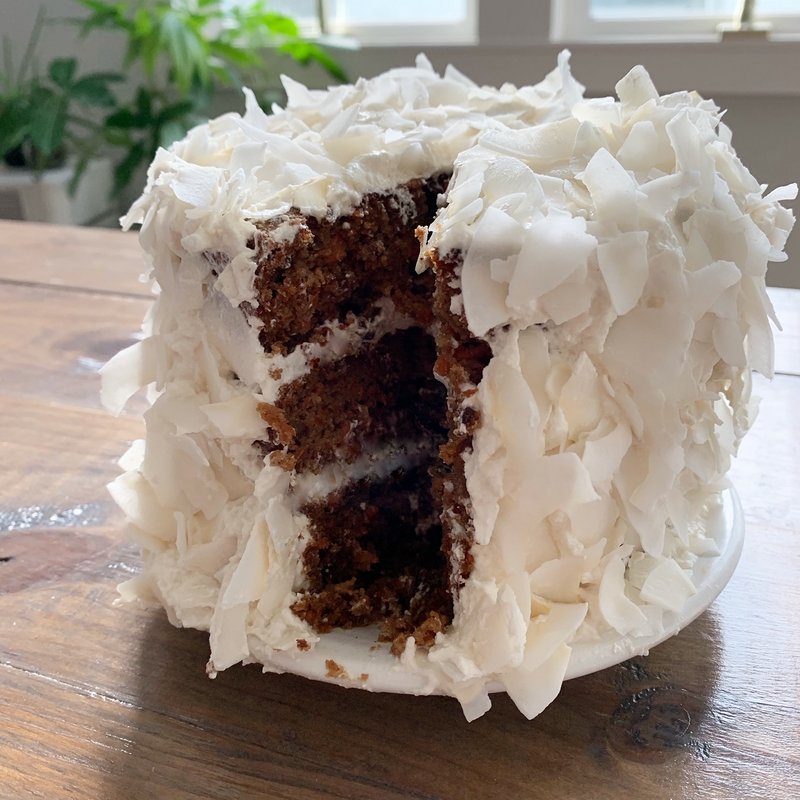 Spiced with cinnamon, nutmeg, and ground ginger and wrapped in a thick layer of frosting, this is the kind of gluten-free carrot cake you don't know you need until you try a piece (or three).
Moist and decadent, it was just as delicious as we remembered . . . and Jenni has graciously agreed to let me share it with you.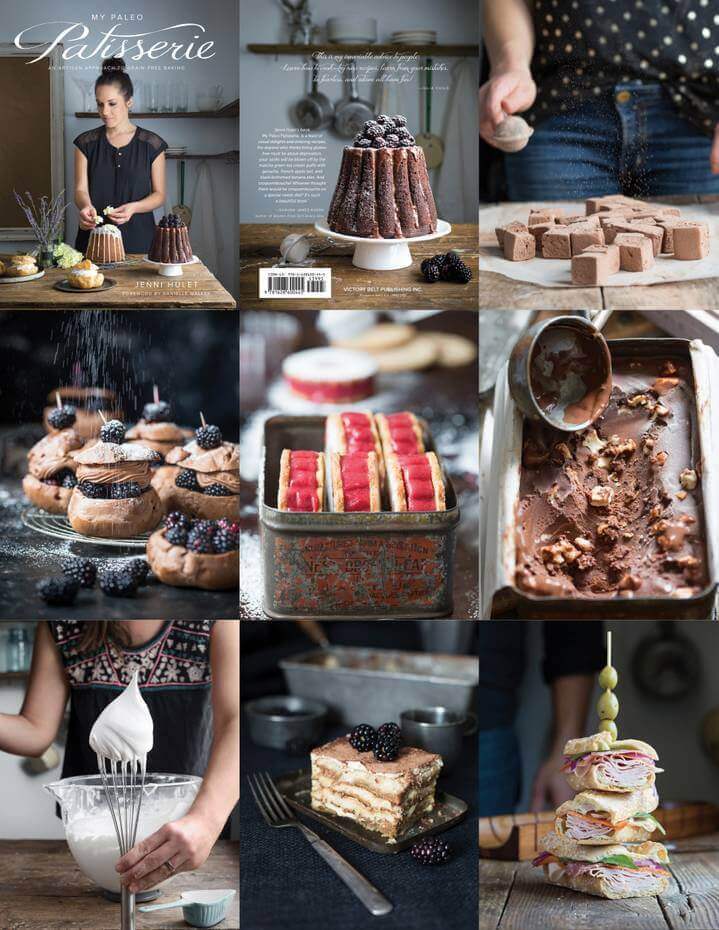 Why I Love My Paleo Patisserie
When I first cracked open a copy of Jenni's book I wasn't sure if it was a cookbook, an art book, or a coffee table book. Turns out, it's something else entirely.
My Paleo Patisserie is a "Choose Your Own Adventure" book. There are mix-and-match options so you can pair a chocolate eclair with pistachio pastry cream and a chocolate fondant glaze, or you can nix the pistachio and go with a praline cream. What kind of glaze? Maybe raspberry, espresso or maple. You decide.
Now, I'm going to be straight with you. I love Jenni – and not just because she use to stop by my house with a plate of homemade marshmallows every now and then – but I didn't think this book was for me. I am not a food artisan. I am a mom who fist pumps every time I discover a delicious recipe that can be made in under five minutes.
But you know what? I was wrong – this book is for everyone. If you married a Paleo Pastries for Dummies with a five star chef's cookbook, you'd have My Paleo Patisserie. And more importantly, you'd have eclairs and tiramisu.
Yes, it takes more than five minutes, but you know what? It's so much better than baking a cake which your friends politely remark "must be healthy." That's crunchy mama code for "Your food tastes like a yoga mat," by the way.
My Paleo Patisserie is currently out of print, but you can grab the Kindle version here.
Maple Carrot Cake (Paleo, Gluten-Free)
Spiced with cinnamon, nutmeg, and ground ginger and wrapped in a thick layer of frosting, this gluten-free carrot cake is absolutely delish.
Makes one three-layer (6-inch/15-cm) round cake.
Equipment
Three 6-inch (15-cm) round cake pans OR one 9-inch (24-cm) round cake pan
Ingredients
For the cake:
¼

cup

sustainably harvested palm shortening

(or sub ghee)

4

large eggs

1

large egg white

1

cup

firmly packed maple sugar

(200g)

1

tsp

lemon juice

3

cups

almond flour

(350g)

1

tsp

ground cinnamon

¾

tsp

ginger powder

½

tsp

ground nutmeg

½

tsp

baking soda

½

cup

unsweetened shredded coconut

(40g)

⅓

cup

raisins

(50g)

⅓

cup

chopped pineapple

(60g – I (Heather) use previously frozen pineapple so I can make this recipe when pineapple is not in season)

⅓

cup

pecans

(chopped – 40g)

3

carrots

(medium sized – 260g grated)

3

cups

coconut flakes

(for garnish – 170g)
For the buttercream frosting:
Instructions
To Make The Carrot Cake:
Preheat the oven to 325°F (163°C). Grease and line the cake pans with parchment paper circles cut to fit the pans.

Melt the shortening in a small saucepan over low heat, then set aside to cool. In the bowl of a stand mixer fitted with a whisk attachment, beat the eggs, egg white, sugar, and lemon juice on medium-high speed for 15 minutes. The mixture should become thick and voluminous. Always beat it for the whole 15 minutes, though.

While the egg mixture is beating, whisk together the flour, spices, and baking soda in a large bowl till blended. Add the shredded coconut, raisins, pineapple, pecans, carrots, and melted shortening, then toss to combine.

When the egg mixture is ready, gently fold it into the flour mixture till completely incorporated. Divide the batter evenly among the prepared pans and bake for 30 to 35 minutes or till the tops spring back when gently pressed. (Bake for 35 to 40 minutes if using a 9-inch/24-cm round cake pan.)

Remove from the oven and let cool in the pans for about 10 minutes. Loosen the edge of each cake with a sharp knife, then turn the cakes out onto a wire rack and let cool completely before assembling.
To Make The Buttercream
Once the cakes are have cooled, prepare the buttercream. Combine the egg whites, maple syrup, and cream of tartar in a large heatproof bowl. Place the bowl over a small or medium-sized saucepan with 2 inches (5 cm) of simmering water in it. It is important that the bottom of the bowl does not touch the water. Heat the mixture till it reaches 160°F (71°C) on a candy thermometer, whisking constantly so the eggs don't curdle or seize.

Remove from the heat and transfer the mixture to the bowl of a stand mixer fitted with a whisk attachment, or use a metal bowl and a hand mixer. Start whipping on low speed, gradually increasing to high over the course of 30 seconds. Continue to beat the mixture on high speed till stiff and completely cool. This could take up to 8 to 10 minutes, or longer if using a hand mixer.

When the meringue is ready, switch to the paddle attachment on the stand mixer. Add the shortening bit by bit, beating on medium-high speed till thick and smooth. Beat in the vanilla.

If the buttercream becomes loose and liquid, your meringue may not have been sufficiently cool when you added the shortening. Chill the mixture slightly in the fridge, then resume beating. It will emulsify eventually. If it curdles, the shortening may have been too cold. No worries! Don't fret or throw it out; just keep beating! Beating the mixture fixes pretty much everything.
To Assemble The Cake
Place the first cake layer on a plate or cake stand. Spread about a 1/4-inch (6-mm)-thick layer of buttercream evenly over the cake. Place the second cake layer on top of the buttercream, then spread more buttercream on top. Finally, place the last cake layer, then frost the top and sides of the cake with the remaining buttercream. You don't need a super thick layer, but you want enough buttercream to press the coconut flakes into.

Scoop up handfuls of coconut flakes and gently press them into and all over the surface of the cake.

For best results, chill the cake, uncovered, for about 30 minutes to secure the coconut flakes. If needed, fill in gaps by placing a little frosting on the back of a coconut flake and securing it to the area.
Notes
*To substitute ghee, use an equal amount by weight. If measuring by volume (cups), reduce the amount of fat used to 1 cup plus 2 tablespoons.
For this recipe you will need three 6-inch (15-cm) round cake pans, as the recipe is written for that amount of batter. However, this amount of batter will also make one 9-inch (24-cm) round cake for a nice single-layer cake if desired.
Nutrition
Calories:
1159
kcal
|
Carbohydrates:
74
g
|
Protein:
17
g
|
Fat:
92
g
|
Saturated Fat:
45
g
|
Polyunsaturated Fat:
4
g
|
Monounsaturated Fat:
16
g
|
Trans Fat:
1
g
|
Cholesterol:
82
mg
|
Sodium:
162
mg
|
Potassium:
577
mg
|
Fiber:
12
g
|
Sugar:
50
g
|
Vitamin A:
3948
IU
|
Vitamin C:
6
mg
|
Calcium:
187
mg
|
Iron:
4
mg
Frequently Asked Questions
Can I use a gluten-free flour blend instead of almond flour?
Almond flour absorbs liquid differently than gluten-free all-purpose flour and will not work in this recipe.
What can I use instead of palm shortening for the cake?
Ghee will work. Use an equal amount by weight. If measuring by volume (cups), reduce the amount of fat used to 1 cup plus 2 tablespoons.
More Grain-Free Dessert Recipes
Gluten-Free Lemon Bars – Tart and sweet, these bars are like little squares of sunshine on a plate. They're made with a chewy, lemon-zest infused crust that's topped with an extra-thick layer of melt-in-your-mouth creamy lemon filling.
Paleo Chocolate Chip Cookies – There's nothing quite like a warm, ooey-gooey chocolate chip cookie, which is why this recipe is a family favorite.
Paleo Chocolate Cupcakes With Dairy-Free Cream Cheese Frosting – This recipe from Michele of Paleo Running Momma uses coconut and cashews to create an alternative to cream cheese frosting, and the results are so yummy.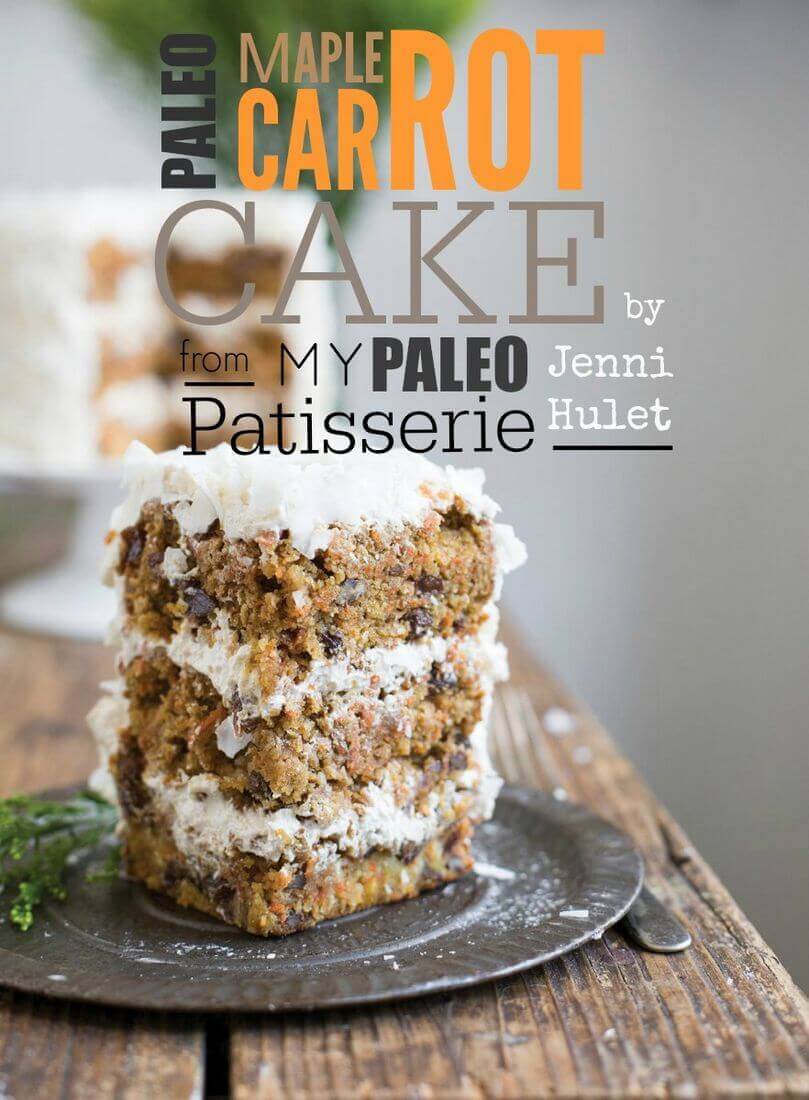 Want more delicious, easy recipes?
No problem, I've created a free ebook for you – 35+ Gluten-Free Desserts – as a gift for signing up for my newsletter. Every Sunday you'll get recipes, actionable health tips, and highly-vetted product recommendations delivered fresh to your inbox.
Sign up using the form below.