Ahhh, parenting – is it just me or does it involve saying things like "I know it's frustrating but pants are not optional" a lot more than you imagined? Or, in this case, "No, you cannot lick my face. I know it looks yummy but this is food for my skin, not your mouth."
And food it is. This homemade face scrub nourishes skin with antioxidants that neutralize damaging free radicals, acids that gently dissolve old, dead skin, and minerals which support the body's natural lipid barrier.
Homemade face scrub ingredients
Honey
Sometimes called "the soul of a field of flowers," honey has long been revered in traditional medicine for its healing properties. Now research is starting to confirm what tradition has long held: One study concluded that it works better than antibiotic creams for healing small, non-serious burns (which is why I use it in my homemade burn salve), and another found that children with coughs sleep better when given buckwheat honey than over-the-counter options (which is why I incorporated it into my homemade cough syrup).
But honey is not just an ingredient for your natural remedy stash – it's amazing in skincare as well. The same properties that help with wound healing also promote skin renewal and possibly the formation of hyaluronic acid, a polysaccharide that draws moisture to the skin, making it plump and dewy. (Babies are born with very high levels of hyaluronic acid – it's one of the reasons their skin is so beautiful.)
Honey also contains gluconic acid, a mild alpha-hydroxy acid that helps brighten and even out skin tone, plus antioxidants that neutralize damaging free radicals.
Will it make my face sticky?
Nope, it rinses away clean. The only thing it leaves behind is soft, dewy skin.
Unrefined Sea Salt
Although table salt is very drying to skin, I've found that mineral-rich salt leaves my skin feeling fresh, soft, and moisturized. Maybe that's because it's exfoliating qualities have been paired with a nourishing oil and honey, or maybe it's because the 60+ trace minerals found in sea salt support cell integrity (aka the ability to hold water.) Either way, I think you'll love it, but you can always use sugar (which contains naturally occurring glycolic acid) if you'd like.
Olive, Avocado, or Sweet Almond Oil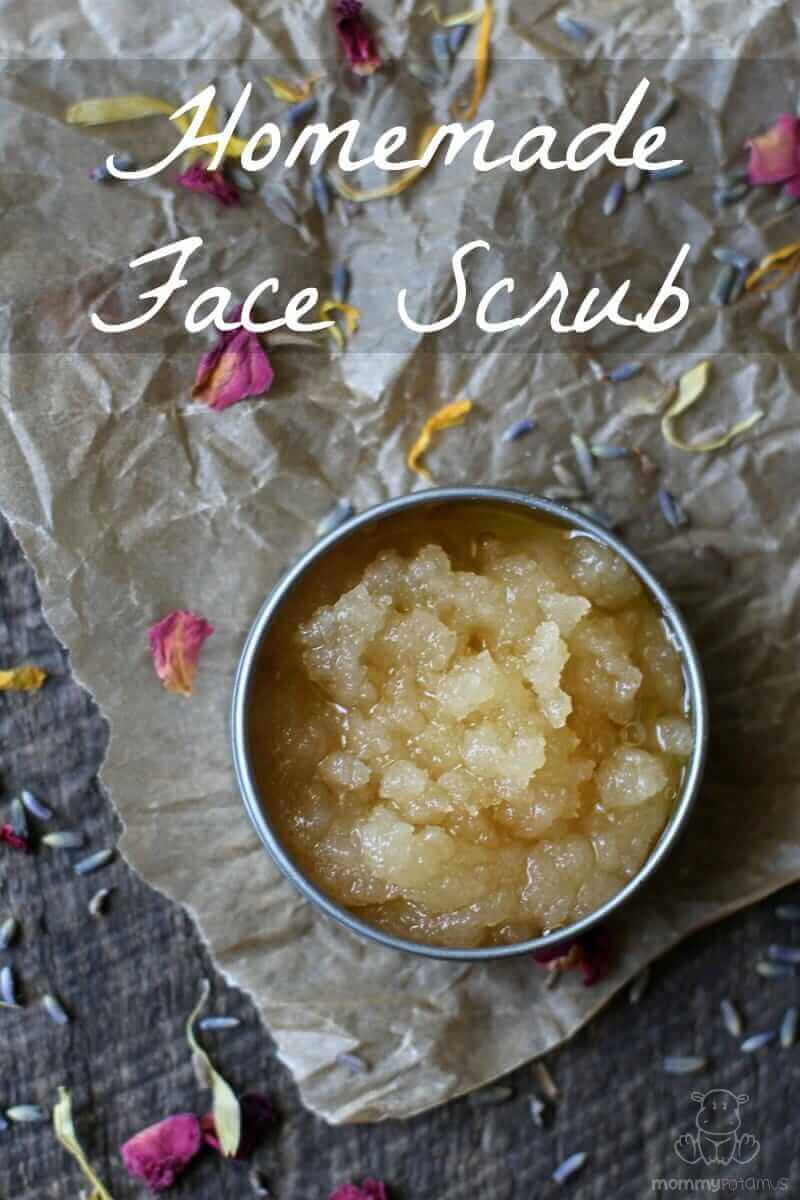 Light and nourishing, these oils help skin hold on to moisture by supporting the lipid barrier (a natural part of skin which protects against water loss.)

Homemade Salt Glow Polishing Scrub
Ingredients
To Make
Place ingredients in a small bowl and mix with a fork until thoroughly combined. Store in a small, clean container.
To Use
Splash your face with warm water, then scoop a small spoonful of scrub out of the container. (I prefer to use an actual spoon because placing wet hands in the container reduces the scrubs shelf life.) Using and upward and outward circular motion, massage the scrub over your face or 60-90 seconds.
If desired, let the scrub double as a nourishing mask by leaving it on for 10-15 minutes, then rinsing with warm water. Or if you'd prefer, just rinse with warm water immediately after exfoliating. Follow with a light moisturizer like this hydrating skin repair serum.
FREE Ebook: DIY Body Care Gifts Made Simple
Do you want to give gorgeous, handcrafted gifts for family and friends, without spending a bunch of time on them?
Then I'd love to give you a free copy of DIY Body Care Gifts Made Simple – my step-by-step guide to making gorgeous handcrafted gifts without stressing yourself out – as a gift for signing up for my newsletter. I'll show you how to make vintage labels, luxurious lotion bars, lip balms, sugar scrubs, body sprays and more like a pro. Sign up for my newsletter and you'll be redirected to the download page immediately!