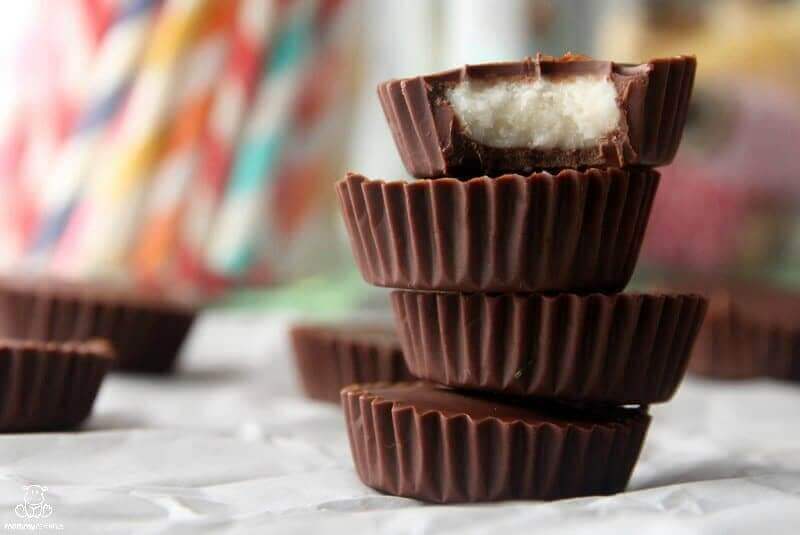 Inside: If you enjoy these salted chocolate almond butter cups as an alternative to Reese's peanut butter cups, I think you'll love the healthy candy makeover I'm sharing today – a real food version of YORK peppermint patties!
Have I ever told you about the day I opened my microwave – which doubles as an extra pantry cabinet – and found an entire box of Newman's Own Dark Chocolate Peppermint Cups? Totally happened. You see, years ago I asked my husband to pick up some healthier peppermint cups because I'd loved YORK peppermint patties as a kid, and shortly after that they were discontinued.
Apparently, a lot of other people felt the same way I did about those patties, because Newman's Own brought them back. When my husband saw them, he grabbed a whole box for me just in case they changed their minds – haha!
It took me forever to get through that box, and when I did I decided to figure out how to make my own without the soy lecithin and powdered milk, which aren't ideal ingredients. (They're definitely better than the PGPR, artificial flavor and other additives found in the original, though.)
After experimenting with a few recipes online, I finally settled on a version that is super easy – no need to make a mess dipping the creme filling in chocolate and then watch it smear all over parchment paper. They're just as cool, minty and refreshing as the original, and can be made in about 10 minutes of hands-on time. I hope you love them!
Homemade Peppermint Patties
Equipment
small bowl

mixing spoon

teaspoon

muffin tin

paper cups for muffin tin
Ingredients
For the creme filling:
2

tbsp

plus 1.5 tsp coconut butter

1½

tsp

maple syrup

1

tsp

natural organic peppermint flavoring

(this is peppermint oil diluted in a base of oil instead a base of alcohol, which is peppermint extract)

1½

tsp

melted coconut oil
Instructions
Place the coconut butter, maple syrup, coconut oil and peppermint in a small bowl and mix with a spoon until smooth. Place in the freezer for 10 minutes. While the creme filling is firming up, place 1 tablespoon coconut oil and 6 tablespoons chocolate chips in a small sauce pan and melt over low heat, stirring occasionally. When the chocolate/coconut oil is fully melted, remove the pan from heat and set aside.

Remove the creme filling from the freezer, scoop out one teaspoon, roll it into a ball, and then press down until you have a small disc. Continue this process until you have 12 discs.

Line the muffin tin with 12 paper cups and place 1 teaspoon of chocolate mixture in the bottom of each. Place the creme filling in next and press it down into the chocolate.

Continue this process until all the peppermint patties are complete, then place in the freezer for 20 minutes before serving. If you have any leftover, store them in the fridge.
Nutrition
Calories:
854
kcal
|
Carbohydrates:
76
g
|
Protein:
6
g
|
Fat:
57
g
|
Saturated Fat:
36
g
|
Cholesterol:
14
mg
|
Sodium:
73
mg
|
Fiber:
7
g
|
Sugar:
65
g
|
Vitamin A:
200
IU
|
Calcium:
116
mg
|
Iron:
2
mg