Note From Mommypotamus: Today's recipe for crunchy, maple goodness comes from Carol of Ditch the Wheat. Her cookbook recently came out and it's fantastic! We're talking grain-free pizza pockets, nachos, three kinds of cheesecake, tart cherry gumdrops, gummy worms and salami basil fig bites, so no procrastinating, mmmkay? Grab it here.
Maple Granola ~ It's Easier Than You Think!
I'm Carol Lovett from Ditch the Wheat and I am thrilled to be sharing a recipe from my new cookbook. I have been a huge fan of Mommypotamus for a long time. I finally got to meet my hero in July. I've been living in Nashville for a few months and I was invited to see Heather's farm and meet her family. It was an epic adventure full of goat kisses and walks through a dream backyard.
Have you seen pictures of where they live? It's paradise! I was at their farm taking pictures of the goats and chickens for a future secret project. Their mama goat was nibbling on my shorts, which was really funny, but you would have thought I had granola in my pocket.
Never in my wildest dreams did I think I would make granola. It always seemed so intimidating to me. I finally mustered up the courage to make some and realized it's easy peasy. Really you just take a bunch of nuts and seeds you enjoy and add some maple syrup, then add flavorings like vanilla and cinnamon. The next step is to bake it and break it apart once it's cool. Try not to eat it all at once. It's very addicting!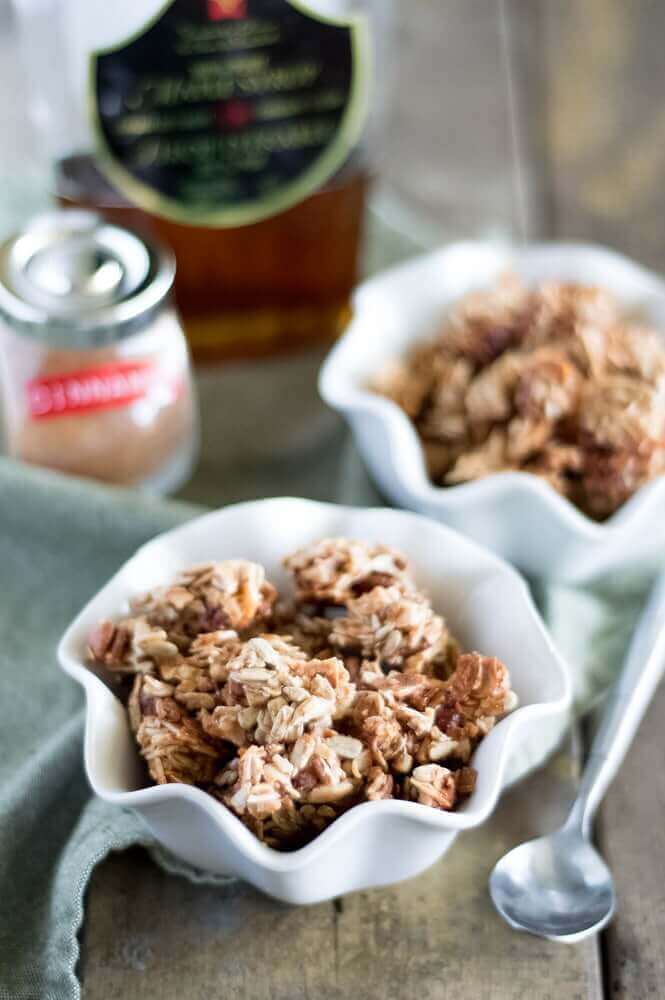 Paleo Maple Granola Recipe
An oat and grain-free granola made with nuts and seeds and sweetened with maple syrup.
Instructions
Preheat the oven to 325° F.

Line a large baking sheet with parchment paper and set aside.

In a medium-sized bowl, toss together the almond slivers, coconut flakes, sunflower seeds, and pecans.

In a separate small bowl, whisk together the maple syrup, vanilla, cinnamon and salt.

Pour the sauce over the bowl of nuts and mix thoroughly.

Press the mixture into the pan. It will resemble a large bar recipe.

Bake for 40 minutes.

Allow the granola to cool. Once cooled, break it into pieces and store in an air-tight container.
Notes
You can add dried fruit or chocolate chips to the finished granola if you'd like, just make sure it's cooled first. 
Nutrition
Serving:
0.5
cup
|
Calories:
818
kcal
|
Carbohydrates:
44
g
|
Protein:
18
g
|
Fat:
67
g
|
Saturated Fat:
17
g
|
Sodium:
305
mg
|
Potassium:
763
mg
|
Fiber:
13
g
|
Sugar:
23
g
|
Vitamin A:
0.6
%
|
Vitamin C:
1.3
%
|
Calcium:
18.6
%
|
Iron:
25.4
%