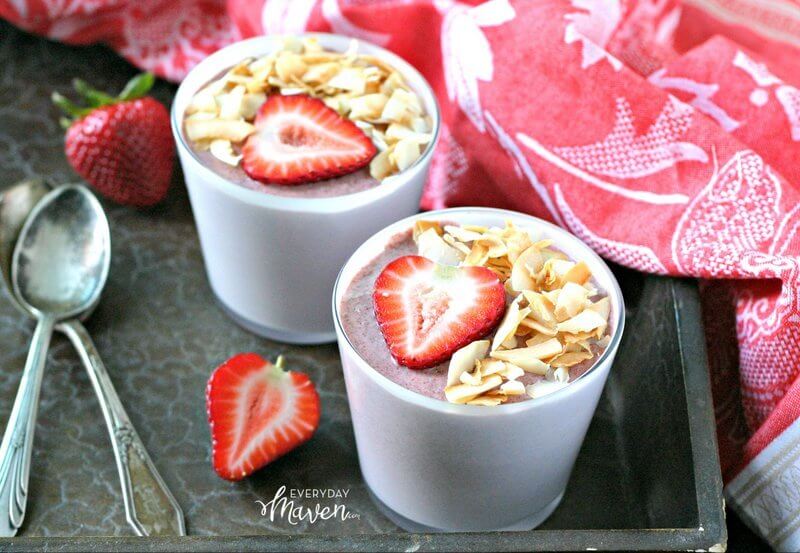 Note from Mommypotamus: You know I'm a huge fan of recipes that take just five minutes of hands-on time – sour gummy snacks, resistant starch cookie dough bites, and chocolate pudding, to name a few. Today I'm thrilled to be sharing a delicious addition to our five minute collection from Alyssa of Everyday Maven. Thank you for sharing with us, Alyssa!
A little over five years ago after the birth of my first son, I found myself on a journey to lose a good chunk of baby weight. Having grown up in a big cooking and eating family, good food has always mattered to me and I was sick of diets and trying a zillion different ways to lose weight that were all about deprivation, low fat foods and counting calories instead of quality.
So I started cooking and creating my own delicious real food recipes. Then, I started sharing my dishes with other moms around me who were in the same boat and that group kept growing and growing. That is where EverydayMaven was born.
My site and my outlook on food has evolved a lot over the last five years. The majority of the recipes on my site are Gluten Free, Dairy Free and Paleo-friendly. We avoid gluten because my older son doesn't eat it, but it's fair to say that we absolutely enjoy dairy, gluten-free grains and the occasional sweet treat.
While we make room for special treats at parties and big events, when it comes to everyday desserts, I like to keep the ingredients simple, the sugar low and most of all – make sure the dish is not only delicious but quick and easy!
Today, I want to share my recipe for Coconut Strawberry Chia Pudding. This is an awesome year-round dessert since it uses freeze-dried strawberries. You can make a batch in under 5 minutes and with a watchful eye over the blender, big kids can manage this recipe all on their own.
This recipe is paleo, gluten-free, grain-free and fantastic! I hope you all love it and will come and visit me over at my site or on one of my social channels.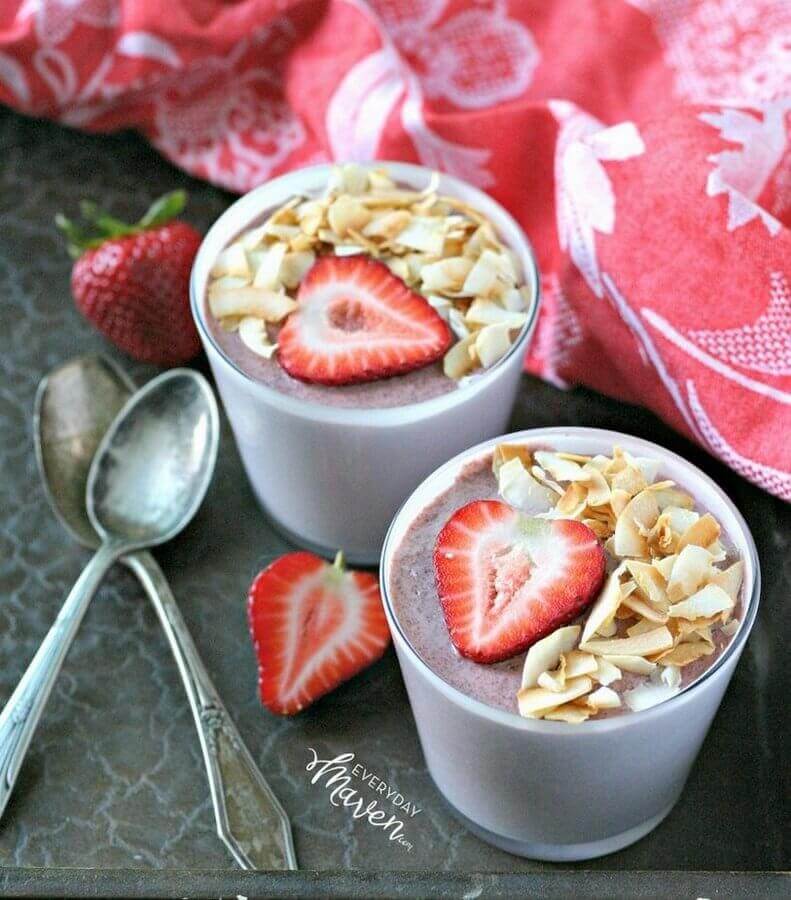 Coconut Strawberry Chia Pudding
Instructions
Combine all ingredients in the body of a blender. Blend until completely liquefied and pour into two mason jars or other glass serving dishes. Cover and refrigerate for at least 2 hours or until ready to serve (up to 3 days).

Serve topped with toasted coconut shavings and enjoy!
Nutrition
Calories:
0
kcal
|
Carbohydrates:
0
g
|
Protein:
0
g
|
Fat:
0
g
|
Saturated Fat:
0
g
|
Polyunsaturated Fat:
0
g
|
Monounsaturated Fat:
0
g
|
Trans Fat:
0
g
|
Cholesterol:
0
mg
|
Sodium:
0
mg
|
Potassium:
0
mg
|
Fiber:
0
g
|
Sugar:
0
g
|
Vitamin A:
0
IU
|
Vitamin C:
0
mg
|
Calcium:
0
mg
|
Iron:
0
mg
More Strawberry Recipes
Strawberry Shortcake Biscuits – These biscuits are so simple and delicious!
4 Ingredient Strawberry Popsicles – Made with a base of lightly sweetened yogurt and a dash of mint extract, these popsicles are satisfying, easy to make, and pretty too!
Strawberry Jello – If you love jello but not the congealed red #40 and artificial flavorings found in boxed versions, you're going to love this recipe! Strawberry Crisp – With a scrumptious crispy topping layered over a thick, juicy strawberry filling, this gluten-free crisp is easy and delicious.
About Alyssa – Everyday Maven
Alyssa has always been interested in food and healthy cooking. She grew up in Philadelphia, PA where she was taught by her mother, a classically trained chef, to appreciate fresh and local offerings and the love of food preparation. Learning how to cook, season, and properly treat every ingredient was not only expected, but dutifully cultivated.
Alyssa honed her writing skills while she earned her B.A. in Broadcast Journalism at New York University. She didn't waste a minute while living in Manhattan exploring the unparalleled food gems peppered throughout the city; from food carts to fine dining, she took it all in. She even held an internship at The Food Network during its infancy.
Everyday Maven is the culmination of all the things that have meant the most in Alyssa's life and career; her familial love of food, her desire to share knowledge and help others, and of course, writing and marketing.
Currently residing in Washington State with her husband and two sons, Alyssa is enjoying exploring the local and regional specialties of the Pacific Northwest, as well as the remarkable and abundant crops available year-round.
Want more delicious, easy recipes?
No problem, I've created a free ebook for you – 35+ Gluten-Free Desserts – as a gift for signing up for my newsletter. Every Sunday you'll get recipes, actionable health tips, and highly-vetted product recommendations delivered fresh to your inbox.
Sign up using the form below.