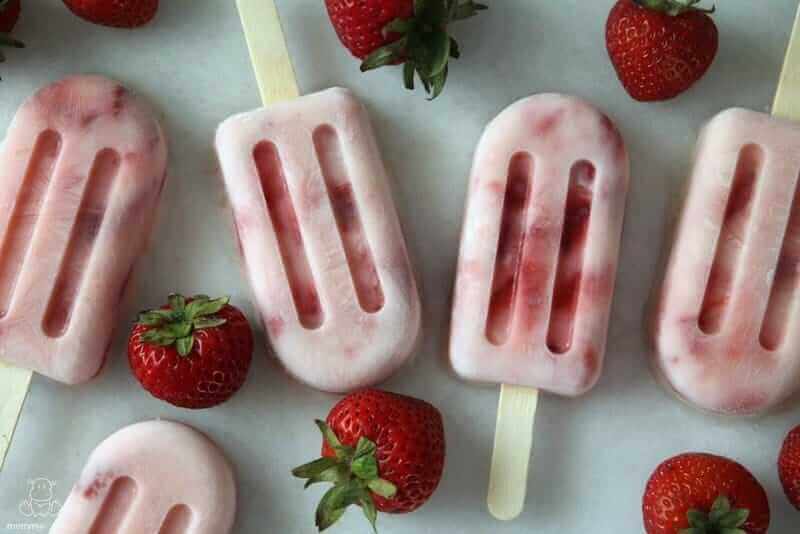 In my house there are two kinds of quiet:
The kind that makes me wonder if my preschooler has figured out how to cut up my sheets with kid-safe scissors
The gorgeous silence inspired by these strawberry popsicles, these watermelon ones or this pineapple coconut version
You see, my kids love all things frosty and fruit-filled in the summer, so I've convinced them that the best way to persuade me to whip up this recipe is to go outside and play until their cheeks are nice and pink. Popsicles are for cooling down, I say, so play hard!
My house stays quiet for at least part of the afternoon while I watch them play through the window, and they get their preferred snack – it's a win/win.
In the super simple recipe below, strawberries are folded into a lightly-sweetened, creamy yogurt base with a hint of mint. I love how easy they are, and so pretty too!
Each batch makes about 7-8 popsicles using these small silicone popsicle molds or about 4 using these larger silicone popsicle molds. I hope you love them as much a we do!
Looking for more ways to use strawberries?
Here are a few of my favorites:
Strawberry Popsicles With Mint
These strawberry popsicles are made with a base of lightly sweetened yogurt and a hint of mint. They're delicious, easy to make, and pretty too!. Make approximately 12-14 ounces.
Instructions
Place strawberries in a large bowl and use a potato masher to break them in to small pieces.

Add yogurt, 2 tablespoons of maple syrup, and mint extract to the bowl and stir until well combined.

Taste and add additional maple syrup if needed.

Pour mixture into popsicle molds and freeze overnight before serving.
Nutrition
Calories:
305
kcal
|
Carbohydrates:
50
g
|
Protein:
9
g
|
Fat:
8
g
|
Saturated Fat:
5
g
|
Cholesterol:
32
mg
|
Sodium:
118
mg
|
Potassium:
690
mg
|
Fiber:
3
g
|
Sugar:
43
g
|
Vitamin A:
240
IU
|
Vitamin C:
85.9
mg
|
Calcium:
363
mg
|
Iron:
0.6
mg