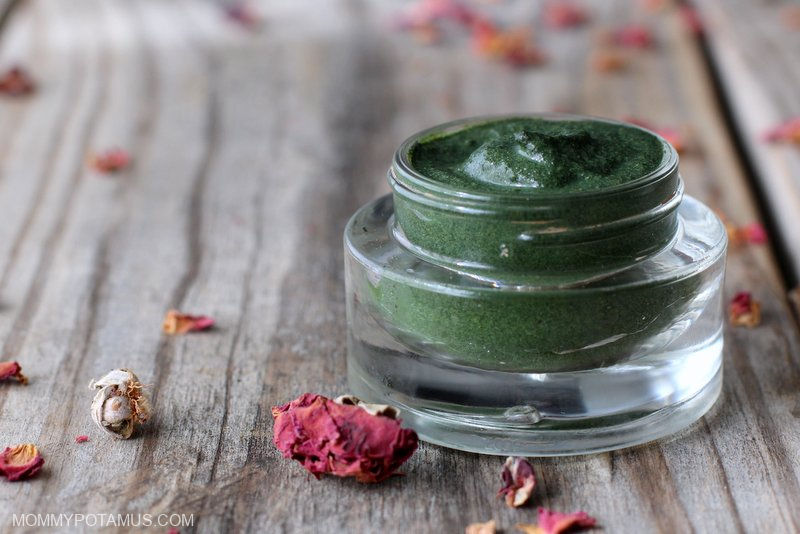 Remember when "me time" was a late-night movie marathon, sleeping in the next day and – most importantly – sitting in silence for as long as you want to? Yeah, me too. Though I wouldn't trade these days with my littles for anything, I do love to sneak in some good old-fashioned pampering as often as I can. (And hey, it doesn't hurt if it makes me feel just a little more glamorous while I rock my top knot for the third day in a row.)
Sometimes it's one of these methods for rebooting my body's stress response, and sometimes it's a luxurious at-home facial. This seaweed mask recipe is similar to the $175 signature service offered at my local spa, but I can get one every week for about $0.25 – $0.35, depending on what I use as a base for the mask.
Seaweed = Skin Superfood
Now, it's no secret that I love to use sea-derived ingredients in my recipes – this sea mud soap, for example. They're deeply nourishing and very affordable if you make your own. If you've never incorporated seaweed into your skincare routine, you're in for a treat. It nourishes skin with vitamins and minerals (including over 70 trace minerals) that support collagen production, plus polysaccharides and antioxidants.
That's the short version, of course. For geeky science details, check out the section below. If you're in a rush and just want the recipe, skip to the bottom.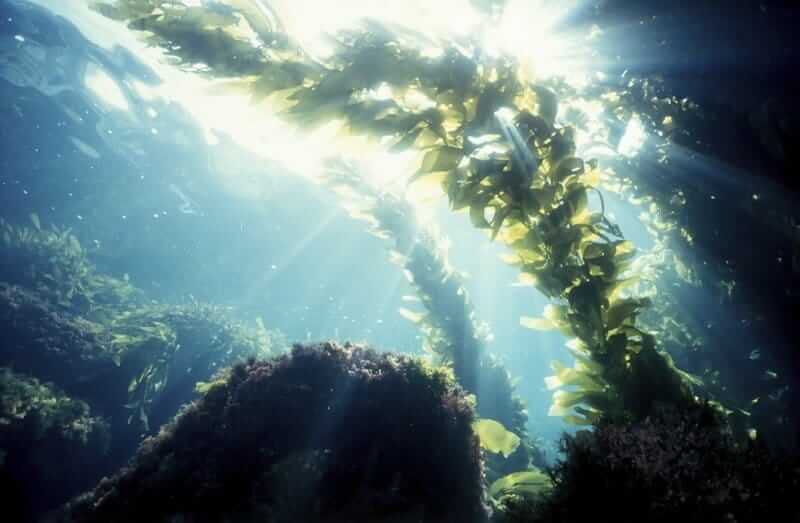 Benefits of Seaweed for Skin
L-Fucose for Collagen Support
In this study, researchers found that a 1% extract of Fucus vesiculosus – a type of brown algae/seaweed – supported collagen production when applied to skin. This is huge, because not all nutrients are well absorbed by the skin. Collagen is the perfect example of this – it's molecules are too large to penetrate the skin, so it just sits on the surface until it is rinsed away. (source)
Some researchers believe the benefits of Fucus vesiculosus are due in part to substantial amounts of L-fucose, a polysaccharide that is also found in other types of brown algae/seaweed. (source) The kelp I use in this recipe – Ascophyllum nodosum – is confirmed to also contain a significant amount of L-fucose. (source)
Clinical research has also shown that a cream containing 1% chlorella – the other algae used in this recipe – had a beneficial effect on firmness and tone. (source) As you'll notice in the recipe below, I sometimes rotate kelp with chlorella.
Vitamins & Minerals
Seaweed offers "one of the broadest ranges of minerals of any food," including macro-minerals like potassium, magnesium, phosphorous, calcium and copper plus over 70 trace minerals including selenium, iron, zinc, manganese and molybdenum. (source 1, source 2)
Minerals such as copper, zinc, magnesium, phosphorous and manganese are essential to the synthesis of collagen, and "Unlike many organs, skin nutrition may be enhanced directly through topical applications. Topical application of micronutrients can complement dietary consumption, leading to a stronger, healthier protective barrier for the body." (source)
Not all forms of minerals are absorbed well by the skin – one example is non-nanoparticle zinc oxide, which is used to make homemade sunscreen due to it's ability to coat the surface of the skin. However, there are forms that can be absorbed, and many aestheticians believe that those found in seaweed, unrefined salt and dead sea salt come with naturally occurring co-factors that optimize absorption.
For example, kelp contains carotenes (a precursor to vitamin A), vitamins B-1 (thiamin), B-2 (riboflavin), B-3 (niacin), B-9 (folate), C, E and K1- all of which support skin health. (source 1, source 2) In many (if not most) cases, these vitamins are thought to work synergistically with minerals to facilitate absorption – for example, vitamin C increases the body's absorption of iron. (source)
Speaking of co-factors, seaweed also contains carotenes (a precursor to vitamin A), vitamins B-1(thiamin), B-2 (riboflavin), B-3 (niacin), B-9 (folate), C, E and K1- all of which support skin health. (source 1, source 2) As I mentioned earlier, they're thought to work synergistically with many of the minerals present.
Vitamins also often have an antioxidant effect – several water and alcohol extracts of seaweed have demonstrated antioxidant properties, including an extract made from the kelp used in this recipe (Ascophyllum nodosum). (source 1, source 2)
Should I blend the seaweed with water or oil?
Some of the nutrients found in seaweed are fat soluble, meaning that they need fat of some kind to be present in order to be absorbed. However, based on the research I've done many of the minerals in seaweed are probably better absorbed with a water base. For that reason, I tend to alternate which type of base I use between aloe vera gel (which is water-based), yogurt (which contains both water and fat), and oil.
Video: Seaweed Mask Recipe
A few weeks ago I stopped by Thrive Market and made this mask in their studio using aloe vera gel, kelp granules and spirulina – thought I would share it with you so you can see how easy it is!
Oh, and there's one last thing you need to know . . .
Like my beloved valerian root tincture that supports deep sleep, this seaweed powder has a not-so-appealing scent. It's not very strong, but you may want to incorporate an essential oil to improve the fragrance while also imparting additional skin benefits.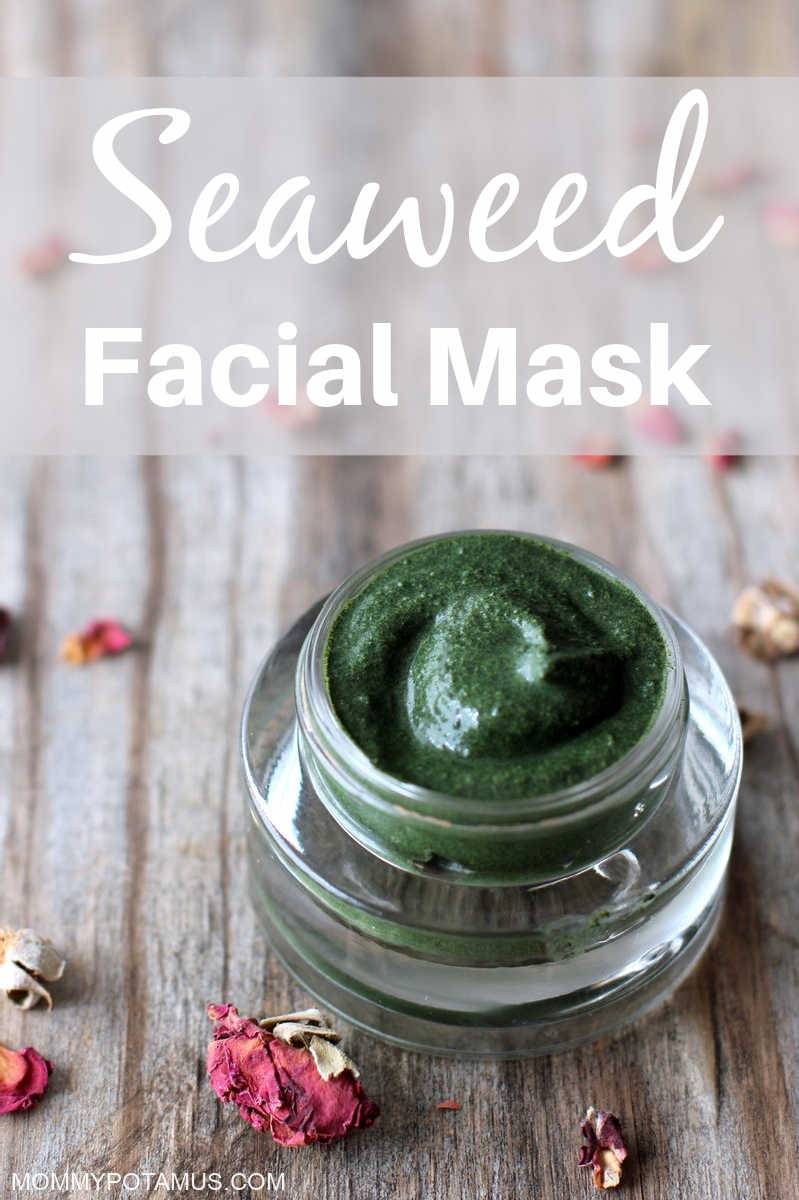 Seaweed Mask Recipe (With Kelp and Chlorella)
Ingredients
Instructions
If using an essential oil, add it to the kelp/chlorella powder and stir until it is thoroughly blended in. Add in yogurt/aloe vera gel/oil and blend again. If needed, add more liquid until the mixture creates a smooth, spreadable consistency. (If using yogurt or aloe vera, I typically add water. If using oil, I add more oil.)
Scoop out the seaweed mask with a spoon, then use your fingertips to apply it to your face and neck (if desired). I use a circular, rubbing motion to gently exfoliate as I apply. Allow it to sit for 15-30 minutes, then rinse. Follow with moisturizer.
Shelf Life
For the yogurt base, about one week if stored in the fridge. For fresh aloe, about two days in the fridge. An oil-based mask will last longer – at least several weeks in the fridge.
FREE Ebook: DIY Body Care Gifts Made Simple
Do you want to give gorgeous, handcrafted gifts for family and friends, without spending a bunch of time on them?
Then I'd love to give you a free copy of DIY Body Care Gifts Made Simple – my step-by-step guide to making gorgeous handcrafted gifts without stressing yourself out – as a gift for signing up for my newsletter. I'll show you how to make vintage labels, luxurious lotion bars, lip balms, sugar scrubs, body sprays and more like a pro. Sign up for my newsletter and you'll be redirected to the download page immediately!