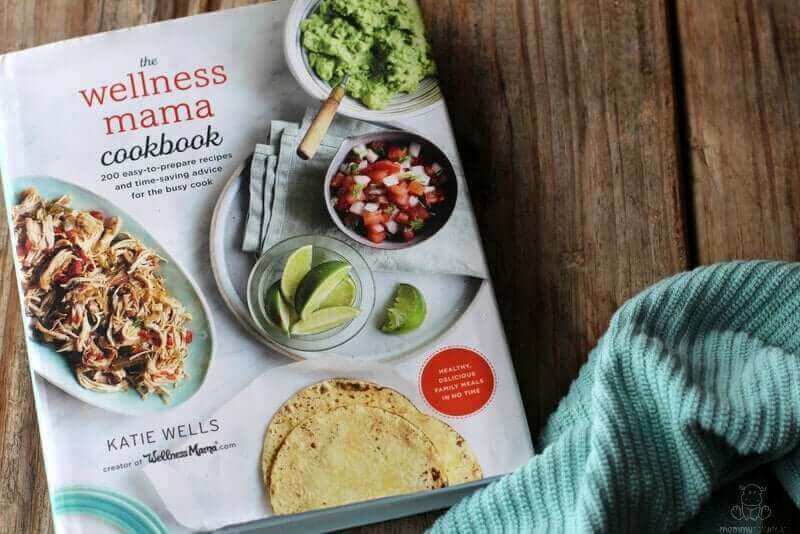 If you ever invite Katie of Wellness Mama over for dinner, clean out your fridge first. Because even though you've told her she doesn't need to bring anything, a pan of freezer fudge will just fall into her car, along with a charcuterie-style lunch if she comes early. Ask me how I know. 
You know I'm not a fancy cook and that I skip as many steps as possible in the kitchen. One day maybe that will change, but for now I love recipes like the ones in Katie's new family-friendly cookbook– simple, full of flavor and kid-friendly.
As a mom of six, she totally gets the importance of getting real food on the table without making a huge production, and yet any time I eat over at her house the day usually ends with me blurting "AND I WANT THAT RECIPE" as my family heads out the door. Now I don't have to bug her – I can just grab my copy of The Wellness Mama Cookbook off the shelf.
There are over 150 new recipes not found on her blog, plus some long-time favorites. Here are some that I've made and loved: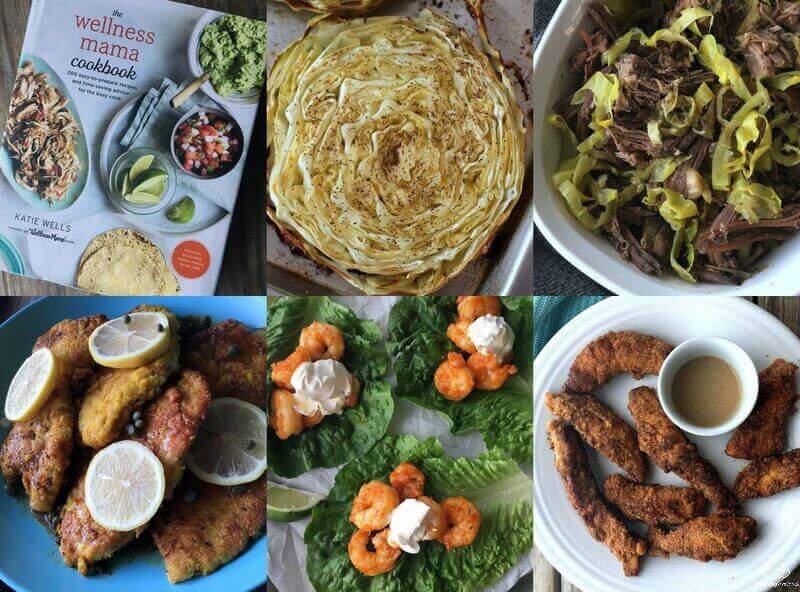 Clockwise from top left to right: Katie's Roasted Garlic Cabbage, Mississippi Pot Roast (Oh. My. Goodness.), Chicken Piccata (My kids favorite), Sriracha Shrimp Lettuce Wraps (Served these on game day and my husband raved about them – also super quick and easy), and Chipotle Chicken Fingers With Honey Mustard (Now in permanent rotation around here).
And as if the recipes aren't enough:
She's also included tips for meal planning and making real food work for your family
There's a whole section dedicated to one-pot meals and soups for easy cleanup
You'll get meal plans for family breakfasts and dinners plus school lunches, complete with shopping lists
There's a helpful section for overcoming picky eating
All the recipes are grain-free, and most have dairy-free adaptation options if you need them
I own a lot – and I mean a LOT – of cookbooks, but there are only a handful that I use often. This is most definitely one of them, and I highly recommend it.
Click here to get The Wellness Mama Cookbook
Need help making REAL food work in REAL life?
Then I'd love to give you a free copy of my ebook – The Busy Mama's Guide To Getting Dinner On The Table – as a gift for signing up for my newsletter. You'll get my top seven tips for simplifying meal prep, plus updates when I post new healthy recipes, exclusive gifts, coupons (I was able to give away a jar of free coconut oil to anyone who wanted it recently!), and other goodies. Don't miss out!