Walking In The Woods . . .
On our new farm, Daddypotamus and I recently discovered the ruins of an old cottage, complete with 1940's era washing machine, chimney and a stash of vintage mason jars. Carrying my loot home, I wondered if there was something special I could do with them. If you're looking for a few ideas also, here are 50 I think you'll love:
Soap Dispensers
1. Homemade Soap Dispenser: Perfect for dish soap, hand soap or even lotion, these mason pump dispensers add rustic charm to kitchens and bathrooms. (photo courtesy of The Blissfully Contented Life)
Not sure you want to make your own? The dispenser you guys asked about from my homemade dish soap recipe came from Industrial Rewind. It was pricey, but given that I was pregnant with #3, working on a book, and  had just moved to a farm I cut back on my DIY activities for awhile. Unlike the reviews I've read about some other brands, mine have held up beautifully despite heavy use. This pump set (you supply the jar) is a little more affordable but there are no reviews yet. I love the orange!
Lanterns
2. Colorful Mason Jar Lantern with Beaded Handle: Love those vibrant beads – what a fun, easy project to make with kids! (photo courtesy Bug and Buddy)
3. Mason Jar Solar Lantern: This project is perfect for those with minimal crafty skill. (Photo courtesy of Weed Em And Reap)
4. Hanging Lantern With Copper Wire Handle: I'll bet this style would be beautiful with the blue-tinted heritage jars.
Terrariums
If you have a black thumb when it comes to house plants, terrariums are the way to go! They do better if you mostly ignore them, and they also serve as a low-stress way to ease into gardening with your kids. Help them check on it every so often and make minor adjustments as needed: dampening, trimming, etc. Here are some great ideas to start with:
5. Mason Jar Terrarium (pictured above) – This tutorial includes instructions for making a rustic wood hanger as well. (photo courtesy of One Project Closer)
6. Kitchen Herbarium: I love this take on the kitchen herb garden using vintage mason jars. You can either trim them often to keep them from outgrowing their space, or you can transplant them outdoors when they get bigger. Either way, you'll have fresh herbs to use in your recipes. (via Midwest Living)
7. Mason Jar Succulents: Though not technically a terrarium, this project is GORGEOUS. I have two wire crates in my bedroom that currently have rolled up mittens and scarves in them. (You can spot one of them in Levi's birth story) Time to put them away and make some of these for spring!
8. "Pickled" Gnome Terrarium: So whimsical and fun, don't you think? It doesn't come with instructions, but you can use these guidelines to easily create your own.
Cups & Travel Mugs
Around my home, folks drink wine out of mason jars. And tea. And lemonade. Haven't seen any moonshine yet, but probably that, too. I love how relaxed the atmosphere is at events where they're present! Here are some ideas for using them:
9. Daisy Lids (pictured above ) So cute for picnics, cookouts, or everyday use! (Photo via Amazon.com)
9. Spill-Proof Mason Jar Cup With Straw: See tutorial above
Don't want to make your own? You can find them here.
10. Travel Mug: An eco friendly alternative to disposable coffee mugs. Great for coffee, tea or bone broth.
11. Mason Jar Cozie (photo courtesy A Pretty Cool Life)
12. Drink Dispenser: Not technically a cup or travel mug, but fun anyway!
Love this idea but don't want to make your own? Click here to find them on Amazon.
Snack Carriers
13. Eco-Friendly Lunchbox: This adaptor set from Cuppow allows you to split mason jars into two compartments. (Photo via Amazon.com)
14. A variation on the above theme is the much-beloved Portable Salad, like this one from Lofty Appetite. (Photo courtesy of The Lofty Appetite)
Vase
15. Painted Mason Jars: Making these is probably easier than you think. (Photo courtesy of Mason Jar Crafts Love)
FYI, these weathered frog lids make arranging flowers a bit easier.
16. Twig Vase: I love this one!

17. Fabric Wrapped Vase : Such a fun way to bring different textures into your home without making big changes.
18. Window Vase: These would also make lovely lanterns
19. These lettered vases are gorgeous
Container Gardening
20. Mason Jar Wall Planter (Photo courtesy of Not Just A Housewife)
21. Mason Jar Herb Garden (Photo via Camille Styles)
22. Start shrubs from clippings
Sewing Kit
23. Mason Jar Sewing Kit (Photo courtesy of It All Started With Paint)
Candle Holders
24. Non-Traditional Advent Candles: These are great for fall, winter, and, if you use beeswax candles, even spring. Beeswax candles are thought to help purify the air and reduce allergens.
25. Candle In A Bottle: Old paper makes these a unique addition to any room. I'd probably decoupage the top to make the jar more durable.
26. You can also make beeswax candles from scratch in a mason jar. Here's the tutorial.
Snow Globes
27. Repurposed Jar Snow Globes (Photo via Makely)
28. Here are a few more ideas for inspiration
Lamp

29. Spring Banner Lampshade (photo courtesy of Redberry Barn)
30. You could also fill the lamp with quirky objects: Buttons, coffee beans, etc. (Here's a tutorial)
Butterfly Feeder
31. DIY Butterfly Feeder: Butterflies are as useful as they are beautiful. I'm going to give this DIY feeder a try to encourage them to pollinate my herb garden. Quick note: Use plain white sugar for the reasons stated in this post. Also, I'm going to skip the food dye (Photo courtesy of Bright Nest)
Chandelier
32. Mason Jar Chandelier: This one uses votive candles. (Photo courtesy of Saved By Love Creations)
33. This tutorial gives step-by-step instructions for wiring a chandelier to use light bulbs. Here's another tutorial you may find helpful.
34. Drool worthy? Definitely. About halfway through this framed chalkboard tutorial you'll find just the inspiration you need to get your mason jar chandelier done. I love the blue heritage jars!
Gratitude/Blessing Jar
35. Gratitude Jar: (Photo courtesy of Marty's Musings)
Here's the basic concept: Over the course of a year write down one good thing that happened each day. When the year is over, empty the jar and read through all the amazing things that happened, big and small. (You can open the jar on New Years, Thanksgiving, your birthday, whenever!)
Other Similar Ideas
36. Date night jar
37. Gift jar ~ Filled with something yummy like this hot chocolate mix
38. 52 Week Money Saving Challenge
Bathroom storage
39. Bathroom Organization Jars (Photo courtesy of Chica Club Circle)
Craft Storage
40. Chalkboard Craft Storage Jars (Photo courtesy of It All Started With Paint)
41. Under Shelf Storage: A great idea for craft rooms and shelves in the garage (Photo courtesy of Poofy Cheeks)
Desk Storage
42. Desk Storage (Photo courtesy of Mason Jar Crafts Love)
Holiday Ideas
43. Scarecrow (Photo courtesy of Boy Oh Boy Crafts)
44. Snowman (Photo courtesy of Yesterday On Tuesday)
45. Turkey (Photo courtesy of Yesterday On Tuesday)
Body Scrub Gift Jar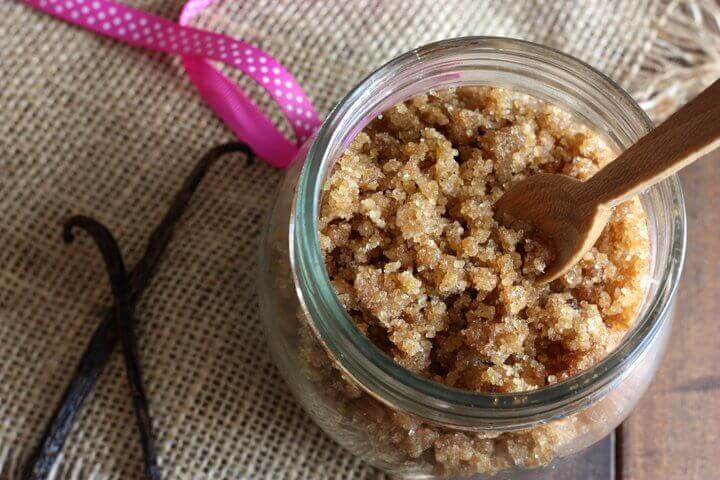 Here are a couple more scrub ideas:
Miscellaneous
47. Paint Storage (Photo courtesy of Mason Jar Crafts Love)
48. Powdered Sugar & Cinnamon Sugar Shaker: Here's how to make unrefined powdered sugar.
49. Match Holder
50. Ketchup & Mustard Dispensers