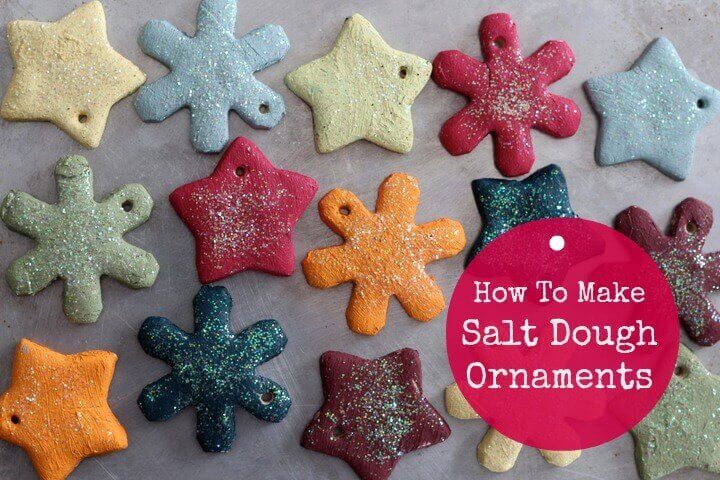 Ready, Set, Bake! This salt dough ornament recipe is as easy as 1-2-3, but I broke it into ten steps so that I could include more pics of my kiddos – ha!
If you're looking for a fun project to do with your kids for the holidays, THIS IS IT. Katie, my six year-old, did everything on her own except the baking, and four year-old Micah only needed help a few times.
The best part? After all the fun is over you have a sweet keepsake for your tree – and possibly a gift for the grandparents, too.
Now, if you saw the photos in Levi's birth story you **may** have noticed I like bright colors. My Christmas tree is no exception, but these would be beautiful with more traditional colors, too.
(And, pssst. Don't forget to whip up a batch of homemade egg nog,  hot chocolate or marshmallows while you work – it makes the the whole experience even more fun.)
Salt Dough Ornament Recipe
Quick note: I've gotten some questions about how to make this recipe without wheat flour, so I did some testing and posted my gluten-free salt dough recipe here.
Ingredients/Equipment Needed
1 cup flour (self-rising flour should not be used as it will cause the ornaments to bubble up while baking)
1/2 cup salt
1/2 cup water (or more as needed)
non-toxic acrylic varnish (like this)
Rolling pin
Cookie sheet (This is a really good stainless steel one)
Drinking straw
Holiday shaped cookie cutters (I love this snowflake and this set)
Acrylic paints
Paintbrush
Glitter
Ribbon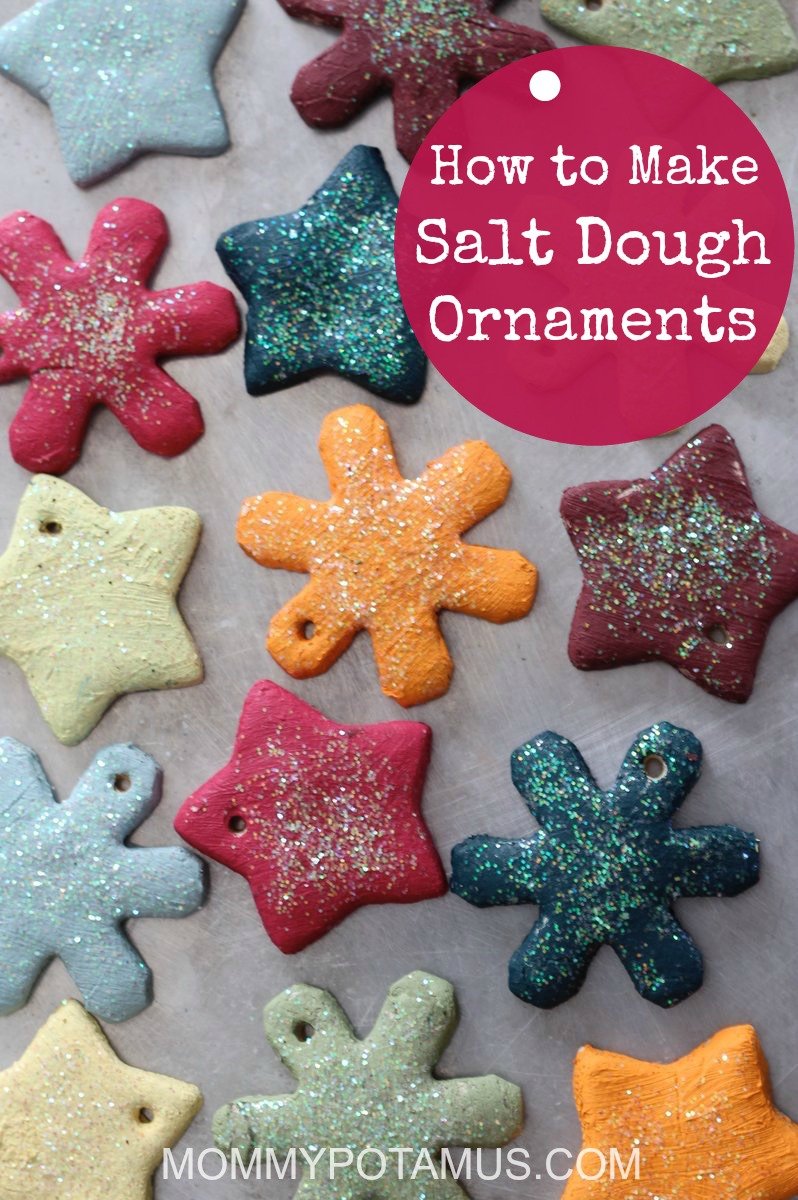 How To Make Salt Dough Ornaments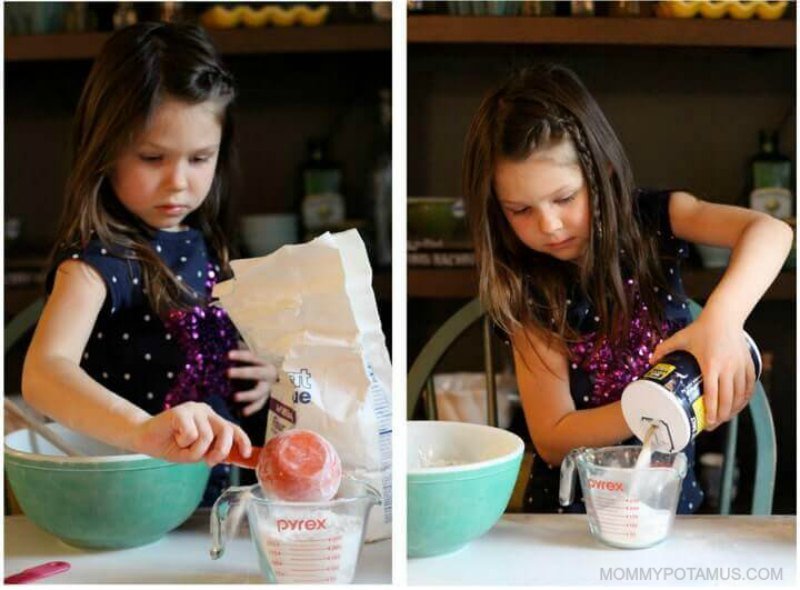 Step 1: Preheat oven to 250F. Measure flour and salt, then add them to a medium mixing bowl and stir.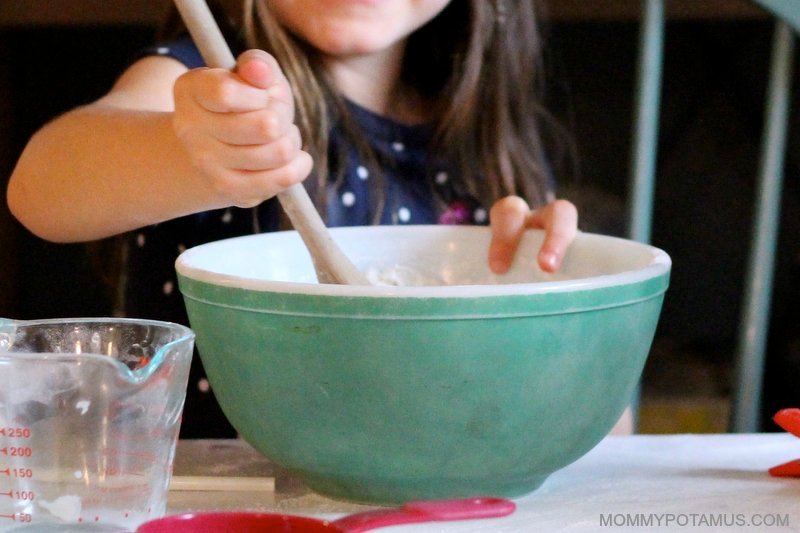 Step 2: Add water.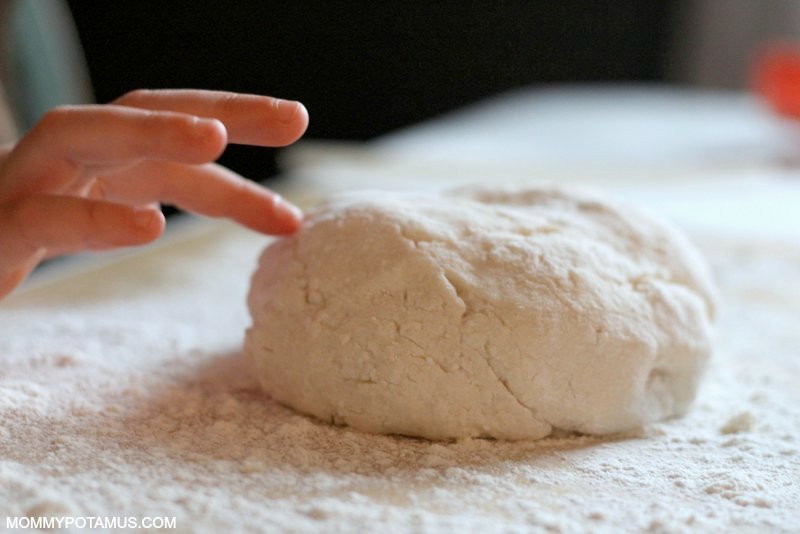 Step 3: Mix thoroughly. Sprinkle parchment paper with flour and knead dough until it's soft and pliable. Add more flour if it's ultra sticky.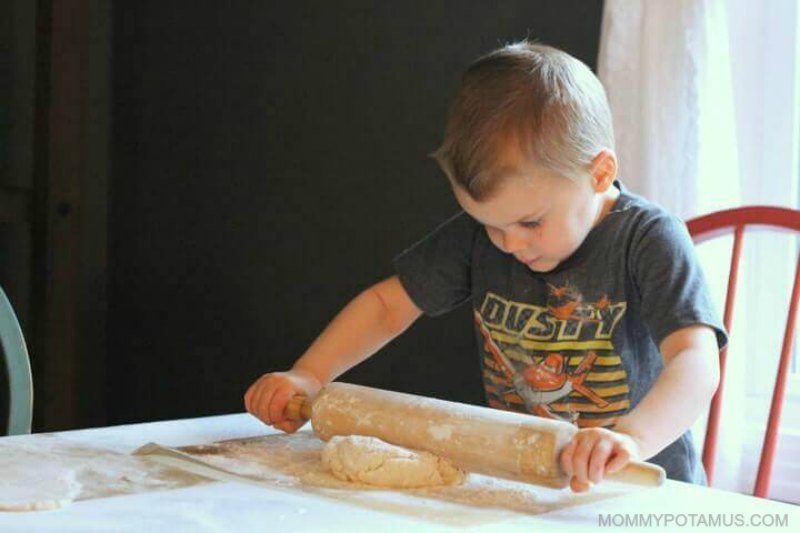 Step 4: Using a lightly floured rolling pin, roll out the dough to 1/4 inch thickness.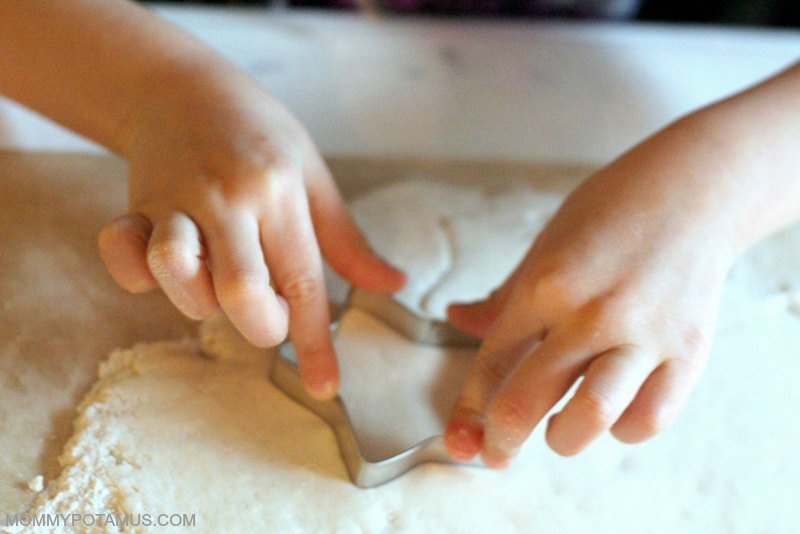 Step 5: Cut out ornaments using cookie cutters.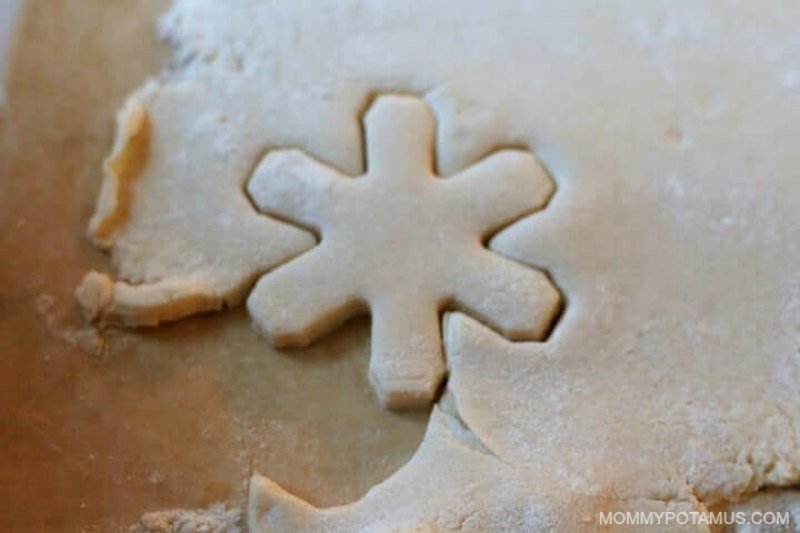 Step 6: Peel away dough and lift cutout.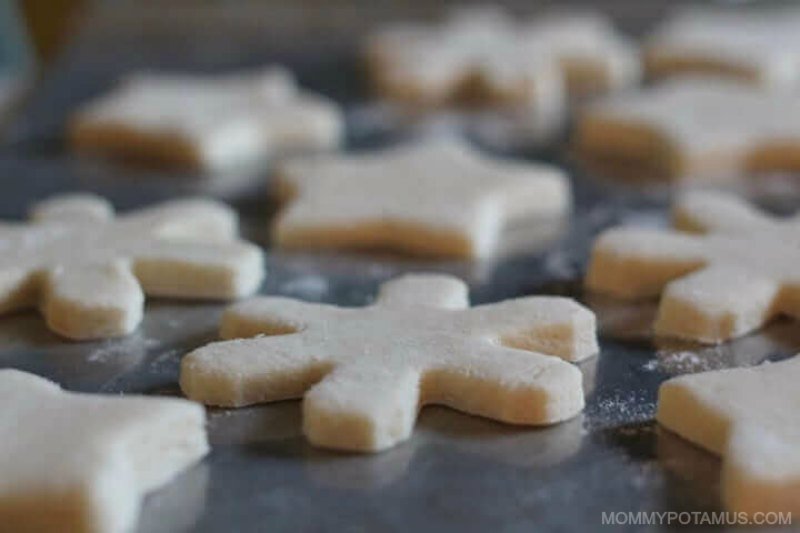 Step 7: Place cutout on and ungreased cookie sheet.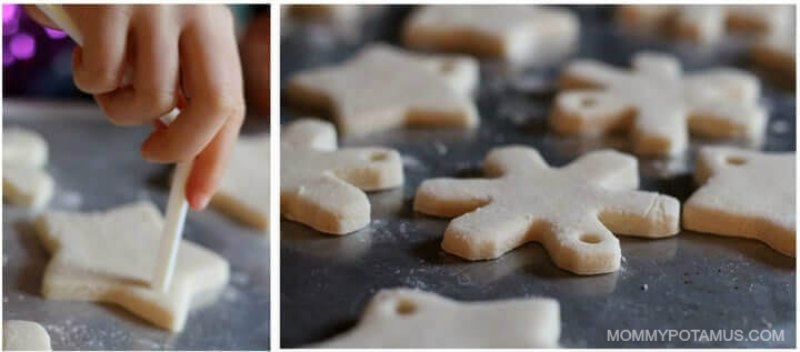 Step 8: Using your straw, create a hole for the ribbon that will hang the ornament. Place ornaments in the oven and bake for two to three  hours, or until completely dry. Flip once while baking, then remove and allow to cool completely.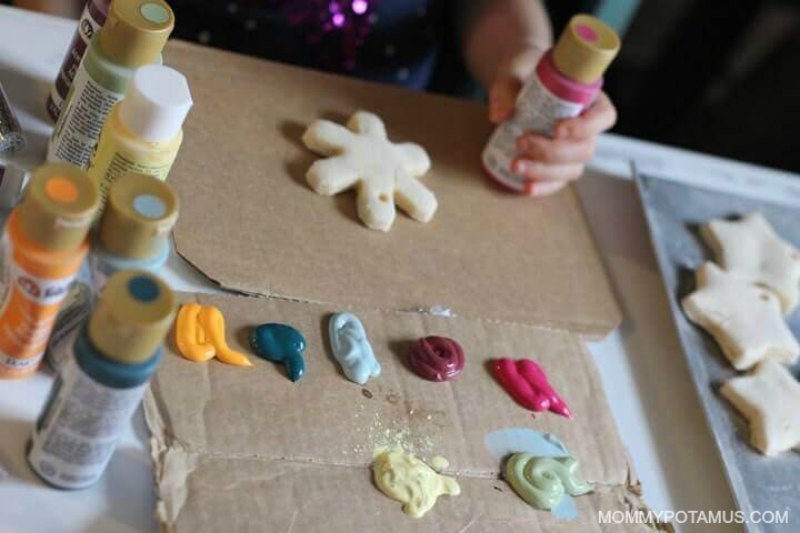 Step 9: When the ornaments have cooled, decorate them with paints and/or glitter if desired.
Optional step: If you want your ornaments to last for years and years, seal them with three to four thin coats of non-toxic acrylic varnish after the decorative paint has fully dried. Make sure to coat the entire surface to prevent moisture from getting in.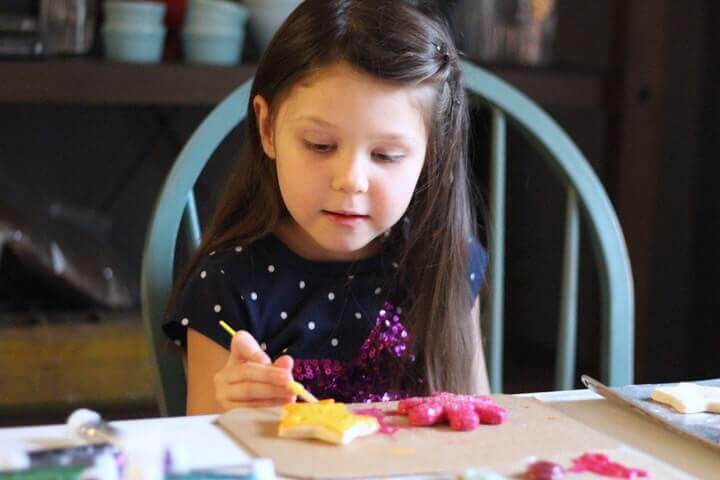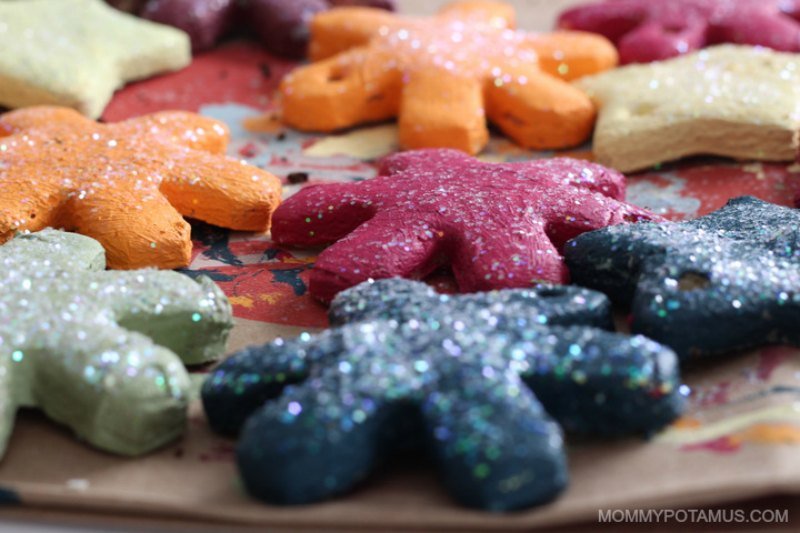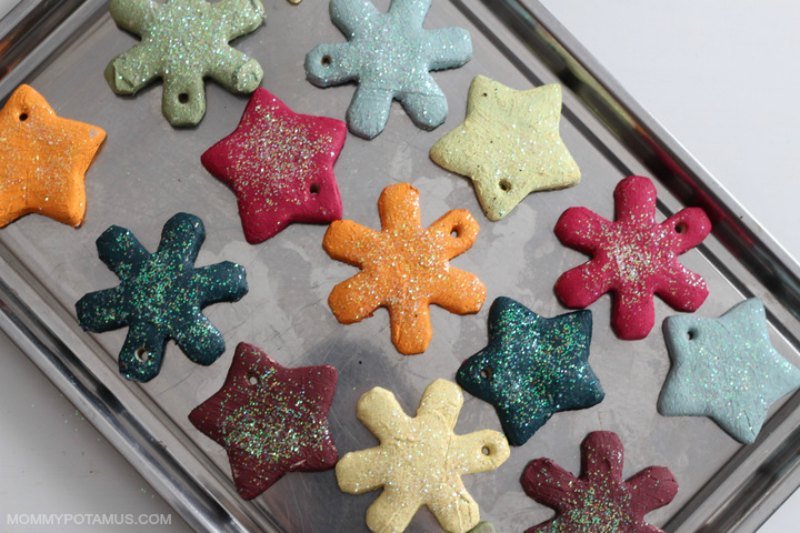 Step 10: Snap selfie, because while you **may** have managed to prevent your preschooler from painting the kitchen table, you did not prevent him from painting you.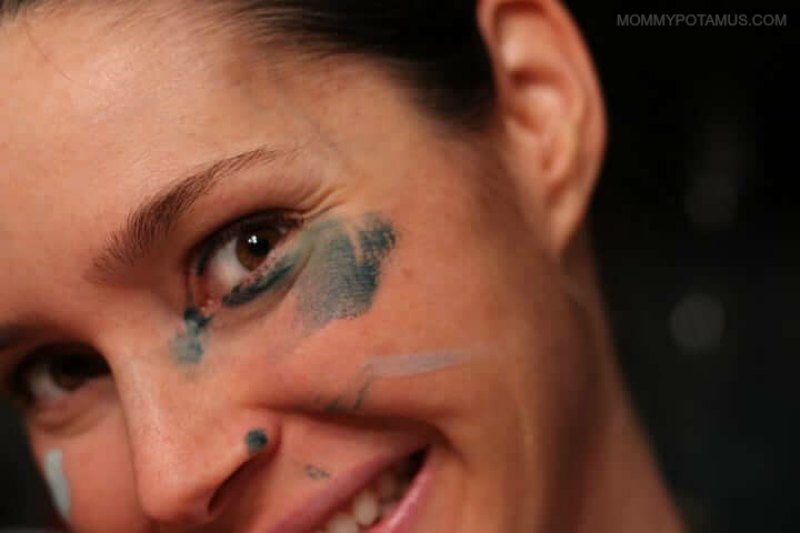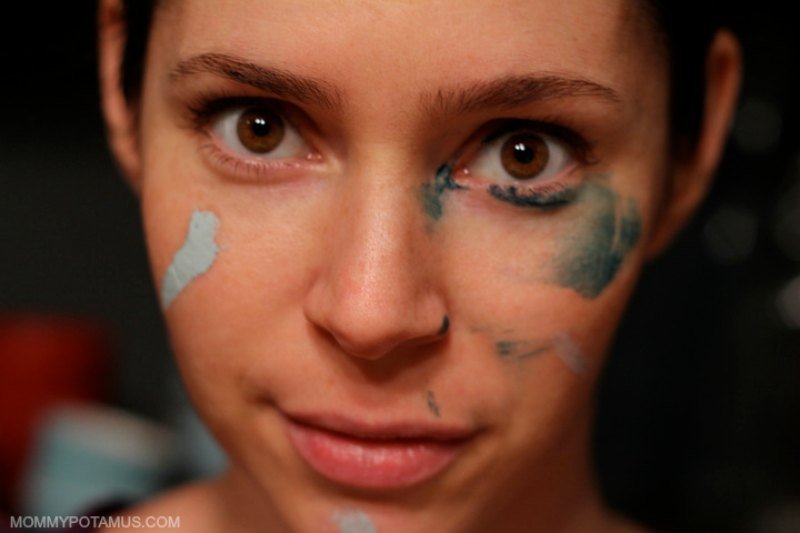 Looking for more fun projects?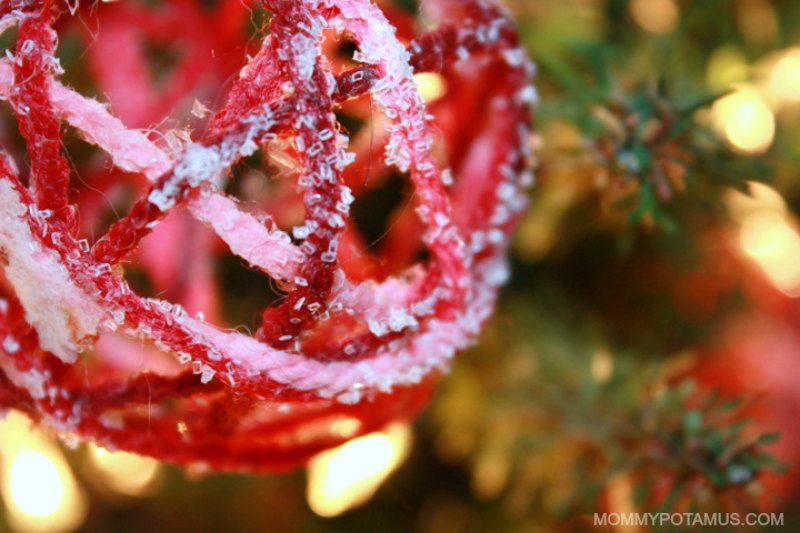 We made these yarn ball ornaments a few years ago. They're one of our favorites to hang on the tree!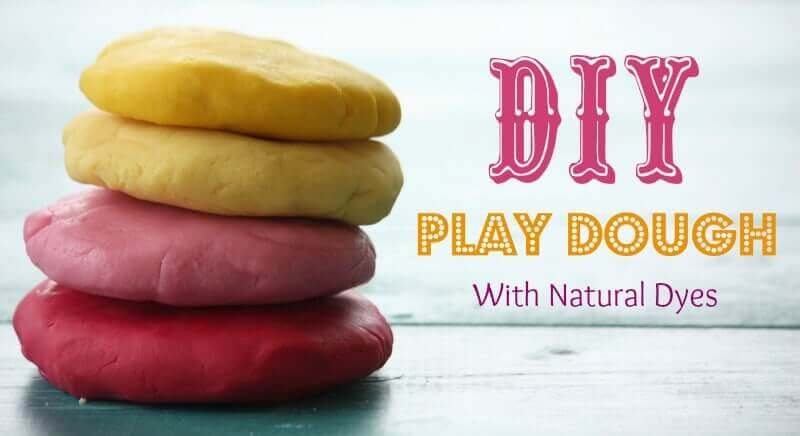 This fun, easy play dough recipe uses stuff you probably already have in your fridge/pantry, and there's a gluten-free option at the bottom for those who need it.
It's squishy yet crumbly. You can mold with it or smash it to smithereens. What is it? MOON SAND! If you haven't heard of it, here's what you need to know: Kids love it, and you can make it in under 10 minutes from stuff you already have in your pantry. Here's how.