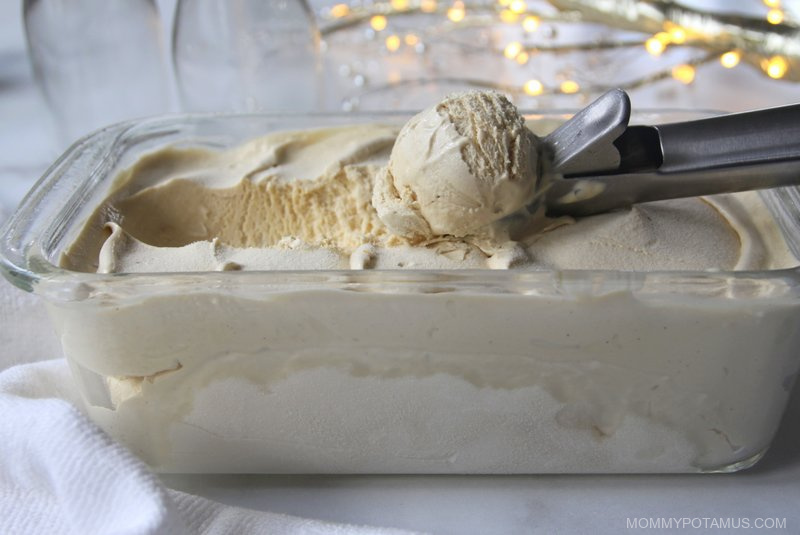 'Tis the season for rich, creamy homemade eggnog in every form – kid-friendly, spiked, made with heavy cream, dairy-free and of course it's most decadent iteration – ice cream!!
As someone who occasionally turns on Christmas music in July, I have to admit that I did not wait until the official holiday season to begin making this ridiculously creamy, perfectly scoopable dairy-free eggnog ice cream.
My right-hand in the kitchen – Chef Junior co-author and daughter Katie – and I have been testing and tweaking this recipe for months. It was hard work – all those delicious tastings infused with hints of nutmeg and vanilla – but we pushed through for you. 🙂
It's a relief to finally get to share the recipe, because I feel like I've been holding out on you.
It truly is THAT GOOD, even if you're not dairy-free. Unless you hate eggnog, that is – in that case, I suggest hopping over to my soft gingerbread cutout cookies recipe.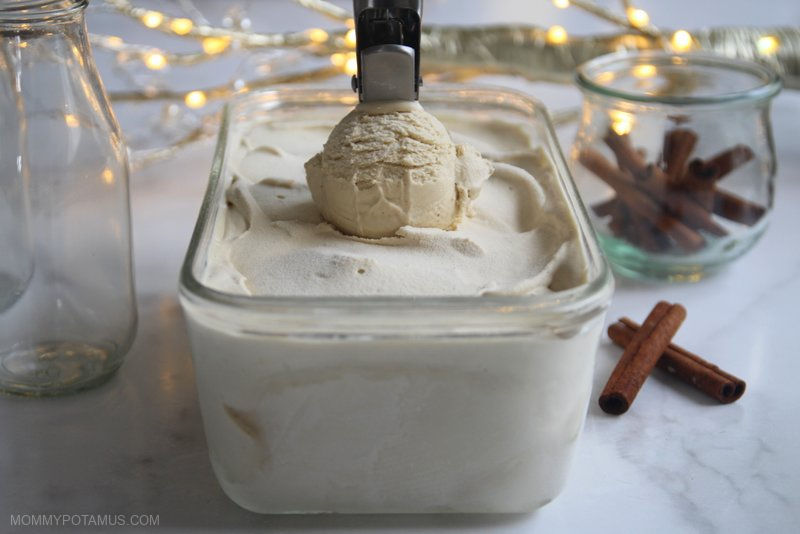 Dairy-Free Eggnog Ice Cream Recipe
This delicious dairy-free eggnog ice cream recipe has the smooth, scoopable, rich texture of real deal ice cream. It's so good even my family members who aren't dairy-free dive for it every time I put a batch in the freezer.
Makes approximately five and a half cups.
Ingredients
1½

cups

raw cashews

1

cup

coconut cream

1

cup

full fat coconut milk

1

cup

maple syrup

½ – 1

tbsp

dark rum

¾

tsp

ground nutmeg

1

pinch

sea salt

3

egg yolks

(Optional – Raw egg yolks are traditional but you can use pasteurized eggs or leave them out. See notes section below for more info.)
Instructions
Place the cashews in a heat resistant bowl. Bring 4 cups of water to a boil and pour it over the cashews.

When the cashews have soaked for two hours, it's time to prepare your ice cream base. Pour them into a strainer and then add the strained cashews to your blender container.

Add all the remaining ingredients (maple syrup, coconut cream, coconut milk, vanilla extract, 1.5 teaspoons dark rum, nutmeg, salt and egg yolks if using) to the blender container. If you're using a high-speed blender, blend the mixture on high for about 2 minutes. If you're using a regular blender, blend for 3-4 minutes to make sure it's smooth. Taste and add 1.5 teaspoons – 1 tablespoon additional rum if desired.

The ice cream mixture will become warm during the blending process, so when you're finished put it in the fridge to chill for about 30-45 minutes. I leave mine in the blender container.

When the ice cream base has chilled, pour it into your ice cream maker and churn according to your manufacturer's instructions.

When the ice cream is ready it should have a soft serve consistency. You can eat it right away, or if you prefer a firmer consistency transfer it into an airtight container and place in the freezer for 2-4 hours. I like to use a glass loaf pan with a lid.  If the ice cream becomes too firm, let it soften at room temperature for 5-15 minutes before scooping.
Nutrition
Serving:
0.5
cup
|
Calories:
342
kcal
|
Carbohydrates:
30
g
|
Protein:
6
g
|
Fat:
23
g
|
Saturated Fat:
14
g
|
Polyunsaturated Fat:
2
g
|
Monounsaturated Fat:
6
g
|
Cholesterol:
59
mg
|
Sodium:
16
mg
|
Potassium:
336
mg
|
Fiber:
1
g
|
Sugar:
21
g
|
Vitamin A:
78
IU
|
Vitamin C:
1
mg
|
Calcium:
56
mg
|
Iron:
3
mg
A note on using egg yolks:
Though raw eggs are traditionally used in eggnog and statistically melons are more likely to be contaminated with salmonella than eggs, safety is a consideration when using raw egg yolks. I dive more into the subject here, but here's a quick recap: 
Some sources say that eggs harvested from pasture-raised hens are far less likely to be contaminated with salmonella than caged hens. Some research does indicate that salmonella rates are higher in caged hens than free-roaming hens (which may or may not have outdoor access), but I'm not aware of any specific research regarding pastured hens. 
One eggnog making method suggested by the University of Minnesota is to use pasteurized eggs, which just means they have been lightly heat treated to kill bacteria. (3)
A note on using rum:
Though many adults like a very boozy eggnog, I add just a touch in this recipe for authentic flavor. It's similar in alcohol content to vanilla extract or an herbal tincture. If you use the smaller amount suggested in this recipe (1.5 teaspoons) the rum content totals just a little over 1/8 tsp per serving.
(Which reminds me, if you have homemade vanilla extract that's been infused in rum, you can leave out the extra vanilla!)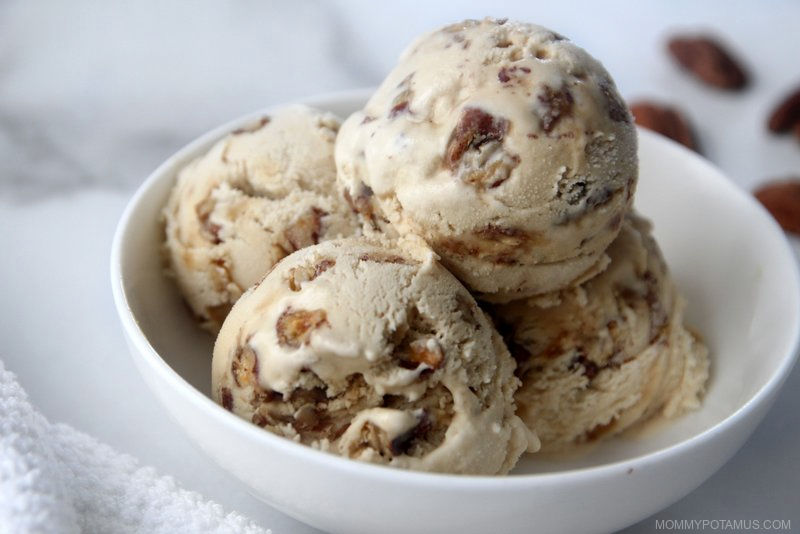 More Dairy-Free Ice Cream Recipes To Try
Butter Pecan – Made with toasted pecans, this recipe has the rich, buttery flavor of real butter pecan ice cream . . . just without the butter. 🙂
Spiced Vanilla Chai – Infused with vanilla, black tea, and my five-minute masala chai spice mix, this dairy-free chai ice cream recipe has the smooth, scoopable, rich texture of real deal ice cream.
Dairy-Free Mint Chocolate Chip – Creamy and minty with just the right amount of chocolatey goodness, this dairy-free mint chocolate chip ice cream has the smooth, decadent texture of traditional ice cream.