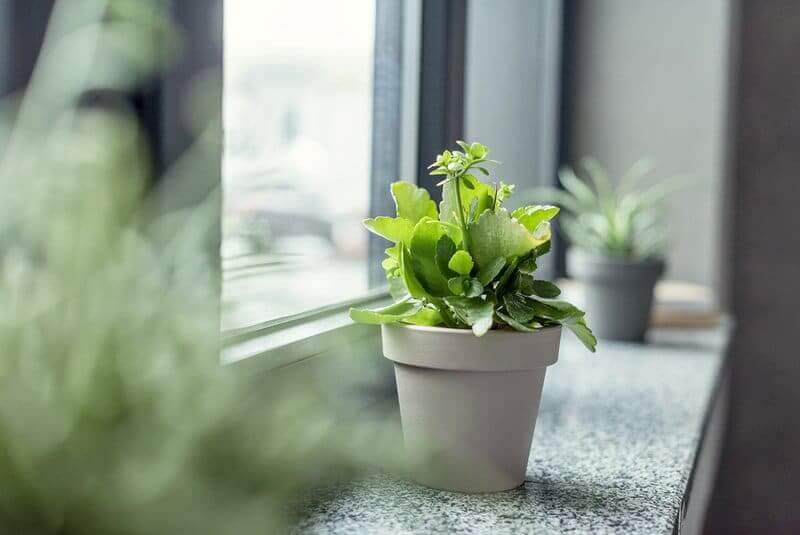 Inside: It awhile for me to find room in the family budget to purchase a high quality air purifier, so while I was waiting I researched and implemented several inexpensive strategies to improve indoor air quality. Here's a checklist of what I did, plus the research that supports their effectiveness.
23,000 breaths. That's an estimate of how many times you inhale in just one day.
Unfortunately, according to the Environmental Protection Agency, the air in your home or office is likely to be 2-5 times (sometimes up to 100 times) more polluted than the air outside.
If you've got a full schedule and you're already cooking with wholesome ingredients and making other steps toward wellness, it might feel overwhelming to try to tackle clean air. You might be wondering if little changes will make a difference and if it's really worth the effort. The answer? YES.
It took awhile for me to find room in the family budget to purchase a high quality air purifier, so while I was waiting I researched and implemented several inexpensive strategies to improve indoor air quality. In this article I'll share a checklist of what I did, plus the research that supports their effectiveness.
But first, what's in the air anyway?
The most common pollutants are:
Flame retardant particles, which as I've shared before are highly toxic (especially to children)
Volatile Organic Compounds (VOC'S) like formaldehyde and benzene
Mold spores, dust, pollen, pet dander
Bacteria and viruses
If you want to dive deeper into what each one is, this post on choosing the best air purifier is a good place to start. Now, here are six budget-friendly ways to make your indoor environment healthier (plus one that's more of an investment).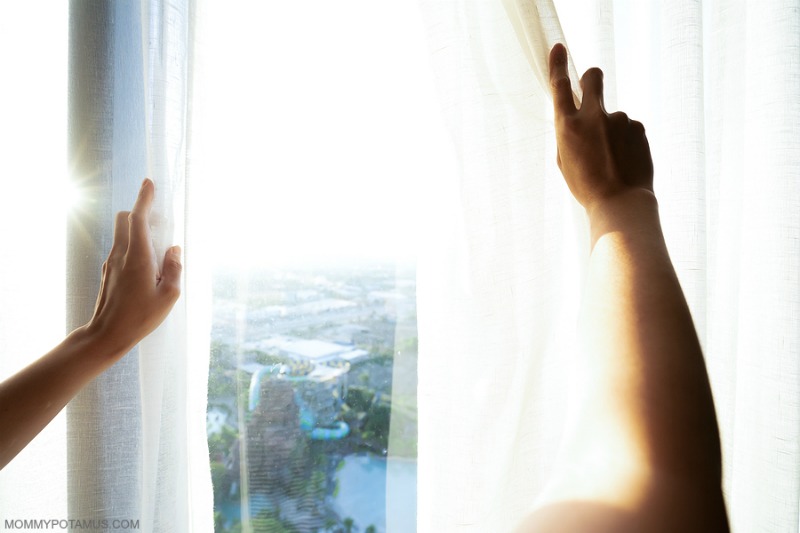 1. Open windows often to air out the house
"Leaky" houses – or houses that exchange indoor air with outdoor air via openings around windows and doors, etc. – are bad for energy efficiency but good for air quality.
According to the Consumer Product Safety Commission, a house that is well-sealed "may have higher pollutant levels than other homes."
If too little outdoor air enters a home, pollutants can accumulate to levels that can pose health and comfort problems. Unless they are built with special mechanical means of ventilation, homes that are designed and constructed to minimize the amount of outdoor air that can 'leak' into and out of the home may have higher pollutant levels than other homes. However, because some weather conditions can drastically reduce the amount of outdoor air that enters a home, pollutants can build up even in homes that are normally considered 'leaky.'" (CPSC)
Fortunately, according to the EPA, one inexpensive way to improve indoor air quality is through natural ventilation – aka turning off the A/C and opening up the windows as often as possible. (EPA) It may also be helpful to turn on fans as well to help the indoor/outdoor air circulate better.
Here are a couple of things to keep in mind with this approach: If you're sensitive to pollen it would be a good idea to wait until pollen counts are low, and if you live in a high-humidity area you will want to run a dehumidifier after you close the windows.
2. Swap out problematic products
Cleaning products, air fresheners, etc. – Conventional cleaning products are a huge contributor to indoor pollution, so one of the first steps to improving air quality is to switch over to non-toxic cleaning products. Using essential oil sprays and simmer pots instead of artificially-fragranced air fresheners, and opt for homemade beeswax candles (or store-bought) instead of paraffin candles.
When buying furniture – try to opt for pieces that aren't sprayed with chemical flame retardants (Here's a list of manufacturers that don't use them. Some are expensive, but some are relatively inexpensive.)
When redecorating or remodeling – Choose safer options like low VOC paint and particle board with no added urea formaldehyde whenever possible. I know from experience that this is not always realistic – when my husband and constructed a small building on our homestead a few years ago we didn't have access to many green building materials, so we made sure to get a very good air filter to help soak up the VOC's after construction was complete.
Important note on remodeling: If your home was built before 1978, make sure to check for lead before starting a remodel.
3. Incorporate air purifying plants
A study done by NASA found that in addition to absorbing CO2 and releasing oxygen, plants improve indoor air quality by removing organic pollutants like volatile organic compounds (VOC's), which have been linked to cancer and many other health issues. (Wolverton et. al.)
Wellness Mama covers the best plants for purifying indoor air here.
4. Homebiotic
This is literally a probiotic for your home. Just like in our digestive tracts, beneficial and pathogenic microbes compete for the environment all around us. Each spray of Homebiotic contains billions of beneficial bacteria that have been shown to inhibit mold growth and some other types of bacteria. It can be used throughout the house to help restore balance in the home environment.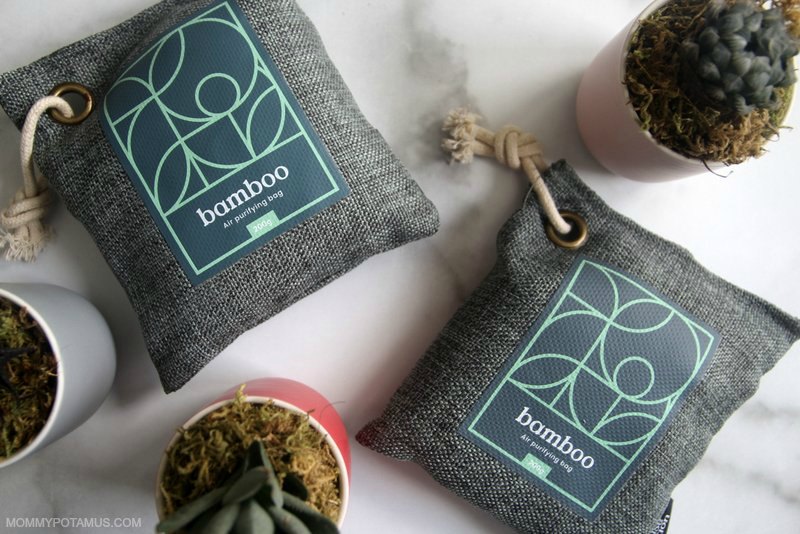 5. Moso Bags
Since this post is about inexpensive options for air filtration I didn't include air filtration units – however, they can make a huge difference and you can find a guide to choosing one here.
Moso bags are a budget friendly air purifying option that can help absorb odors and toxins in small spaces like cars, closets, bathrooms and pet areas. They're filled with activated charcoal, which is the same stuff that companies like Austin Air use in their top-rated air filters. According to Moso:
 This incredibly powerful charcoal has millions of tiny little pores and cavities that work together to act like a big sponge. As air passes through the pores, odor, allergen and bacteria particles are trapped on the surface, which in turn purifies your air. Bamboo charcoal has been scientifically proven to reduce harmful chemicals including formaldehyde, ammonia, benzene and chloroform gases emitted from such items as paint, carpeting, air fresheners, chemical cleaners, rubber and plastic.
Unlike air purifiers that circulate air in large rooms – using a fan to draw it through a filter and then redistributing it back into the room – Moso bags rely on passive absorption of nearby contaminants. That's why they work best in small spaces – because they only impact air that is close by. They've worked well for me in my car and closets, and customers rave about them on Amazon:
This is my first ever review. I was NOT given this for free or discount or offered anything at all for this review. I had a gallon of milk spill in my car and living in a very hot climate, well you can imagine the stench. I have tried everything but nothing worked. My kids refused to drive with me. So then I bought this Moso purifying bag and the smell has disappeared overnight. Can't explain it. Not sure how it works. Buy it…trust me….
Each bag lasts about two years (it needs to be set out in the sun every month or so to keep it working), and after that you can cut the charcoal out of the bag and use it in your garden. Here's where to buy them.
6. Use A Doormat
According to an EPA report called The Doormat Study, lead-contaminated soil tracked into the home is the source of almost all the lead dust inside homes. Removing shoes at the door reduced lead dust by 60 percent over a five month period, but using a doormat and then removing shoes at the door reduced indoor lead dust by 98.5%. (EPA)
Using a doormat may also help reduce the amount of pesticides and other contaminants tracked into the home, and make you smile if you get the one above. Here's where you can find it.
Other Things You Can Do
Use a HEPA vacuum – Carpets can act like a sponge, absorbing mold, dust (including lead dust), and chemicals. They usually emit VOC's as well. It's important to clean them often, but according to environmental engineer John Roberts vacuuming "deposited more dust than it picked up so that over time carpets became a disgusting repository of toxic substances." (Uhlig)
Using a HEPA vacuum that is specifically designed to pick up these contaminants may help – this one was voted best budget pick by Prevention Magazine.
Test for radon – Radon is a colorless, odorless radioactive gas that's produced by decaying uranium in the soil. It's not considered a concern outside because it is diluted by so much fresh air, but when it makes its way into homes it can build up in higher concentrations. Because the air pressure in homes is usually slightly lower than the pressure outside, the gas can be sucked up into homes through cracks in the foundation or walls if radon is nearby.
Fortunately, if a radon issue is found (using one of these test kits or the help of a professional), the problem can be resolved by improving ventilation.
Want non-toxic cleaning recipes that WORK?
I've created a free ebook for you as a gift for signing up for my newsletter. 7 Non-Toxic Cleaning Recipes That Really Work covers seven recipes that you can make in just a few minutes each for squeaky clean windows, sparkling dinnerware, lemon-fresh countertops, and more. Subscribe to my newsletter below and you'll be redirected to a download page for immediate access to this PDF ebook.
Sources For This Article:
Wolverton, B.C. (1989, Sept) Interior Landscape Plants for Indoor Air Pollution Abatement. Retrieved from https://ntrs.nasa.gov/search.jsp?R=19930073077
Consumer Product Safety Commission. The Inside Story: A Guide to Indoor Air Quality Retrieved from https://www.cpsc.gov/Safety-Education/Safety-Guides/Home/The-Inside-Story-A-Guide-to-Indoor-Air-Quality
Environmental Protection Agency. Improving Indoor Air Quality. Retrieved from https://www.epa.gov/indoor-air-quality-iaq/improving-indoor-air-quality
Environmental Protection Agency. Reducing lead exposure from remodeling and soil track-in in older home. Retrieved from https://hero.epa.gov/hero/index.cfm/reference/details/reference_id/667774
Uhlig, Robert. (2001, May) Carpets are piled high with toxic pollutants. Retrieved from https://www.telegraph.co.uk/news/uknews/1328875/Carpets-are-piled-high-with-toxic-pollutants.html