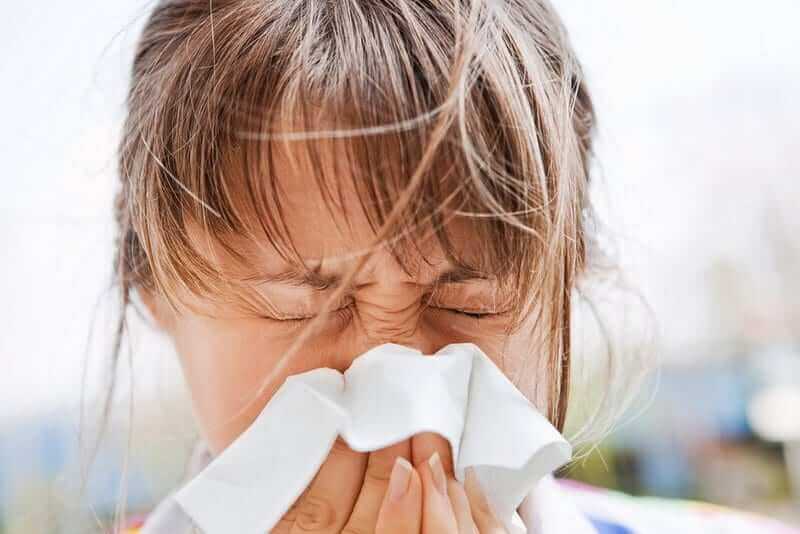 Inside: Thought fire cider was just for colds? Here's how to use it to ease allergy symptoms, plus other simple natural remedies that may help.
People without allergies: Ahhh, spring, can you feel it?
People with allergies: YES. YES I CAN. 
If you've ever spent allergy season trying to remember what it's like to breathe out of more than one nostril, read on. In this post my coauthor, Herbalist Lori Rose PhD, CNP, BCHN, RH (AHG) and I will cover the top remedies to reach for the next time you are swimming in watery eyes and seasonal sniffles.
I'll also share some tools you can use before allergy season begins that may reduce the frequency and intensity of allergy symptoms.
What Causes Seasonal Allergies?
It's fairly safe to say most of us have heard of antihistamines before – the over-the-counter medications that are sold to relieve allergy symptoms. But what are histamines exactly, and how do they work?
I cover this topic in more detail in this post on histamine intolerance, but one of the easiest ways to understand allergy symptoms is to think of your body as a bathtub, histamines as water and your ability to break them down as the drain.
If the drain is clogged or the water is coming in too fast for the drain to keep up, the tub will eventually overflow and cause allergy symptoms. For some people, allergy season feels like the faucet has been turned on full blast – pollen everywhere! Fortunately, there are things we can do to slow the faucet down a little and open up the drain a little so we can feel better.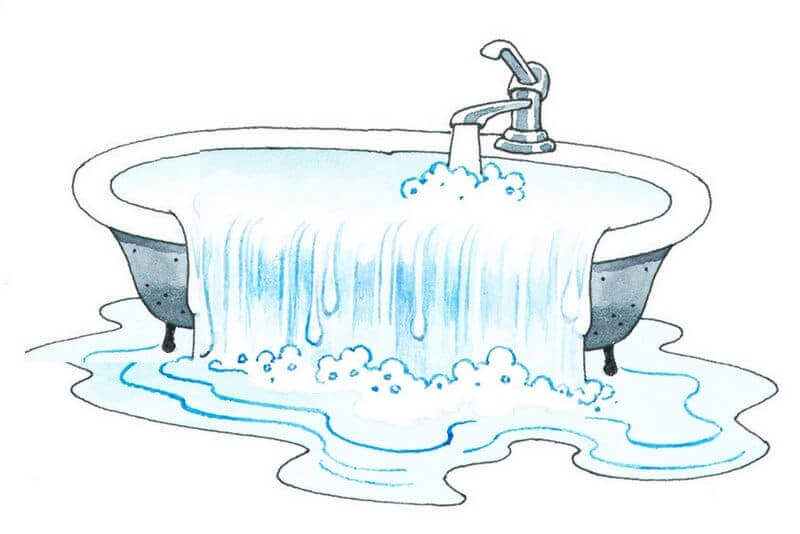 Seasonal Allergies Symptoms
Congestion
Postnasal drip
Itchy eyes or ears
Dry eyes or throat
Watery eyes
Inflammation
Sneezing
Headache
5 Natural Remedies for Allergies
Here are my top five remedies when symptoms have already started.
1. Neti Pot
Allergy symptoms last as long as an individual is in contact with the allergen, which is why one of the most useful natural solutions is to use an isotonic neti pot to clear the allergens from the upper sinuses. I prefer a Nasopure bottle to a traditional neti pot because it's easier to use, especially for kids. During allergy season it assists the body with moving out mucus that has captured pollen, dust, etc.
You can make an isotonic solution by dissolving ¼ tsp of salt per 8 cups of distilled water (or water that has been boiled for 5 minutes and then allowed to cool to a comfortable temperature). You will use hot water to dissolve the salt, then let it cool to lukewarm temperature before adding it to your neti pot.
Also, this saline spray is amazing for littles (and adults) who feel like the neti pot is too much of a hassle. It has better ingredients than other brands, and there's an infant version, too. 
Some people also find Himalayan salt inhalers to be helpful.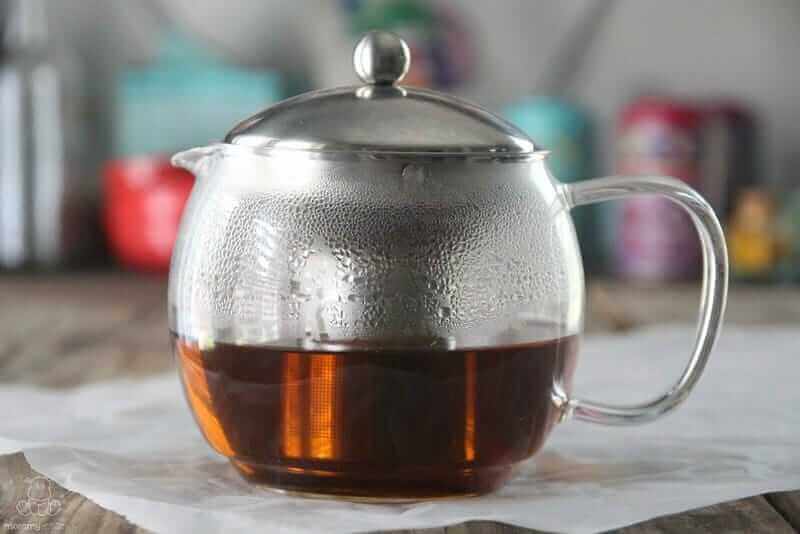 2. Nettle Capsules Or Tea
The go-to anti-inflammatory herb for natural allergy relief is stinging nettle (Helms et. al., Roscheck et. al.). Many herbalists swear by freeze-dried nettle, which preserves the formic acid in the nettle stingers. I like these capsules because they're made from raw, wildcrafted freeze-dried nettle. Many practitioners suggest taking 300 mg two to three times a day during allergy season.
Other herbalists say that similar relief can be found from dried (but not freeze dried) nettle tea, so you may want to experiment and see what works best for you. An ounce by weight (about 1 cup by volume) of dried nettle can be steeped in a quart of just-boiled water for 4-8 hours, strained, and then sipped (or guzzled) throughout the day.
3. Horseradish And Cayenne
Herbs that pack some heat – cayenne and those found in Fire Cider for example – can help break up congestion and get things running again, so make sure to have your tissues ready when you try it. It's also helpful for easing overall pressure and tension around the sinuses.
Fire cider recommendations: I love my fire cider recipe, but if you're already feeling symptoms you probably don't want to wait 2-4 weeks for it to be ready. Fortunately, you can buy pre-made Fire Tonic on Amazon and get it with in 1 or 2 days if you have Amazon Prime or choose expedited shipping. In terms of how much to take, many people opt for 1-2 tablespoons every three to four hours if symptoms are present.
To make cayenne pepper tea: Add 1/2-teaspoon cayenne to one cup of water along with a generous squeeze of lemon and honey to taste.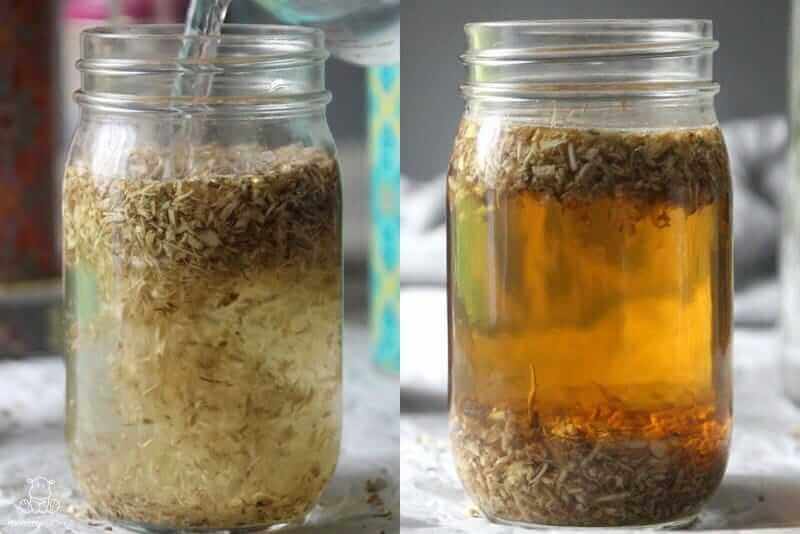 4. Marshmallow Root, Licorice Root Or Slippery Elm
Demulcent herbs like marshmallow root and slippery elm can be especially soothing to a dry, itchy or sore throat. When possible I use marshmallow root because it's cheaper and more plentiful. (Slippery elm considered an at-risk species, so it's important to support shops that are using sustainable harvesting practices when purchasing it to ensure it will be available for generations to come.)
A cold infusion marshmallow root in 1 quart of water can be strained and sipped on throughout the day by both adults and children.
5. Probiotics
ProBiota HistaminX From Seeking Health is a probiotic that contains specific strains which help to break down histamine, the primary cause of allergy symptoms.
HistaminX – Contains a blend of herbs and extracts that help to balance the body's inflammatory and immune responses.
Long-Term Relief For Allergies
The above natural remedies for seasonal allergies are great for in-the-moment suffering, but are you destined to be stuck with allergies forever?
Many holistic practitioners don't think so.
There are things you can try to hopefully reduce or eliminate your seasonal allergy symptoms. These remedies take longer to work, but – going back to the bathtub analogy we talked about earlier – may turn down the faucet by reducing the body's reaction to allergens or help to open up a clogged drain.
Some you can do every year, about 1-3 months before typical allergy symptoms occur. Others can take 6 months or longer to see results, but may provide longer-term relief.
What To Do 1-3 Months Before Allergy Season Begins
Honey: Many people believe eating a daily spoonful of  local, raw, organic honey specific to your region can help your immune system build a tolerance to any local allergens.
Nettles: You can drink 1 oz (by weight – about 1 cup) of dried anti-inflammatory stinging nettles steeped in 1 quart of just-boiled water for 4-8 hours every day 1-3 months before allergy season begins.
Dandelion: This herb helps the liver clear toxins/allergens from the body, decreasing the chances allergens will build up to levels that trigger an allergy attack. You can read more about the benefits of dandelion flowers, leaves and roots here, or brew up some delicious roasted dandelion root tea.
Adaptogenic Herbs: Adaptogens are herbs that help the body adapt to stress, including physical stressors like exposure to an allergen. You can drink (or take as a tincture) astragalus and/or reishi to build the immune system 1-3 months before allergy season begins. More info on recommended amounts in the posts I just linked to.
Astragalus can also be added into bone broth for sipping or making into soup – use 1-2 tablespoons for every three cups of water.
HistaminX: Formulated to provide seasonal support during the spring, this supplement contains several herbs that are considered helpful for allergies – nettle, quercetin, rutin, bromelain and broccoli seed extract. It's best to start taking it a few months before your allergies usually begin, but you can also take it when you start noticing symptoms.
Other Considerations
Thinking even longer term, here are some things to consider if you're still needing lots of allergy support.
Genes: Some people have genetic mutations that make them more susceptible to allergies. This is not a guarantee that they (or you) are destined to be a life-long allergy sufferer. However, it does mean that you might have spent more time than others making sure your body doesn't get overloaded in histamine, the molecule that causes seasonal allergy symptoms.
Liver Support: Your liver has the job of removing all allergens and toxins, including excess histamine. To reduce the likelihood of your liver getting overwhelmed, thus reducing its ability to clear histamine, you can decrease your exposure to environmental toxins, processed food, sugary foods (which your liver also has to process), and allergens themselves.
Allergens can include common allergenic foods like gluten, dairy, corn, soy, and eggs, or foods that specifically affect your body (which can be decreased by addressing leaky gut). They can also include the family pet – if that's the case an air purifier may be particularly helpful.
Whether you choose long-term lifestyle solutions, yearly preventatives, short-term natural allergy remedies, or all three, hopefully now you've got the tools you need to enjoy the sunshine outside.
Want more research-backed natural remedies?
No problem, I've created a free ebook for you – Kitchen Apothecary: 25+ Natural Remedies Using Ingredients From Your Pantry – as a gift for signing up for my newsletter. You'll also get updates when I post about safe essential oils for pregnant/breastfeeding mamas, exclusive gifts and coupons (I was able to give away a jar of free coconut oil to anyone who wanted it recently!), plus other goodies.
Sign up using the form below.
This article was medically reviewed by Dr. Mariza Snyder, a functional practitioner. As always, this is not personal medical advice and we recommend that you talk with your doctor.
Know someone who could use some natural allergy support?
Please share this article with them, and let me know in the comments if you have a favorite remedy that I didn't include.
About the authors: This article was co-authored by Heather Dessinger and Dr. Lori Valentine Rose (PhD). Dr. Lori is a college biology, nutrition, herbal, and wellness instructor, Certified Nutrition Professional (CNP), Registered Herbalist with the American Herbalist Guild, and is Board Certified in Holistic Nutrition. She created, developed, and instructs the Hill College Holistic Wellness Pathway, the most thorough, affordable, degreed wellness program in the country. She loves spreading love and light, and helping others feel awesome on the inside and out so they can live their dreams and make this world more awesome!