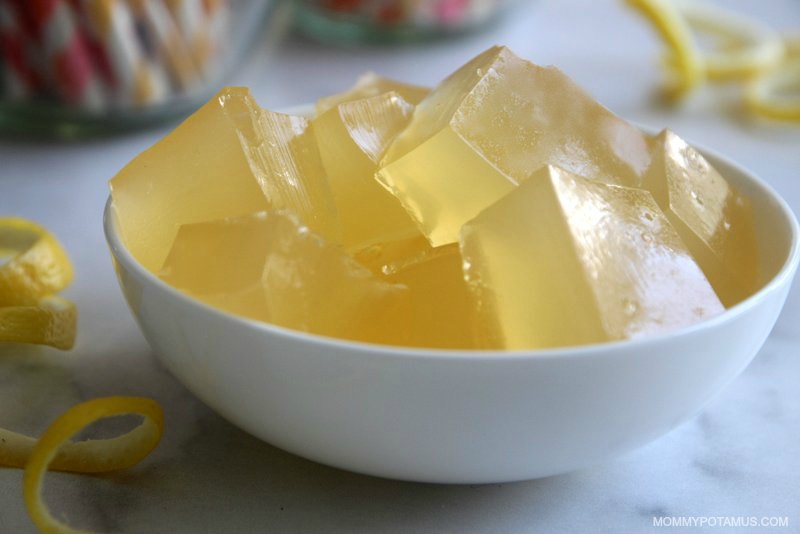 Tart, sweet and irresistibly jiggly, this lemon jello is rich in collagen protein, which is an essential nutrient for lustrous hair, glowing skin and strong nails. Unlike the little packets of yellow #5 and refined sugar we grew up with, it's made with just a handful of wholesome ingredients – fresh lemon juice, honey, water and a dash of lemon extract if you happen to have it on hand.
If you've never made homemade jello before, the process is super easy:
Mix the gelatin powder with a little liquid so that it "blooms." This helps prevent clumps in your finished dish.
Mix honey with water and heat it up on the stove.
Combine the bloomed gelatin with the hot water mixture and pour it into jars to cool.
Eat yummy jello 🙂
Once you try this recipe, you'll probably want to make #allthejello, so with that in mind here are a couple more recipes to save for later:
Strawberry Jello – Made with fresh or frozen strawberries, this recipe is so much better than the boxed stuff.
Creamsicle Gelatin Cups – In this recipe, orange jello is topped with a layer of vanilla cream. There's a dairy-free option available if you need it.
Oh and one more quick note, the lemon jello recipe below makes approximately 1 3/4 cups. You can pour everything into a small glass storage container and cut it into jiggly cubes, or you can make single-serve containers using three of these tulip jars or four of these small mason jars.
Naturally Sweetened Lemon Gelatin Recipe (Copycat Jello)
Tart and sweet, this lemon jello is irresistibly jiggly and easy to make.
Instructions
In a small bowl mix together the lemon juice, 1/4 cup water and gelatin powder. Set aside.

In a small saucepan combine 1 cup water and honey.

Heat over medium-low heat until the mixture is hot but not boiling.

Whisk in the gelatin mixture until completely it is dissolved. Taste and add more honey if needed. For extra lemon flavor, I recommend adding 1/4 teaspoon lemon extract if you have it on hand.
More Healthy Lemon Desserts
Lemon Mousse – Light, fluffy, and melt-in-your-mouth delicious!
Lemon Bread With Vanilla Glaze – I've been told by one Starbucks Lemon Loaf lover that this sweet and tangy lemon bread is just as satisfying as store-bought.
Lemon Poppyseed Muffins – Moist and cakey, these muffins are super simple to make! My daughter helped perfect the recipe, which makes them extra special in our house.
Lemon & Coconut Macaroons – These easy cookies are like chewy, lemony bites – or blobs, as my kids call them – of sunshine.
Want more delicious, easy recipes?
No problem, I've created a free ebook for you – 35+ Gluten-Free Desserts – as a gift for signing up for my newsletter. Every Sunday you'll get recipes, actionable health tips, and highly-vetted product recommendations delivered fresh to your inbox.
Sign up using the form below.