(((Happy sigh))) Over the past week I've jumped through rolling waves, captured ghost crabs under starlight, crossed something off my bucket list, and watched with joy as my littles gifted their alligator floaty and sand toys to another family with three littles on our last day. I've also "watched this" fourteen thousand times, rolled out of bed three hours before I wanted to, diffused toddler meltdowns, and tried to meet the needs and desires of five people at once. Sometimes life requires a lot of stamina – even on vacation! If that sounds familiar, read on.
As I mentioned here, whether it's a sleepless night, illness, surgery, stress at work, meltdowns at the store with a toddler, financial pressure, or just a go-go-go season of life, we all go through times that require a lot of us. Ideally, we are able to rest between these experiences so our adrenals can recover – similar to the way muscles do after a workout. In real life, that doesn't always happen.
One of my favorite ways to support the adrenals through challenging times is with adaptogens – herbs that help the body adapt to stress. I've written a beginner's guide to them here, and in this post I'm going to cover the benefits of one of the most popular adaptogenic herbs – rhodiola rosea – along with safety info for pregnant and breastfeeding mamas.
What is rhodiola?
Before it was a staple of Russian astronauts and athletes, rhodiola rosea was a favorite of the Vikings, "who used it to enhance mental and physical endurance." (source) It thrives in high altitude, low oxygen conditions with extreme cold (think Arctic circle) and intense UV light exposure, and many people believe its ability to adapt to such harsh conditions is what makes it beneficial to us.
Rhodiola's popularity spans many cultures – it was mentioned by the ancient Greek physician Dioscorides,  "included in the first Swedish pharmacopoeia in 1755," and given as a bouquet of roots in Siberia to "couples prior to marriage to enhance fertility and assure the birth of healthy children." (source, 192)
Actually, it is still given as a bouquet in that region to this day!
Also known as rose root, rhodiola smells similar to a common rose but is actually a member of a different plant family, crassulacae.
Rhodiola rosea benefits
This adaptogen is considered helpful for:
Adapting to stressful experiences
Immune support
Memory and overall cognitive function
Energy and stamina
Elevating mood
Altitude sickness when used with cordyceps, reishi, and holy basil (details on how he recommends using it in this post)*
Unlike some "warming" adaptogens, rhodiola is considered a cooling herb. Because it is not likely to have over-stimulating effects, it is considered well-suited for type A personalities and those that want to "keep their cool" during stressful times. (source)
*This list was compiled based on the research discussed in Adaptogens in Medical Herbalism by clinical herbalist Donald Yance and Adaptogens: Herbs For Strength, Stamina and Stress Relief by ethnobotanist David Winston and herbal expert Steven Maimes.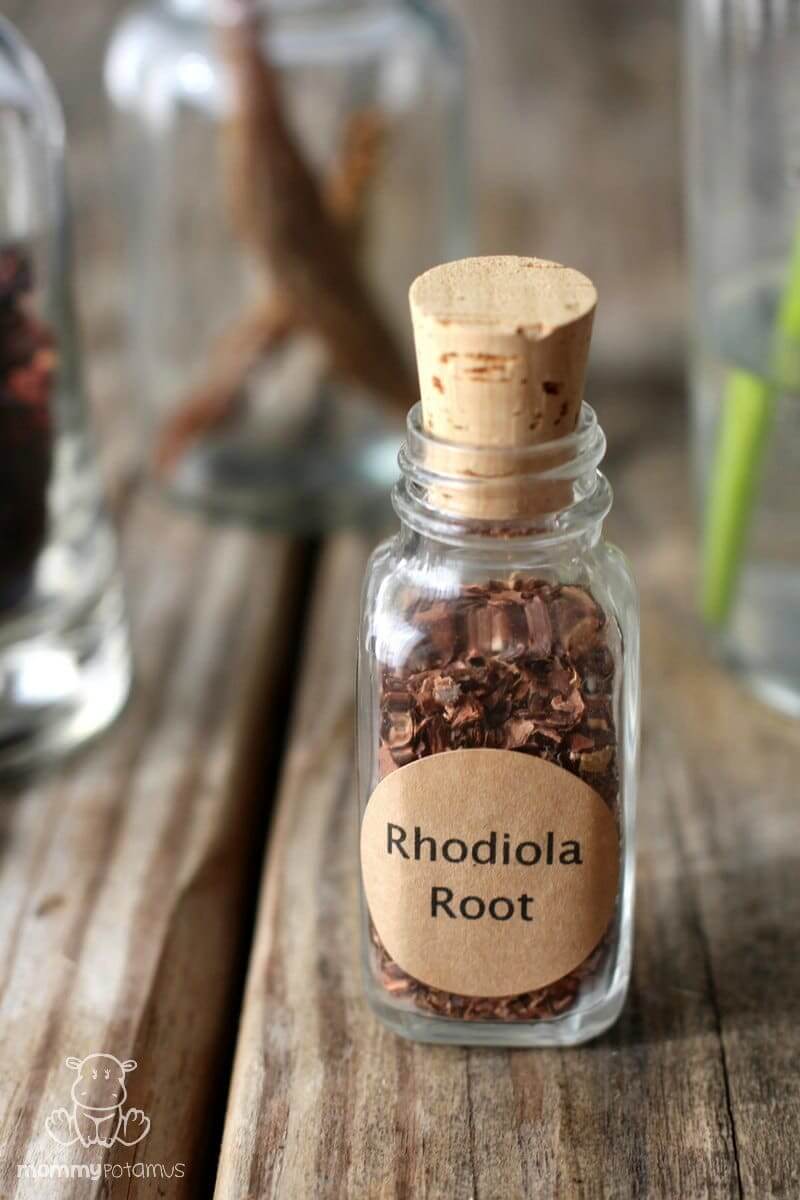 Is rhodiola safe during pregnancy and breastfeeding?
Unfortunately, no reliable information is available about the safety of rhodiola for pregnant/breastfeeding moms, so avoidance is recommended.
Although opinions vary on whether adaptogens are appropriate for pregnant/breastfeeding women, some have a long history of use during pregnancy/breastfeeding in traditional cultures. For example, maca is a staple in the diet of pregnant and nursing Peruvian women, where it is believed to support fertility along with the health of mothers and their babies. (source 1, source 2,  source 3)
Other herbs – such as eleuthero and Panax ginseng – were recently classified as "safe herbals" for pregnancy in a multinational study that examined herbal products taken by expecting women (source). But again, opinions vary on this subject and some practitioners advise against using adaptogens due to a lack of formal research.
Regarding the general use of herbs – not just adaptogens – midwives I have spoken with usually recommend avoidance in the first trimester unless:
The herb is needed to support the woman through a particular issue, like nausea.
The herb has a record of safety during pregnancy when used appropriately and the woman is taking it under the supervision of a qualified professional.
Please seek the input of a qualified healthcare practitioner before introducing any new herb.
How much is recommended?
In Adaptogens In Medical Herbalism, Donald Yance, CN, MH, RH(AHG) writes that he does "not recommend this herb as a single herb; it is extremely astringent and drying and is best used along with other adaptogens in mixed formulas in a range of 10 to 20 percent of the overall." (Medical Herbalism, 552)
According to Yance, rhodiola extracts sold in the U.S. often lack desirable levels of the active constituents that are being sought. Even more concerning he adds that some manufacturers add synthetic forms of those constituents to bring their products within the desired target range. For that reason, he recommends purchasing wild Russian 1:1 rhodiola extract, then using "2 to 5 ml daily as part of an adaptogenic formula that includes other adaptogens." (Medical Herbalism, 552) Because wild Russian (Siberian) liquid extract is very expensive, I've included a couple of additional options below. (One is this wild extract in capsule form, which is harvested from the Russian arctic circle.)
Since adaptogens are herbs rather than pharmaceutical drugs, there are no "dosages." However, herbalists do share knowledge about what methods of consumption seem to produce a beneficial effect for most people.
In Adaptogens: Herbs for Strength, Stamina and Stress Relief, ethnobotanist David Winston and herbal expert Steven Maimes recommend the following additional forms:
As a decoction – Simmer 1-2 teaspoons dried root in 8-10 ounces water for 15 minutes, then cover and let steep for an additional 45 minutes. Drink one to three cups per day.
Capsules – Two to four capsules of standardized extract (3-5% rosavins and 1% salidroside) per day.
What else do I need to know?
Rhodiola should be avoided in "patients who are bipolar, manic, or paranoid. It can cause insomnia in sensitive people." (Adaptogens: Herbs For Strength, Stamina and Stress Relief, 194) And as always, please seek the input of a qualified healthcare practitioner before introducing any new herb.
Oh, and you may find this post helpful: 15 Ways To Be Kind To Your Adrenals
Want more research-backed natural remedies?
No problem, I've created a free ebook for you – Kitchen Apothecary: 25+ Natural Remedies Using Ingredients From Your Pantry – as a gift for signing up for my newsletter. You'll also get updates when I post about safe essential oils for pregnant/breastfeeding mamas, exclusive gifts and coupons (I was able to give away a jar of free coconut oil to anyone who wanted it recently!), plus other goodies.
Sign up using the form below.