"Mom, I'm HUUUUNGRY! What's for lunch?"
I turn around, hoist the baby a little higher on my hip, and say, "I don't know. What are you making us for lunch?"
Thirty minutes later I post her answer on Instagram: Shredded chicken with caramelized onions and capers with avocado, made without any help from me. Y'all, my daughter is SIX. I was kidding when I asked her what she was making, but she took my remark as a statement of confidence and ran with it.
Now, I'm no rocket scientist, but based on The Glorious Day In Which Someone Else Made Lunch I figured it was time to let her prepare her own healthy snacks and meals for homeschool meet-ups.
I'm not gonna lie, I love my newfound freedom. Though I'm always in the kitchen to offer safety guidance or suggestions as needed, I've been amazed by how much more capable she is than I realized. That's why I'm excited to ask you to join me by doing something new this year:
Let's equip our children to pack their own healthy lunches!
Wait. What? Let children pack their own lunches? It might sound like a bad idea at first, but lets take a look at the "Why."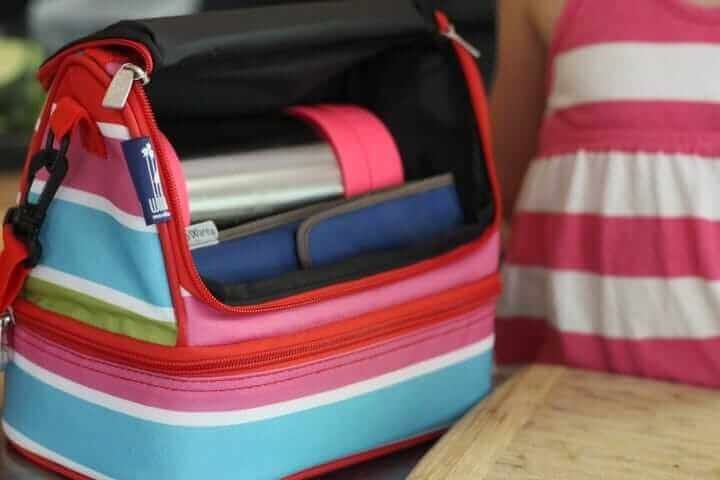 5 Reasons Kids Should Pack Their Own Lunch
I'm sure we can all agree that there is no magical age that determines when a child should start packing their own lunch. For those who aren't quite ready, filling water bottles, snack bags and containers with fruit can be a VERY good first step. However at some point they're going to be ready to do more, right? Here are five reasons that's a very good thing:
1. It teaches them about proper nourishment
My daughter and I are having some great discussions about food, like why it's not a good idea to pack only bananas. She's learning to listen more closely to her cravings and make healthy choices for herself. My hope is that by starting early, this perspective on nourishment will stay with her through her teen years and beyond.
2. Kids eat more
When kids makes the choices, they're much more likely to eat their food because they're proud of their accomplishment. They're eating THEIR choices, which makes any food taste better!
3. It takes the load off us
Let's be honest, we deserve a break. You'll have one less responsibility in the mornings, which buys you time to change out of those PJ's.
4. It's empowering
Children start the day off gently with the mindset that they have power, that they can be trusted, and that they can do whatever they put her mind to.
5. It instills responsibility
Our goal is to equip our children with the mindset they need to thrive. Making lunches is yet another way to guide them toward a brilliant future.
The benefits sound pretty great, right?
If you're wondering how to make this work on a practical level, here's what we've found helpful. First, we signed up for the Kids Cook Real Food eCourse to learn basic knife and other kitchen skills, then we started with really simple recipes like these apple sandwiches.
I asked her to help me pick out containers that prevent messy leaks and other discouraging mishaps. She based her selections on what looked fun, and I based mine on durability and functionality. Here's what we came up with:
You'll love this set because it takes the frustration out of packing lunches. There are fewer messes, spills, hot items that should be cold, cold items that should be hot, and epic emergencies in which two foods touch each other. (Please don't tell me that just happens in my house.)
Plus, it's much easier to keep things organized and kids love the independence it brings.
Do you have a tip for helping kids learn to pack lunches? Please share it in the comments below!