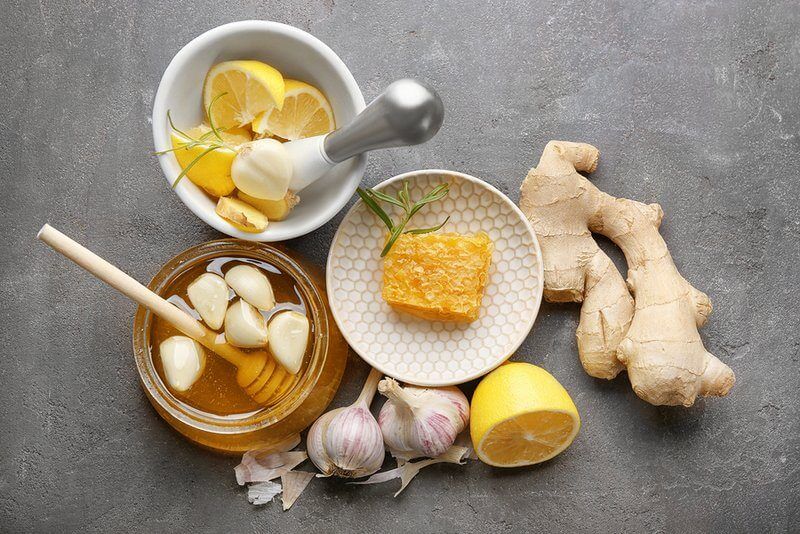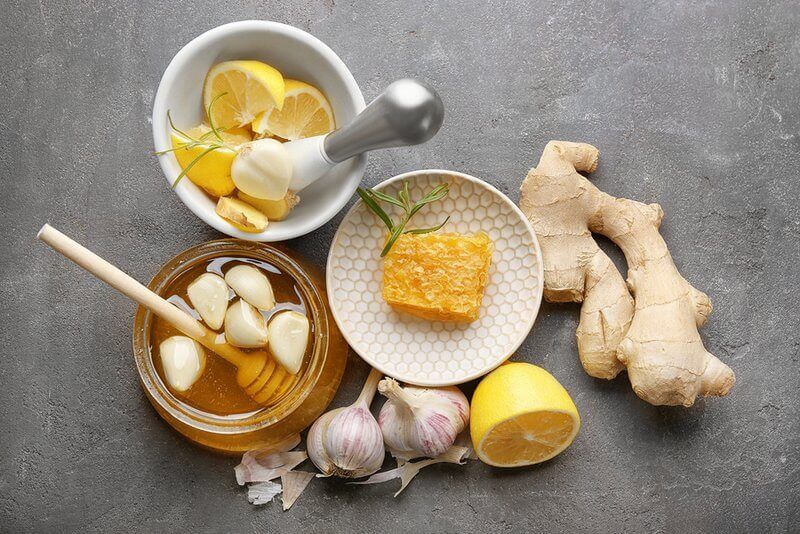 You know that feeling when you're sick and you want your mom, but then you remember that you ARE THE MOM? Same here. Every year I brew up a batch of fire cider and elderberry syrup for immune support at the beginning of cold and flu season, and for the most part we dodge whatever's going around.
Not always, though. Sometimes I slack when it comes to making sure we take the elderberry syrup and fire cider and someone comes down with a cold.
When that happens, I head to our kitchen apothecary and mix up one of these tried-and-true remedies. If you're looking for ways to support recovery naturally, here are some easy recipes to use next time something's going around!
14 Natural Remedies For Cold And Flu Season
The cold and flu remedies below are supported by research and incorporate common kitchen ingredients you probably already have on hand, including healing herbs, spices, and honey.
Healing Teas
Tea is incredibly soothing when you're recovering from a cold or flu – the warmth promotes relaxation while the herbs and spices support immune function and ease discomfort. Here are some recipes using ingredients you probably already have on hand.
Lemon Ginger Tea Recipe
Ginger has been used for thousands of years to soothe tummy aches, nausea and indigestion. And according to the University of Maryland Medical Center, it has also history of use for soothing "flu-like symptoms, headaches, and painful menstrual periods." (UMMC) Lemons are also helpful because they're rich in vitamin C, which supports immune function.
I love this lemon ginger tea with a twist, but the simple recipe below is also amazing for easing nausea and other cold and flu discomforts while supporting immune function.
1 cup boiling water
2-3 slices fresh ginger
1-2 lemon wedges
raw honey to taste
Pour boiling water over the ginger and allow to steep for ten minutes, then strain and add in a squeeze of lemon. I also add in the lemon peel if it is organic. Sweeten the tea with honey before sipping on it.
Rosemary Or Thyme Tea Recipe
"Rosemary is highly antiviral and antibacterial," says Clinical Herbalist Steve Sietos. "Everything you smell in that signature aroma is medicine." According to Clinical Herbalist Arielle Hayat, the same is true of thyme. (Kessler)
1 teaspoon dried or 1 tablespoon fresh rosemary or thyme, de-stemmed
1 cup boiling water
raw honey to taste
Pour boiling water over the rosemary/thyme and allow to steep for ten minutes, then strain and sweeten with honey before sipping on it.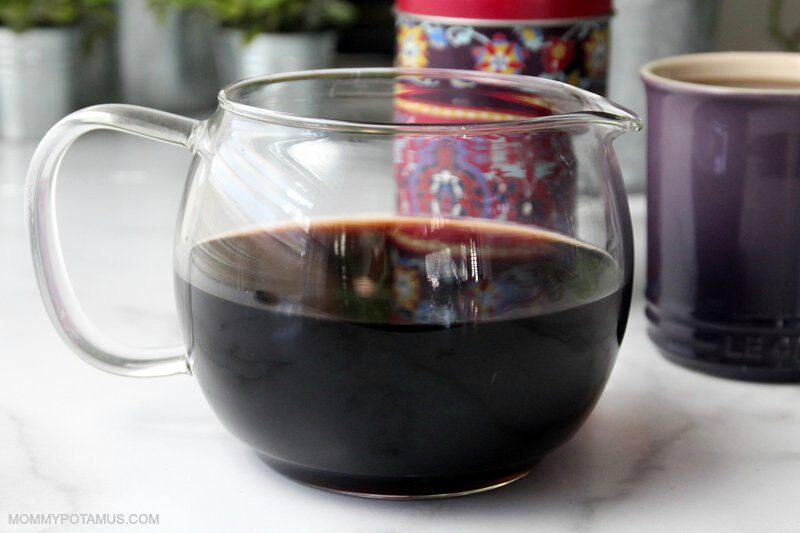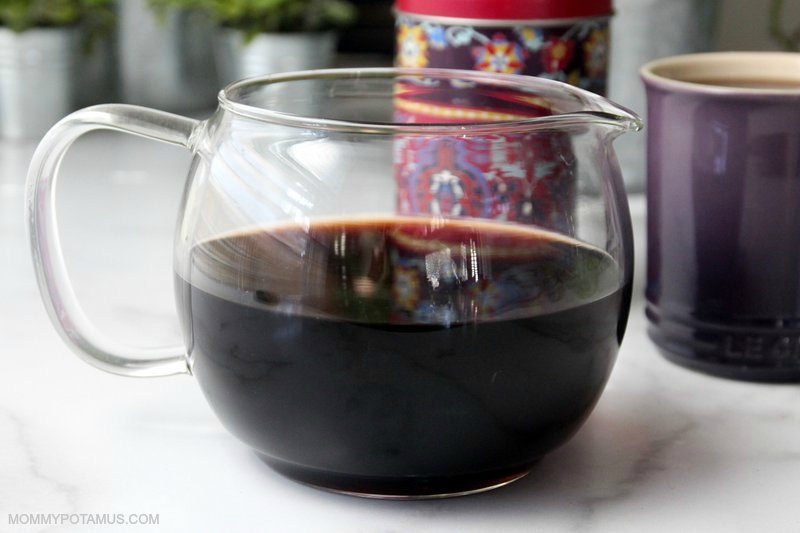 Elderberry Tea
If you don't already have this herb in your pantry, you may want to consider stocking up. In this study, researchers found that flu patients who received elderberry syrup recovered about four days sooner than those who received a placebo.
In another study that had similar results, it was concluded that there were two reasons for the more rapid recovery. First, patients taking elderberry had higher anti-haemagglutination titers, meaning their immune system was functioning optimally. Second, they found that elderberry supports the body's natural ability to inhibit neuraminidase, an enzyme that the virus uses to infect cells. (Kelly)
What you'll need:
1 ¼ cups water
2-3 teaspoons dried elderberry
Optional additions: 1 cinnamon stick or a few slices of fresh ginger
Here's my full elderberry tea recipe
Golden Milk (Turmeric Tea)
The main ingredient in golden milk – turmeric – is rich in a compound called curcumin, which was found in one study to support flu recovery. (Da-Yuan Chen et. al.) I love this golden moon milk recipe.
Herbal Syrups And Honey
Kids love herbal honeys and syrups, making them one of the easiest remedies to get them to take. Here are a few of our favorites: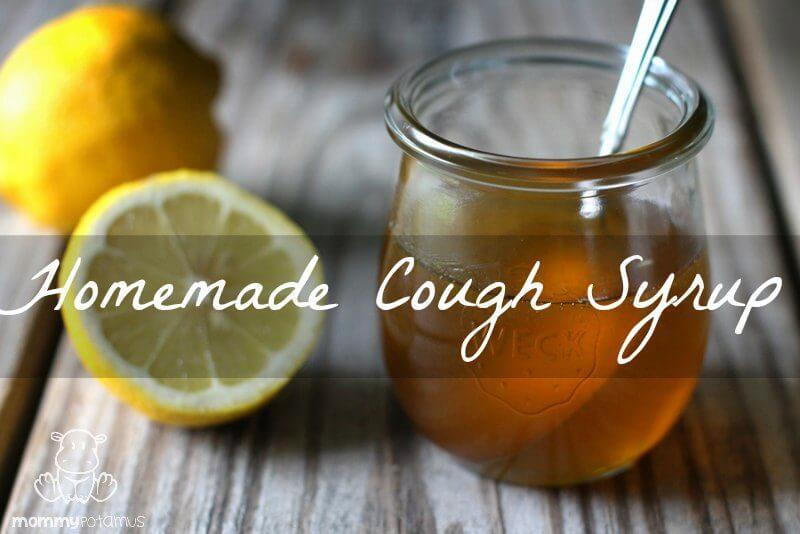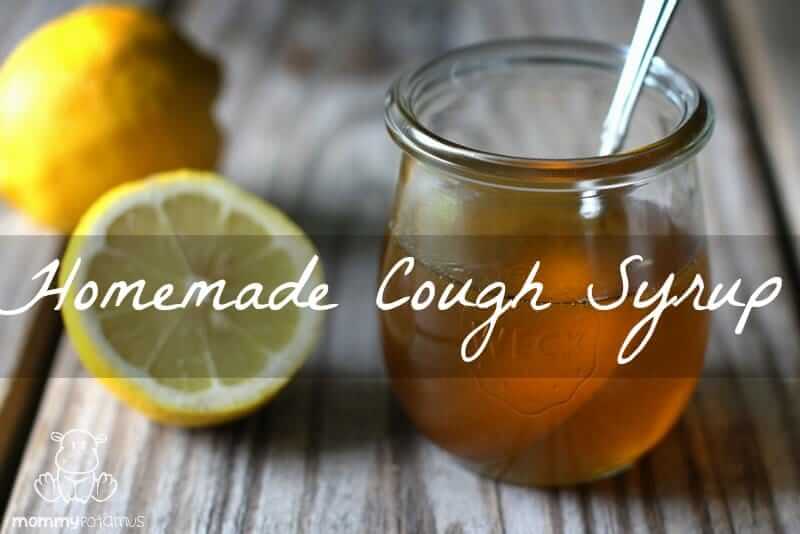 Homemade Cough Syrup
According to a study published in the medical journal Archives of Pediatrics & Adolescent Medicine, honey works better dextromethorphan, the active ingredient in store-bought cough syrup. The study also said children who took this "medicine" got more sleep than those who took OTC meds, and so did their parents. (Paul et. al.)
What you'll need:
Here's my full homemade cough syrup recipe, and this echinacea, elderberry, and acerola cherry-infused option from Genexa is what I recommend if you prefer a store-bought option. It's available on Amazon and in many local grocery stores, health food stores, and pharmacies, so if you're reading this list and you need something right away, you can check availability here. (I'm a partner with them, just FYI.)
Cinnamon And Raw Honey
Cinnamon has long been used in traditional medicine to support cold and flu recovery. According to Fundamentals of Microbiology, there is evidence to support its traditional use as an antimicrobial herb. Also, as mentioned above, honey has been shown to ease coughing, which can be very helpful if a cough is keeping you from getting much-needed sleep.
1 teaspoon raw honey
1/4 teaspoon cinnamon
Serve on a spoon or stirred into warm water.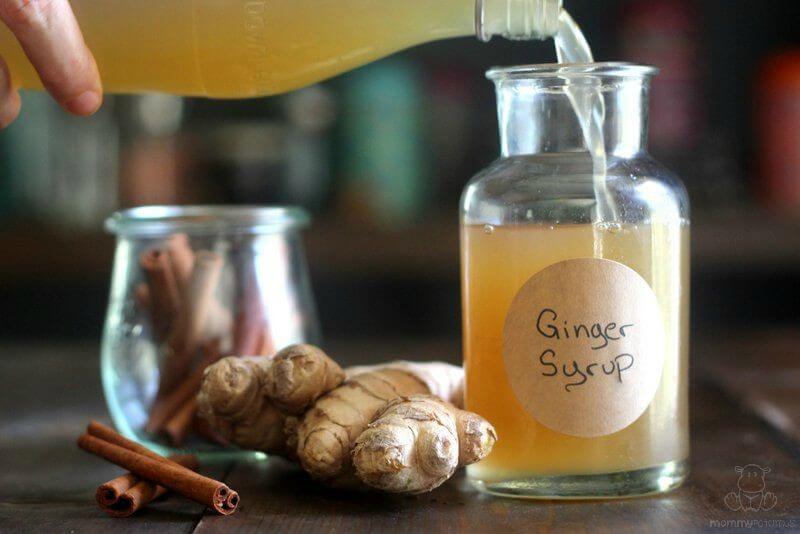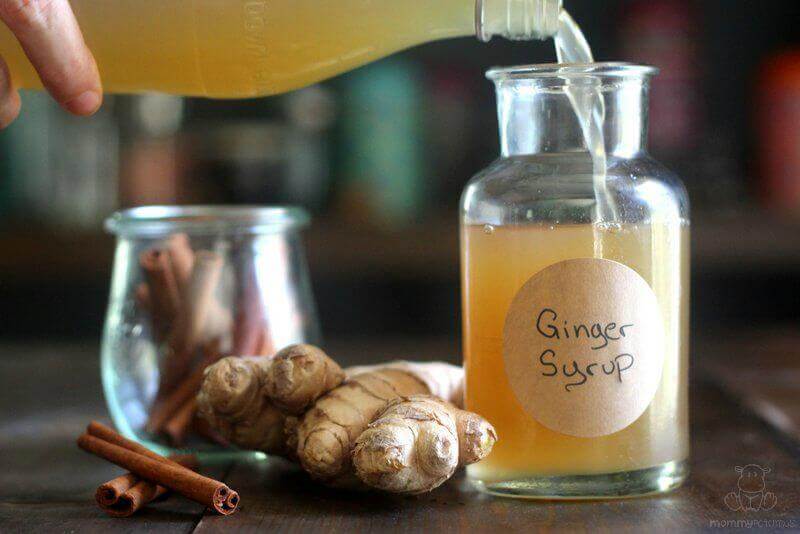 Ginger Syrup
As mentioned above, ginger has a history of use for "flu-like symptoms, headaches, and painful menstrual periods." (UMMC)
I like to keep this ginger syrup on hand during the cold winter months along with other syrups, tinctures and teas that support the immune system. Suggestions for delicious ways to use it are in the post!
Elderberry Syrup
Elderberries are revered for their ability to support the immune system during cold and flu season, but they have other benefits, too! They contain flavonoids and anthocyanins, which:
* Help the body absorb vitamin C, which assists with collagen synthesis, immune response, etc.
* Support a balanced inflammatory response
* Encourage healthy respiratory function
Also, according to a study in Norway, patients given elderberry syrup felt better four days sooner than those who received a placebo.
Here's my elderberry syrup recipe.
Other Kitchen Remedies
The ingredients below make excellent additions to the recipes above.
Raw Garlic
According to Fundamentals of Microbiology:
Many research studies have identified a sulfur compound called allicin as one key to garlic's antiseptic properties. When a raw garlic clove is crushed or chewed, allicin gives garlic its characteristic taste and smell. Laboratory studies using garlic suggest that this compound is responsible for combating the microbes causing the common cold, flu, sore throat, sinusitis, and bronchitis. The findings indicate that the compound blocks key enzymes that bacteria and viruses need to invade and damage host cells." (emphasis mine)
To Use: Dice it and let it sit for 15 minutes as the therapeutic compound – allicin – activates. Swallow it on it's own or mixed with raw honey or cough syrup.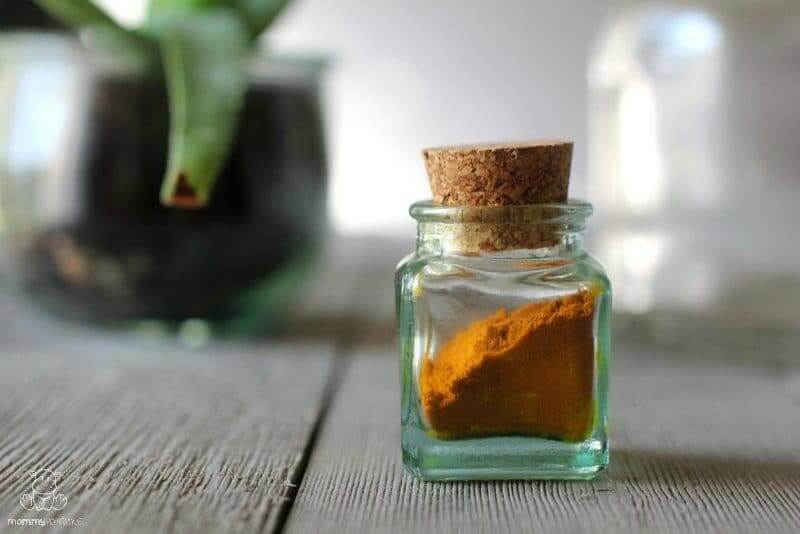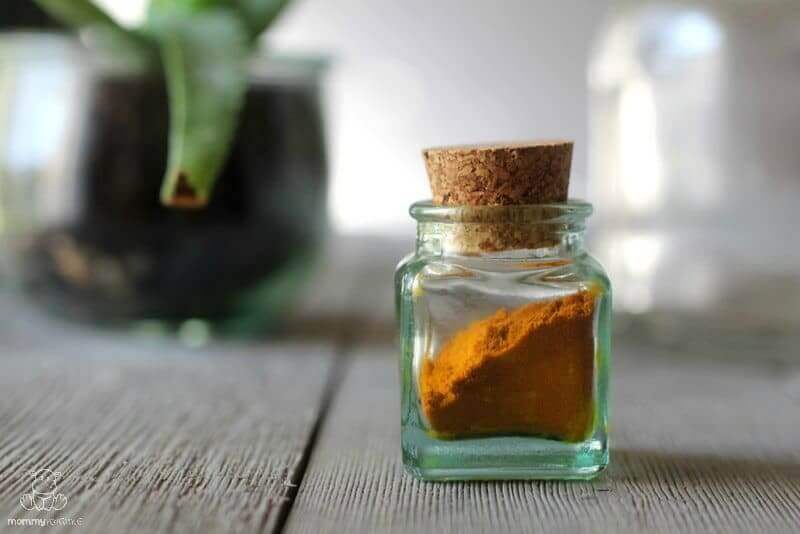 Cayenne Pepper
This spice is rich in a compound called capsaicin which helps with flu/cold aches and pains by depleting the neurotransmitter "substance P," which relays pain signals to the brain. (Tirado-Lee) It also dial up the body's production of two anti-inflammatory agents – collagenase and prostaglandin – and has been found to reduce coughing, (Matucci-Cerinic et. al., Ternesten-Hasseus et. al.)
Add a dash to hot tea to ease discomfort, or mix it with honey (to help with coughing) and Vitamin C rich lemon juice to taste.
Other Remedies That May Help
This article was medically reviewed by Dr. Scott Soerries, MD, Family Physician and Medical Director of SteadyMD. As always, this is not personal medical advice and we recommend that you talk with your doctor.
Do you have a favorite tried-and-true cold and flu remedy? Please share it below!
Want more research-backed natural remedies?
No problem, I've created a free ebook for you – Kitchen Apothecary: 25+ Natural Remedies Using Ingredients From Your Pantry – as a gift for signing up for my newsletter. You'll also get updates when I post about safe essential oils for pregnant/breastfeeding mamas, exclusive gifts and coupons (I was able to give away a jar of free coconut oil to anyone who wanted it recently!), plus other goodies.
Sign up using the form below.