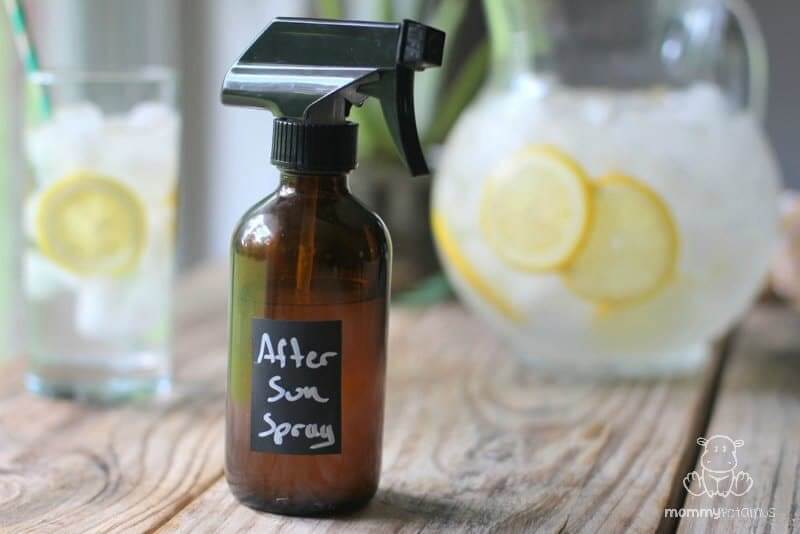 Have I told you about the summer I walked around with a smile burned onto my huge pregnant belly? Yep, during a particularly challenging cooking session – which I call "mindfully maneuvering in a small kitchen while small animals confuse my midsection for a planet" – I bumped into a hot cast iron pan with my belly. My "go to" honey burn salve worked beautifully, but as you can imagine it's not a favorite for whole body application.
Though honey is one of the suggestions I mentioned in this post on 14 natural sunburn remedies – which includes recommendations from Seattle Children's Hospital, dermatologists, and well-respected herbalists – this recipe is much more practical if you need to, um, wear clothes. Or sit on furniture. Or leave your house. (Definitely that last one.)
It's very soothing after a day of too much sun, and can be used alongside the other remedies I've already mentioned.
About The Ingredients
Witch Hazel Or Apple Cider Vinegar
Witch hazel – which is an extract made from the bark of the witch hazel tree – is high in tannins that soothe sunburned skin. (source 1, source 2) I prefer this brand because they double distill their extract – the final extract contains 86% organic witch hazel. They also use less alcohol than other brands, which is important to me because it's more gentle.
Though there is not a consensus on why apple cider vinegar is helpful, this study did conclude that it vinegar supports healing after a burn. Some say it is because the apple cider vinegar helps to damaged skin's pH, while other's say it's due to the high percentage of "pectin, succared, vitamins (B1, B2, B6) (A, E, C), salt, mineral[s such as] as (sodium, calcium, magnesium, aluminum, phosphor, cobber, [and] silicon)." (source)
Essential Oils
According to Medical Aromatherapy, lavender (Lavandula angustifolia) and German Chamomile* (Matricaria chamomilla) are both helpful for soothing sunburned skin. Another excellent option is helichrysum (Helichrysum italicum). Peppermint and rosemary ct. cineole are also sometimes used because they create a cooling sensation on the skin, but they should not be used with small children – more info in this guide to using essential oils safely with kids. Peppermint is also not usually recommended for nursing mamas as it may negatively impact supply.
If you don't have any of those available, these are considered good second tier options: Carrot seed (not for use during pregnancy or breastfeeding), frankincense, manuka, and neroli. (source 1, source 2)
*Note: German chamomile should not be taken with certain drugs. See a list of them here.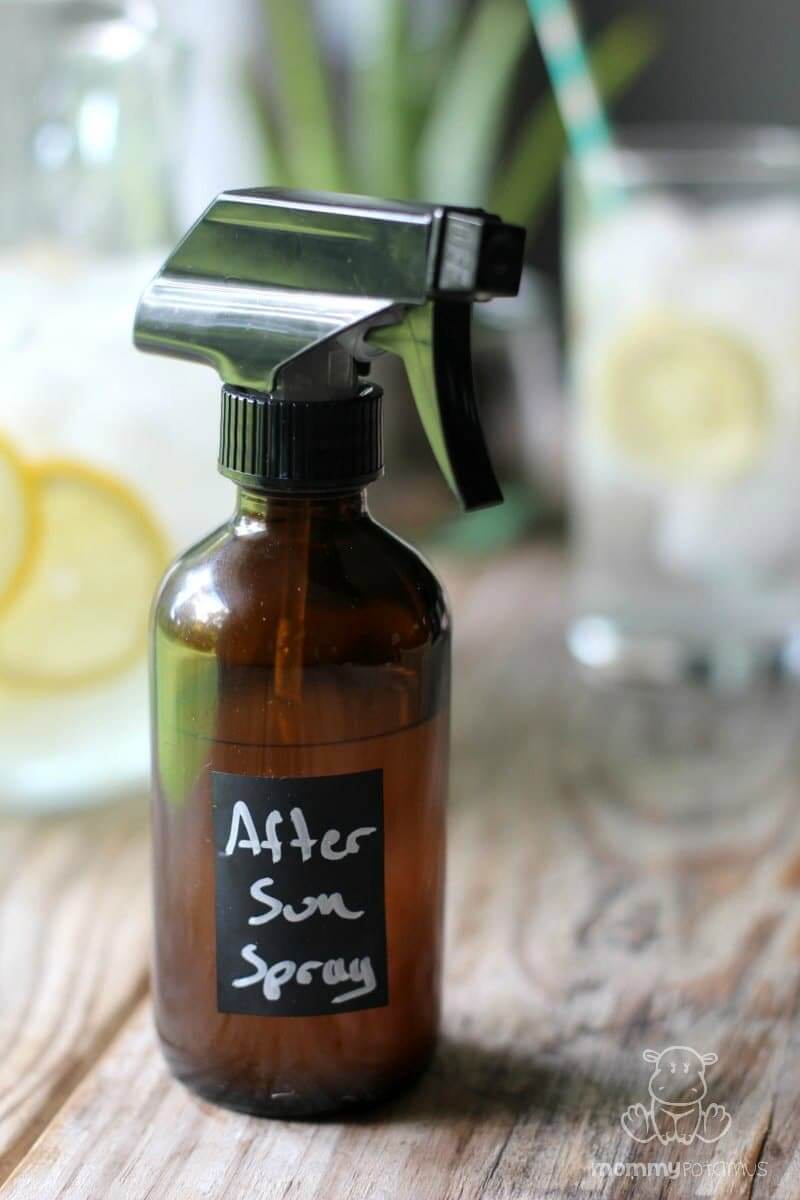 Homemade After Sun Spray
Ingredients
To Make
Combine ingredients together and add them to a dark glass spray bottle, like this kind or this kind. Dark glass is preferred because essential oils can oxidize when exposed to sunlight. When oxidized they may irritate skin rather than soothe it. If a dark glass spray bottle is not available, I recommend storing this spray in a dark cabinet.
To Use
Shake well before using to make sure the essential oils are well distributed, then spray on skin as needed.
A note on moisturizers: While usually considered beneficial, moisturizers like coconut oil, shea butter and calendula infused oil may trap heat and delay healing for sunburned skin. It is generally recommended that they be avoided until the skin is cool and healing is underway, however at that point they are considered helpful for restoring lost moisture.