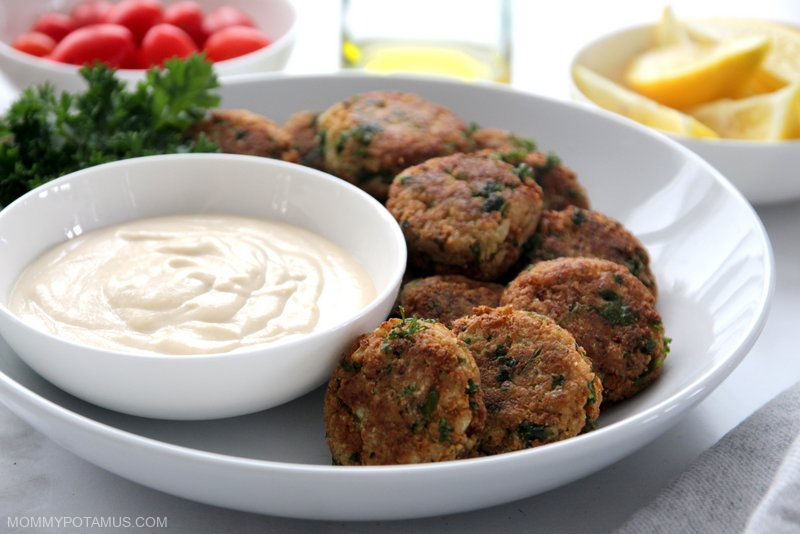 I don't know about you, but when I'm craving falafel goodness I don't want to wait 24 hours to soak dried chickpeas. Unfortunately, that's the process required for making falafel the traditional way, and canned chickpeas tend to be too mushy to use as a time-saving substitute.
That's why I'm so grateful that Caitlin Weeks, co-author of Mediterranean Paleo Cooking, shared her super easy recipe for falafel when she visited my family's farm in Nashville years ago. They're crispy on the outside and fluffy on the inside – kind of like hush puppies, but better – only they're made with a cauliflower base instead of chickpeas.
Now, I'm not a "hide veggies in random recipes" kind of mom – we eat veggies at every meal including breakfast. That said, if something legitimately works and tastes amazing, I'm all for getting more servings on my family's plate. (Hello cauliflower pizza and spaghetti squash alfredo.)
Over the years I've tinkered a bit with Caitlin's recipe to suit my family's preferences – adding in more fresh herbs and spices along with a bit of arrowroot to help all the extras hold together. We love it with this lemony tahini sauce and a side of tabbouleh, or a part of a larger mezze (appetizer) platter with hummus, gluten-free flatbread, tzatziki, olives and veggies. I hope your family loves it, too.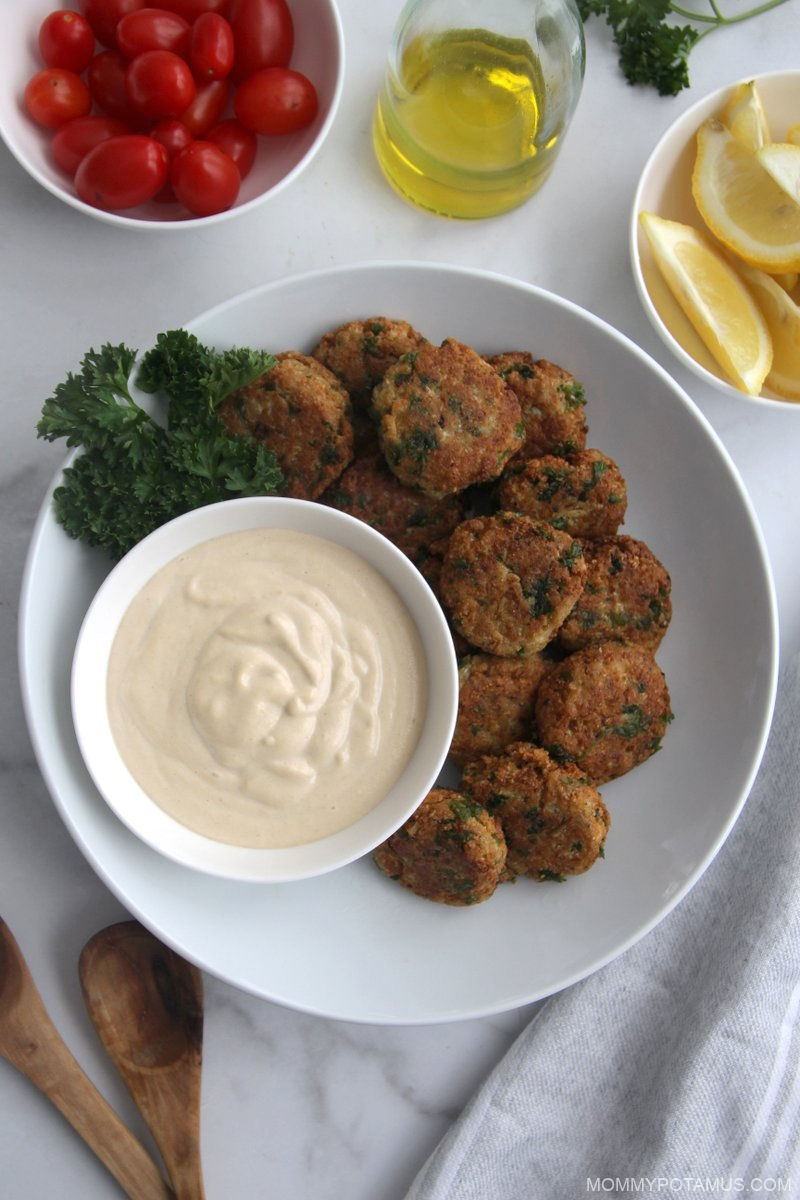 Easy Paleo Falafel Recipe
These homemade falafels are crispy on the outside and fluffy on the inside – kind of like hush puppies, but better. Makes 16 patties.
Instructions
Cut the cauliflower into florets.

Chop the cauliflower in the food processor until it resembles the texture of rice. Measure out 4 cups and place in a large bowl.

Add the almond flour, arrowroot, parsley, cumin, coriander, onion powder, garlic powder, salt, black pepper and baking powder to the bowl and stir to combine.

Once the cauliflower is ready, add it to the bowl and stir to combine.

Add the whisked egg and stir again until well combined.

Scoop out 2 tablespoons of the falafel mixture, form a pattie, and place it on a plate. Repeat the process until you've used all the mixture.

In a small skillet (mine is 8 inches), heat oil over medium/high heat. I set mine just a smidge past the exact medium mark.

Carefully drop a few of the patties into the oil, taking care not to crowd the pan. I'm usually able to fry 3-4 at a time.

Cook the patties, flipping as needed, until they're deep golden brown on each side.

Remove the cookedfalafel patties and place them on a plate lined with a paper towel. Continue working in batches until all the falafel is cooked.
Notes
Nutrition values are estimates.
Nutrition
Serving:
2
falafel
|
Calories:
311
kcal
|
Carbohydrates:
9
g
|
Protein:
4
g
|
Fat:
32
g
|
Saturated Fat:
23
g
|
Polyunsaturated Fat:
1
g
|
Monounsaturated Fat:
2
g
|
Trans Fat:
0.003
g
|
Cholesterol:
20
mg
|
Sodium:
327
mg
|
Potassium:
350
mg
|
Fiber:
3
g
|
Sugar:
2
g
|
Vitamin A:
672
IU
|
Vitamin C:
45
mg
|
Calcium:
81
mg
|
Iron:
2
mg