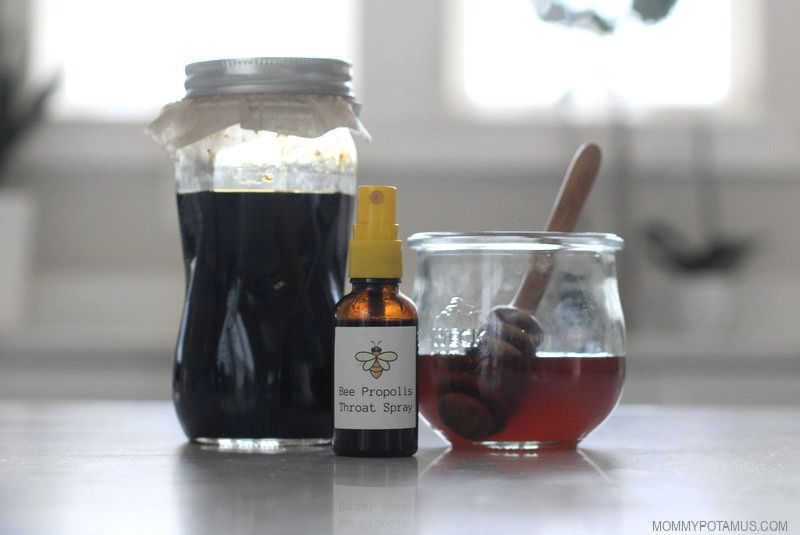 Over the years I've compiled a first aid kit + natural remedy checklist that makes it easy to respond quickly to common injuries and illnesses. Along with staples like elderberries and fire cider, one of my must-haves is bee propolis.
Made by honey bees all around the world, it has a long history of use for immune support, easing sore throats, oral health, wound healing and more. Made when bees mix plant resins with enzymes and beeswax, over 600 beneficial compounds have been identified so far.
Each batch varies in composition depending on what plants the bees used to make it, but thanks to some very resourceful bee alchemy all the different types (green, brown, black, yellow, etc.) seem to have similar therapeutic benefits.
In this study, a throat spray containing propolis significantly eased discomfort in participants with sore throats. It's thought to help by:
Soothing irritation via a wide range of antioxidant compounds (flavonoids, coumarins, and more)
Helping to balance the oral/throat microbiome (1)
About The Ingredients
If you already have DIY propolis tincture on hand, this throat spray is very easy to make – just mix it with honey!
Raw local honey is rich in enzymes and beneficial microbes that are thought to positively influence the throat microbiome, and organic manuka honey is another great option because it contains high concentrations of antioxidants that calm irritation. (2) Whatever kind you have on hand will work, though.
One quick note: Depending on the consistency of the honey, you may need to thin the mixture with a little water to make it easier to spray. This is usually only necessary when the honey is very thick.
What To Buy If You Don't Want To DIY
If you don't have propolis extract (or prefer an alcohol-free extract instead of a tincture), there are some excellent pre-made options worth considering, too. They're also a great choice for smaller kids who aren't used to the strong flavors that often come with tincture-based sprays.
Beekeeper's Naturals – This version is made with just propolis extract, non-GMO vegetable glycerin and purified water.
Beekeeper's Naturals for Kids – This version has all the ingredients listed above plus buckwheat honey. Despite having "wheat" in the name, buckwheat honey does not contain any gluten. It's an antioxidant-rich honey that has been used in research to soothe throat issues. You can read more about buckwheat honey in this article.
Beekeeper's Naturals Nasal Spray – This formula blends propolis with xylitol, which helps increase the flow of mucus and cleanse nasal passages.
Before we get to the recipe, I want to mention that none of these statements have been evaluated by the FDA, this article is not medical advice, and it's not meant to diagnose or treat any condition. If you have a question about whether any dietary supplement is right for you, please talk with a qualified healthcare professional. Okay, here it is!
DIY Bee Propolis Throat Spray
Rich in bioactive compounds, this 2-3 ingredient throat spray is perfect for soothing sore, scratchy throats.
The recipe makes 1.5 fluid ounces and can be doubled or tripled as needed.
Ingredients
4½

tsp

propolis tincture

4½

tsp

raw honey or manuka honey

purified water as needed

(To make the mixture thin enough to spray. I would start with 1/2 tsp if needed and only increase if it is still not sprayable.)
Instructions
To Make
Add propolis tincture and honey to a measuring cup with a pouring spout.

Whisk together until well combined, then pour the mixture into a clean, small glass spray bottle.
To Use
When my kids or I have a sore throat, we use 2-3 sprays in the back of the mouth a few times per day.
Notes
People allergic to bees or bee products may experience allergic reactions and should avoid this spray. Though the exact recipe is different, Beekeeper's Naturals suggests starting with one spray and watching closely for reactions before using the full amount of their kids propolis spray.
Honey is not recommended for babies under one-year-old.
Shelf life: Since this is a 50/50 blend of honey and tincture, it's called an elixir. In general elixirs can remain shelf stable for 1-2 years. Personally I try to use mine within six months. 
If water is used to thin the mixture it will decrease the shelf life. The reduction will vary based on the alcohol concentration that was started with. If only a small amount of water is used, a conservative approach would be to use within 2 weeks. 
More Sore Throat Home Remedies
Homemade Cough Drops With Honey & Lemon – The therapeutic herb in this cough drop recipe is slippery elm powder, which – when taken as a lozenge – transforms into a mucilaginous (gel-like) consistency that coats and soothes irritated throat mucosa.
Sore Throat Tea – This recipe incorporates herbs like marshmallow root, which help coat and soothe a sore throat.
Want more research-backed natural remedies?
No problem, I've created a free ebook for you – Kitchen Apothecary: 25+ Natural Remedies Using Ingredients From Your Pantry – as a gift for signing up for my newsletter. You'll also get updates when I post about safe essential oils for pregnant/breastfeeding mamas, exclusive gifts and coupons (I was able to give away a jar of free coconut oil to anyone who wanted it recently!), plus other goodies.
Governa, Paolo (2019) Beyond the Biological Effect of a Chemically Characterized Poplar Propolis: Antibacterial and Antiviral Activity and Comparison with Flurbiprofen in Cytokines Release by LPS-Stimulated Human Mononuclear Cells
Samarghandian, Saeed et. al. (2017) Honey and Health: A Review of Recent Clinical Research