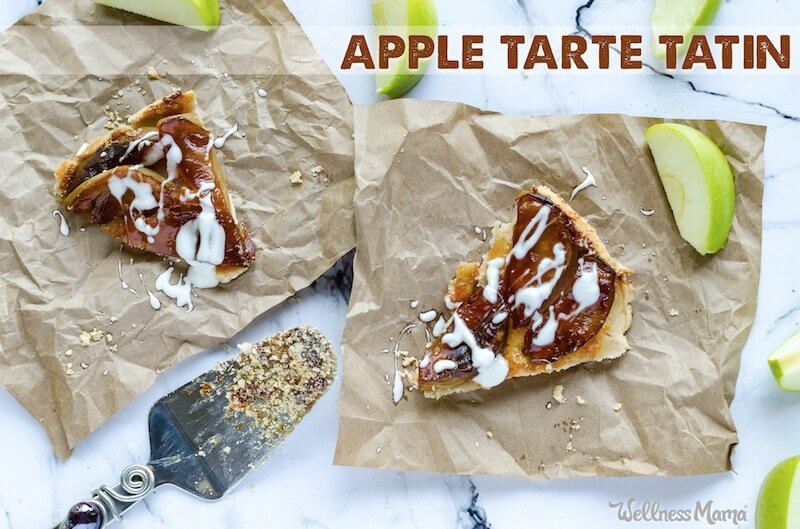 My family loves to make hot apple cider when apples are in season and abundant, but another great way to use up in season apples is baking with them. Apple pie is always a possibility, but if you're looking for something caramelized and gooey (rather than spiced) this apple tarte Tatin is an excellent choice. When done right, it also looks amazing on the table.
What is Apple Tarte Tatin?
A tarte Tatin is an upside-down tart usually made with apples that have been caramelized in butter and sugar. The tart is baked with the crust on top and then flipped over for serving. The apples are usually arranged neatly in the pan so they look beautiful after being flipped.
History of Apple Tarte Tatin
The tarte Tatin was created by accident, according to common belief. The tart was named after the hotel where it became famous. Two Sisters named Caroline and Stephanie Tatin ran the hotel Tatin In France in the 1880s. It's unclear exactly how the tart was created but the most compelling story is that one of the sisters, Stephanie, was caramelizing apples in butter and sugar for an apple pie. she forgot about the apples until she started to smell them burning. In order to try to save the apples, she threw a pastry on top of the pan and placed it in the oven to finish baking. After baking, she flipped the tart upside down and served it to the guests at the hotel. She was surprised to find that they loved it and it became the signature dish of Hotel Tatin.
How to Choose Apples for Tarte Tatin
Historically, an apple tarte Tatin would have called for the variety of apples that were available in France at that time, probably Queen of the Pippins and Calville. But you can use apples that are available in your area. Be careful to choose apples that hold their shape when cooked. Most farmers' markets and grocery stores list whether a variety of apple is good for cooking or not. If you're unsure some good cooking apples include:
Braeburn
Cortland
Empire
Fuji
Gala
Golden Delicious
Granny Smith
Macoun
Also, consider using a variety of sweet apples and tart apples for the best flavor. Many people prefer sticking with tart apples since they will be sweetened during cooking.
Apple Tarte Tatin Recipe (Grain Free)
A sweet apple dessert that apple pie lovers will enjoy.
Instructions
Preheat the oven to 400°F.

Peel, core, and thinly slice the apples.

Place them in a medium-size bowl, pour the apple cider over the top, and set aside.

To make the crust mix together the cassava flour, ¼ teaspoon of salt, and 2 tablespoons of sugar in a medium-size bowl.

Cut in the butter until the mixture resembles coarse crumbs.

In a small bowl beat the egg and ¼ cup of milk together.

Make a well in the center of the flour mixture and pour in the egg mixture.

Stir until just combined.

Place the dough for the crust in the refrigerator until it is time to roll it out.

To make the apple filling place a 9-10 inch cast iron skillet or frying pan on the stove on medium heat.

When the pan is hot, add the ½ cup of sugar, water, and the cider from the apples and bring to a boil.

Add the sliced apples to the pan.

Cook about 15 minutes, gently stirring occasionally until the sauce is reduced and starting to turn a golden brown.

While the apples are cooking, generously sprinkle cassava flour on the countertop and roll the refrigerated dough into a circle large enough to fit inside the skillet and cover the apples.

Once the apples are done cooking, it is time to top them with the crust. If you are using an oven-proof pan you can do this directly in the pan. If not, you will need to transfer the apples to a baking dish, such as a pie pan.

Place the rolled out dough carefully over the top of the apples, using a spoon to tuck the edges down around the apples slightly.

Place in the preheated oven and bake for 20-25 minutes until the crust is golden brown.

Let sit for 10 minutes and then carefully run a knife around the edges, place a plate over the top, and flip the tarte onto the plate.

Cut into wedges and serve with some creme fraiche if you wish.
Notes
Feeling adventurous? Try the same recipe with a different fruit
Nutrition
Serving:
1
slice
|
Calories:
322
kcal
|
Carbohydrates:
43.9
g
|
Protein:
1.7
g
|
Fat:
17.1
g
|
Saturated Fat:
10.3
g
|
Polyunsaturated Fat:
0
g
|
Monounsaturated Fat:
0
g
|
Trans Fat:
0
g
|
Cholesterol:
63
mg
|
Sodium:
251
mg
|
Potassium:
0
mg
|
Fiber:
4.9
g
|
Sugar:
29.1
g
|
Vitamin A:
0
IU
|
Vitamin C:
0
mg
|
Calcium:
0
mg
|
Iron:
0
mg
Fruit Dessert Recipes to Try
If you like fruit dessert recipes here are some other ideas I think you'll love.
Strawberry shortcake biscuits – This recipe is so simple and delicious! If strawberries aren't in season, try bananas, kiwi, peaches, blackberries, raspberries, or whatever sounds good to you.
Raspberry custard tart – Creamy, sweet, and smooth and topped with raspberries.
Banana cream pie cups – These creamy, dreamy banana cream pie cups are so easy to make! My kids love them and they look beautiful when layered into glass jars for special events.
Want more delicious, easy recipes?
No problem, I've created a free ebook for you – 35+ Gluten-Free Desserts – as a gift for signing up for my newsletter. Every Sunday you'll get recipes, actionable health tips, and highly-vetted product recommendations delivered fresh to your inbox.
Have you ever made a tart before? What is your favorite flavor or tart?