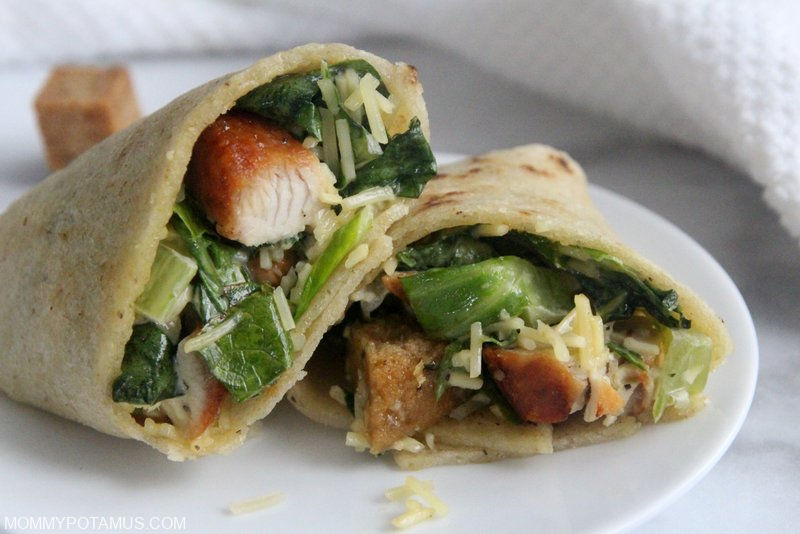 "Cook once, eat twice" is one of my favorite strategies for saving time in the kitchen. When I make a batch of a favorite recipe I'll usually double it, then use the leftovers to make extra meals throughout the week. That's the beauty of these chicken caesar wraps – they're mostly made from leftovers, which means that in addition to being delicious, they're also super quick to pull together.
And I do mean delicious. You've got tender chicken, crisp lettuce and crunchy croutons all wrapped up in a soft, chewy tortilla with just the right amount of tangy caesar dressing . Oh, and of course there's the sharp parmesan cheese for an extra pop of flavor . . . or creamy avocado slices instead if you're avoiding dairy.
Chewy, crunchy and full of flavor . . . are you ready to get started?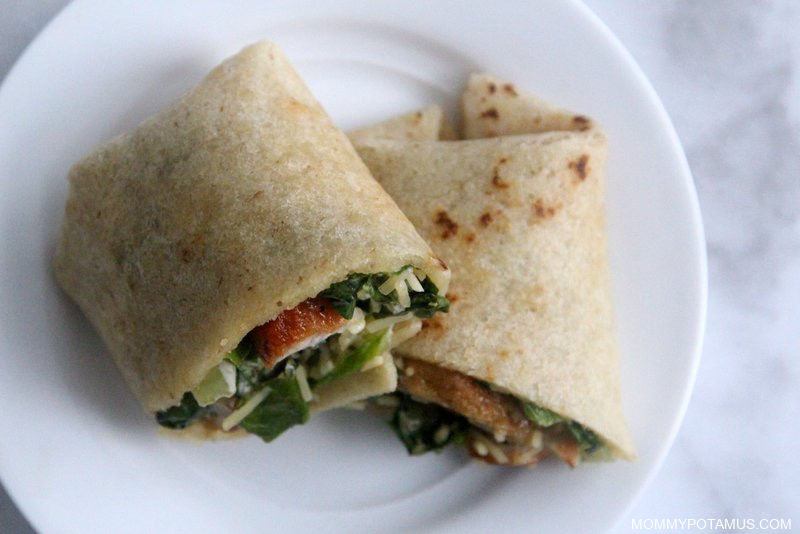 Here's what you'll need:
Caesar Salad Dressing – I've been making this creamy traditional version for years and it's still a favorite, but I recently came up with a dairy-free version that we like just as much as the original. There are also a few store-bought options with clean ingredients available at some health food stores.
Tortillas – Soft and pliable, my gluten-free tortillas are simple to make and easy to store for quick meals throughout the week. They're similar in flavor and texture to the wheat flour tortillas I grew up eating in Tex-Mex country, which is to say that they work well in everything from burritos and chicken caesar salad wraps to after-dinner treats like hot buttered cinnamon sugar tortillas. You can also use store-bought tortillas – look for ones that are at least 6-8 inches wide.
Cooked Chicken – You can use just about any leftover chicken you have on hand: Grilled chicken that has been diced, chicken breast that has been shredded, baked chicken, Instant Pot whole chicken, rotisserie chicken, etc.
Lettuce – Romaine is the best option because it's crisp and doesn't become soggy when tossed with the dressing, but I've used green leaf and other options too and they have all worked fine as long as I serve the salad wraps right away.
Parmesan Cheese or Avocado – Though parmesan adds a pop of flavor, if you're dairy-free you can substitute avocado with an extra dollop of caesar dressing. The avocado adds more healthy fat and the dressing dials up the flavor.
Croutons (optional) – I use my homemade gluten-free crouton recipe, but you can use whatever you have on hand or skip them altogether.
Other Optional Additions – Pieces of crumbled bacon or a handful of sliced cherry tomatoes.
Make-Ahead Tip
If you're planning to take your wraps on-the-go, wrap them in parchment paper using this technique for sub sandwiches and wraps. It makes them portable and mess-free.
Chicken Caesar Wrap Recipe
This chicken caesar wrap has it all: tender chicken, crisp lettuce and crunchy croutons all wrapped up in a soft, chewy tortilla with just the right amount of tangy caesar dressing.
Instructions
Place the chopped lettuce, 1/4 cup parmesan cheese (if using), and croutons (if using) in a medium to large bowl. If you're using avocados instead of parmesan, save them for later.

Add 1/2 cup caesar salad dressing to the lettuce and toss to combine.

Divide the lettuce mixture equally between your tortillas, leaving about an inch of room around the edges. If you hold your wrap like a taco (with both sides open) you can probably fit everything on 4 small (6 inch) tortillas or three large (8 inch) tortillas. If you hold your wrap like a burrito (with the ends folded) you'll probably need 5 small tortillas or 4 large ones.

Top the lettuce with the diced or shredded chicken chicken, remaining parmesan cheese, and avocado slices (if using). 

Drizzle the remaining caesar dressing over the wraps and then roll them up. Enjoy!
Notes
*Nutritional data is estimated.
Nutrition
Serving:
1
wrap
|
Calories:
492
kcal
|
Carbohydrates:
22
g
|
Protein:
22
g
|
Fat:
36
g
|
Saturated Fat:
7
g
|
Cholesterol:
71
mg
|
Sodium:
973
mg
|
Potassium:
262
mg
|
Fiber:
6
g
|
Sugar:
3
g
|
Vitamin A:
3728
IU
|
Vitamin C:
2
mg
|
Calcium:
182
mg
|
Iron:
2
mg
More Easy Gluten-Free Recipes
Easy Chicken Salad Recipe With Apples – If you have leftover baked or rotisserie chicken on hand, this light and delicious chicken salad is wonderful over a bed of greens.
Sheet Pan Chicken & Veggie Dinner from Lexi's Clean Kitchen – This meal is so simple and delish. Just toss everything in a bowl, transfer it to a baking sheet and pop it in the oven, and eat. Cleanup is easy, too, which is a plus.
20 Minute Homemade Chicken Nuggets – I'm always looking for ways to save time in the kitchen, so awhile ago I skipped a couple of steps while making our favorite chicken nugget recipe. No one even noticed. They inhaled them and asked for more. When I need a quick meal, I often serve these chicken nuggets with my super quick homemade ranch dressing. The ranch serves as a dipping sauce for the nuggets and a dressing for a big salad that I toss together quickly.