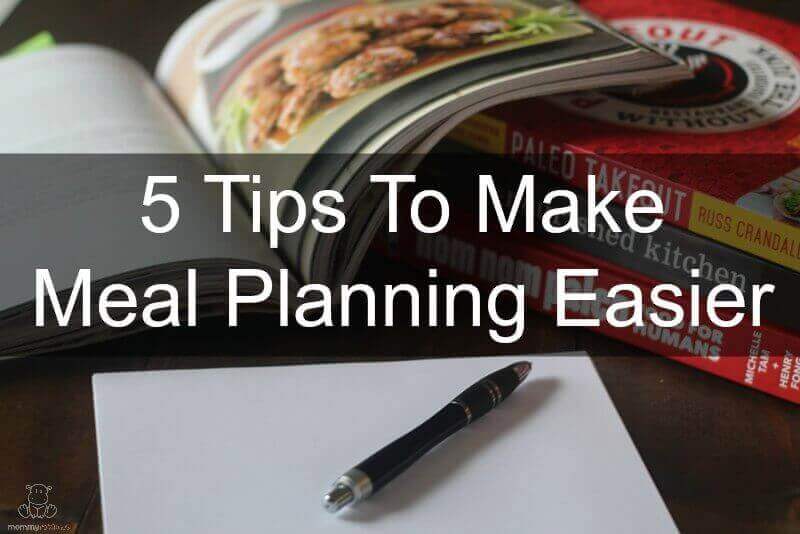 Do you ever replay your day in your mind and wonder where all the time went? Yeah, me too. I have used lists, charts, and even productivity apps – all in an effort to comb through each aspect of my day and find a way to get some of it back. (One app, Real Plans, now pretty much manages meal planning for me. More on that later in this post.)
Despite what I once believed, meal planning doesn't suck the spontaneity out of life – it streamlines food prep so that you can relax and do other things when you're inspired to. If you've tried it before and didn't love it, here are a couple of meal planning tips that may help:
1. Don't feel like you have to plan every meal.
I typically only plan dinners because I have a solid set of breakfast recipes that can be easily made on the fly. Lunch is usually covered, too. We'll talk more about that later in this post.
If you want to plan everything, go for it. However, if dinners are where you really feel the crunch, start by just planning those and focus on quick, healthy meals. You can always add lunch or dinner later if you want to.
2. Try theme nights
Italian night, Taco Tuesday, Soup & Sandwich Night, Breakfast For Dinner, Slow Cooker Sunday . . . you get the idea. A nightly theme provides opportunities for structured creativity – it takes the pressure off making a plan from scratch, but you're not locked in to a particular recipe for each theme. There's room for flexibility based on how much time you have that week, and what sounds good to you.
3. Use Real Plans
If you want to simplify the process, Real Plans is the ultimate meal planning tool.
Unlike meal plans that provide static printouts with recipes that may not even sound good to you, Real Plans allows you to login, select your style of eating (Paleo, Traditional, etc.), decide if you want make-ahead and/or super quick meals, eliminate recipes that don't appeal to you or contain ingredients you want to avoid, and import any favorites you want to put in your rotation.
You can also decide how many meals you want to plan a week and adjust portions to fit your family size, then all you do is press a button and VOILA. The meal planning is all done in an instant, including a shopping list that you can access from your phone while you're at the store.
I created a Real Plans video tour for you here.
4. Go Big
Big batch, that is. Doubling or tripling a recipe is a huge time-saver because you only have to take the time to pull out the necessary ingredients and equipment once, plus there's only one set of pots, pans, measuring spoons, etc. to wash. It takes just a few extra moments to measure out a second (or third) batch, and when it's all said and done you've got extra for the week. Here are some practical ways to implement this technique:
Instead of roasting one whole chicken for dinner, roast two. Use the second chicken you've prepped in advance to make sandwiches, homemade chicken soup, chicken tortilla soup, coconut lime chicken curry soup, chicken salad, lettuce wraps and more.
One of my favorite recipes to double is paleo bread. I make it in advance, then pre-slice and freeze. When errands run longer than expected and we get home late, I make sandwiches for dinner.
Make a double batch of condiments like this easy ketchup and homemade mayo. They can be served as-is or become a base for other recipes. For example, the ketchup can be used to make sloppy joe stuffed peppers or quickly turned into barbecue sauce for livening up a roast chicken or shredded pot roast. Mayo can be served over burgers or turned into a quick tartar sauce, chipotle mayo, or homemade ranch dressing. Other recipes that usually work well with batch cooking are: Roasts, soups, stews, casseroles . . . even almond flour pancakes!
Tip: Only double or triple batches when you know you love the recipe. I've used this technique before with recipes I mistakenly thought my family would enjoy, and it was really difficult to get rid of the leftovers.
5. Keep It Simple
You don't have to cook fancy or complicated masterpieces – just good food from fresh ingredients." – Julia Child
My husband still teases me about my one of my first real food experiments – a fancy goat cheese pizza. One bite and he quickly reached for a glass of red wine to wash it down. I should probably mention that he hates red wine. . . he just hated that pizza more. (He did eat it, though. I love him for that!)
Over the years I've learned that simple foods can be just as satisfying as complicated, gourmet meals. That's why quick recipes like egg drop soup, lettuce tacos, and "breakfast for dinner" items like scrambled eggs, frittatas, pancakes and waffles are my go-to options when I need a quick Plan B (or C, or D).
6. Embrace the power of "good enough."
While it's great to strive for every meal to be balanced, sometimes it doesn't turn out that way. In my house there are times when the pickle on a sandwich counts as the vegetable for our meal, and that's okay. Keep good things in your fridge and it will all even out over the course of the week.
Did I miss anything? Share your tips in the comments below!