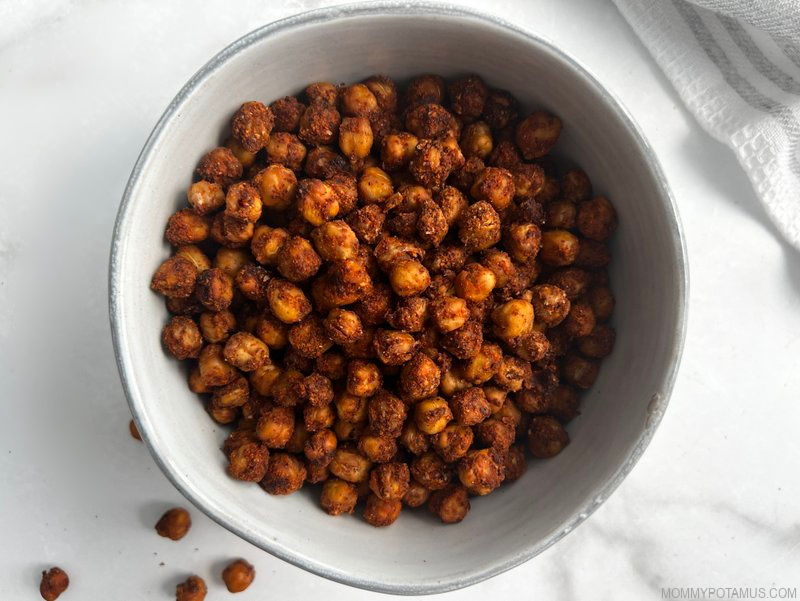 So, you're curled up on your couch with your favorite people, ready to watch a movie. In your lap is a warm dish of something yummy . . . what is that for you? Crisp and salty classics like popcorn or kale chips? Sweet and chewy options like brownies or these ooey gooey chocolate chip cookies?
Personally, while I'm not one to turn away a sweet treat if it's available, salty snacks are my movie night essential. I love popcorn, but corn in general doesn't make me feel great, so over the years I've tried a lot of different healthy snack alternatives.
These crispy roasted chickpeas are one of my absolute favorite discoveries – they're nutritious, satisfying, and totally irresistible. At least that's what I think my kids are saying as they stuff their adorable faces with every batch I pull out of the oven.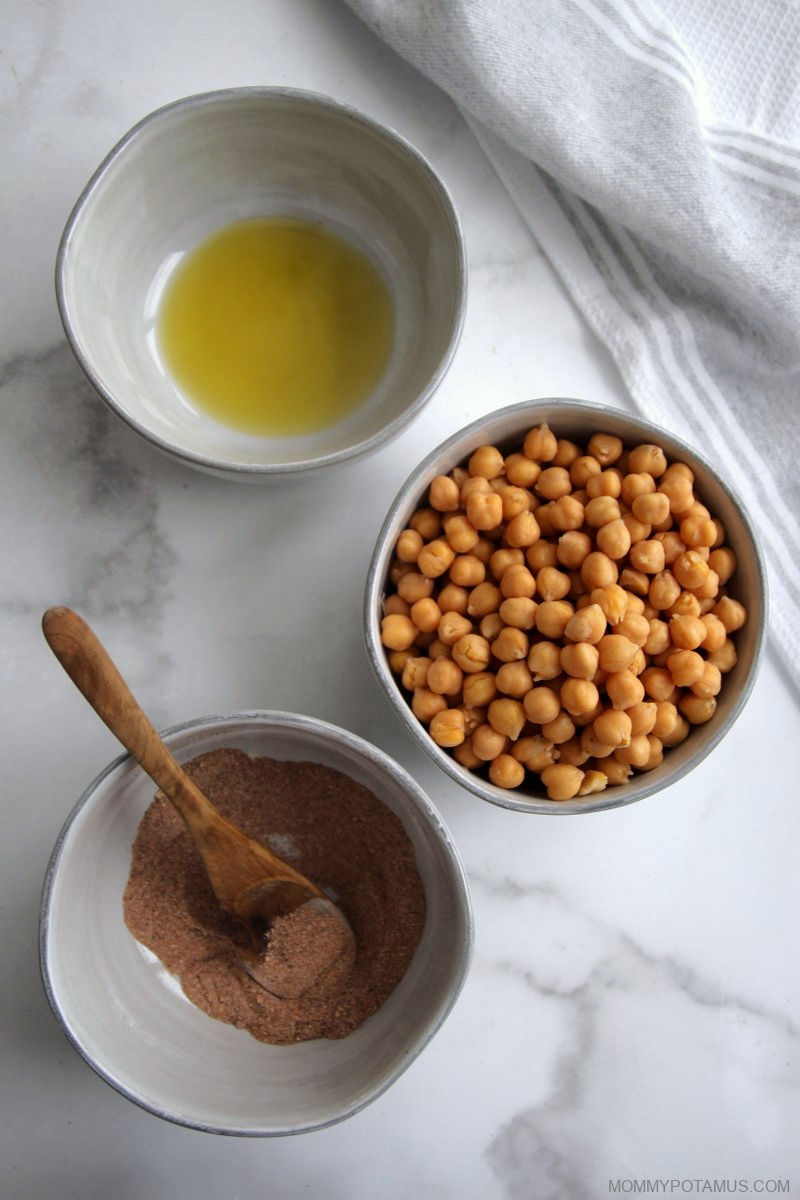 Tips
Flavor – The smokey BBQ spice blend below is inspired by my Texas roots, but if that's not your jam you can easily substitute about 3 tablespoons of your favorite spice blend. Cajun seasoning and taco seasoning, are both good options, and I'm working on a ranch version that I'll share in the future. Just make sure to add salt if it's not already included in the blend.
Digestibility – Years ago I soaked my beans in lemon juice, apple cider vinegar or whey in order to reduce phytic acid and improve digestibility. I rarely soak my garbanzo beans (aka chickpeas) for a couple of reasons. First, according to Dr. Alan Christianson – author of The Thyroid Reset Diet – there are actually benefits to NOT soaking.
Also, I usually make crispy chickpeas at the end of a busy week when my family needs some down time. It's usually a last minute addition to whatever we have planned, so I use canned chickpeas to make the process quick and easy. Maybe I would rethink my soaking/preparation method if we ate them everyday, but for now I just keep a few cans on hand for snack emergencies. 🙂
Storage – These roasted roasted chickpeas are crispiest while warm, so if that's important to you I recommend eating them as soon as you pull them from the oven if possible. After they've cooled they tend to become a little more chewy, which is actually pretty delicious in it's own way. If there are any leftovers, don't store them in the fridge (they'll become soggy). Instead, place them in a bowl and cover it loosely with a clean kitchen towel.
Now, grab your spices – it's time to make this flavorful treat that will have everyone reaching for more.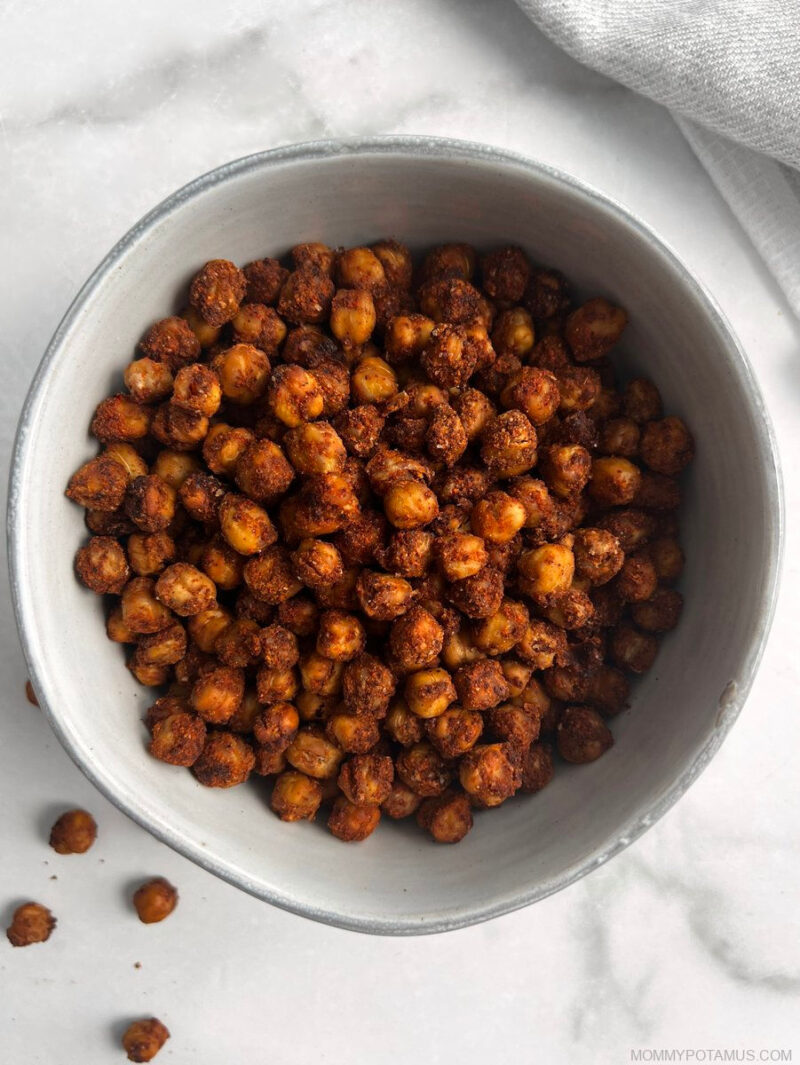 Crispy Oven Roasted Chickpeas Recipe
Craving a crunchy, salty snack that's full of flavor? You need a bowl of these warm, savory, roasted chickpeas in your hands. Makes approximately 2 cups.
Instructions
Preheat oven to 425F. Line a large baking sheet with parchment paper.

Rinse the chickpeas in a colander and then lay them on a clean, absorbent kitchen towel. Use another kitchen towel to pat them dry. The drier they are before you coat them in oil the crispier they will become, so don't rush through this step.

Mix the spices together in a small bowl.

Place the chickpeas in a medium bowl, then add the oil and stir until they're evenly coated. Add the spices and mix again.

Spread the chickpeas in a single layer on the lined baking sheet and place on the middle rack of the oven.

Bake for 30 – 45 minutes, or until they're golden brown and as crispy as you like. If you like them crispy on the outside but more chewy on the inside you'll want to remove them earlier, and if you like them on the crunchier side you'll want to let them bake longer . . . just make sure to watch them toward the end so that they don't burn.

Serve immediately or store at room temperature for 2-3 days in a container that is loosely covered with a towel.
Nutrition
Serving:
0.25
cup
|
Calories:
24
kcal
|
Carbohydrates:
2
g
|
Protein:
0.3
g
|
Fat:
2
g
|
Saturated Fat:
0.2
g
|
Polyunsaturated Fat:
0.3
g
|
Monounsaturated Fat:
1
g
|
Sodium:
445
mg
|
Potassium:
31
mg
|
Fiber:
0.5
g
|
Sugar:
1
g
|
Vitamin A:
421
IU
|
Vitamin C:
0.1
mg
|
Calcium:
6
mg
|
Iron:
0.3
mg
Healthy Snack Ideas
Nut, Honey & Oat Granola Bars – Sweet and chewy, these healthy granola bars have a delicious honey oat flavor that can be customized with different mix-ins. They're perfect for packed lunches, afternoon snacks, road trips, beach days, forest walks and more.
PaleoValley Grass Fed Beef Sticks – This is one of my go-to pre-made options. The jalapeno flavor is my personal favorite, but my kids prefer the original and summer sausage flavors.