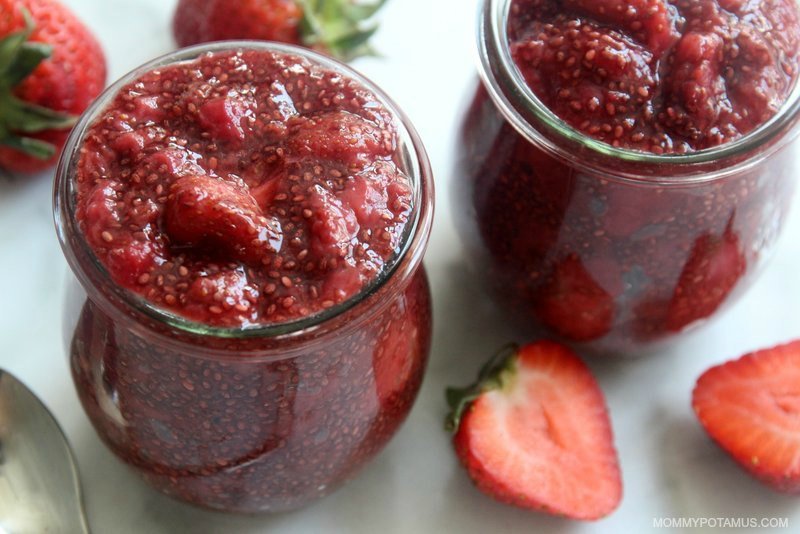 When life gets busy, I often find myself planning meals according to prep time. Apple sandwich with bacon? Five minutes. Egg drop soup? Under fifteen.
Fortunately, there are so many recipes that deliver big on flavor without taking up much time. Though I love making up a big batch of strawberry freezer jam when I can, this chia seed version is my "go to" for busy days. It's bursting with strawberry sweetness, and only takes 10-15 minutes of hands-on time. (You do have to wait for it to cool, though.)
Oh, and did I mention that in addition to being quick, it's also packed with loads of antioxidants plus magnesium, manganese and phosphorous?
Yep, and that's just in the chia seeds alone. 
You'll also often hear that chia seeds are rich in a type of omega-3 fatty acid called alpha-linolenic acid (ALA), and it's true. Unfortunately, our bodies have to convert ALA into eicosapentaenoic acid (EPA) and docosahexaenoic acid (DHA) in order to use it, and that's just not something we're able to do efficiently. For that reason, I don't rely on chia seeds for my omega-3 intake.
However, this jam does have one additional benefit – the strawberries contain anthocyanins, which are the antioxidants that berries such as the acai, elderberry and goji are prized for.
Ways To Use Strawberry Chia Jam
Strawberry Chia Seed Jam Recipe
This easy chia jam recipe is bursting with strawberry sweetness, and only takes 10-15 minutes of hands-on time to make. Makes 1 cup.
Instructions
Place the strawberries and 4 tablespoons maple syrup (or honey) in a medium saucepan or pot.

Use a potato masher to mash the strawberries into medium-size chunks.

Place the saucepan on the stovetop and turn to high heat. Once it starts to boil, reduce the heat to medium low and simmer for 10 minutes.

Once the mixture is done simmering, remove it from heat and stir in the chia seeds. Taste and add an additional tablespoon or two of maple syrup or honey if needed. Allow the jam to cool for 10 minutes, then pour it into a mason jar.

Place the jar in the fridge and allow to cool completely before serving.
Notes
This recipe can be used with blueberries and raspberries, but you'll probably want to increase the amount of sweetener used. I recommend adding it in 1 tablespoon increments until it reaches the sweetness level you prefer.
Nutrition
Calories:
33
kcal
|
Carbohydrates:
6
g
|
Protein:
1
g
|
Fat:
1
g
|
Saturated Fat:
1
g
|
Sodium:
1
mg
|
Potassium:
73
mg
|
Fiber:
2
g
|
Sugar:
3
g
|
Vitamin A:
4
IU
|
Vitamin C:
21
mg
|
Calcium:
27
mg
|
Iron:
1
mg
Looking For More Jam Recipes?