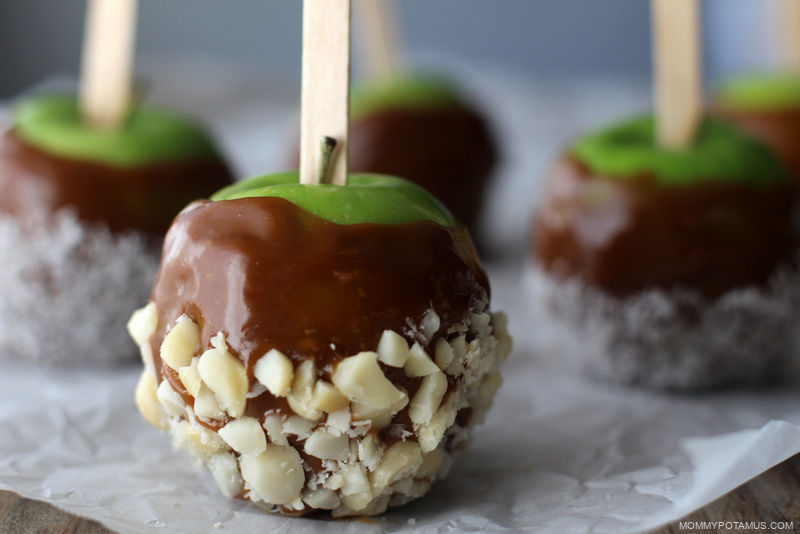 Although I'd love fall to be a blur of pie baking, hay rides and rolling down giant hills with my littles, the reality is I have to be intentional about creating memories between loads of laundry. This year, I set my sights on something simple yet quintessentially fall – caramel apples. Yep, we're talking sweet caramel wrapped around crisp, tart apples. They can be served plain or rolled in chopped nuts, coconut shreds or even chocolate. My personal favorite is a sprinkling of sea salt to balance out the sweetness.
Then again, have I mentioned how good they are plain?
This recipe uses the same base as my homemade caramels, but I've cut the recipe in half so that it's the right amount for 4-5 small apples. As mentioned in that post, you'll want to make sure your candy thermometer is working properly before getting started. It's worth the trouble, I promise! Making caramel – or even homemade marshmallows – is easy as long as you've got an accurate thermometer.
To test yours, bring some water to a rolling boil and place the thermometer in for 5-7 minutes. Make sure the actual thermometer is not touching the bottom or side of the pot, as this can affect the reading. Some – like the one I used for this recipe – come with a protective housing so that they can be clipped to the side of the pot without the actual thermometer making direct contact with the pot. I prefer to clip mine so I don't have to hold it.
At the end of ten minutes the temperature should read 212F. If it's lower or higher, make note of how much it is off so that you can factor that in while you're making the caramels. For example, if it's ten degrees too high and the recipe calls for the caramel to reach 240F, you'll know that your caramels are done when the thermometer reads 230F.
Caramel Apples Recipe
Ingredients
4-5

small green apples

1

cup

sucanat

(aka rapadura sugar)

1

cup

heavy whipping cream

coarse sea salt

(Optional toppings for caramel)

nuts

(chopped - optional topping)

coconut flakes

(optional topping)

chocolate shavings

(optional topping)

4-5

popsicle sticks
Instructions
Several hours ahead of time:
Place popsicle sticks in each apple and place them in the fridge for a few hours - or overnight - to chill. (Caramel sticks better to chilled apples than room temperature apples.)

When you're ready to make the caramel apples, combine cream and rapadura sugar in a medium pot. The mixture will bubble up quite a bit so make sure there is a lot of room at the top, but you need the mixture to be deep enough to get a good reading with your candy thermometer. The mixture will bubble up quite a bit so make sure there is a lot of room at the top, but you need the mixture to be deep enough to get a good reading with your candy thermometer. I don't have a pot that is both smallish and deep, so I use a one-quart pot and then attach my candy thermometer to a stainless steel steamer pot that sits right behind it.

Clipping your thermometer means you don't have to hold it, and allowing for constant reading to be taken ensures better accuracy.

Bring mixture to a boil and then reduce heat to medium - I set my stove to just a little over the exact medium mark. Stir often, then when the mixture reaches 225°F stir constantly until it reaches 240°F to prevent the caramel from burning.

When the caramel reaches 240°F, quickly pour it into into a small bowl and allow it to cool until it has thickened a little. It should still be warm when you start dipping the apples.

Dip the apples and set them to dry on a piece of parchment paper. As they're setting you might think you've done something wrong because they will will look like this.

Don't worry! After you've finished dipping the apples, you can slide a baking sheet under them and carry them to the fridge to set. This step is optional, but helpful in my opinion. Once the caramel has set on the cold apple, you can mold the caramel with clean hands if you need to. Just lift the apples off the parchment paper and remove the excess caramel at the bottom of the apple. You can stick it onto the apples in any places that were missed or eat it - I won't tell.

Finally, if you want to add any toppings, place them on a flat surface and roll the caramel apples over it. Store in the fridge until you're ready to serve.
Nutrition
Calories:
0
kcal
|
Carbohydrates:
0
g
|
Protein:
0
g
|
Fat:
0
g
|
Saturated Fat:
0
g
|
Polyunsaturated Fat:
0
g
|
Monounsaturated Fat:
0
g
|
Trans Fat:
0
g
|
Cholesterol:
0
mg
|
Sodium:
0
mg
|
Potassium:
0
mg
|
Fiber:
0
g
|
Sugar:
0
g
|
Vitamin A:
0
IU
|
Vitamin C:
0
mg
|
Calcium:
0
mg
|
Iron:
0
mg